(Last Updated On: September 16, 2022)
Laundry is a necessary household chore that nobody enjoys. But, with the help of these five essential laundry appliances, your life will be made much easier.
So if you do the calculations buying laundry appliances now will just save your time and money. Just take a look at these great appliances we have mentioned. Do not miss this great opportunity to get the most qualified appliances all in a package. Here are five essential laundry appliances that can help to make your life easier.
Essential Laundry Appliances
Washer: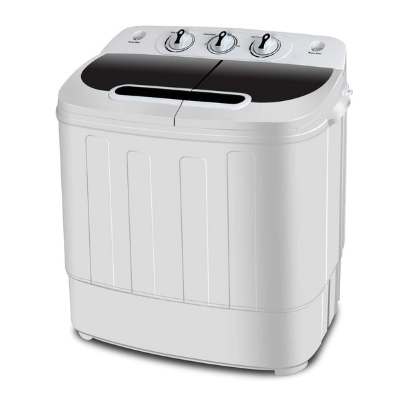 Science and technology make our daily lives easier and comfortable by inventing so many electrical based home accessories. Washing Machines or Washers is one of them which lessens our work almost one third by its magical service capabilities on our laundry days.
Laundry wok can be complete in few steps within minutes in the last few years after arrival washers. Its drum can be made of Plastic or Stainless Steel. Whether the Stainless Steel made one are durable and preferable. Washers can be divided into mainly two types according to their capacitor of washing area as Top Loading and Front Loading along with Semi automatic or Fully Automatic.
As they are different from each other per their working procedure, advantages, and disadvantages. There are few additional features as air dry, individual dispense, and extra rinse cycle related to agitators and impeller.
Modern washers are can be controlled by one's smartphone on memory wash and reload function along with timing setting.
Various Use of Washer:
Time and energy saver, as washers can do all the process of watching by themselves, you simply start and put cloth and detergent with setting off its screen.
Washers with dryer combo will do complete laundry.
Portability by means of their wheel or various sizes.
Efficient for any kind of clothes with care.
Because of maintaining washing cycles single or wholly lessens the probabilities of damage to clothes.
Dryer:
A dryer is the most common and useful home appliances used every laundry day with loads of clothes to dry which are wet after washers wash. Dryers come in various types such as Vented, Condensing,
Heat-pump and Washer-dryer. Thought last but not least one Washer- dryer is comparatively preferred one as it is a combo of two home appliances of laundry, other types also stable and claimed for their extraordinary features.
Most of the modern dryers have auto sensors about moisture, wrinkle prevention, stream cycle, and more. Some of them have a huge capacity or stackable systems and wall-mounted accessibility for saving space in small apartments and dorm rooms.
It seems that a Dryer is expensive but it will surely reclaim your single penny by its works on laundry. It reserved your laundry according to your own time and need. As dryer do hard work its drums materials should be durable as stainless steels and well-made plastic for better and long lasted use.
Various Use of Dryer:
Wash and dry any type of clothes anytime.
Not rely on the atmosphere to dry clothes.
Ensure your clothes are odor free ,hygienic and bacteria free as they get dried within a second.
Saver of time and effort.
Do not require a huge space for drying cloth on sunshine and natural air supplies.
Drying did not demand so much accessory as a clothesline, clothespin, and more.
Iron:
If you are one of them who presses clothes every day for oneself or other family members you know that you can't leave this ironing for work and academic purposes but an efficient iron can save your time and do their work smoothly as wrinkles and shrinkage is the common problem for most of the clothes types.
Being an excellent iron for better caring as wrinkle free clothes of your wardrobe required few characteristics such as, simple to store and access, heat up quickly, have adjustable temperature and steam settings and work on a variety of fabrics. When you spend money on purchasing iron you mostly want this piece to be safe during use.
There are available many irons in reasonable cost and various designs and durable materials with advanced features as resists scratching, digital control panel for heat and fabric types, as well workable for every crucial part of garments and self-cleaning features, long lifespan and more which offers you daily bacteria-free and new like cloths.
Various Use of Iron:
Ensures the absolute kill off germs that are left after the cleaning process.
A right iron can serve you daily a better look with fresh and wrinkle free clothes.
Make some cloth items softer than before.
Super easy to straighten any type of cloth within a few minutes.
Save money from every day's laundry costs by your home laundry!
Garment Steamer: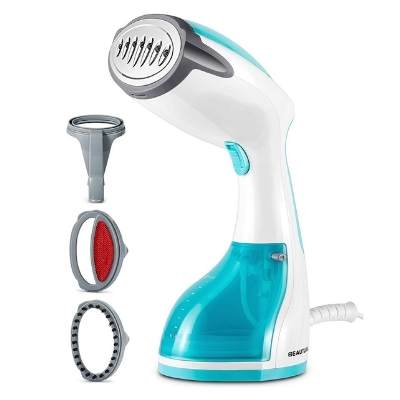 Garment Steamers makes our daily laundry life ease and sanitize. Because of their flexibility, adaptability and portability give them a replaced space of flat iron with or without steam. They are accessible for any type of fabric surf even more hard. As its steams did not require tough so it has no possibilities to burn your favorites pieces of cloths.
Though they are called Garments Steamers, they can manage upholstery, drapes, carpet, and more. They are ready to go anywhere with you wherever it could be needed.
For giving the right instruction most of them have displayed to fabric settings and temperature. With few of them have an automated shutdown system to avoid an accident as well as one move to on and off. Standing and hanging modes create more scope of placement of the.
Various Use of Garment Steamer:
Steam anything such as silk, satin, polyester and jersey, a screen-printed shirt or a suit jacket, and more.
Applicable even on sleeves, pleats, and ruffles in garments.
Portability makes them better from a flat iron.
Usable not only for clothes but the sofa, bedding, curtains and so on.
Removal of wrinkles with dust too.
Save your cloth from detergent and other chemical use.
Trouser Presse:
Trouser along with moves it limited to use on formal appearance and ultimate use in fashions for both men and women. The variation comes in style designs and types of materials like denim, Lenin, wool, cotton, and more.
Using trouser presses also change its mode of using the place as it was used in past only hotel and business purposes but now love to keep them trouser press at home to individual users to remove creases of a trouser.
As they are getting popular among people company launched them with outstanding designs and sizes for the best convenience. They have a LED display with modern one another other than a casual lever to provide instruction for fabric and temperature settings.
Some of them have a sturdy handle to move and a tray to placing trouser to press properly. They are capable to remove any kind of crease of your trouser or pants and make them as new.
Various Use of Trouser Presse:
Get ready without crisp free pants for the next workday.
It also helps you to better care for shirt pressing.
Easy to store and manage.
Usable for thicker and heavier types of everyday needed fabrics.
Saves time and money from everyday laundry services.
Final Thought on Essential Laundry Appliances
In conclusion, these five essential laundry appliances help to make your life easier in a variety of ways. From preventing wrinkles to saving time and money, they are well worth the investment. So if you are looking for ways to simplify your laundry routine, be sure to check out these appliance options.