(Last Updated On: August 24, 2022)
Landscaping can be a very fun and rewarding hobby. It can also be a very practical one if you want to improve the appearance of your home or garden.
There are many different types of plants and flowers that you can use to make your landscape look beautiful. If you're looking for a professional landscaping service, here are 10 tips to help you choose the right one.
1. Ask Around to Find a Landscaper
You may be tempted to just search the internet for the best landscaping service, but don't forget to ask your family and friends for recommendations too. Chances are, someone you know has had a great experience with a local landscaping service and will be more than happy to refer you.
Why is word-of-mouth such a powerful tool when it comes to finding a landscaping service? For one thing, people are more likely to trust the recommendations of their loved ones than they are ads or online reviews.
And since people tend to be happy with good experiences and unhappy with bad ones, referrals from friends and family are usually reliable indicators of quality service.
2. List Past Project References
When hiring a landscaping service, it is important to ask for past project references. This will give you an idea of the quality of work the service provides and if they are a good fit for your project.
It is also important to look at the landscaping company's portfolio. This will give you a good idea of the types of projects they have worked on in the past and the styles they are familiar with.
Be sure to ask the landscaping company questions about their process and what to expect during your project. This will help ensure that everyone is on the same page and that the project goes smoothly.
3. Check for Documentation and Licenses
When hiring any service, it is important to do your research. This includes checking for licensing and documentation. This is especially important when hiring a landscaping service.
Not only do they need to be licensed in your state, but they may also need to be licensed in other states if they are working in them.
The best way to check for licensing is to look online. Many states have their own website that lists all of the businesses that are licensed in that state.
You can also search for the business name and "licensing" or "certification" to see if any additional licenses pop up. It is also important to check for documentation.
A landscaping service should have insurance and workers' compensation insurance. If something happens while they are working on your property, you will be protected if they have landscaping business insurance in place.
4. Know Your Budget Before You Start
Your landscaping project is likely to be a big investment, so it's important to plan ahead. Know what your budget is and stick to it. Don't be tempted to overspend on your landscaping project just because you think it will increase the value of your home.
There are many affordable landscaping options that can improve the look of your yard without breaking the bank. When choosing a landscaping service, get quotes from several companies and compare prices.
Ask for references and check them out. Make sure you are comfortable with the company you choose and that they have the experience and expertise to do the job correctly.
Landscaping can add tremendous value to your home, but it's important to remember that not all projects are created equal.
5. Examine The Track Record
When it comes to finding a landscaping service, it's important to do your research. It's not enough to just look at their website or read a couple of reviews.
You need to examine their track record. What have they done in the past? What kind of work have they done for other customers? Have they delivered on what they promised?
By looking at the track record of a landscaping service, you can get a good idea of what you can expect from them. If they have a history of delivering quality work, then you can be confident that they will do the same for you.
But if they have a history of disappointing customers, then you might want to steer clear. The last thing you want is to hire a landscaping service that doesn't live up to your expectations.
6. Make Sure You Have a Written Contract
A landscaping service company can do a lot of damage if they are not properly supervised. To make sure that your home is not ruined, it is important to have a written contract with the landscaping service company. This contract should state the agreed-upon price, what services will be provided, and when the work will be completed.
It is also important to have a clear understanding of who will be responsible for damages caused by the landscaping service company. By having a written contract, you can avoid any misunderstandings and make sure that you are getting the services you expect.
7. Compare Services With Other Companies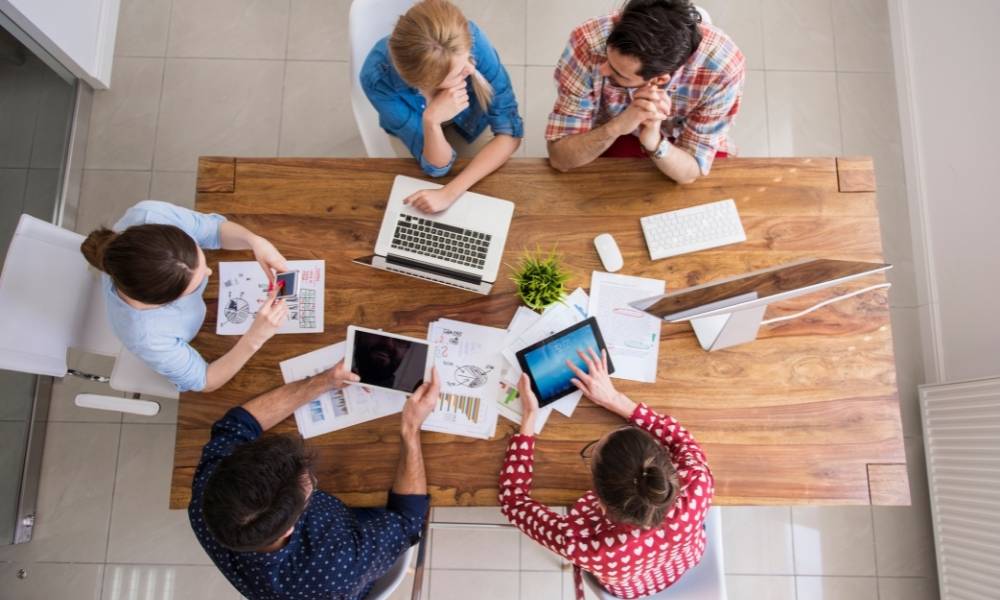 When you are looking for a landscaping service, it is important to compare what different companies offer. It is also important to compare the prices of these services. You may find that one company offers a lower price, but their service may not be as good as another company.
It is important to consider all of the services that a landscaping company offers before making your decision. Some companies offer more services than others.
For example, some companies may offer lawn care, while others may not. You should also consider the quality of the services offered by different companies. One company may have better reviews than another company.
8. Make Sure They Offer the Services You Need
When you are looking for a landscaping service, it is important to make sure that they offer the services that you need. Some services may include design, installation, maintenance, and lawn care. If you need a service that is not offered by the landscaping company, then it is not the right fit for you.
Make sure to ask the landscaping company about their services and what they include in their packages. This will help you to determine if they can meet your needs. You should also ask them about their experience and what kind of projects they have worked on in the past.
If you are looking for a landscaping company that can help with designing your yard, then you should ask them to show you some of their previous work. This will give you an idea of what they are capable of doing and how your yard could look once it is completed.
9. Experience
When it comes to landscaping services, many homeowners often face the dilemma of whether to hire an experienced company or not.
The fact is that not all landscaping service companies are created equal. Some are more experienced than others. So, how do you know if the company you're considering hiring is experienced?
One way to determine this is by checking their website or online reviews. If the company has a long history of providing quality landscaping services, then they are likely experienced.
Another way to gauge their experience is by asking them how long they have been in business. If they have been in business for a while, then this is also a good sign that they are experienced.
10. Check Online Reviews
When you are looking for a landscaping service, it is important to do your research. One way to do this is by checking online reviews. This will give you an idea of what kind of service you can expect. You can also get an idea of the cost and the quality of work.
Make sure to read reviews from both happy and unhappy customers. This will give you a more balanced view of the company. If there are a lot of negative reviews, then you may want to consider finding another company.
However, if there are only a few negative reviews and the majority of reviews are positive, then you may want to give the company a chance. Just be sure to ask questions about the work that needs to be done so that you know what to expect.
Final Thought:
In conclusion, by following the tips provided, you can be sure to find a reputable and qualified landscaping service to take care of your property.
By keeping your property well-maintained, you will not only increase its value, but you will also enjoy it more. So, get started today by contacting local landscaping services and asking for their quotes!