(Last Updated On: August 26, 2022)
In order to have an organized closet, you need to have the right hangers. There are many different types of clothes hangers available, each with its own benefits. The following is a list of different types of hangers and their benefits:
If you have ever looked at your closet and felt like it was a never-ending abyss of clothes, you are not alone. Most people do not have their closets organized in a way that makes it easy to find what they are looking for.
This can be frustrating when you are trying to get ready for your day and just want to grab a shirt and go. There are some easy ways to organize your closet so that you can find what you need when you need it.
Types of Clothes Hangers
Coat Hanger:
After cleaning and brushing a term come hanging them in a proper way to the odor free and stiles. The market is full of different types of Coat Hangers such as wooden, velvet, plastic, wire, and so on.
They can come in a wide range of styles like wall mounted, back of the door , entry coat hanging hooks, etc.
Can you think about why they are important for you, and how helpful they are to you, Some of them can be modern, casual, traditional, etc. according to their design and flexibility.
Various Use of Coat Hanger:
Able to take a load of coat properly because of their sturdy materials.
Hanging your coat by them to make them smell free and fresh.
Short term holder before store and wear.
With their help, you can store them in the dresser, cabinet, plastic, bags and rack aptly.
They are purposeful in home and commercial uses.
Space-saving and easy maintenance.
Pants Hanger:
We always want to spend money on clothing especially pants with a thought that they are long lasting money avengers. They come from various components such as plastic stainless steel, wire wooden, and so on.
Some of them have additional facilities such as gripper outlines and clips have a plastic jaw on the clamp to ensure your garments are secure without leaving no marks.
Multiple slots hangers are really amazing for the space saver. By hook placement, you can easily mount them on the wall and back of the cabinet doors and rooms door. As they are portable you can easily pack them with at traveling.
Various Use of Pants Hanger:
Their construction ensures their versatile use as keeping scarfs, pants, trousers, and other clothes.
Better security from creasing and falling to the ground.
Suits in drying garment and laundry works.
Adjustable to most of the cabinet and other closings organizers.
Super convenient and durable to hold pants and skirts.
Usable for both men and women of all kinds of pants.
Skirt Hanger: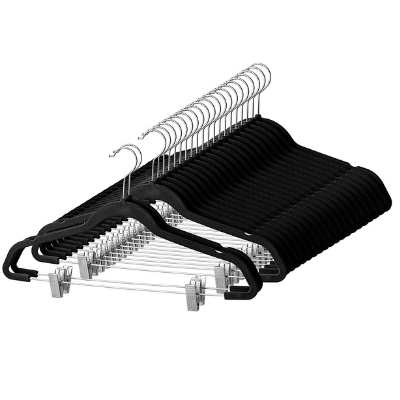 There are many household accessories or organizers that can be pretty enough to do other works as Skirt Hangers. Skirt Hangers can be used as a hanger for pants and other pieces of cloth.
Commonly they are made from wood.but in days plastics and other metals also used largely made those of hangers. They are available in huge collections of designs, sizes, and styles according to using advantage and customers' demands.
Various attractive and helpful features as open, Rubbermaid, pins, and shoulder capacity made them varied and different from each other. Some of them are traditional and modern which suits your likes and preferable trends of fringing cabinets.
Various Use of Skirt Hanger:
Get Skits as you keep them.
Wrinkle and strain-free cloth pieces.
Afford more space in your cabinet.
Proper organizer for your long or short skirts.
Convenient for home and commercial use.
Easy to use and store.
Comfortable drying and carrying.
Permanent protection from the spill of cloth in the cabinet.
Standard Hanger:
Standard Hanger's reel a used average accepted as a normal category of hanger can serve many purposes that are interrelated with daily activities.
Mainly these come Plastics, wire, nylon, and thin wooden as their materials confirm their strength, longer duration, and so many purposes.
They have varying sizes as they are required. For getting the best return of your money some additional features make it more demandable as gripers, right construction, and fitting which made them easy to carry and use.
Various Use of Standard Hanger:
They are preferable for everyday use for numerous contrivance.
Goes with living style designs to organize your cabinet and clothes racks.
Usable to keep all sorts of daily needed clothes properly in laundry and drying in the sun.
Professionally space saver and at the same time lightweight.
Eco-friendly as they are disposable and reusable.
Suit Hanger:
The suit makes you look put- together with perfect fitting and self-confidence doubtlessly. And getting a properly organized ready suit at the time of going out is 99% dependent on how you have stored them, which is far get on hanging them by a right Suit Hanger.
Hanging suit s a most favorite and easiest method to store them in the cabinet to everyone. They have come in the market with so many variations of materials as wood, cedar, plastic, and so on with many sizes and designs with legitimate prices.
Various Use of Suit Hanger:
Saves your time and energy before going out somewhere.
Take care of your confidence and personality, as an organized suit does it for you.
A right Suit Hanger ensures your suit's shoulder shaping perfectly which confirms the tour organized look.
Suits Hanger can serve its works aptly in the office, journey, and home where you need them to hang.
Economies your cost from purchasing a few collections to keep them perfectly.
Children's Clothes Hanger:
Children's Clothes always demand more care though they frequently get dirty. You need so many hangers for kids' bulk collection of garments.
These items should be trustworthy that they can hold kids' cloth on the ground and materials should be solid which do not harm children's cloth.
They come in the market in a wide range of materials. Plastic is one of the most demandable as they are lightweight and at the same time durable too.
Without hanging them it would be hard work to manage their clothes properly and find the one which one you desired to get!
Various Use of Children's Clothes Hanger:
Only Children's clothes hangers can perfectly hang kids' clothes
Though they are small sizes but work perfectly.
As they are colorful, a part of kids decorative cloth cabinets.
They can be used as adult socks and gloves hangers also.
Complete management for the entire outfit.
Adjustable to the laundry room, drying rack, bathroom, and clothes cabinet.
Final Thought on Types of Clothes Hangers
Whether you need hangers for your pants, shirts, costumes, or clothes for children we try to show you the best hangers for clothing organization for your inner closet and your clothes.
If you are someone that absolutely loves to be clean and tidy when it comes to clothing then these different types of hangers will be the best deal for you.
In conclusion, there are many types of clothes hangers that can be used to organize your closet. You can choose from wooden hangers, plastic hangers, or metal hangers. Each type of hanger has its own advantages and disadvantages. You should decide which type of hanger is best for you based on your needs and preferences.