Last updated on December 11th, 2022 at 04:08 am
Are you looking for the best mouse traps for home use to help keep your home free of these pests? If so, you're in the right place. In this post, we'll walk you through some of the best mouse traps available on the market today.
And provide you with a buying guide to help you choose the right one for your needs. There are a lot of different options out there, and it can be hard to know which one to choose.
We will explore different types of traps, their pros and cons, and which ones work best in various situations. Keep reading to learn more!
Our Top Picks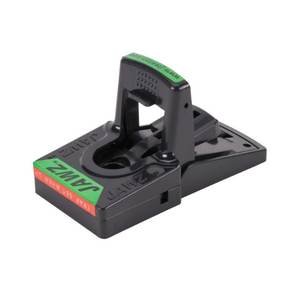 Overall Best
Jawz Plastic Mouse Trap
Features a high-tension spring to eliminate mice and other small pests
Made of durable, reliable plastic
Set by hand or foot with a red label to indicate if the trap is properly set
Works best with liquid or solid bait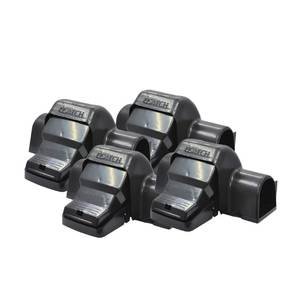 Budget Friendly
UCatch Tunneled Rat Trap
Fast & effective
Pets & child safe
Advance design
Easy & convenient to use
Affordable & reuseable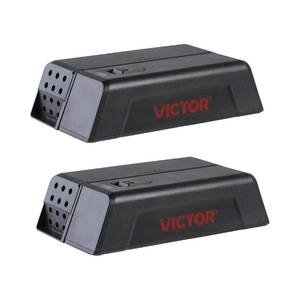 Value For Money
Electronic Humane Mouse Trap
100% Kill Rate 
Built-in Safety Features 
No Touch, No See 
LED Alerts – A green LED light notifies you of a catch
Easy to Use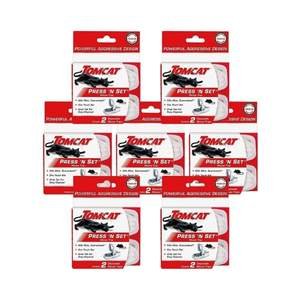 Tomcat Press 'N Set Mouse Trap
Easy to use—just press to set
Convenient, built-in grab-tab for easy disposal
Kills mice, guaranteed
Sets with just one touch
It May be used with Tomcat Attractant Gel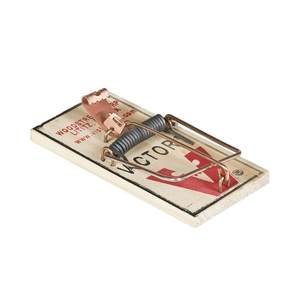 FSC Wood Snap Mouse Trap 
64 mouse traps
For clean and quick trapping
Easy to use and poison
Made in the USA
Metal Pedal Sustainably Sourced
Best Mouse Traps Reviews
While buying a mousetrap, you have to consider numerous things. It should ideally provide you with great features, quality, and durability, without blowing your budget. After a lot of research and personal testing, we review the 10 best mouse traps for home use that is just matchless.
1. AntiRodent Protection: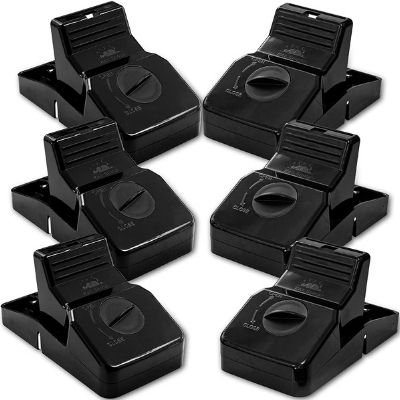 Key Features:
Secure and sanitary to use
It is multi-purpose
Has a stainless-steel spring
Arms-free mode of disposal
Comes in six-packs
If you find yourself at the center of a rat infestation, with messy rodents making a free-all of your homes, one rat trap can solve this instantly. Another effective alternative is getting hard, sturdy and efficient traps to help you achieve the job quickly with an assurance of 100% success.
The Kat Sense rat trap gives you relief and assurance of delivering effectively on the job. In essence, the biggest rat is no match for this safe and sanitary method of pest management.
Each one of the six traps offers a hands-free method of disposal, stainless steel springs, and strong polystyrene material that can handle even the toughest mouse.
Also, with a 100% assurance of eliminating these rodents, you can relax; rest assured that your rat havoc will soon be over. This kind of rat trap is more practical and readily available on the market, making it more effective than snap traps with a pressure of about 35% extra.
This classifies it as one of the most humane methods with added success than other methods available. The easy-care strategy and price make it necessary to include this trap in your want list.
Advantage
Disadvantage
Most individuals that have used this are of the opinion that the plastic portion of the trap can wear down after being reset a few times.
2. Authenzo Catch and Release Mouse Trap: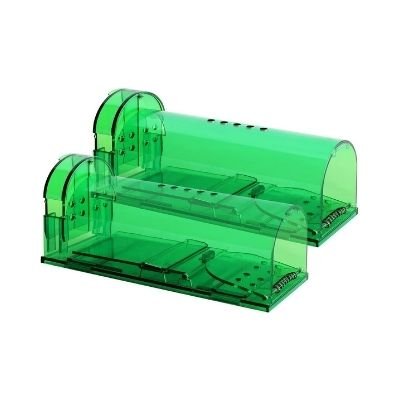 Key Features:
It is reusable
Has a distinct and delicate design
There is an assurance of cashback
It is very appropriate for all kinds of pests and rodents.
Comes in two packs
This Authenzo mouse trap comes in two per box. What is unique about this product is that it is safe to use around children and pets. The trap itself is designed to catch the mouse in a humane form. This means that the trap only catches the mouse and does not kill or harm it.
The main purpose of the mousetrap is to catch and release the mouse outdoors. The design of this mouse trap is very sleek. It is made out of transparent plastic so you can see if you caught the mouse.
It is constructed with one end being where you will put the bait for the mouse. While the other end is constructed as an open door for the mouse to enter. The door immediately closes just as soon as the mouse heads in the trap.
Advantage
Safe to keep around pets and children
Humane trap
Easy to set up
Disadvantage
It's not fit for rats and large mice
Mice can suffocate if left for too long
3. RatzFatz One-Door Mouse Trap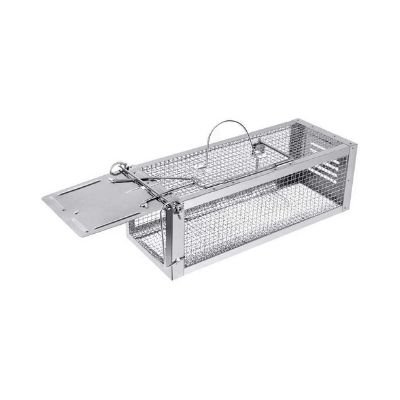 Key Features:
Measures 6 x 6 x 6 inches (15.24 cm)
It is made of galvanized metal
Has a wire mesh of 12 gauges
Uses a gravity motion door
It is completely assembled
The presence of an exterior set off the rod.
In an event where you don't like the idea of having a mouse in your home, it doesn't imply that you should see them lifeless in the trap. You can get rid of the mouse moderately than killing them outright by luring them using a one-door trap from RatzFatz, and then relocating them.
Animals don't deserve to die because they're in the wrong place. This trap, suitable for other rodents like weasels, squirrels, and all sorts of critters measures about 16 by 6 inches (15.24 cm).
It has a strong galvanized metal body with a gravity-action door. Once the critters sight this bait and go in, the door is shut behind them, keeping them trapped. The set-off rod may be situated outside, which means they may not be harmed with it inside.
You can also carry the trap from one location to the other, then launch the animals back into the wild. Nobody wants to hurt another life when there are more efficient ways to remove these rodents, just like the RatzFatz rat trap. This is one of the best mouse traps for home.
Advantage
It comes in an ideal size for a squirrel, mice, and other rodents.
Disadvantage
We didn't find any bad sides to that mousetrap
4. Tomcat Mouse Trap
Key Features:
A Reusable trap that kills mice effectively and can be set using hand or foot
The presence of Interlocking teeth makes escape an impossibility
Made of plastic with high impact and rust-resistant metals to allow for reuse
Removable bait cup that allows you to place bait without setting
The trap should be placed perpendicular to a wall or any other structure that mice frequent.
The Tomcat Rat Snap Trap operates in a single motion using either your hands or your feet. It is an effective and patent trap that has interlocking teeth which make the escape of the mouse an impossible task.
It is made of high-impact plastic and metals that are resistant to rust. They enable the trap to be reusable, again and again. Simply place this perpendicular to a wall or any structure where mice frequently travel.
This snap trap comes with a bait cup that is removable. This makes it a very good option for capturing the invader and is part of an extensive pest control strategy. The Tomcat rat snap trap is a necessary piece useful in combating rat infestation.
Advantage
Effective for killing a mouse
Has a strong and aggressive design, easy to use, and effective
Can be set using hand or foot
Presence of a Removable bait cup enables you to bait without setting
Disadvantage
We didn't find any bad sides to that mouse trap.
5. Authenzo Brown's No Kill Mouse Trap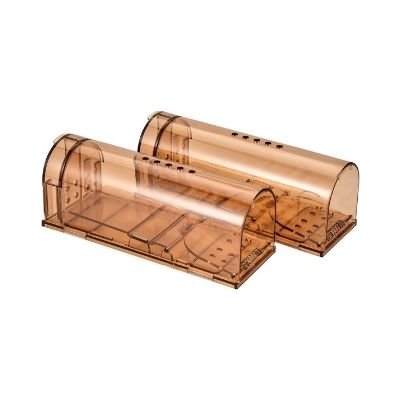 Key Features:
Secure and sanitary to use
It is multi-purpose
Has a stainless-steel spring
Arms-free mode of disposal
Comes in six-packs
This product is simple to use when you want to catch mice. It is smart-built, which means that you do not have to worry about hurting your finger and setting up the trap.
You can even leave it around pets and children without worrying if they might get hurt. The product is shipped in a pack of two.
It is made from a brown transparent plastic where you can see the trapped mouse and get rid of it. The trap works in a humane form. In one end you keep the bait for the mouse. On the other end, you set it up for the mouse to enter.
When the mouse is finally caught it will not be harmed, but only trapped. You can then place let the mouse free somewhere outdoors.
Advantage
Easy to use
Safe to use
Humane way to trap mice
Disadvantage
Made only for small and medium mice
Not enough holes for mice to breathe for a long time
6. Victor Black Box Mouse Trap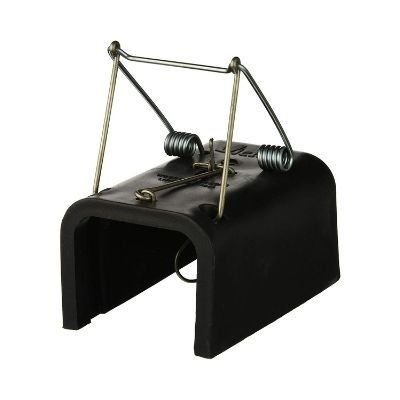 Key Features:
Features weather-resistant plastic
It is built to last for a long period of use
Designed in a loop style
This kind of rat trap kills rodents and unwanted animals without using chemicals or poison of any sort. It is designed in a loop style with features such as weather-resistant plastic as well as galvanized steel construction for extra durability and strength.
In addition, it is easy to use because of its easy-set design. Trapping these gophers can be done anytime, there's no specific period. However, it is easier and most efficient if done during Fall and Spring. Once any form of rodent activity is detected, it is important to act fast.
The traps work more effectively if placed properly in the rodent tunnel to trap the unsuspecting animal. The hole should be covered with dirt to make it look as though it is part of the runway. We think this is one of the best mouse traps for home.
Advantage
It is easy to use
Can be set easily
Disadvantage
We didn't find any bad sides to that mouse trap
7. Cinch Reusable Rodent Trapping System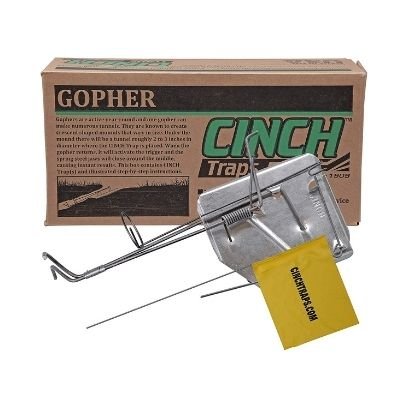 Key Features:
It is designed to serve as an all-purpose rodent trap
It is designed with galvanized steel
The Cinch gopher trap is an all-purpose rodent trap with a smart cinch system effective for luring moles, gophers, and all kinds of rodents to prevent them from causing any damage to your home.
It utilizes the quick cinch method of capturing unwanted guests. The trap snaps closed around the neck of the gophers, locking them in a place instantly. This method is very humane. It is constructed using galvanized steel and can be used to capture rodents in any area; indoors or outdoors irrespective of the weather.
It is safer to use than chemicals and poison and you can bury the rodent in its hole and reuse it for others. Quality is assured with a manufacturer's warranty
Advantage
It is an all-purpose snap trap
Smart cinch system
Eco friendly and reusable
Trusted quality
Disadvantage
We didn't find any bad sides to that mouse trap
8. Rat Zapper Classic Mouse Trap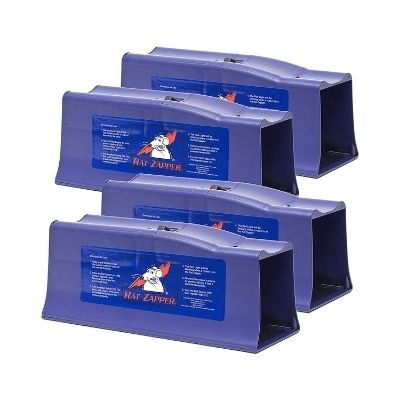 Key Features:
Works using High-voltage shock that kills the rodent
Presence of Light indicator to detect a kill or low battery
No-touch or seeing while cleaning up
Designed to Kill one rat per setting
Capable of Killing up to 20 rats depending on batteries
Makes use of 4 'AA' batteries
This humane rat trap gets rid of rodents in your home and property by means of a high-voltage shock. Rats are capable of restarting their hearts; therefore the shock from this zapper is applied for about 2 minutes to ensure the rat dies.
Using this zapper snap, you need not touch or look at the dead rat. It is contained in a large chamber, keeping it from sight with an indicator light that tells you when it's time to empty the trap. All you have to do is dump the dead rodent into your trash without contact with it.
This rat snap is equipped with advanced small circuit technology that detects when a rodent is trapped. As the rodent enters, it steps on the metal plates and a continuous shock is delivered to the rat for about 2 minutes. The indicator light on top shows red indicating a kill. Once the rodent is dead, just tip the trap and release the dead rodent into the waste bin.
It is designed for use indoors without exposure to outdoor elements and is perfect to be placed in areas such as basements, garages, attics, and sheds. No use of chemicals or poison must be handled with care and extra caution applied where there are pets and children.
Advantage
Designed for use indoors
Mess-free cleanup
No use of poisons or chemicals
Disadvantage
It is resistant to outdoor elements
9. Made2catch Pack of 4 Classic Metal Mouse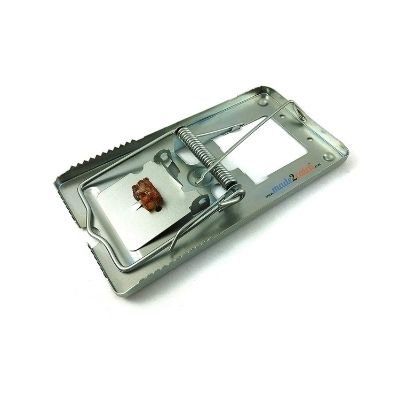 Key Features:
Made with strong and durable fully galvanized metal
Designed for long-term use
In making the choice of a rat trap, ensure to choose one that is fit for the size of the rodent. Don't use large traps for small or mouse-sized animals. This is because the small animal cannot activate it and will just take the bait.
Likewise, don't use smaller traps for big-sized animals because the rodent will be too big for the trap to kill it. It is a proven solution to a rat infestation and pest control. It is designed with a strong spring, especially for mice and other large rodents like chipmunks.
This rat trap is made with strong and durable fully galvanized metal and can be reused over a long period of time. These traps can be used in any condition including frost, unlike plastic traps.
It captures the mouse in a humane way once the pedal is triggered. It snaps and kills instantly. The trap is safe and secure to use and doesn't use chemicals or poison. It can be used around food and water too.
Advantage
Heavy duty design
Durability is assured and it is reusable
Weather resistant
Humane and quick kill
Disadvantage
We didn't find any bad sides to that mouse trap.
10. Victor Electronic Mouse Trap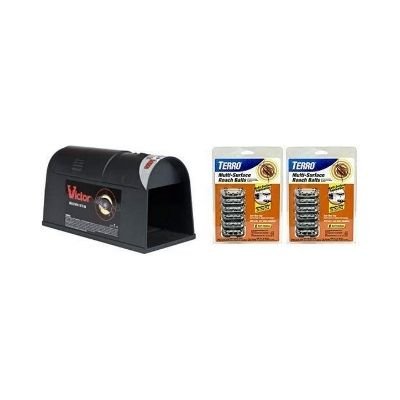 Key Features:
Kills rodents using High-voltage shock
Easy to use. Simply place the bait, switch it on, and empty
Capable of Killing one rat at a setting
No poison or chemicals
Use cautiously if children or pets are around
Reusable trap
Uses 4 "C" batteries to function
Popularly known as one of the most effective and innovative products for rodent control, the Victor Electronic rat trap can be said to be the only rat trap that has a 3-plate patented design to prevent any form of escape by the rodent. We think this is one of the best mouse traps for home.
It is simply baited, yet easy to use, and can be placed against the wall before switching it on. It makes use of modern technology (smart circuit) to detect the entrance of the rodent.
Once this happens, a high voltage humane shock is delivered and the rat is dead in seconds. A light indicator (green) shows when the rat has died and is ready to be evacuated. You can dump it into the trash easily without seeing it or touching it.
Rats are not capable of restarting their hearts after an electric shock; therefore the shock rare is for 2 minutes. This rat trap is the only trap known to reset itself automatically after an uncertain escape.
It is Sade to be used anywhere in your home, basement, attics, sheds, and even kitchen. This is indeed an investment of a lifetime and can be cleaned and reused for as long as you want. For effectiveness, use 4 'C' batteries and change them once the red light indicates this.
Advantage
Can kill 50 rats for each set of 4C batteries
Kills mouse using high voltage shock kills
Unique patented design to prevent escaping
Auto reset occurs making the trap always ready to kill
Disadvantage
It will not suit large living areas just like halls.
How to Choose the Best Mouse Traps?
It's always an eyesore to have a mouse running about in your house, nobody likes that at all. Leaving them on the other hand is not the best option as this may take a negative toll on you, causing them to breed and multiply, improving them and in turn causing harm and hazard to your home and loved ones.
However, deciding on the best move to make and the right mouse lure for you is often a problem, especially if what choices are obtainable is quite strange to you. You'll be taught different methods and steps to take in arming yourself with mouse traps.
Type of Mouse Traps:
The kind of mouse trap you go for matters a lot as the one-size-fits-all strategy is not applicable in tackling a mouse infestation. These lures come in three popular varieties; digital traps, humane traps, and snap traps as earlier mentioned.
Snap traps are small, portable, movable, and reusable varieties that work by snapping a spring-loaded bar over the mouse, thereby crushing it to its death. In most cases, its demise may not be immediate.
The digital trap or lure on its own releases an average of 7-8,000 volts, killing the mouse at the spot. The death is fast and painless, and the mouse doesn't leave any mess behind.
A humane lure lures both mice and different rodents as well but does not kill them. Rather, you can take the trap off your home to a different location to eliminate the mouse from your house. This method is the most liked alternative for most people.
Measurement of Mouse Traps:
You need to consider the dimensions to ensure that this trap is appropriate for the rodent you intend to kill.
Take a scenario where a mousetrap is not exactly suitable for big mice or a huge mousetrap being used for a small mouse. It obviously won't work.
Effectiveness of Mouse Traps:
Generally, mouse traps are quite cost-effective. The most expensive ones have every tendency to be digital traps, but most times, it's more practical to kill the mouse humanely.
It may require an extra cost in the humane method but rest assured your house will be rid of the mouse.
Worth of Mouse Traps:
Whenever you want to eliminate a mouse from your home, you want a trap that is efficient and will do the job well. Wanting them dead or alive isn't actually the issue if it's not functional in any way; the mousetrap is just the same as useless to you.
Certain triggers on the traps aren't delicate; therefore most mouse traps cannot be set off by child mice. Snap traps in this case injure the mice, triggering aches in their body thus killing them over time.
Frequently Asked Questions
What attracts mice to your home?
Mice are often attracted to homes in search of food. Your kitchen is the most likely spot to find mice because of its abundance of food.
The more food in your house the more mice it will likely attract. Also, mice are attracted to homes as they need a breeding ground and safety from dangers outdoors.
What is the best kind of bait to use with a mouse trap?
The best kind of bait to use with a mouse trap is cheese. The smell of the cheese will attract the mouse and when it gets close enough, it will get caught in the trap.
Where should my mouse trap be placed?
Place your mousetrap close to the wall where mouse activity has been noticed.
How often should I replace my trap?
Trap replacement frequency depends on the type of trap, how often it is used, and what type of animal it is intended to catch. For example, a mouse trap may need to be replaced every month if it is being used frequently.
What are the benefits of buying a trap?
A trap is a device that captures and holds an animal such as a rat, mouse, rabbit, squirrel, or beaver. Traps can be lethal or non-lethal. They can also be used to capture wildlife for study or relocation. Some benefits of buying a trap are that they can help in rodent control and in catching rodents like rats and mice.
What is the best mouse trap?
It will depend on the type of mouse you are trying to catch, the frequency with which you want to catch mice, and your budget.
How much does a mouse trap cost?
Mice traps vary in price depending on the type of trap, the size of the trap, and where you purchase it. For example, a mouse trap from a hardware store typically costs about $2.
Where can I buy a mouse trap?
Mice are a problem in many homes. A mouse trap is an easy way to catch them. You can find mouse traps in the hardware section of most stores, or at your local pet store.
Bottom Line
We have reviewed the 10 best mouse traps for home use you should look out for in the market. These entire products have their unique features. What are your thoughts about these products and their features? Do you think they are worth buying? Drop your comment below.
You should also plan towards making a purchasing decision by choosing one of these amazing mouse traps. Simply click on the link and make your purchase. It will definitely serve your purpose.