Last updated on July 25th, 2023 at 03:03 am
Wind chimes are a universally relaxing addition to any garden area and can be used as a way to enjoy both meditative sounds and pleasant aromas at the same time. If you are looking for a new addition to your home that will add both beauty and relaxation, look no further than wind chimes!
Wind chimes come in all shapes and sizes, each with its own unique sound. There are many different types of wind chimes to choose from, so it is important to know the differences before making your purchase.
This article will provide an overview of the different types of wind chimes so that you can find the perfect one for your home.
Types of Wind Chimes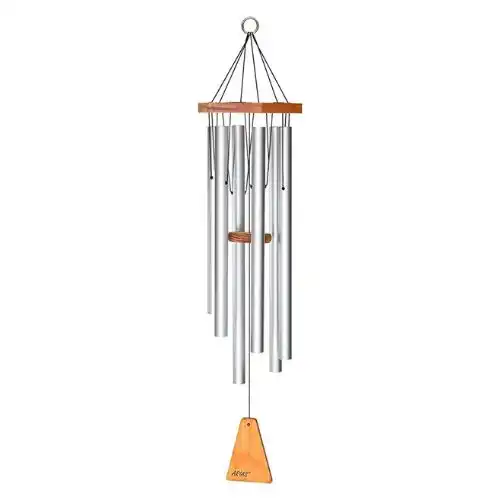 Arias wind chimes:
Arias wind chimes offer a beautiful musical tone that will relax and soothe you. They are hand-made out of the highest quality materials. The construction, tone, and quality of these chimes will amaze you. You will enjoy the look and sound of an Aria wind chime on your porch or patio.
Construction
Arias wind chimes are hand-made by fine craftsmen. Each tube is constructed of anodized aluminum and redwood. The redwood is submersed twice in an oil-resin finish. This finish is what protects it against harsh weather conditions. Each chime is constructed by hand so you get the best quality sound you can buy.
The cord of the Arias wind chime is made of heavy-duty polyester. This type of chime is available in many colors. The most popular colors you will find are gold, silver, copper-bronze, brown, and forest green.
Tone
Arias wind chimes have a beautiful musical tone. They are made on a pentatonic scale. A pentatonic scale is a musical scale in which there are five notes from an octave. The glorious sound of an Arias wind chime is soothing and relaxing. It's no wonder that they are known for their brilliant and beautiful sound.
Quality
The quality of materials and attention to detail is what makes the Arias one of the most popular wind chimes on the market today. You will find Arias brand wind chimes in many backyards and homes around the world. When you hear the name Arias, you can feel assured it will be a quality chime, that will last for many years to come.
An Arias wind chime is the perfect addition to your outdoor space. It will offer you and your guests visual and auditory splendor. No home or yard is complete without the magnificent beauty and sound of an Arias wind chime.
Woodstock wind chimes:
As the wind picks up, you can hear a familiar sound, "ting-ting-ding-a-ling, ding-ding-ting-a-ling." The soft, soothing sound of a wind chime comes streaming through the house. These simple, but elegant items, are found the world over. Woodstock Chimes have become a very popular style of wind chimes. Each Woodstock offers a unique melodic sound, made of high-quality materials.
Creator
Woodstock wind chimes are different than the rest. World-renowned instrument designer and professional musician, Garry Kvistad, designs them. With his love for music, he has put his sense of melody and harmony into each wind chime.
Sound
Woodstocks are designed and manufactured using advanced tuning technology. Each chime is put through a process of tuning techniques to allow it to vibrate at a musical interval in line with its neighboring chimes. This allows the Woodstock Chime to produce music with both melody and harmony.
Variety
These models are tuned to create music in many different cultural styles. This allows them to fit into the culture of many countries around the world. The chimes produce music in many different modes, including beautiful Gregorian, classical, Oriental, and Middle Eastern music. No matter the strength of the wind, the culture of each chime will sound forth.
Quality
Each Woodstock is created and manufactured using the highest quality materials. The production of these wind chimes is overseen by a craftsman who takes pride in creating the best wind chimes the world over.
Wind chimes have been around since ancient times. But none have been designed and manufactured to the standards of a Woodstock. Don't settle for the rest. Owning the best Woodstock Chimes is the only wind chime you will ever need to own.
Metal wind chimes: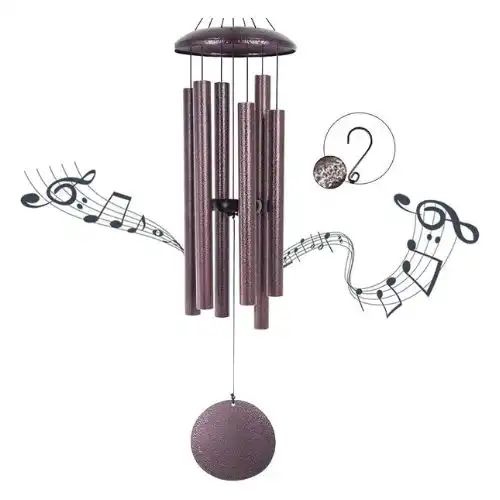 The soothing sound of a delicate wind chime blowing in the breeze is refreshing. It's wonderful to invite friends out onto your backyard deck and know the atmosphere will be lively and fun. A metal wind chime is appealing for many reasons. It is a unique decorative accent with its own beautiful song.
There are hundreds of styles of this type of product, each with its own personality. Metal versions are weather resistant and durable. Choose from chimes made of materials such as aluminum, pewter, or brass. Finding the perfect chime for your peaceful place of refuge will be a fun, rewarding experience.
Styles
Tubular chimes are probably the most popular wind chime. They come in a variety of sizes to fit any setting. They are made up of several vertically hanging tubes. Each tube produces its own tone and the group of varying tube lengths makes for an attractive, balanced piece of art.
Another type is the bell wind chime. These are—you guessed it, made out of one or more bells. Some have traditional-looking bells and others have a more contemporary look with modern, geometric-designed bells.
There are also themed options with favorite flowers and animal shapes. There is definitely a chime to fit any décor.
Durability
Metal chimes are great because they're so easy to maintain. They require no painting, so you never have to worry about them chipping and losing their beauty. You also never have to worry about rust. They are durable and should last for many years.
Great Gift Idea
If you are trying to decide what to get for the people on your gift list, a metal wind chime is a perfect idea. They make fun, unique gifts for any person.
The next time you're outside, stop and listen. Does your backyard environment need cheering up? What about your kitchen? Could it use the soft, pleasant sound of a wind chime? Don't hesitate, add a melodious accent to your home and start enjoying all a metal wind chime has to offer your home and garden.
Feng Shui wind chimes:
Feng Shui is widely embraced as a mode for creating a balanced, beneficial living and working environment.
History
Pronounced "fung-shway," Feng Shui is a Chinese science that began anciently, some 3,000 years ago. It is a vast composition of principles concerning balance in environmental energies to enrich health and good fortune. Due to China's agricultural society, soft winds (Feng means "wind") and clean water (Shui means "water") was always synonymous with a successful harvest and continuing vitality.
Energy
Feng Shui adopts the Taoist principle that an environment is filled with energy and can either promote good fortune for its inhabitants (good feng shui) or cause life to be filled with trials and misfortune (bad feng shui). In Feng Shui this energy is known as Chi.
Styles
As with most ancient studies, many aspects of Feng Shui are complex and abstract, requiring years of pondering and practice. However, some principles of feng shui are easier to learn and apply, such as enjoying the benefits of Feng Shui wind chimes.
Feng Shui wind chimes help us to recognize Chi flow, by the sound the wind chime makes. The gentle sound of wind chimes can greatly help to create a positive energy flow and facilitate good Chi.
Feng Shui wind chimes can also correct bad Chi flow by masking or covering negative, harsh or dulling sounds in the environment, such as the sound of traffic. Feng Shui Wind chimes can correct these situations and bring balance to a home and to your life.
Glass Wind Chimes: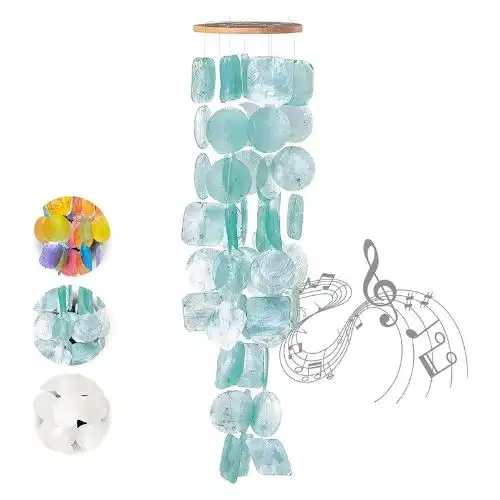 Glass wind chimes are a charming addition to any patio or backyard. They also look great displayed in your home or office. They are offered in a stunning array of colors and beautiful tones. You will love the beauty and serenity that a glass wind chime will bring to your home or outdoor space.
Styles
There are several styles of glass wind chimes. One of the most popular styles is made of stained glass. Many options have a glass object such as an animal or flower, which sits above the bells. While other glass wind chimes may offer beautiful pieces of stained glass dangling throughout the entire piece and around the bells. You are sure to find the perfect glass wind chime to suit your tastes.
Colors
Glass wind chimes are available in a spectacular array of colors. You will find every color of the rainbow. They are a perfect way to add some color and excitement to your drab porch or patio. You and your guests are sure to enjoy the beauty of your chime as it dances in the sunshine and plays an enticing melody when the wind blows.
Tones
Glass wind chimes have a delicate sound that is the perfect addition to any outdoor area. The soothing tone of a glass wind chime is soft, delicate, and relaxing.
Gifts
They are the perfect gift for that person who already has everything. Your recipient will just love adding a beautiful glass wind chime to his/her outdoor space. They are the perfect gift for any holiday or occasion.
Glass wind chimes offer a unique touch to your home or yard. Your family and neighbors will enjoy the amazing colors and sound that these chimes offer. Everyone needs at least one on their porch or patio. With the stunning colors and sounds of a glass wind chime, your outdoor living spaces are sure to become your favorite relaxation spot!
Ceramic wind chimes:
Ceramic wind chimes add a lovely, unique dimension to any environment. They combine peaceful sound with beautiful craftsmanship and the result is subtly spectacular. Featuring hand-fired, long-lasting ceramic, these fine pieces are an inexpensive way to enliven your deck or porch.
They are beautiful indoors with an open window as well. Wherever you decide to hang one, you'll be pleased with their gentle way of creating a cheerful atmosphere.
Handcrafted
Many of the ceramic wind chimes on the market today are hand-made by Andean artisans. Each chime is unique in design and sound. There is a huge variety of styles, each with its own personality. A few popular designs include ones with flowers, hummingbirds, cacti, geometric shapes, or heavenly objects. They each look beautiful in any indoor or outdoor environment.
Durability
Ceramic chimes are able to withstand powerful wind gusts up to 25-30 mph. It is a good idea to hang your chime away from a wall or other hard structure in case of a damaging collision caused by an especially strong wind.
Unique Gift Idea
If you are looking for the perfect gift for the person who has everything, a ceramic wind chime would be an unexpected, pleasant surprise.
With several original and imaginative designs to choose from, you are sure to find one for anyone on your gift list. They are great for birthdays, weddings, anniversaries, and Christmas, or would they would make a wonderful housewarming gift as well? You won't go wrong with one of these handcrafted, artistic wonders.
Finally, the tranquil sound of softly blowing chimes can be a soothing catharsis. If you love the sound of music and would like a handcrafted, original work of art, choose a ceramic variety for yourself or a friend. You'll be glad you did.
Bamboo wind chimes:
Bamboo wind chimes are a natural choice for enhancing relaxation. They are environmentally friendly. They also resonate with a supremely relaxing sound.
Abundance
Bamboo is grass that grows into tall, wood-like stalks. It is very lightweight and durable. Gladly, Mother Earth has provided an abundant source of this remarkable cane; a bamboo plant can grow several kilometers of cane, functional for making so many things—including beautiful bamboo wind chimes.
Processing
Though it's true that some manufacturers choose to use chemicals in their processing, bamboo does not require environmentally questionable chemicals in preparation for making wind chimes.
The stalks will dry naturally over time; the younger, greener stalks can take several months to reach the right stage. Older, bigger stalks are not as green; but may have a tendency to eventually split.
Splitting
Splitting will occur to some degree in the majority of dried bamboo stalks. This is simply a natural feature of bamboo. The chime's sound may be affected, but very slightly. Many people prefer the sound of split bamboo wind chimes, or a chime with a combination of whole tubes and split pieces. This is as much a visual choice as anything else. You may want to experiment with both styles to discover if you have a preference.
Size
The sizes of a bamboo option depend very much on how many tubes it holds, as well as the diameters of the bamboo tubes themselves. They can be charmingly small or up to an impressive 60-inches long.
Natural Melody
Bamboo wind chimes produce tones that no other material can duplicate. With their hollow, lingering sound, bamboo wind chimes are very relaxing. The tones will always be deep and resonant; however, the shorter, narrower tubes produce a slightly higher tone than the longer, wider tubes. All lengths produce a natural sound that is never artificial or grating.
Whether you choose bamboo wind chimes for their environmental qualities, their beautiful sound, or both reasons, breathe deep and relax while you listen to one of nature's most beautiful songs.
Final Thought
In conclusion, wind chimes are a great addition to any outdoor space. You can customize them to match your personal style by choosing the colors, shapes, and notes. It is best to hang them in an area where they will not be in danger of being damaged by animals or the elements.
Every wind chime has its own personality and it's important to find one that matches yours. With so many styles and tones, finding the perfect one for your home can be a challenging endeavor. From rustic cedar to ornate silver, there is always something for everyone no matter their taste.