(Last Updated On: September 16, 2022)
Are you looking for beautiful cheap chandeliers under $50 that have a classic, elegant flair to them? If so, keep reading! There are many beautiful chandeliers on the market today but most of these beautiful pieces come with a hefty price tag. Luckily for you, there are some nicer options out there for those with a limited budget!
The chandelier is an iconic classic fixture in any room. It has been around for centuries, serving many different purposes. The most common use today is in homes for decoration. Part of the allure comes from how much light they emit when fully lit. What you need to know before picking out a chandelier, though, are the various types and styles available.
Our Top Picks
Overall Best
4-Light Rustic Chandelier
 4-light chandelier used traditional oak frame
Made of high-quality iron
Easy Installation
The crisp edges and bold lines with open frames design
It takes 6 maximum 60-watt Candelabra E12 base bulbs
Budget Friendly
Modern Round Crystal Chandelier Light
Stunning Hallway Light Fixture
Chandelier diameter: 9.85 inches/25cm
Chandelier height: 5.9inches/15cm
Easy to install and all mounting hardware
It really brings some sophistication to the bedroom
Value For Money
Modern Mini Shabby Chic Chandeliers
The multi-faceted crystal pendant
Made of high-quality wrought iron
Perfect for sloped/low/high ceilings
The light support 60 watts
The crystal lighting fixture is securely wrapped and easily installed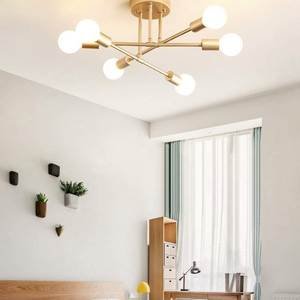 Dellemade Modern Sputnik Chandelier
It requires 6 pcs of E26 regular light bulbs
LED or incandescent bulbs are both available. Bulbs are not included.
You can easily clean it and replace the bulbs if needed.
2 years warranty
Mini Chandelier Crystal Ceiling Light 
Classic Design: stunning Crystal ceiling chandelier
Crystal is half-assembled and it is easy installation
Elegant crystal ceiling chandelier is a perfect fixture for Aisle
Eye-catching for your well-appointed space
Only take within 10 minutes to finish the installation
Ultimate List of Cheap Chandeliers Under $50
Do you want to decorate your home, but want to make sure you purchase items for the best possible price? Here is an ultimate list of cheap chandeliers under $50. These pieces are affordable to all homeowners and will help brighten up any space. All of these options consist of well-known retailers that offer everything from entry-level to designer pieces.
Cheap Chandeliers Under $50 Reviews
You want to find the perfect chandelier at the lowest price for your home. You search online and find a great website with so many options; but, they are all too expensive for you.
However, you notice that there is one site that has cheap chandeliers under $50 that might be worth checking out. If you want affordable, yet elegant home decor, then this site is the place to go!
01. Heil Lighting KU300107 Crystal Chandelier
Key Features:
Translucent shade
Requires 3 LED bulbs
Flush mount ceiling light
11.0*11.8″ dimension
Featuring an ornament-like lamp this is more beautiful than its picture. It needs three changing LED bulbs to rock on. This modern-looking mount ceiling chandelier consumes only 120 watts i.e. more brightness with a less electric bill! It weighs only 4.49 pounds and can fit your bedroom, corridor, balcony, stairways, living room, study room, and even at the office.
But it needs your patience to set up the chandelier. Some users suggest reversing the instruction. I mean you had better hang it to the ceiling first and put the crystals on the last to ease the task. If your room size is between 8-15 meters square, this 11.0*11.8″ lamp would nicely fit.
Why we picked it?
Not dimmable
Long-lasting
Bedroom, corridor, balcony, stairways, living room, study room, and office
Suitable for the moderate size room
02. SOTTAE Elegant Crystal Chrome Chandelier
Key Features:
ELT safety system
self-assembled
modernized
11.8*4.7″ dimension
This is another contemporary cheap chandeliers under $50 for you. In spite of having suitable for restaurants, bars, bedrooms, hallway, kitchens, kid's rooms, and dining rooms, you can use this for ceremonial purposes also. Leaving a soft and warm light this 11.8*4.7″ lamp can accommodate 12-20 meter square rooms easily.
It gives you a romantic aura. Not only that, it is very easy to install and needs two bulbs to be added. SOTTAE ensures the ELT safety system. But don't forget to have gloves on that moment, alright! You should also be careful to cut off the power supply while cleaning or replacing light bulbs.
Its compact fluorescent light consumes only 120 watts. You can set different sorts of lights also. It looks somewhat like a bee colony that even puts the effect of waves on your wall. Kids do love this most. You will also enjoy doing any sort of work under its comfortable ambiance.
Why we picked it?
Ideal for restaurant bar, bedroom, passway, hallway, kitchen, kids room, and dining room
A romantic touch
Cheap but simply beautiful
Eye-protective
03. Mooni Hallway Crystal Chandelier
Key Features:
Square flush light
Polished chrome
Crystal metal glass
7.87*7.87*7.09″ dimension
If you are looking for a cheap, reliable brand then this one is really a good option. Moon has long-run goodwill, and it is their item no. 140. This mini modern square flush mount ceiling light contains only one bulb. It ensures a polished stainless steel base.
You can choose this for your bedroom, kitchen, shop, foyer, hallway, staircase, dining room, craft room, etc. Also, it can fit your office, hotel, restaurant, saloon, lockers, laundry room, etc. A little hard to hang them, true, but you can not help to praise them for their performance.
The Chinese manufacturing company assures a safe shipment. Although some of the consumers found it troublesome to put the light strands together and attach them with the metal plate, however, didn't hesitate to hail the Hile stuff at all.
Why we picked it?
Safe foreign shipment
Energy saving
Cheap but gorgeous
Fit to various spaces
04. Raindrop Modern Crystal Chandelier
Key Features:
Diameter 7.9 inches height 29.5 inches
Spiral shape
Downlight
Not dimmable
Who doesn't love the raindrop! Perhaps you are searching for a crystal chandelier that gets you closer to rain. In that case, this modern minimalist design is for you. Enlightened with a fascinating beauty it will represent your aesthetic level. It comprises a polished chrome and requires only one light.
Just don't forget to tear off the protective film before you hang. We would like to suggest maintaining a balance between the ceiling and the tabletop due to its long shape. Some users faced trouble with this. It can easily fit your living room, dining room, hotel, foyer, bedroom, conference room, hallway, office, etc.
Why we picked it?
Updated version
Ideal for living room, dining room, hotel, foyer, bedroom, conference room, hallway, office, etc.
Not too bright but stunning
05. Waneway Acrylic Chandelier with Beaded Lampshade
Key Features:
Pendant lampshade
3 tires
Jewel droplet
Reducing ring
1.54 LBS weight
Metal and acrylic
Probably you want to romanticize your nights or brighten your evenings, right? Well, Wane way Acrylic Chandelier is a great match for that. It provides a three mouthy tier beaded lamp. Especially, the diamond-shaped beads shine and reflect the light to scatter some attractive shade throughout the room.
You would love to see the beads splattering the sunshine into rainbows. It requires a 40 watt light bulb max. Its removable reducing ring is suitable for most of the light fitting also. The exceptional three-tier design is an apt choice for corridor, lounges, balcony, stairways, hallway, kitchen, island, bar, bedroom, small room, and living room.
This 16.93*12.6*16.93 dimension is even perfect for a wedding or party decoration. I must say like others that it's an uncommon chandelier to personalize your space. But you have to be careful to select the right color for the light bulb okay? A wrong selection can ruin the whole plan.
Why we picked it?
Meets home, bar or ceremonial purpose
Personalize your space
Sheer elegance for urban life
Gaudy look
No electrical installation required
06. ZEEFO Modern Crystal Mini Chandelier
Key Features:
Flush mount fixture
K9 acrylic crystal
Mini classic light
Dynamic light effect
This time we are here to suggest the ZEEFO modern crystal ceiling light. This is a dynamic crystal compact chandelier. Its dimension is 6.7*7.8* 7.8. The crystals are easy to install, yet a little tricky and interesting also! This unit looks like a set of Ping-Pong balls getting down from the stainless steel strand.
However, a caution, you should install this by a professional electrician provided the electric insulation gloves. It is wise to prevent any electric shock or serious accident. The metal is bendable and the crystals are easy to fall off. Surely you would love to see some lightning effects on your ceiling.
For this, you can either choose warm light or white daylight E12 bulbs without any hesitation. This crystal chandelier is suggested for the kitchen, kid's room, hallway, bedroom, and dining room. Nonetheless, before purchase, you must check the size to meet your requirement.
Why we picked it?
24 months warranty easy installation
a top choice for Kitchen, Kids Room, Hallway, Dining Room, Bedroom
certified frustration-free
elegant contemporary design
07. Surpars House Crystal Chandelier
Key Features:
17 feet long cord
standard size plug
ear-drop looking
Another affordable exceptional lamp is the Surpass House Crystal Chandelier. Weighing only 1.54 lbs its dimension is 6.3*6.3*9.8 inches. It is certainly going to add extra glamour to your space that contains only one light. Be careful to choose a less warm bulb, then see how it glorifies the atmosphere!
You will have a 4.5-meter long cord with an on/off switch and a standard US plug. This is the exclusiveness of this pendant chandelier. The compact design light looks much prettier than you see in the picture. It first arrived in 2017 and till now as far as our study goes, it's going very well.
Why we picked it?
quite affordable
simply beautiful
energy-saving
suitable for bedroom, kitchen, dining room, living room, corridor, closet, etc
08. XUANMEI Black Crystal Mini Chandelier
Key Features:
Mini antique shaped
Non-bug attracting
Built-in fixture
Self-assembled
This antique-shaped cheap chandelier is rocking today. It signifies your elegance. The XUANMEI is a modern crystal ceiling light with a built-in fixture featuring a 7.48*7.48*7.09″ dimension. It can carry up to 40 watts. This is a fine decor for any space like a bedroom, living bedroom, hallway, kitchen, corridor, kid's room, dining room, etc.
It requires an E26 bulb. The recommended room size is 5-8 meters square. It is self-assembled and easily installable, but for this, a professional electrician is a must. One more One, whenever you will install or clean, don't forget to cut off the power supply.
You know safety first! The semi-flush mount chandelier hung with a 4.72 black plate is quite durable. You will have 2 years of warranty along with it.
Why we picked it?
cheap and durable
antique look but modern
24 months warranty
recommended for bedroom, living bedroom, hallway, kitchen, corridor, kids room, dining room, etc
09. Todpoles Pendant White Diamond Chandelier
Key Features:
UL listed and certified
12 feet chain and 15 feet cord
Multifaceted diamond beads
Satin cord cover
Do you want a diamond parking faceted faux crystal chandelier hanging from some white filigreed rings? Then this one is waving at you! This cheap and gorgeous chandelier is a great choice for any room and occasion. You can get this in your bedroom, dining room, bathroom, kids room, and even at dens and nurseries also.
Featuring multifaceted beads, forged metal frames, and dangles with a Satin cord cover it gives your space a festive look. You will get a glamourous view with soft lighting by Tadpoles. It is available in 1, 3, 4, and 5 options. It merely needs you to drop off the Satin cover before fixing it.
You will get 12 feet hanging chain and a 15 feet plug-in cord. You can either opt for cord and plug-in as a Swag lamp or hardwired install as a ceiling fixture. Though some users found it hard and messy to install this chandelier. It requires a 25 watt (E26) candelabra bulb.
Why we picked it?
compatible with several kinds of bulbs
perfect choice for bedroom, dining room, bathroom, kids room, dens and nurseries
gorgeous but low cost
suitable for both room and occasion
10. Contemporary Style: Hile Lighting KU 30074 Chandelier
Key Features:
Plastic strand
Crystal ball
Contemporary pendant lamp
Consumes 100-watt max
8.66*8.6*9.84 dimension
Hile Lighting KU 30074 is one of the most appreciated chandeliers. It requires only one bulb and a small space but illuminates in a royal mode. Please choose a cool light as there is no filter for the light bulb. If you want lordly stuff at a cheap rate, then it is highly recommendable.
This is an ideal collection for the aisle, balcony, bar, stairways, bedroom, living room, and office. Hanging from a strand the crystal balls spark like jewelry. This 8.66*8.66*9.84 dynamic design is an updated version of the Hile Lighting factory.
Its frustration-free certification along with the aristocratic lighting mood made it more reliable. However, it's not large enough for corporate purposes. Suggestions came from the users to put all the crystals on and insert the bulb before installing because of its small size.
Moreover, you will find it handy to squeeze the ring on the end of the strand to open up the tip arms and then slide it onto the base. Be careful to cut off the power supply to avoid electric shock.
Why we picked it?
Easy to assemble
frustration-free certification
cheap but aristocratic
ideal for aisle, balcony, bar, stairways, bedroom, living room, and office
extra glamour with cool light
Different Types of Chandeliers
The word chandelier is derived from the French word "chandelle", which comes from the Latin word can. The two-story-tall chandeliers were first used in Persia and then later became a European tradition. Today, there are many different types of chandeliers to suit any style preference.
From simple and humble ones to those with ornate details, they come in all shapes and sizes, often determined by the height of the ceiling they hang over. Here , we will let you know 11 different types of chandeliers. Hopefully, it will help you to choose your favorite one.
Candle Chandelier:
A candle chandelier is a decorative light fixture that hangs from the ceiling and typically has candles attached to it. These fixtures typically hold candles or other lights and are hung for décor or to provide illumination.
Chandeliers come in various shapes, sizes, and styles and can be made of different materials such as metals, glass, crystals, and even plastic. It is a type of light fixture that uses candles as its source of illumination.
Antler Chandelier:
An antler chandelier is a type of light fixture which is made from deer antlers. An antler chandelier is an interesting alternative to a typical, glass or even crystal chandelier. Made from authentic deer antlers, these pieces are usually made by the designers themselves.
Not only are antler chandeliers unique and aesthetically pleasing, but they are also very cost-effective to manufacture. This style of the light fixture makes for a beautiful addition to any modern home.
Crystal Chandelier:
A crystal chandelier is a type of chandelier that typically consists of several tiers, hanging orbs, and dangling crystals. More than just an accent to your home's décor, these beautiful light fixtures are also functional.
First discovered in France in the 1750s, they were originally used to provide light for the rooms in palaces. Nowadays, they are more commonly found in homes or public buildings because of their need for electricity.
Glass Chandeliers:
Numerous variations of the modern-day chandelier exist, including ones made of crystal, glass, brass, steel, wood, and plastic. A glass chandelier is a type of chandelier that has crystals on the outside of the lamp.
It consists of a metal frame and a central light bulb. The crystals are placed on the outside of the lamp, with some hanging down and some pointing up.
A glass chandelier is an illuminated hanging fixture that dispels light downwards in order to illuminate a room. It is common in homes with high ceilings and often hangs over the dining room table for added effect.
Modern Chandeliers:
A modern chandelier is a light fixture that hangs from the ceiling and contains one or more bulbs. Modern chandeliers typically use LED bulbs, which emit less heat than traditional incandescent bulbs, and are more energy-efficient.
The modern chandelier has been redesigned to be lighter, more compact, and to have clean lines. While it may not be used for the same purpose as the chandeliers of old, it still has great aesthetic value.
Drum Chandeliers:
A drum chandelier is a beautiful and unusual type of chandelier, which consists of a large cylindrical frame with arms. The frame is usually made of metal and has a large fabric or paper shade on the top, and small lightbulbs at the bottom.
A drum chandelier is a remarkable type of chandelier that hangs from the ceiling. This type of chandelier is decorative and it typically has two tiers that hold several candle holders.
These candleholders are shaped like drums and they hang vertically on either side of the first tier. The first tier typically has an open center which allows for light to flow through both tiers and cast a warm glow throughout the room.
Bowl Chandeliers:
A bowl chandelier is a type of chandelier that is shaped like a bowl. The light bulbs are placed inside the bowl, and the light shines outwards towards the walls or ceiling.
Many people might not know, but a bowl chandelier is a very popular ceiling fixture. They are typically installed in the center of the room, overhead, or on the ceiling, and are often made up of layers of glass bowls that are mounted to a metal frame.
A final layer of either glass droplets or crystals completes the look. Bowl Chandeliers can also be hung on either one or two walls in a room for more dramatic lighting effect.
Transitional Chandeliers:
The classic transitional chandelier is designed to provide a clean, contemporary look. It is often found in modern homes and office buildings. These fixtures are typically round or rectangular in shape with long, slender arms that curve outward.
The design incorporates either linear or curvilinear lines to create an open, airy feel. It has a nice, clean look for modern homes and offices. They often have a more modern design than traditional chandeliers, but they're still suitable for use in a more formal setting.
Beaded Chandeliers:
A beaded chandelier is a type of chandelier that has beads hanging from its arms. It is a decorative object that hangs from the ceiling to provide lighting. These intricate pieces are constructed by hand so they are not only beautiful but also well-made.
An authentic beaded chandelier is a fixture found in the formal drawing rooms and ballrooms of palaces and mansions.
They are crafted from glass beads that decorate iron, bronze, or brass. The Venetian-made replicas of these fixtures are popular today because they can be used in any type of setting.
Caged Chandeliers:
The term "caged chandeliers" can be broken down into two parts. The first word, "cage," refers to the glass or metal structure that surrounds the light bulb. The second word, "chandelier," is what hangs from the ceiling and contains all of the crystals that give it its beauty.
A caged chandelier is a type of light fixture that has been fitted with a protective cage around it. This is to protect the fixture from being damaged or broken by people or objects that might come into contact with it.
Tiered Chandeliers:
A tiered chandelier is a type of chandelier that hangs from the ceiling in tiers. These types of chandeliers are often found in large rooms, such as ballrooms or dining halls.
In the decorative world, chandeliers are a beautiful accent. They can be placed in any room, from a bedroom to a kitchen. One type of chandelier is the tiered chandelier.
This particular type has tiers of lights pointing downwards. It has been found that this type of chandelier looks great in hallways and foyers because it showcases these spaces well. This is because of the effect that tiers have on ceilings and walls.
Frequently Asked Questions About Cheap Chandeliers
What are chandeliers?
Chandeliers are types of lights that hang from your ceiling and are used for ambient lighting or general lighting for any room. A chandelier is not just one light but is an arrangement of many small and big lights, all put together to form the entire chandelier.
What is a light fixture chandelier?
A light fixture chandelier is a type of lighting fixture that is usually suspended from the ceiling. It consists of a frame with many lights, usually in the form of lamps or candles, suspended from it.
Light fixture chandeliers are the perfect solution if you're looking for a way to brighten up your home. They can be used in any size room, are available in many different styles, and are available at an affordable price.
Are chandeliers out of style?
Chandeliers are not out of style because they can be used in a variety of different styles. They may be less popular than they were 20 years ago, but this is because people are choosing to go with more modern lighting options.
What types of chandeliers are there?
There are three main types of chandeliers. The first is the traditional crystal chandelier, which has a lot of crystals and is usually found in grand ballrooms. The second type is the modern chandelier, which has fewer crystals and more metal.
This type can be found in restaurants or small spaces. The third type is the rustic chandelier, which is often made out of wood or metal and can be found in diners or mountain cabins.
Is it better to get a simple or elaborate chandelier for my home?
It is better to get an elaborate chandelier for your home if you want a more modern look. Simple chandeliers are more appropriate in a traditional setting.
How much does a chandelier cost?
It depends on the size of the chandelier and what type of material it is made out of. For example, a small crystal chandelier would cost around $500, but a large wrought iron chandelier could cost up to $10,000.
What is the purpose of chandeliers?
Chandeliers are decorative fixtures that provide a focal point in a room. They hang from the ceiling and have dangling crystals, beads, or other decorations. Chandeliers can be used for lighting, but they are usually too high to be of practical use.
Where can I buy chandeliers?
There are many places to buy chandeliers. The first place to look is online. You can search for chandeliers on sites like Amazon, eBay, and Etsy. You can also find them in department stores, home goods stores, and specialty lighting stores.
Final Thought About Cheap Chandeliers Under $50
In conclusion, it is important to consider your needs when searching for cheap chandeliers under 50. If you are unsure of what type of chandelier you want, it may be wise to do some research on the various types before deciding. However, if you know what type of chandelier you want and/or have a tight budget, a cheap chandelier will provide a good investment.
Cheap doesn't mean something poor. Rather making extraordinary things cheap is a matter of excellence. In this article, we have dealt not only with the various prices but various chandeliers along with their kinds also. Chandelier shows your appetite for beauty.
The above-mentioned cheap chandeliers under $50 are like a honeycomb. No matter you are rich or middle class, any of these chandeliers is classy for sure. So all pleasure is yours.