Last updated on September 13th, 2023 at 06:19 pm
The importance of lighting is often emphasized by interior designers and home décor experts. Lighting can be used to brighten up dark corners and complement natural sunlight in a room. During evenings, you can use the same lights to amplify the atmosphere and ambiance. Whether you use lighting for style or function, it serves as a key element of home décor.
Not every room in your house uses the same lighting arrangements. For example, your kitchen won't be lit in the same way as your bathroom or your bedroom. In general, you should be careful with how much lighting you put in a room. Large rooms benefit from additional lighting, which can introduce more liveliness during late hours. In smaller rooms, soft lighting adds a gentle, intimate ambiance that puts your mood at ease.
5 Small Living Room Lighting Ideas
Living in a small space can be difficult, but with the right design choices, it can be just as comfortable as living in a larger home. One of the most important choices to make is the lighting. Here are five small living room lighting ideas to help you make the most of your space.
Natural Lighting:
When it comes to small living room lighting ideas, natural light should be your top priority. Windows are essential for letting in natural light, so make sure you have plenty of them. If your living room doesn't have a lot of windows, you can maximize the amount of natural light by using light-colored walls and ceiling, and by keeping your furniture away from the walls. You can also use mirrors to reflect natural light into the room.
Ambient Lighting:
One of the best things you can do to make a small living room feel bigger is to use ambient lighting. Ambient light is light that fills the room without any specific direction. This type of light is perfect for small spaces because it makes the entire room feel bright and open. There are a few different ways to create ambient light in your living room. One of the simplest methods is to install a dimmer switch on your overhead light fixture.
Task Lighting:
Task lighting is a type of lighting that is used to highlight a specific area or task. It is often used in areas where regular light fixtures would not provide enough light, such as the kitchen or the bathroom. There are a number of different types of task lighting available, including desk lamps, under-cabinet lighting, and track lighting. Task lighting is a great way to improve the functionality of a room.
Accent Lighting:
In a small living room, it's important to make the most of every inch of space. One way to do this is by using accent lighting to create visual interest and focus attention on specific areas. There are many different types of accent lighting to choose from, so it's important to find one that will fit the style and function of your room. One popular type of accent lighting is floor lamps or table lamps.
Decorative Lighting:
Small living rooms can be tricky to design and decorate. In order to make the most of the space, it is important to use furniture and accessories that are both functional and decorative. Lighting is a key element in any room, and it is especially important in small spaces.
6 Best Home Décor Tips Using for Your Lighting Ideas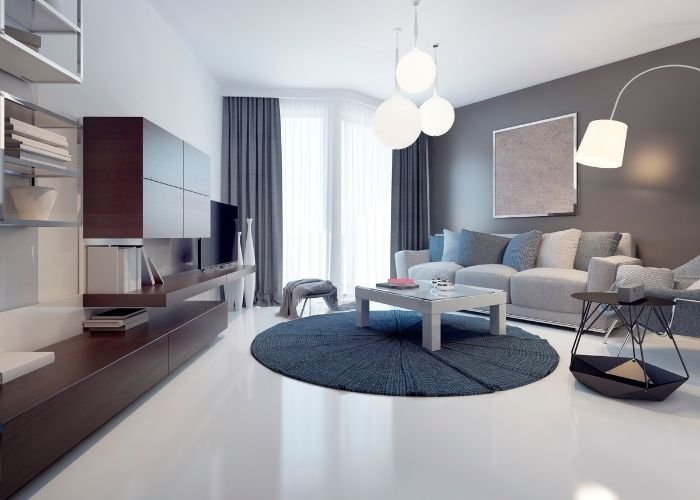 One of the easiest and most effective ways to change the look and feel of a room is through your lighting. Lighting can be used to draw attention to certain elements in a room, set a mood, or simply provide illumination. Here are a few tips for using your lighting to enhance your home décor:
Amount of lighting
Few rooms have only a single source of light. Your goal is to combine the lighting to create a visual rhythm throughout the room. Think about the layout of each room, taking the height, width, and shape into consideration when you place the lighting. A long hallway may have different lighting requirements than an overly tall ceiling.
Keep your lighting arrangement as simple as possible. When lighting is overdone, it makes a room look cheap. Instead, strategize and envision how much light the room needs. Minimalism is preferred, but you also don't want insufficient lighting in a room either. The key is to find the right balance between brightness and darkness.
Placements
Obviously, there should be a source of light in every bedroom, bathroom, and living room. However, other parts of your house must also be lit accordingly. You will want to put lighting in areas where it feels natural. In a kitchen, you may have lights above the countertop, providing sight where food is being prepped. In a long hallway, you should have lighting to guide your trajectory.
Extra lights may need to be placed in tall ceilings or mounted above staircases. Many of these lighting arrangements are permanent fixtures, so be thoughtful about their placements. It is especially important to place lights to illuminate any dark corners and hard-to-navigate spaces in your house. Don't forget to place lights in the basement and the attic, especially since these two rooms are often neglected in home décor.
Ambiance
Consider how each room looks during the evenings. Your home's ambiance will transform depending on the time of day, especially as the daytime transitions into nighttime. Some rooms may appear well-lit during the day because of the natural light coming from the windows. Once the sunlight is gone, the rooms may become poorly illuminated without sufficient lighting sources.
However, that doesn't mean you have to blast every room with lighting. Sometimes, subtlety is the key to effective lighting. The ability to dim and soften lights can make a space feel cozier instantly. For a home theater setup, more people are using dimmers to bring the lights down, just like watching movies at the cinema. The intuitive lighting arrangement helps you to feel relaxed and mimics the soft glow of candles or a sunset.
Aesthetics
Lights have the ability to accentuate a room. As such, the aesthetics will clash when you use lighting that doesn't suit your home décor. Browse wholesale home décor retailers for different types of lighting, which may include lamps, chandeliers, or ceiling lights. Consider the size, shape, color, and materials used in the lighting systems. These design elements should match the aesthetic of the room where the lights are installed.
Bulbs
In wholesale home décor, most of the focus on lighting goes to what's holding the bulb rather than the bulb itself. However, the right lightbulbs can prove to be just as important. LED bulbs are one of the more popular lighting types, but there are other options too. You also have colored bulbs, although these should be used sparingly to avoid a tacky ambiance in the room.
Another way to decorate the room is to use LED string lights. Available in all sorts of designs, string lights add ambiance in a warm, welcoming way. These lights are perfect for more intimate settings, especially bedrooms or living rooms.
Candles
Instead of using traditional lights and lamps, candles can be an innovative lighting option. Candles add a whole new feel to a room while providing warm, kind lighting. Candles are also portable, allowing you to rearrange them anywhere in the room. Plus, you can accessorize them with stylish candle holders that match your home décor aesthetic, and the candles themselves can come in a wide array of themes, such as these artisan wax candles.
Add Neon Signs
Neon signs are always a fun and unique way to light up a room. If you're looking for something special to add a little bit of personality to your small living room, consider some funny neon signs. There are plenty of options available, so you can find the perfect one to match your personality and style.
Adding a neon sign is a great way to make your living room feel more personal and inviting. It's also a great conversation starter, so you can entertain guests with ease. Plus, they provide plenty of light, making it easy to read or watch TV in the evening.
If you're on a budget, don't worry – there are plenty of affordable options when it comes to funny neon signs. You can find great deals online, or check out your local thrift stores or garage sales.
Final Thought:
In conclusion, there are many small living room lighting ideas to choose from that will help to make the space feel more open and inviting. By using a variety of light sources and adjusting the brightness, you can create the perfect atmosphere for your needs. So, don't be afraid to get creative with your lighting and see what works best for you! You can also check out Emfurn for more home decor ideas.