Last updated on June 25th, 2023 at 02:12 am
Welcome to our blog! In today's post, we delve into the realm of L-shaped sectional sofas, the epitome of modern living room style and comfort. Whether you have a small apartment or a large house, these multifunctional pieces of furniture are designed to optimize your seating area while adding a touch of elegance to your interior design.
L-shaped sofas offer numerous benefits, including a space-saving design and the capacity to accommodate large family gatherings. They effortlessly designate separate areas within a room with their distinctive shape, creating a cozy and intimate atmosphere.
You can select from a variety of designs, fabrics, and hues to complement your personal preferences and interior design.
Join us as we discuss the various features, advantages, and purchasing advice for L-shaped. Prepare to transform your living space into a haven of comfort and style with the help of these contemporary and practical furnishings.
WelcomeL Shaped Sectional Sofa: An Overview
It also known as L-shaped couches or sectional sofas, are popular pieces of furniture renowned for their ample seating capacity and aesthetic appeal. These sofas, which consist of two or more L-shaped sections, offer versatile customization to accommodate various room configurations.
They are designed to maximize seating space while providing superior comfort and elegance. These sofas are versatile focal points that effortlessly enhance the aesthetic allure of any space. Their modular design allows for simple reconfiguration, making them suitable for a variety of living environments.
L-shaped sofas provide the flexibility to adapt to your requirements, whether you prefer a cozy corner for relaxation or a spacious gathering area for entertaining guests.
These sofas are available in a variety of styles, fabrics, and hues to accommodate various preferences and interior design sensibilities. There is an L-shaped sectional sofa to complement every décor style, from sleek and modern to cozy and traditional.
Join us as we delve deeper into the world of sectional sofas, examining their features, benefits, and suggestions to assist you in making an informed decision for your home.
With these adaptable and inviting furniture pieces, you're about to discover the ideal balance of functionality and style.
The Benefits of L-Shaped Sectional Sofas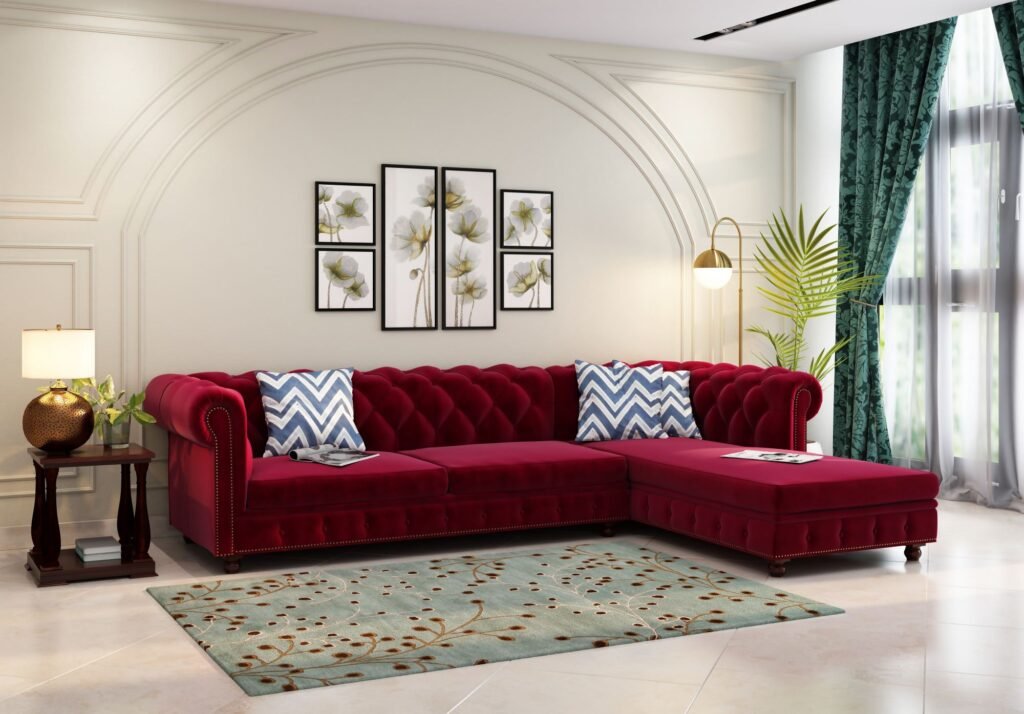 Photo Credit: plusoneindia
Numerous homeowners choose sectional sofas because they provide a variety of advantages. First, their design maximizes seating capacity, providing ample space for families and visitors.
The L-shaped arrangement of a room's spaces creates an intimate and cozy ambiance. In addition, these sofas are adaptable in terms of customization and arrangement to accommodate various room layouts. They are readily reconfigurable to accommodate changing requirements and preferences.
In addition to adding style and sophistication to any living space, they are available in a variety of designs, fabrics, and hues. Whether for lounging, entertaining, or simply unwinding, these sofas offer the ideal combination of aesthetics and comfort.
Versatility in Arrangement
The arrangement options of L-shaped sectional sofas demonstrate their adaptability. With their separate sections, these sofas offer an exceptional degree of versatility. You are free to easily rearrange them to suit the layout of your room.
Whether you prefer a symmetrical or asymmetrical arrangement, an L-shaped sectional sofa allows you to experiment with various configurations until you find the optimal match for your space.
This flexibility enables you to optimize your seating area in accordance with your particular requirements and preferences.
Embrace the creative possibilities and transform your living space with an L-shaped sectional sofa that effortlessly enhances the design and functionality of your room.
Discover the pleasure of custom seating arrangements that add both style and comfort to your residence.
Optimal Seating Capacity
They are an excellent choice for large families or individuals who frequently entertain visitors. These sofas offer ample seating space due to their extended design, ensuring that everyone can recline comfortably.
You will no longer have to worry about crowded seating arrangements or a lack of space when hosting parties or viewing movies. The seating capacity of these sofas is optimal, making them an excellent choice for those who value both design and functionality.
Whether you have a large family or merely enjoy hosting guests, an L-shaped sectional sofa is ideal for your living space. With this sofa, you can provide your visitors with ample seating and an inviting atmosphere.
Enhanced Style and Elegance
L-shaped sectional sofas add a touch of enhanced style and elegance to any room, which is one of their primary advantages. These sofas are available in numerous styles, colors, and upholstery options, allowing you to find the ideal match for your interior design.
It can easily blend into any design scheme, whether you prefer a contemporary and minimalist aesthetic or a classic and traditional feel.
Their distinctive form imparts an air of sophistication and refinement to your living space, making it appear more fashionable and opulent.
Additionally, the ample seating these sofas offer makes them perfect for hosting guests or spending time with family. L-shaped sofas are an elegant and stylish addition to any household.
Comfortable Lounging Experience
They are renowned for their ability to provide a relaxing environment for reclining. These sofas' roomy design allows you to completely stretch out and unwind.
Whether you're watching your beloved television program or simply unwinding, the L-shaped sectional sofa provides the ideal setting.
The sofa's plush cushions and soft upholstery make it easy to sink into it and forget about one's worries. It can be tailored to your preferred seating firmness or softness.
With their adaptability and comfort, these sofas provide a genuinely luxurious experience for lounging.
Choosing the Right L-Shaped Sectional Sofa
Photo Credit: cellini
Discovering the ideal L-shaped sectional sofa for your needs can be both an exciting and daunting task. To facilitate the procedure, consider the following factors:
Size and Dimensions
Before purchasing an L-shaped sectional sofa, it is essential to assess the available space in the room. Consider both the length and width of the space to ensure that the sofa will fit without obstructing walkways or other furnishings.
It is also necessary to consider the sofa's overall dimensions to ensure that it can be moved through doorways and hallways with ease.
To avoid any inconvenience or difficulty when attempting to position the sofa in the desired location, it is essential to consider the aforementioned factors.
Material and Upholstery
There are numerous materials available for L-shaped sectional sofas, including leather, fabric, and synthetic composites. Each material has its own advantages in terms of comfort, durability, and maintenance.
When selecting the upholstery material for your sofa, it is essential to consider your lifestyle, personal preferences, and the room's overall aesthetic.
Leather has a plush texture, is simple to maintain, and ages gracefully. Fabrics offer a vast array of hues and patterns and are typically more affordable.
Synthetic mixtures are renowned for their resilience and stain resistance. Your choice of material should ultimately correspond with your requirements and complement the aesthetic of your space.
Design and Style
Consider the overall aesthetic of your space when choosing the style and design of your L-shaped sectional sofa. Consider the sofa's shape and how it will suit the space.
If your interior design is modern or contemporary, you may want to choose a sofa with clean lines and a slim profile.
If you have a more traditional or classic style, however, you might choose a sofa with curved or elaborate details. The design of the extremities is also an essential consideration.
You may choose legs that are straight and simple or legs that are more decorative and ornate, depending on the desired style.
Accents or details on the sofa, such as tufting or nailhead trim, can also lend a touch of elegance or visual interest to the room.
Comfort and Cushioning
It is imperative to prioritize comfort and padding when designing an L-shaped sectional sofa. A settee should provide sufficient cushioning and support for a relaxing experience.
To determine the level of comfort, it is recommended to evaluate the seating by sitting on it. This will enable you to determine whether the sofa's firmness and softness meet your preferences.
Additionally, it is essential to consider the seat's depth and height. Due to the varying heights of individuals, it is essential that the sofa provide optimal comfort for everyone. The seat depth should provide adequate legroom and a comfortable seating position.
Similarly, the stool height should accommodate individuals of varying heights and provide sufficient back support. Finding a sectional sofa with exceptional comfort and padding will enhance your reclining experience significantly.
By attempting the seating, considering the depth and height of the seat, and ensuring the proper level of firmness and softness, you can select a sofa that provides the greatest level of comfort for you and your family.
Durability and Construction
Photo Credit: archdaily
When purchasing an L-shaped sectional sofa, you should prioritize durability. It is essential to scrutinize the sofa's construction, paying particular attention to the frame material and joinery.
It is prudent to choose a sofa with a hardwood frame, such as oak or maple, due to the robustness and durability of these materials. Hardwood frames are more resistant to warping and cracking over time and can withstand regular use.
Additionally, it is essential to seek out sofas with reinforced corners. These corners provide additional support and prevent the frame from weakening or becoming damaged. Additionally, give close attention to the sofa's suspension system.
Suspension systems of superior quality, such as 8-way hand-tied springs or sinuous springs, provide excellent support and aid in weight distribution. This prevents sagging and prolongs the sofa's life.
Examining the L-shaped sectional sofa's construction is essential for long-term satisfaction. Investing in a sofa with a sturdy structure, reinforced corners, and superior suspension systems ensures the piece will last for many years.
You can be confident in your purchase and appreciate the comfort and style of your L-shaped sectional sofa for a long time if you consider these factors.
Budget Considerations
When deciding how much to spend on an L-shaped sectional sofa, it is crucial to consider your financial situation and how much you can comfortably spend. Budgeting will help you limit your options and prevent you from wasting them.
Higher-priced L-shaped sectional sofas are typically crafted from superior materials and workmanship, ensuring their durability and longevity. These sofas may also include additional design elements and features that enhance their allure.
However, if you have a limited budget, there are still a variety of inexpensive options available. Numerous manufacturers offer L-shaped sofas at various price points, allowing you to locate one within your price range without sacrificing quality or style.
Consider sofas constructed from resilient materials such as hardwood frames and high-density foam cushioning, as these can provide both comfort and durability.
Additionally, consider the cost-effectiveness of various sofas. Some inexpensive options may still be of superior quality and durability, making them a worthy investment.
Reading customer reviews and researching various brands can assist you in locating reasonably priced options that suit your preferences and needs.
FAQs about L Shaped Sectional Sofas
How do I clean and maintain an l shaped sectional sofa?
Cleaning and maintenance methods for upholstery differ based on the material. Regular vacuuming and spot cleaning are recommended for sofas made of fabric.
Sofas made of the leather must be cleaned with a moist cloth and conditioned periodically. Always refer to the manufacturer's guidelines for specific maintenance instructions.
Can I customize the configuration of an l shaped sectional sofa?
Many of them are modular, allowing you to customize the configuration based on your preferences. You can rearrange the portions to create a left- or right-facing sofa, or even separate them to create individual seats.
Will an l shaped sectional sofa fit in a small living room?
They are an excellent option for compact living spaces. Consider a reversible chaise to maximize versatility, and select a compact design that does not overwhelm the space. To ensure a suitable fit, accurate measurements, and meticulous planning are essential.
Are l-shaped sectional sofas suitable for apartments or studios?
Absolutely! For apartments or studios, it can be an excellent space-saving option. They provide seating and reclining areas in a single piece of furniture, making them a practical option for small living areas.
Can I add extra seating to an l shaped sectional sofa?
If you need additional seating, you can add ottomans or accent seats to your L-shaped sectional sofa. This enables you to accommodate more guests while maintaining the living room's aesthetic.
What Are The Popular Color Options For L-Shaped Sectional Sofas?
The color selection for it is extensive and varied. Neutral tones, such as gray, beige, and white, are timeless options that combine well with a variety of design styles.
Strong hues, such as navy blue, emerald green, or even vibrant red, can lend a striking accent to your design.
living chamber. Consider the overall color scheme of the room and select a hue that complements or contrasts it for a visually appealing effect.
Bottom Line
L-shaped sectional sofas are versatile and fashionable pieces of furniture that can enhance the comfort and appearance of any space. Their adaptable configurations, optimal seating capacity, stylish appearance, and comfortable reclining experience make them a popular choice for both residential and commercial settings.
Consider size and dimensions, material and upholstery, style and design, comfort and cushioning, durability and construction, and budget when selecting an L-shaped sectional sofa. By considering these factors, you can locate the ideal sofa that suits your specific needs and preferences.
Remember to maintain and sanitize your L-shaped sectional sofa in accordance with the manufacturer's specific instructions. This will guarantee its durability and keep it appearing fresh and inviting for many years.
Investing in a high-quality L-shaped sectional sofa will not only provide you with a comfortable reclining solution, but it will also improve the overall ambiance of the room. Explore the broad variety of available options to find the ideal sectional sofa that combines functionality and style.