Last updated on June 26th, 2023 at 01:46 am
Are you exhausted from spending countless hours maintaining and cleaning your sofa? We've all wished for a low-maintenance, elegant seating option. 
You have good fortune! In this blog post, we'll explore the world of sofas that are simple to maintain and highlight the best available options. 
From stain-resistant fabrics to enduring materials, we'll examine the key characteristics that make a sofa effortlessly manageable. Put an end to routine vacuuming, scouring, and spill-related concerns.
Whether you have children, or pets, or simply want a stress-free seating experience, we'll walk you through the best options for low-maintenance seating without sacrificing flair. 
Prepare to transform your living space into a sanctuary of relaxation and ease with the most low-maintenance sofas available.
What is the Best Easy to Maintain Sofa?
Typically, the following features are found on the finest sofas that are simple to maintain:
Due to its sturdiness and stain resistance, leather is a popular material for sofas due to its low maintenance requirements. The settee can be kept clean by wiping up spills and regularly dusting or vacuuming it. In addition to aging gracefully, leather couches develop a gorgeous patina over time.
Microfiber Sofas: Microfiber is a synthetic fabric renowned for its resistance to stains and sturdiness. The majority of accidents and stains can be eliminated with mild detergent and water. Microfiber couches are also pet-friendly because pet fur can be easily wiped off or vacuumed.
Sofas Constructed from Performance Fabrics Performance fabrics, such as Crypton or Sunbrella, are designed to be highly resistant to staining, spills, and fading. 
Frequently, only water and a moderate detergent are necessary to clean these fabrics. Additionally, they are designed to withstand daily use and are available in a vast array of colors and patterns.
Your particular requirements and preferences will determine the most convenient sofa to maintain. Consider factors such as the level of stain resistance, the simplicity of cleaning, and the overall durability of the materials when making a choice.
Factors to Consider When Choosing an Easy-to-Maintain Sofa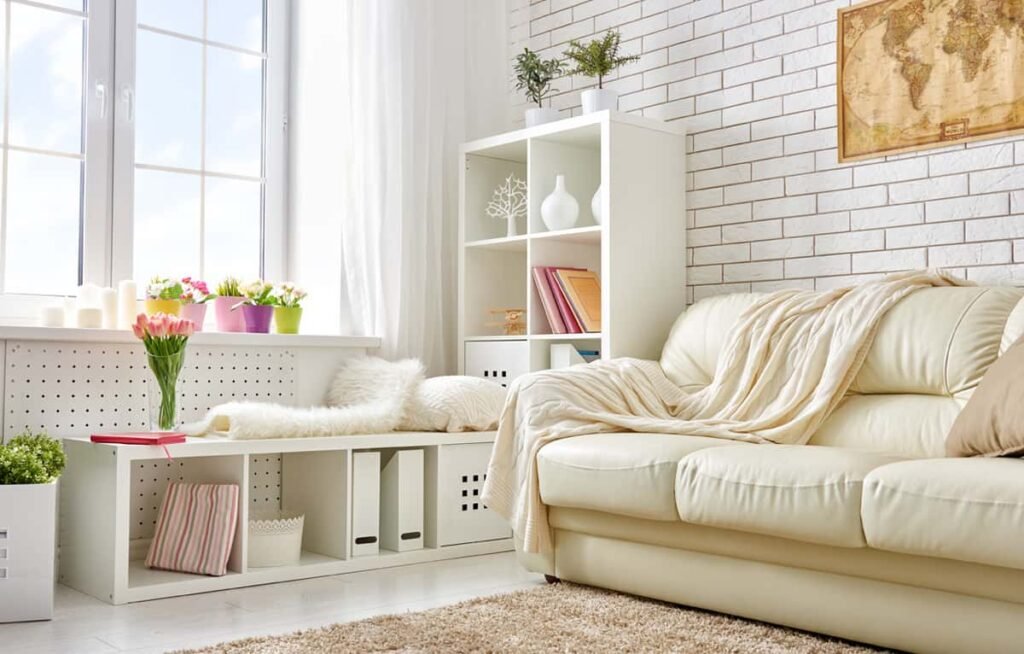 Photo Credit: bigredcc
To select a sofa that is simple to clean and maintain, it is essential to consider several factors. Here are some important considerations to bear in mind while searching:
Material: Choose materials with a reputation for being low-maintenance, such as leather, microfiber, or synthetic fabrics. Typically, these materials are stain-resistant and relatively simple to clean.
Consider purchasing a sofa in a darker color or with patterns that can conceal discoloration. Lighter colors and homogeneous fabrics may need to be cleaned more often to maintain their appearance.
Coverings That Are Removable and Washable Sofas with removable and machine-washable covers are very easy to maintain. The covers are readily removable and can be washed in the washing machine or professionally cleaned.
Look for sofas treated with stain-resistant coatings or upholstered fabrics that naturally repel stains. These features offer an additional layer of defense and make it simpler to clean up spills and messes.
Quality Construction: A well-constructed settee is more likely to withstand regular use and retain its appearance over time. To ensure long-lasting durability, pay close attention to the frame, padding, and embroidery.
By considering these factors, you can select a sofa that is both stylish and simple to maintain. Prioritize stain-resistant materials, choose detachable coverings, and choose a durable piece that can withstand regular cleaning and use.
Top Recommendations for Easy-to-Maintain Sofas
Leather Sofa
Sofas made of leather are an excellent option for those in search of low-maintenance and enduring style. Here's why a leather settee is an excellent choice:
Leather is a highly durable material that can withstand normal wear and tear. It is resistant to staining, spills, and scratches, which makes it ideal for homes with children or pets. A leather sofa can last for many years if it is maintained properly.
The ease with which a leather sofa can be cleaned is one of its chief benefits. With a damp cloth, spills, and stains can be quickly removed, preventing them from penetrating the surface. Regular dusting or vacuuming can assist in removing grime and debris.
Natural Resistance: Leather has a natural resistance to liquids, allowing you to mop up spills before they penetrate the material. This makes it simpler to maintain your sofa's appearance and prevents stains from becoming permanent.
The leather on the sofa develops a lovely patina over time, which adds to its character and allure. The natural deterioration creates a distinctive appearance that enhances the overall aesthetics of the piece.
Leather sofas are available in a variety of designs and colors, allowing you to find a sofa that complements your interior design. Whether you prefer a contemporary, minimalist design or a classic, traditional appearance, leather sofas can complement a vast array of interior design styles.
Microfiber Sofa
Photo Credit: overstock
Sofas upholstered with microfiber offer a combination of comfort and functionality, making them an excellent option for simple upkeep. The following are the benefits of a microfiber sofa:
The tightly woven fibers of microfiber fabric create a barrier that is resistant to stains and liquids. Liquids tend to bead up on the surface, giving you time to rapidly clean them off before they penetrate the fabric.
Easy to Clean: Cleaning a microfiber sofa is simple. Using a mild detergent and water, the majority of spills and stains can be readily removed. Wipe the afflicted area with a clean cloth or sponge and allow it to air dry. For more tenacious stains, you can use a microfiber-specific cleaner.
Softness and Comfort: Microfiber has a plush, smooth texture that provides a comfortable sitting experience. It is soft against the skin and has a comfortable texture, making it an inviting option for reclining and relaxation.
Durability: Microfiber is well-known for its durability, as it can withstand regular use without exhibiting signs of wear and tear. The tightly woven fibers prevent pilling and fading, ensuring that your sofa retains its appearance for a long period.
Hypoallergenic and resistant to pollutants like dust mites and pet dander, microfiber is allergy-friendly. This makes it a great choice for individuals with allergies or sensitivities.
Synthetic Fabric Sofa
Sofas upholstered in synthetic fabrics offer numerous advantages in terms of upkeep. The following are the benefits of selecting a sofa made of synthetic fabric:
Stain Resistance: They are typically treated with stain-resistant finishes, rendering them highly resistant to spills and stains. This allows you to easily remove most stains with a moist cloth or mild detergent, keeping your sofa clean and fresh.
Durability: Synthetic fabrics are well known for their durability, as they can withstand daily wear and strain. They are less susceptible to fading, pilling, and creasing, allowing your sofa to retain its appearance over time.
Typically, cleaning a sofa made from synthetic material is simple. Using a moderate detergent and water, most synthetic fabrics can be spot-cleaned. For deeper cleansing, many fabric covers are machine-washable, allowing you to easily remove and clean them according to the manufacturer's instructions.
After cleansing, fabrics typically dry rapidly, reducing the likelihood of mold or mildew growth. This is especially useful if you reside in a humid environment or if you must frequently clean your sofa.
Wide selection of designs: Synthetic fabrics are available in a vast array of colors, patterns, and textures, allowing you to select a sofa that complements your aesthetic preferences and home's décor.
Slipcovered Sofa
The maintenance convenience of a sofa with a slipcover is unparalleled. The advantages of choosing a sofa with a slipcover are as follows:
Coverings that are removable and washable: The primary characteristic of a slip-covered sofa is its removable coverings. These covers can be readily removed and washed by hand or in a washing machine, depending on the fabric and manufacturer's instructions. This allows you to keep your sofa clean and hygienic while also extending its life.
Protection from Spills and Stains: Slipcovers serve as a protective layer for your sofa, shielding it from spills, stains, and ordinary wear. In the event of an accident, you can easily remove the slipcover and launder it, ensuring that your sofa remains in pristine condition.
Slipcovered sofas offer the added benefit of versatility in addition to their stylish appearance. With a slipcover, you can easily change the look of your sofa to match various seasons or décor styles without having to purchase an entirely new piece of furniture. Slipcovers are available in a variety of colors, patterns, and materials, allowing you to customize the appearance of your sofa according to your tastes.
Easy Maintenance: Slip-covered sofas require little upkeep. Normal maintenance consists of regular vacuuming or brushing to remove loose detritus. When accidents occur, the slipcover can be easily removed and laundered.
Ideal for Families and Pets: Slip-covered sofas are especially popular in households with children or pets. The sofa's detachable covers make it simple to clean up any accidents or messes, providing a practical and stress-free method for keeping the sofa clean and presentable.
Vinyl Upholstery
Vinyl upholstery is an excellent option for those seeking a sofa that is both durable and simple to maintain. Vinyl is resistant to stains, spillage, and scratches, making it an excellent choice for areas with heavy foot traffic.
Generally, wiping the surface with a moist cloth is sufficient to maintain its appearance. Vinyl upholstery is available in a variety of colors and textures, allowing you to find a design that matches your personal preferences.
Outdoor Sofa
Photo Credit: ana-white
If you're searching for a sofa that can withstand the outdoor elements while requiring minimal maintenance, you should consider an outdoor sofa. These sofas are designed to be resistant to discoloration, moisture, and mildew.
Typically, they are crafted from synthetic wicker, aluminum, and weather-resistant fabrics. Outdoor sofas are easily cleaned with a hose or mild detergent and water, making them ideal for patios, decks, and other outdoor living areas.
FAQs concerning Simple-Care Sofas
How Simple Is It To Maintain Leather Sofas?
Yes, leather sofas are simple to care for. They are resistant to spills and stains and can be readily cleaned with a damp cloth. Maintaining the leather's softness and pliability requires occasional conditioning.
Can Sofa Slipcovers Be Washed In The Washing Machine?
The majority of slipcovers are machine-washable. Nonetheless, it is essential to consult the manufacturer's instructions for specific maintenance instructions.
How Should A Microfiber Sofa Be Cleaned?
Begin cleaning a microfiber sofa by vacuuming away any loose grime and debris. Use a mild detergent diluted in water to treat stains and spills, then gingerly blot the affected area. Let it dry naturally.
Are Outdoor Sofas Resistant To A Variety Of Climatic Conditions?
Yes, outdoor couches are constructed to withstand a variety of weather conditions. They are typically constructed from materials that are resistant to discoloration, moisture, and mildew.
Can Sofas With Synthetic Upholstery Be Washed In A Laundry Machine?

Several sofas made from synthetic materials may be machine-washable. However, it is essential to check the manufacturer's instructions for proper care and cleaning methods.
Can Vinyl Sofas Be Purchased In A Variety Of Colors And Styles?
Yes, sofas with vinyl upholstery are available in a variety of colors and designs. To match your intended aesthetic and interior design, you can choose from a variety of options.
Bottom Line
It is essential to consider material, color, removable coverings, stain resistance, and construction quality when searching for the most durable and easy-to-clean sofa.
Leather sofas, microfiber sofas, synthetic fabric sofas, slipcovered sofas, vinyl upholstery sofas, and outdoor sofas are all durable, stain resistant, and simple to clean.
Remember that regular maintenance and care are necessary to keep your sofa looking its finest for many years.
Follow the manufacturer's cleaning and maintenance instructions, and address any accidents or stains as soon as possible to prevent them from setting.
Purchasing a high-quality, low-maintenance sofa not only assures a stylish and comfortable seating option but also simplifies your cleaning routine, allowing you to spend more time enjoying your furniture and less time worrying about its upkeep.