Last updated on July 25th, 2023 at 03:15 am
Not all home renovation ideas give great returns on investment, and some even end up costing you more than you bargained for. That's why every homeowner must be familiar with classic interior design renovation ideas that give a massive return on investment and benefit the homeowner by appreciating the value of the home. For instance, the addition of a glass railing system is a simple and cost-effective renovation idea that pays off massively in the long run.
Homes with modern railing systems and sophisticated interior décor are highly valued in the marketplace and are the top priority of homeowners who love extravagant contemporary design. The following are 7 classic interior design ideas that can truly revamp the entire outlook of your interior space and drastically increase the worth & value of your property. Alongside this, why not research work from interior designers like Helen Coulston, which will help you have a clearer understanding of how to put these ideas into place?
1). Elegant & Sophisticated Entrance Door
An entrance door is an entryway to your home and a trendy and stylish entrance door can make a great impression on the minds of visitors and home buyers. There are tons of amazing ideas for renovating & remodeling the home's entrance door, and homeowners often opt for a traditional solid wood door or a contemporary glass door. In addition to this, there are also some other ever-trendy and popular entrance door options made of metal & steel.
In truth, the investment in the home's entrance door always repays the homeowner and is a highly cost-efficient renovation idea. However, if you are not interested in remodeling your entrance door from the scratch, you can also repaint the entrance door with a bold and eye-catching color to create a sense of elegance, grace, and sophistication.
2). Perfect Floor Design Idea: with wooden tiles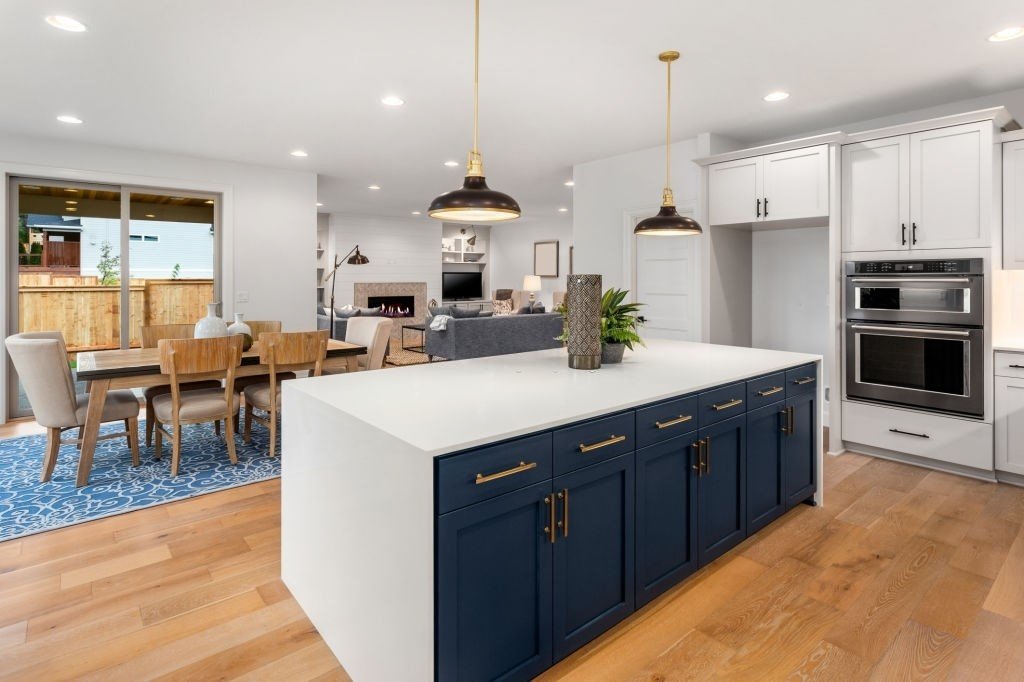 Floor replacement is one of the most cost-efficient renovation ideas and adds heaps of value to your home and property. You can either remodel your home with a complete floor replacement or you could also opt for replacing the floors of high-traffic rooms such as the living room, kitchen, and bathrooms. Hardwood floor or wooden tiles is one of the most beneficial renovation ideas and it contributes to about a 2.5% increase in the overall value of the home.
On the other hand, adding new carpet or flooring options is a relatively cheaper alternative and is ideal for low-traffic rooms such as bedrooms. A home with a modern & elegant glass railing system surrounded by eye-catching and exceptional wooden tiles is a dream home for many buyers and such little renovations can have a big impact on the overall home's worth & value.
3) Tempered Glass Staircase or Railing System
A tempered glass staircase or railing system is another chic & trendy home renovation idea that can have a positive impact on the home's worth & value. There is no better way to express your love for contemporary & minimalistic home décor & design than with the use of a tempered glass railing system.
This minimalistic décor idea breathes life into the overall home décor theme and becomes the focal point of interior space. Made with high-strength & durable tempered glass, these railings are built to last great lengths of time and are truly matchless in terms of visual beauty & aesthetics.
Contemporary glass railings are best suited to modern homes where design minimalism is always valued highly. Such décor ideas are widely liked and admired by home buyers and cause a direct increase in home value.
4). Crown Molding
Crown molding is another cost-efficient remodeling and renovation idea that is immensely popular in both traditional and contemporary home décor designs. These moldings are a great decorative add-on for homes and are most commonly used to cap interior walls, columns, and cabinets. Renovating the floor and roof always works well and gives a great return on investment to homeowners in the long run.
A dull and boring roof can repel contemporary homeowners and crown molding is a simple & cost-effective renovation idea to make the roof and interior walls chic, trendy, and exciting. Nowadays, every new home has outfitted crown molding and for older homes, this is a great renovation idea to transition the outdated design of your home into a contemporary one.
5) Energy-Efficient Insulated Glass Windows
Adding insulated glass windows is not only a decorative remodeling idea but is also a highly energy-efficient one. Insulated glass windows can help regulate the indoor temperature of the home and helps cut down the electricity used by the air conditioning systems.
In addition to this, these windows are also more durable and multiple panes of glass helps eliminate the adverse effect of harmful UV rays on indoor furniture. That's the reason why such décor elements greatly help increase the value of the home and intrigue the interest of home buyers.
6). Perfect Lights Selection
Stylish lighting fixtures and arrangements significantly improve the overall value of the home and make the living space look more spacious, cheerful, and cleaner. Selecting the perfect lighting options is essential and it is best to go with energy-efficient LED lights that look spectacular and are also eco-friendly.
Super luxury residential homes make the best use of elegant lighting fixtures and there are tons of exceptional lighting ideas for remodeling living spaces, kitchens, and bathrooms. For instance, pendant lights are best for the kitchen and dining area and add an unparalleled sense of sophistication and elegance to home décor & design.
7) Update Bathroom Design
Last but certainly not least, bathroom design is something that can help augment the value of your home, unlike any other remodeling scheme. A new-looking bathroom is every homeowner's dream, and a bathroom having contemporary décor elements such as stylish shower enclosures and glass mirrors looks truly awe-inspiring.
Similar to the glass stair railing, there is something exquisite and exceptional about luxurious bathroom design and it makes the home worth the buy. Injecting a touch of grace & elegance in bathroom design may seem costly at first but is something that gives an incredible return on investment.