Last updated on June 24th, 2023 at 09:40 am
This is the definitive guide to tiny sectional sofas. A small sectional sofa is ideal for adding both comfort and elegance to a living room. These multipurpose pieces of furniture not only provide ample seating but also create a warm and inviting atmosphere in any space.
This guide will investigate the world of small sofas, discussing their benefits, various styles, and customization options, among other things. Therefore, let's dive in and find the ideal sectional sofa for your household!
Small Sectional Sofas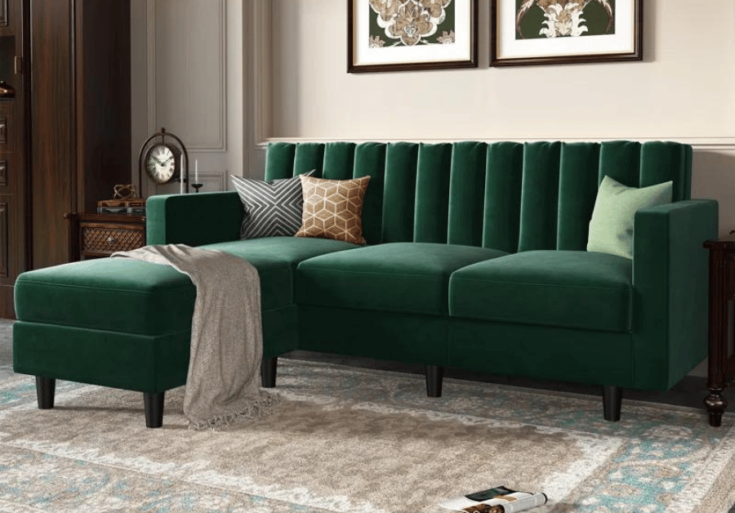 Photo Credit: whimsysoul
A small sectional settee is a compact and functional piece of furniture that combines elegance and convenience. Its innovative construction is modular, enabling you to arrange and reconfigure the various sections according to your preferences.
Whether you have limited space or just want to create an intimate seating area, a compact sectional sofa is an ideal solution. Let's examine the primary benefits of incorporating a small sectional settee into your interior design:
They are designed specifically to fit snugly in small living areas. Their adaptable configurations make them ideal for apartments, condominiums, and compact houses where space optimization is crucial.
You have the freedom to rearrange the sections of a small sectional settee to create various seating configurations. Whether you desire a conventional L-shape, a symmetrical U-shape, or a less conventional layout, the options are limitless.
They are designed with comfort and support in mind. They have plush cushions, ergonomic designs, and robust frames to provide optimal back, neck, and leg support. After a long day, you can decompress by sinking into the plushness of the cushions.
Small sofas are available in a variety of designs, colors, and materials, allowing you to find the ideal match for your interior design. Whether you prefer a modern, minimalist aesthetic or a classic, traditional design, there is a small sectional that will enhance the visual allure of your living space.
Small sectionals are not only for reclining; they also serve as a gathering place for the family. A small sofa creates a cozy and inviting ambiance for everyone to enjoy quality time together, from movie nights to game nights.
Now that we've discussed the benefits of sectional sofas, let's examine the available designs and customization options.
Exploring Small Sectional Sofa Styles and Configurations
There are numerous designs and configurations of small sofas to accommodate various preferences and room sizes. Let's examine some prominent alternatives:
The L-shaped configuration is a popular choice for compact rooms. One section extends in a straight line, while the other section forms an L-shape perpendicular to the first. This design optimizes peripheral spaces and offers ample seating while maintaining a small footprint.
Sectional Chaise: A chaise sectional combines a sofa with a chaise longue to create a comfortable lounging area. This arrangement is ideal for those who like to extend their legs and unwind. Depending on the configuration of the room, the chaise can be positioned on either side of the settee.
Curved Sectional: If you prefer a design that is more distinctive and visually enticing, a curved sectional is an excellent choice. Its curved form lends a touch of sophistication to your living space. Curved sectionals can help to reduce a room's lines and create an inviting seating arrangement.
Modular Sectional: Modular sectionals offer customization and versatility. They consist of modular components that can be rearranged and reconfigured to suit your needs. This permits you to adapt the sectional to your room's layout and make adjustments as necessary.
With a modular sectional, you have the option of adding or removing components to accommodate various seating configurations.
A reversible sectional is designed with a removable ottoman or chaise that can be set on either side of the sofa. This adaptability enables you to change the sectional's configuration at any time, providing versatility and allowing it to adapt to different room layouts.
Apartment Size Sectional: Apartment size sectionals feature a compact design without sacrificing comfort. They are scaled-down versions of conventional sectionals and offer a comfortable seating solution for apartments, condos, and snug living rooms with limited space.
Traditional Elegance: The Classic Small Sectional Sofa
Photo Credit: chelini
In every way, the Classic Sectional Sofa embodies traditional elegance. Its timeless design, meticulously crafted with attention to detail, emanates elegance and allure. This sofa's compact size makes it ideal for smaller living spaces without sacrificing design or comfort. 
The opulent upholstery, available in a variety of opulent fabrics, complements any interior design and lends an air of sophistication to your home.
The plush cushions and ergonomic support ensure maximum comfort, while the robust construction ensures durability and longevity. The Classic Small Sofa is a tasteful addition that combines classic charm and contemporary functionality.
Modern Chic: Sleek and Contemporary Small Sectional Sofa
A sleek and contemporary compact sectional sofa is the epitome of modern elegance. This exquisite piece combines elegance and utility, making it ideal for any contemporary living area.
This sectional sofa emanates elegance and sophistication with its clean lines, minimalistic design, and high-quality materials.
It is crafted with meticulous attention to detail and offers both comfort and versatility. Its compact size makes it excellent for smaller rooms or apartments, despite its ample seating space. 
Whether you're hosting a party or simply unwinding after a long day, this sofa provides a cozy and inviting place to decompress.
This sectional sofa's construction from high-quality materials assures its durability and longevity. The ergonomic design and plush cushioning provide optimal support and comfort. 
The neutral color scheme and streamlined silhouette enable you to create a stylish and modern environment with ease.
Modernize your living space with this compact sectional sofa that combines comfort and sophistication. With this must-have piece of furniture, you'll experience the ideal blend of design and utility.
Casual Comfort: Cozy and Inviting Small Sectional Sofa
The Casual Comfort Sectional Sofa is the ideal combination of coziness and inviting design. This space-saving sectional is designed to maximize comfort in any environment. Its soft cushions and upholstery create an inviting seating area for lounging or hosting visitors.
The Casual Comfort Small Sofa has a streamlined and contemporary appearance that complements a variety of interior design styles. Its compact footprint makes it ideal for apartments, condos, or any living space where seating capacity must be maximized.
The sectional configuration permits simple customization to meet your particular layout specifications.
It is constructed with quality materials and meticulous attention to detail, ensuring its durability and longevity. It's sturdy frame and plush cushions provide remarkable support. 
With its comfortable and inviting design, our Casual Comfort Small Sectional is ideal for creating a warm and inviting environment in your home.
Customizable Creations: Design Your Dream Small Sectional Sofa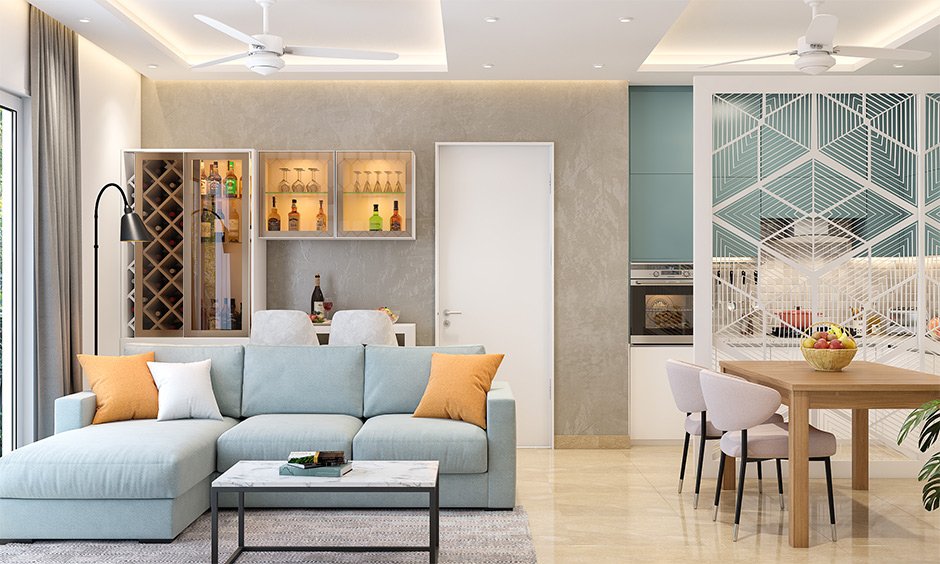 Photo Credit: designcafe
Sure! I would be delighted to assist you in designing your ideal compact sectional sofa. Please provide me with some specifics and preferences for us to construct the ideal design for you.
Please specify the dimensions of the sectional sofa that you have in mind. Include the optimal length, breadth, and height dimensions for your space.
Have you envisioned a specific configuration for the sectional sofa? L-shaped, U-shaped, curvilinear, and straight configurations are typical alternatives. Please indicate your preference.
What is the desired overall design for your sofa? For instance, modern, contemporary, traditional, transitional, minimalist, or any particular design elements you wish to include.
What sort of upholstery fabric do you prefer for your sofa? Fabric, leather, or a combination of the two may be chosen. Please specify if you have any particular color preferences or patterns in mind.
How essential is convenience to you? Do you prefer soft cushions, firm support, or something in between? Feel free to specify any additional comfort features, such as adjustable headrests or reclining capabilities, that you would like.
Additional Features: Would you like your compact sectional sofa to have any additional features? This could include storage compartments, cup holders, USB connections, and any other functional features.
Do you have a particular budget in mind? Knowing your budget will allow me to recommend options that fit within your financial constraints.
Small Sectional Sofa Beds: Versatility and Functionality Combined
They are a popular option for those who value adaptability and practicality in their living spaces. These compact and versatile furniture pieces offer a variety of advantages, making them a practical solution for a variety of requirements.
Small sectional sofa mattresses' ability to conserve space is one of their chief benefits. In smaller apartments or rooms, these sofas can be configured in a variety of ways to accommodate the space available.
Whether you desire a conventional L-shape or a more customized configuration, sectional sofa beds offer design versatility and maximize limited space.
In addition, sectional sofa beds provide the convenience of a daytime seating area that transforms into a pleasant bed at night. When hosting overnight guests or accommodating family members in need of an additional sleeping option, the ability to transform into a bed is particularly useful. 
This versatility eliminates the need for a distinct guest room or additional bed, making sectional sofa beds a space-saving and practical solution.
Small sofa sleepers' functionality extends beyond their dual purpose. Numerous models include built-in storage compartments that provide a convenient place to store pillows, blankets, and other items, thereby reducing room congestion. 
Some designs also include reclining sections or adjustable headrests, which contribute to overall comfort and relaxation. Small mattresses offer a variety of design options to accommodate various interior design preferences.
Whether you prefer a contemporary, minimalist aesthetic or a more traditional, homey one, there are sectional sofa bed options to complement your interior design.
FAQs About Small Sectional Sofas
Can a sectional sofa fit into a small living room?
Absolutely! Tiny sectional sofas are specifically designed for tiny living areas. Their modular design enables you to configure them to maximize available space.
Whether you have a modest apartment or a small living room, there is a suitable small sectional sofa for you.
Are small sofas comfortable for tall individuals?

Yes, tall people can find solace in small sectional sofas. Consider sofas with deep seating and movable backrests to accommodate various body types.
In addition, several manufacturers offer customization options, allowing you to choose dimensions that are appropriate for your height.
Can I change the configuration of a small sofa?
Yes, the configuration flexibility of tiny sectional sofas is one of their primary advantages. You can rearrange the various sections to create a variety of layouts that accommodate your changing requirements and preferences. 
The modular design of compact sofas allows for simple customization, whether you want to create a cozy nook or a spacious seating area.
How do I clean and maintain a small sectional sofa?

Depending on the upholstery material, the cleaning and maintenance needs of compact sectional sofas can vary.
Nonetheless, the majority of manufacturers include maintenance instructions with their products. 
Regular vacuuming, spot cleaning, and professional upholstery cleaning are suggested to maintain the appearance of your compact sectional sofa.
Be sure to adhere to the manufacturer's instructions to avoid damaging the fabric or materials.
Are small sectional sofas suitable for families with children and pets?

Small sectional sofas are an excellent option for households with children and pets. Consider fabrics that are durable, stain-resistant, and simple to clean.
Choose sofas with cushion coverings that are removable and machine-washable for added convenience.
Consider purchasing a sofa with a durable frame and corner reinforcements to withstand daily use.
How do I choose the right small sectional sofa for my space?
Choosing the best small sectional settee for your space requires taking into account the following factors:
Start by gauging the area where you intend to position the sofa. This will help you determine the size and arrangement that will suit you comfortably without overwhelming the space.
Consider how many individuals the sofa will need to accommodate. There are various varieties of small sofas, ranging from compact two-seaters to larger sofas with multiple seats.
Determine the ideal seating capacity for your requirements by considering your lifestyle and the number of people who will frequently use the sofa.
They are available in a variety of designs, from contemporary and minimalist to traditional and classic. Consider the aesthetic of the extant space and choose a style that complements it. 
Pay close attention to the design elements, such as the chair's shape, armrest style, and leg options, to ensure that they match your personal preferences and the overall decor theme.
Comfort and Support: Sit on the settee and evaluate its level of comfort. Consider the frame's support, the quality of the cushions, and the overall ergonomics. Remember that a small sofa should not only appear good but also be comfortable to sit on.
Fabrics and Upholstery: Choose fabrics and upholstery materials that complement your lifestyle. If you have children or pets, consider durable and easy-to-clean materials such as microfiber or leather. Consider velvet or chenille if you prefer a gentler, cozier feel.
Determine your budget range before looking at compact sectional sofas. This will assist you in narrowing down your options and locating a sofa within your budgetary constraints.
By taking these factors into account, you can confidently select a small sectional sofa that meets your space, design, and comfort needs.
Bottom Line
A small sectional settee is an adaptable and fashionable piece of furniture that can completely transform your living space.
With its space-saving design, customizable configurations, and comfortable seating, it offers the ideal combination of functionality and beauty.
Whether you have a compact apartment, a cozy living room, or a multipurpose room, a small sectional sofa offers countless options for creating a comfortable and inviting environment.
Explore the available selection of small sectional sofas, bearing in mind your specific needs and preferences. Find the ideal compact sofa that reflects your style, enhances your living space, and provides a cozy retreat for rest.