Last updated on June 21st, 2023 at 12:40 am
Selecting the optimal sectional sofa can significantly improve your living area. This article will assist you in selecting a sofa that meets your requirements and complements your home's interior design.
From dimensions and configuration to comfort and sturdiness, we'll cover all the essential factors to help you make an informed choice.
Whether you have a large living room or a small apartment, the correct sectional sofa can transform your space into a stylish and comfortable retreat.
Let's explore the world of sectional sofas and learn how to select the best one for your household.
Determine Your Space and Requirements
To select the optimal sectional sofa, it is necessary to consider your space and needs. Follow the instructions below:
Measure Your Space: Determine the space available in your living room for the sectional settee. Consider the area's length, breadth, and height. This measurement will help you select a sectional sofa that fits the room precisely and allows for easy movement.
Consider Room Layout: Evaluate the room's layout and pinpoint the precise location where you intend to place the sectional settee.
Take note of any architectural elements, windows, doors, or other pieces of furniture that may affect the placement or dimensions of the sofa. Consider how the sofa will work into the design and flow of the room as a whole.
Establish Utilisation and Occupancy: Consider your intended usage of the sectional settee. Will it be utilised predominantly for lounging, entertaining guests, or housing overnight guests?
Determine the number of individuals who will use the sofa on a regular basis. This will help you determine the appropriate sofa dimensions, seating capacity, and configuration.
Choose Dimensions and Configuration: Based on your space measurements and usage demands, select the dimensions and configuration that best meet your requirements.
Consider sectionals that are L-shaped, U-shaped, or curved. Ensure that the selected configuration allows for comfortable seating and optimal space utilisation.
Consider the Design and Style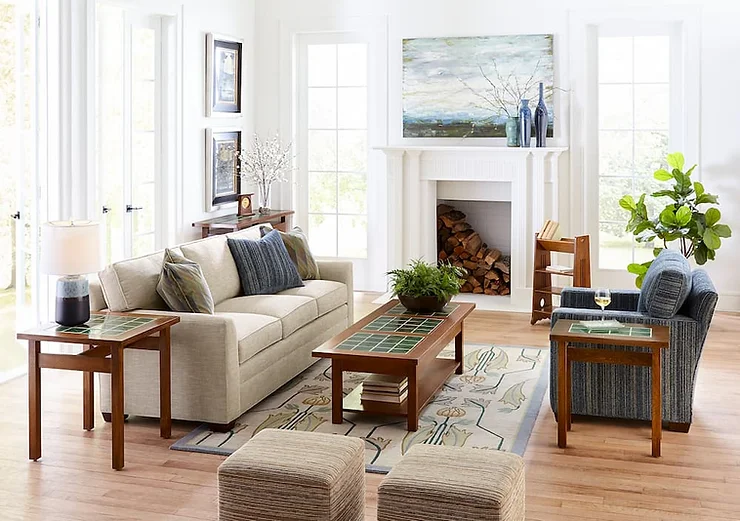 Photo Credit: ridesigncenter
When selecting a sectional sofa, it is essential to consider which design and style will complement your living room's aesthetic the most. Here are some important considerations:
Choose a colour that complements the colour scheme of the room. For a versatile and timeless appearance, in a neutral hue such as beige, grey, or white.
Alternately, flamboyant hues such as deep blue, emerald green, or fiery red can add a splash of personality to the room.
The sectional sofa's shape should correspond with the room's structure and available space. Consider an L-shaped or U-shaped sectional to create a cosy seating area in a spacious living room. A compact or curved sectional may be more appropriate for smaller spaces.
Consider the texture of the settee upholstery and how it will coordinate with the other fabrics and materials in the room.
You could choose velvet or suede for a luxurious appearance and feel. Leather upholstery can add a touch of sophistication, while woven fabrics can contribute to cosiness and a relaxed vibe.
Compatibility: Ensure the sectional sofa complements the existing furniture and accents in your living room. If you have a modern style with clean lines and minimalist furnishings, an elegant and streamlined sectional would be an excellent choice.
You could choose a sectional with tufted accents or ornate wooden accents for a traditional or classic setting.
Choose a design that resonates with your preferences and reflects your personality. Consider a sectional with graceful curves and decorative accents if you favour a traditional aesthetic. Choose a sectional with clean lines and geometric shapes if you prefer a contemporary appearance.
Select the Appropriate Material
The material of the sectional sofa is a crucial consideration. It can impact the sofa's comfort, durability, and overall aspect. Select a material that is simple to clean and maintain, as well as suitable for your lifestyle and requirements. Popular options include leather, microfiber, and fabric, each of which has its own advantages and disadvantages.
Determine the Configuration
The configuration of a sectional sofa refers to the arrangement of the sofa's individual parts. There are numerous options, such as L-shaped, U-shaped, curved, and modular. Consider the size and layout of your living room, and select a configuration that meets your requirements.
Determine Your Budget
Depending on the size, material, and configuration, the price of a sectional settee can vary widely. Determine and adhere to your budget before you begin purchasing. Consider the maintenance and repair costs of the sofa and factor them into your budget.
Test for Quality and Comfort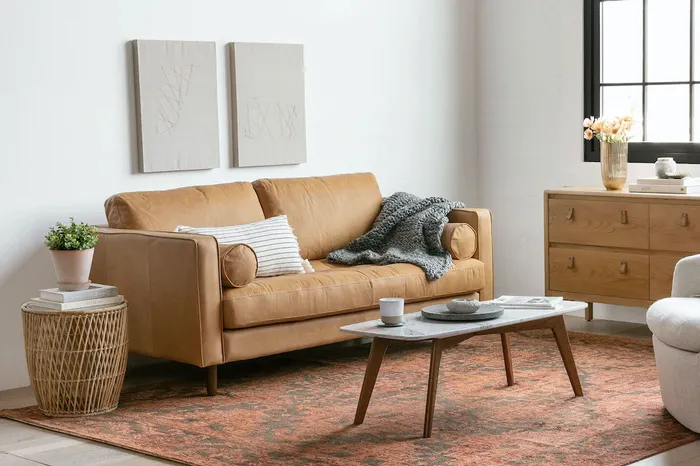 Photo Credit: nymag
When selecting a sectional sofa, it is essential to evaluate its comfort and quality. Feel the sofa's cushions, backrest, and armrests while seated.
Check for creaking and squeaking, and ensure the sofa is substantial and well-constructed. Ask the salesperson about the sofa's construction and materials without fear.
Consider Extra Functions
When selecting a sectional sofa, there are many additional features to consider, such as built-in recliners, cup receptacles, and storage compartments.
Consider how you will utilize the sofa and whether or not these features will be beneficial. Consider that these features can also impact the sofa's price.
Evaluate and Strategize Delivery
It is essential to evaluate and plan the delivery of a sectional sofa to guarantee a smooth and successful process. Here are some considerations:
Measure Doorways and corridors: Measure all doorways, corridors, stairwells, and other passageways through which the sofa must be transported.
Compare these dimensions with those of the sofa to ensure that it will fit without difficulty. Notate any close corners or confined areas that may necessitate additional manoeuvring.
Consider the Place: Determine the desired placement for the sofa within the residence. Consider factors such as room layout, space availability, and access to natural light and electrical outlets.
Consider how the sofa's dimensions and configuration will complement the existing furniture in the room. Check whether the furniture store or vendor offers delivery and assembly services. Determine the delivery schedule and any associated costs.
If the retailer does not offer these services, arrange for a reliable delivery service or consider employing professional movers to transport and assemble the sectional sofa safely.
Determine the necessary tools and assistance for assembling the sectional settee. Check if any special tools or instruments, such as Allen wrenches or screwdrivers, are required for assembly. Ensure that these instruments are readily accessible.
Determine if the sofa's weight and dimensions necessitate assistance from others during delivery and assembly. Plan accordingly for assistance from friends, family, or professional removalists.
Before the day of delivery, clear a path from the entrance to the location where the sectional settee will be placed. Remove any obstacles, fragile objects, or valuable home furnishings that could be damaged during delivery.
Convey with the Delivery Team: If you're using a delivery service or professional movers, convey the delivery's specifics, including any special considerations or obstacles they may encounter.
Provide them with precise measurements and information to ensure the delivery and assembly of the product.
Maintenance and Care
Photo Credit: globalinspirationsdesign
To maintain the appearance and comfort of your sectional sofa, it is essential to care for it correctly. Adhere to the cleaning and maintenance instructions provided by the manufacturer, and avoid using caustic chemicals or abrasive materials that can damage the sofa.
Regularly hoover or brush away any dirt or dust, and promptly wipe up any spills or stains to prevent them from becoming entrenched.
If your sofa's coverings are detachable, launder them according to the care instructions. Consider using a protective spray or a cover to prevent damage caused by pets or children.
FAQs
What Is The Most Common Fabric Used In Sectional Sofas?
How Do I Determine Which Sectional Sofa Configuration Is Best For Me?
Consider the dimensions and layout of your living room, as well as how the sofa will be utilized. Larger rooms commonly feature L-shaped and U-shaped layouts, while smaller rooms may benefit from a more compact or modular layout.
What Should I Look For When Evaluating The Comfort And Durability Of A Sectional Sofa?
Feel the sofa's cushions, backrest, and armrests while seated. Check for creaking and squeaking, and ensure the sofa is substantial and well-constructed.
How Should I Maintain And Care For My Sectional Sofa?
Follow the manufacturer's cleansing and maintenance instructions, and avoid using harsh chemicals or abrasive substances.
Regularly hoover or brush away any grime or dust, and immediately clean up any spills or stains.
Consider using a protective spray or a cover to prevent damage caused by pets or children.
Bottom Line
Various considerations must be taken into account when choosing the optimal sectional sofa. By considering size, style, comfort, functionality, and price, you can discover the ideal furniture for your space.
Remember to measure your living space and select a layout that complements the room's layout. Consider the manner and design, ensuring that it complements your existing décor.
Test the sofa's seating depth, cushion firmness, and backrest height for optimal comfort. Additionally, evaluate the investment's durability and maintenance needs to ensure its longevity.
By adhering to these guidelines and investigating various options, you'll be well-equipped to select a sectional sofa for your home that combines comfort and design.