Last updated on August 17th, 2022 at 07:38 am
Making a living room feel luxurious does not have to be all about decorating it with expensive furniture manufactured by the priciest brand. Sometimes, you just need to create a sense of exclusivity by using bold color and adding some lush greenery.
It does not matter whether you want to make your living room as comfortable as possible or impress a few guests with your interior design skills. You can achieve both of these goals quickly and efficiently! Would you like to know how to go about doing it?
If so, keep reading! This article will provide 11 luxurious living room decor ideas to help you create a relaxing space in your home.
1. Put a Home Theatre System on Display
You can add that luxury appeal to any living room by putting a home theatre system on display. If you do not own one, you just need to purchase a Rotel A12 integrated stereo amplifier and a pair of speakers!
It might be a bit expensive, but it will make it easier for you to have an excellent cinematic experience while watching movies. In addition, it will help to set the mood while you are hosting any home event, from a business dinner to a movie night with friends.
To complete your home theatre setup, add some luxury cinema seats for the full movie theatre experience. 
2. Choose a Bold Color
What about using a bold color while decorating? It can be a great and easy way to add luxury appeal to a living room. Ideally, the bold color that you use should match the furniture and decorative items in the room. Otherwise, it might make the entire space feel a bit off.
You can introduce that bold color into the space in the form of a simple decorative item, such as a set of pillows and a few plant pots. If you do not know what color you should go for, look for an interesting color palette online. You should be able to find one that you like in no time!
3. Add Some Greenery
Lush plants and flowers can make a living room feel truly luxurious, as well as bring life and freshness to the space. You can put a few smaller plants on the table and the window sill, and a few bigger plants on the floor in the corners of the room.
If you are worried about not being able to keep a few plants alive, go for the ones that do not require much attention but look impressive, such as parlor palm and peace lily. Fiddle leaf fig and lucky bamboo should work, too!
4. Find Interesting Light Fixtures
Did you know that an unusual light fixture can add to the look of a living room? If you have money to spare, you can order a hand-made light fixture from Etsy. That way, you can be sure that what you are buying is going to be truly unique and one of a kind.
If you are on a tight budget, you should be able to find an interesting light fixture at the local thrift store. You can also think about giving a few light fixtures that you already own a different look by painting them a different color.
5. Get Rid of Clutter
Reducing clutter in a living room can instantly turn it into a space that will make anyone feel special and welcomed. On the other hand, dust-covered furniture and having plenty of things lying about the room will not feel luxurious at all.
In general, less is more when it comes to the living room. You should get rid of unnecessary items, keep furniture neat and tidy, and ensure that you can move around freely, without bumping into chairs and tables.
6. Make the Most of Your Walls
Last but not least, you can add luxury to the living room by making the most of the walls. For example, you could add a few elegant details to the room by hanging a big mirror on the wall opposite the window and hanging a few paintings on a different wall.
If you are not an art person, a mirror is going to be the better option. It will reflect the natural light coming in through the windows back into the room, which will make it look much bigger and open than it really is!
7. Add Large Area Rugs
Large area rugs are known for adding an elegant touch to any home, but it can be difficult to find one that is large enough to cover your entire living room floor. Finding the perfect rug for your living room can be a daunting task. With so many different types and styles to choose from, it can seem impossible to pick just one.
Before you leave with your carpet, be sure to measure the area! The size of your rugs is not just based on the living room but also the hallway and staircase. Large area rugs are an essential part of any home, adding luxuries appeal to any living space in your house.
Anyway, Large area rugs are a stylish and timeless choice that works well with modern and traditional decor alike.
8. Use High Lush Curtains
A living room with high, lush curtains is one of the most luxurious things you can achieve. Curtains are used to block out unwanted light and provide an extra layer of warmth. Awnings are also useful in blocking sunlight when it's coming in through a window.
No matter the style of your window treatments in your living room, high, luxurious curtains can add a touch of elegance to them. If you want to take the curtains up a notch, try adding thick velvet or silk panels.
These can make an already old-fashioned-looking design feel fresh and new again. With all the different colors available to choose from it's easy to find one that suits your fancy.
If you want to hang your curtains higher than your window, make sure you have enough space! Curtains with higher weights require more space for hanging, so make sure you measure carefully before purchasing them.
9. Put Luxurious Pillows and Throws
Every winter, people start thinking about how to make their homes cozier and more inviting. One of the most important areas to focus on is the living room. The living room is a place for gathering with family, friends, or just time alone to collect your thoughts. Luxurious pillows and throws are affordable ways to make your living room feel comfortable and luxurious all year round.
Having a luxurious living room space for family and guests to relax is what we strive for. Pillows and throws that add luxury appeal to the room are the finishing touches on your dream home. The quality of these items contributes greatly to your elevated sense of style, and they can add warmth to your otherwise cool living room with the addition of color.
Pillows and throws are perfect to accentuate the luxurious feel of your living room. For example, you can add a throw blanket with a floral pattern to contrast against the neutral colors in your room. Even though they may seem like an unnecessary accessory, they can really transform your living space!
10. Add Big, Minimalist Accessories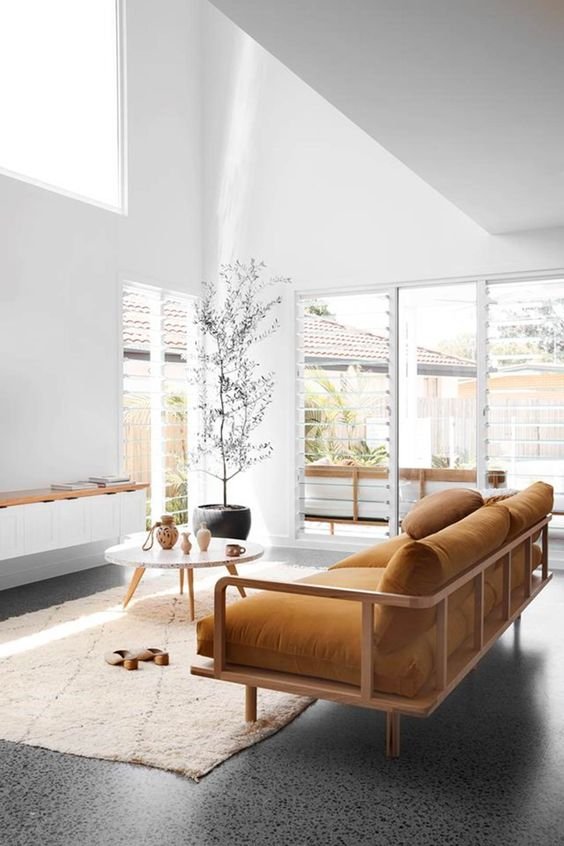 The way to create a luxurious home is by incorporating all the little details. One of the simplest ways to do this is by adding minimalistic accessories that enhance luxury. A couple of great pieces for example are glass champagne flutes and silk pillows in rich colors like gold or navy. The end result will be an elegant, glamorous, and minimalist space that will make you feel like royalty.
11. Add Glam Accessories
Glam accessories can be used to add a glamorous appeal to your living room. They are perfect for those who want to create their dream living space. You can use them on your own or combine them with other items in the room.
Glam accessories can be a great way to upgrade your living room and give it a luxurious feel without breaking the bank. Adding a few accessories can truly make all the difference and help you achieve that high-end look without having to spend too much money.
Decorating your living room is no small feat, but dressing it up with some glam accessories can give you that extra oomph you're looking for.
Final Thought
To sum up, adding that luxury appeal to any living room does not have to involve elaborate and high-end designs that only the rich can afford. Instead, you can find an interesting light fixture at a thrift store and add some greenery by putting a few plant pots in the corners of the room.
However, if you feel like such simple things will simply not be enough, you can always hire an interior designer to help you out. It might be a bit expensive, but if you find the right person for the job, it is definitely going to be worth the money!