Last updated on January 30th, 2023 at 02:46 pm
Coffee tables are often expensive, but not always. With just a little bit of creativity and research, you can find some great deals on cheap coffee tables under $100 that will suit your needs. We all want to have a home that reflects our personality. But, let's be honest, it can be hard to furnish the place on a budget.
Whether you're looking for something to put in the living room or den, You know that there are a lot of different types of tables, but they all have one thing in common – they cost money! But hey, don't worry because We're here to help with some affordable coffee table reviews and buying guides. Let's get started!
Our Top Picks
Overall Best
Mission Coffee Table with Shelf
Size: 39.9"(L) x 22.0"(W) x 18.1"(H)
Net Weight: 39.1 lbs
Material: P2 Grade MDF board, pinewood
Assembly time: 0.5 – 1 hour / 1 person
Hardware and tools included
Budget Friendly
Round Wood Accent Side Coffee Tables
High-Quality Table Top
Steel Support & More Stability
Adjustable Feet Pads
Multiple Uses
Versatile Tables – Big Design for A Little Cost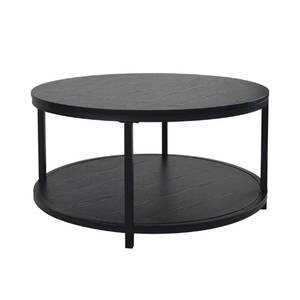 Value For Money
Rustic Wooden Round Coffee Table
The round table top is 36 inch
It is made of MDF material which is Eco-friendly
Waterproof and wear-resistant
Easy assembly in 15-30 minutes
3 years warranty
Rising Tabletop Dining Table for Living Room
Solid table construction
Constructed of CARB P2 compliant MDF finished with water-resistant veneer
Multi-functional table
Hassle-free assembly
Max. load capacity: total: 77 lb
Bamboo Nesting Triangle
Made of solid MDF panel material
Easy to clean& quick to assemble
Lightweight design
Suitable for multipurpose
15.74 x 15.74 x 15.74 inches
Cheap Coffee Table Reviews
We review some cheap coffee tables that will still look great in your home. We'll also give you tips on how to buy one that's perfect for you. So, whether you're on a budget or not, keep reading for the best options out there.
1. Modern Design by Monarch Specialties
Key Features:
Wide applications
Criss-cross base
Glossy white finish
Thick rectangular top
Easy to clean
Required manual assembly
Our first and most flat designed modern rectangular coffee table from monarch specialties, which is capable of producing high-quality products with the best materials and selling them at a reasonable price. It has sturdy construction with metal and wood, which are quality balanced components for structuring this center table.
There are four color options for the tabletop which makes your purchase more satisfying. It comes with 22 x 44 x 16 overall dimensions which is a reliable size for a living room, office room, office area, and more. The Smooth wide surface of this table is very simple to clean.
Plus it has a criss-cross chrome metal base for the utmost stability in your place. While the white one has a glossy finish which instantly gives this cocktail table a more attractive look.
Why We Picked It?
Simple design
Great support from the metal base
Suitable for standard and large space
Sturdy material content
Four color choices
Amazon's choice of product
2. Signature Design by Ashley
Key Features:
Glow of traditional
Nailhead trim for an accent look
Scrolling metal legs
Excellent antique finish
Crafted from manmade wood
Included all hardware
Signature designs by Asley provide something more that you can't deny for your dream home. And here is an example to fascinate you with this aesthetic look and decorative perspective. Whether is bringing a traditional glow they added the right material and decorative things to highlight the piece among the entire room decoration.
This cocktail table is made from a man-made metal base. While the hand-applied finish and nailhead trims offer accidental touch with scrolling metal legs which have an antique finish.
Together with all the unique finish and crafted design allow more elegant and wonderful coffee take which have a spacious tabletop to hold any item orderly with 42.5 x 42.5 x 20 inches measurement
Why we picked it?
Fastest assembly
Round in shape
A blending of classic and rustic
Inexpensive
Well customer rated
Comes with vintage faire
3. Industrial Style By AMOAK
Key Features:
Provide storage space
The charm of mid-century design
Space-saving design
Spacious tabletop
Aesthetic with black finish
Top and shelf from particle board
When you want to bring a charm of an industrial look Bonzy Home offers you a beautiful coffee table with MDF, wood, and metal constructions. It has standard measurements such as 43.3 x 23.6 x 17.7 inches with versatile functions such as a dining table, coffee table, and desk good choice to meet any kind of need for a living room or office.
For effortless assembling, this comes with all the needed hardware and instructions that you can put together with only a few easy steps. It provides ample space to keep anything with the bottom and top layered.
Don't be afraid to keep heavy things as they can support up to 220 lbs weight. It is excellent with mid-century furniture flavor with retro style. So get your best one from 20 cheap coffee tables under $100 today!
Why we picked it?
Multifunctional
Metal made frame
Simple and elegant look
Supports up to 220 lbs
Easy to clean
Quick assembly
4. Tufted Storage Ottoman by Joveco
Key Features:
Brown Faux leather surface
Hidden storage space
Easy to access and clean
Classy refined look
Well made piece
Superb easy to assemble
It is sturdy enough to hold up to 250 lbs. With 28 x 28 x 15.75 inches, they have good storage space to give you a neat and clean room. This is a more aesthetic addition to your seating area than anything as this has a brown faux leather tabletop extracted from bonded leather.
A hinged lid serves you convenient use of this ottoman. The Redwood finish taped leg and stitching details of this provides an accent look with classic charm for your home.
Because of their top materials, it is very easy to clean. For your luxurious room, this piece can work as a footrest when you need ultimate rest. Moreover, use them as an excellent seat when you have more guests and are out of seating space
Why we picked it?
Hold up to 250lbs
Captivating appeal
Legs with a redwood finish
Chic and compact
Use a footrest or extra seating space
Affordable price
5. Faux Marble Style by Tilly Lin
Key Features:
Additional lower shelf
Easy to put together
Solid and sturdy frame
Waterproof properties
Tempered glass tabletop
Wear resistance
Here we go for another fantastic coffee table under $100!
A sturdy frame of a glass tabletop coffee table is always at best a considerable angle when you are purchasing them for daily use. And in this piece, you will get a metal frame with a powder coat to take the full load of the table for rounds of the year securely.
It comes with one faux marble bottom shelf to store a large number of handy things in your living room. With 35.4 x 20.5 x 18.5 inches, this is a suitable option for the living room, dining room, bedroom, and more.
They are simple and elegant with an overall looking with a tempered glass top that is glam for this coffee table. On the contrary, the gold finish on the metal provides an accent touch and a heavy-duty metal base capable to take the duel shield and stuff weight firmly.
Why we picked it?
Low maintenance
Excellent quality
Fits any kind of decor
Long-lasting
6. Outdoor Style by DIMAR GARDEN
Key Features:
2000 hours UV and rust resistance
Easy to assemble
Weather resistance
Include installation video
Spacious tabletop
Easy to clean
For those that want to spend more cozy time in the outdoor seating area, this wicker patio furniture is metal frame construction with PE rattan content to structure the coffee table. Even used connectors are also made out of high-quality stainless steel.
They come with a square shape with a neural visualizing appeal that is easy-going for any middle or corner sofa. It features 2000 hours UV and rust resistance with a 25.2 x 25.2 x 12.6 overall dimension to serve the most convenient uses.
It comes with a glass top to a more chic elegant piece for poolside, lawn, garden, terrace, and more actually where you want to spread its beauty. While it has passed EN581 for its durable and well-made features. Plus this is chemical and water-resistant to confirm longevity for up to two years.
Why we picked it?
Made of PE rattan
Well made connectors
Versatility
Simple looking
Durable and stylish
Suitable for outdoor use
7. Modern Geometric-Inspired Glass
Key Features:
Durable steel frame
Rectangular in shape
Hollywood inspired
Included assembly instruction
Easy to clean
Used tempered glass table top and shelf
Art deco or more mid-century glam presence in this coffee table, in other words, you can find Hollywood regency in this with robust construction from a steel frame and a tempered glass tabletop, and an open shelf.
Though it has a sturdy build but doesn't make it expensive as a manufacturer tries to make them reasonable with a reliable one. This table has wide application and placement options because of its multi-functional design and aesthetic appearance.
While this great-looking coffee table has four color options including black, gold, silver, and white to give more accuracy to select the color which matches your decoration. A stylish angled bottom shelf allows you to keep things perfectly. So pick your best one from 20 cheap coffee tables under $100 today!
Why we picked it?
Storage space
Affordable prize
Modern design
Wide application
Highly stable
Clean line coffee table
8. EdgeMod Segovia Glass Top Style
Key Features:
Stylish and decorative
Bamboo structured legs
Study support
Wooden storage shelf
White painted shelf
Aesthetic glow
You can't take away your eyes from this coffee table which has deep storage under the main tempered glass tabletop. The main eye Cathay thing in this cable is its painted wooden shelf which has high edges to maximize the storage space. You have two options to pick this shelf between black and white.
The sturdy base of this coffee table from bamboo provides a blending style of mid-century and modern. Another celebrating thing about this product is it is shipped completely free. Also, you will get a free return within 14 days.
This allows low maintenance in your place with lots of uses. With a great combination of glass and wood, it can easily highlight your seating area with its elegant and sleek design. We love this table because of its vintage touch in modern design together with functionality.
Why we picked it?
Unique design
Free shipping
Multi-functional
Visually appealing
Quick assembly
Strength tempered glass tabletop
9. Vasagle Alinru Round Style
Key Features:
Industrial charms
Robust construction
No tools needed
Rustic brown finish
A mixture of modern and rustic farmhouse
Safe for kid's home
The best stability comes from a great base for any furniture piece. It comes with an X design base to support up to 220 lbs so you can be carefree to place any heavy flower vase over this table which is made from high-quality steel with a black finish. This not only makes it attractive but durable and long-lasting.
This table has a unique tabletop for casual types. This particleboard is eye-catching and easily matches any decoration whether it is industrial, rustic, or modern.
Because of its novelty, you can't go wrong with this standard dimension such as 34.6 x 34.5 x 18.5 inches perfectly fit your living room or another place. Also cleaning and assembling it effortlessly with a great seating experience. Thus, it becomes desirable among coffee tables under $100.
Why we picked it?
Easy to get together
Can hold up to 220 lbs
Lightweight and moveable
Cross pattern base
Inexpensive
Attractive and simple
10. Tangkula Lift Top Style
Key Features:
3 divided shelf
A hidden storage compartment
Made of solid wood
Uses high-quality chipboard
High-quality mechanism
Excellent brown finish
They are getting popular for their other level of functionality and unique design. When you want to eat food at the time of watching television, this has an amazing adjustment of height from 19 to 24 inches to feel more comfortable. On the contrary, work with a laptop to keep it long with this amazing lift-top table. It comes with a modern design with high-quality materials to construct this.
Three open shelves and one hidden compartment provide you with lots of space to keep your room cleaner and tidy. This comes with a brown finish to match any room decoration of your home. This product ships with all required hardware to fast assemble by yourself. The little narrow shape of this lens helps to make stable the table perfectly.
Why we picked it?
Compact design
Build to last
Wear resistance
Versatile uses
Easy to assemble
Effortless cleaning
11. Metal and Wood Square Style by Walker Edison
Key Features:
Constructed with premium MDF
Sturdy steel shelf and legs
One open wide storage
Single metal shelf
Feet caps for scratch-proof floor
Elegant design
Such a modern design of coffee tables easily attracts any guest's eyes and compliments them. This comes with an exceptional-looking and sturdy construction with MDF and steel for the frame. Multifunctional coffee table capable to hold many handy pieces with a metal shelf and a wide-open shelf.
Whether newspaper, magazine, books, or remote control with lots of decorative times, this is an effective and good display. It also has stylish look and excellent finish which easily matches any room arrangement. This comes with a gray wash finish with black legs and a metal grid divider to give this piece accent visualization.
For your food protection, it comes with plastic foot caps whether you place them on the carpet. The overall dimension of this product, 30 x 30 x 16.14 inches, sits for a large or medium-sized room. So choose your best one from 20 cheap coffee tables under $100 today!
Why we picked it?
Standard size
Fits most of the sitting place
Blend of modern and industrial glow
Available 8 colors
Appear expensive
Square in shape
12. Contemporary Rectangular Style Table
Key Features:
Manmade wood construction
Dark brown finish
Canted legs for a mid-century vibe
Plenty of storage space
Easy to clean and maintain
Simple assembling
It comes with natural wood color and a mid-century vibe for your modern home decoration. While 47.75 x 23.75 x 17 inches creates lots of possibilities to place this coffee table.
This simple table bears a contemporary glow with a canted leg and a dark brown finish that beautifully highlights your seating place. The durability and sturdiness of this piece of furniture confirm these qualities with veneer, wood, and engineered wood to give it perfection on all sides.
A rectangular shape is always preferable in a small space without adjusting its incredible design and style. This comes with all required hardware and connector which are all high quality balanced to make you happy and tension-free customers with the fastest assembly.
Why we picked it?
Stylish and durable
Included assembling hardware
Designed to meet any needs
Bears Contemporary glow
Versatile placing options
Simple and stylish
13. Lift Top Rustic Style by Yaheetech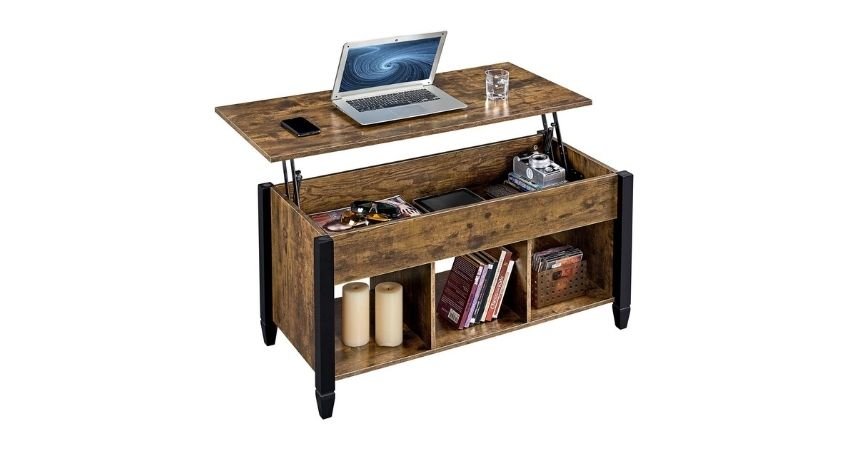 Key Features:
Multi-colored bottom slats
Additional storage space
Hand applied finish
Match rustic or vintage style
Sculpted edge
Made of veneer and manmade wood
It is multicolor bottom slats that have a hand-applied finish. Among hundred designs of coffee tables, this makes something more vibrant for your lively living room. While the sculpted edge allows more experience of artistic finish for the center table. With 42 x 28 x 13 inches, these are chic modern additional pieces for your place.
To bring a reclaimed look for vintage and rustic decor type Ashley is more experienced in the field of coffee table furniture field. While undoubtedly this is an ardent example of this.
And robust construction of this cocktail table ensures dinner, wood, and engineered wood blending structure. And don't panic about assembling as this comes with instruction and hardware.
Why we picked it?
Simple to assembly
Comes with installation hardware
Rustically refined look
Eye-catchy brown finish
Functional and stylish
Clean-up is very easy
14. Dark Gray Faux Rattan by Flash Furniture
Key Features:
Plank table top
Adds accent glow
Beautiful and functional
Frame constructed from resin
Dark gray color
Comes with a plank design
Except for a good coffee table, you can't enjoy your outdoor time while you need to keep your coffee mug or other necessary items. Conditionally outdoor furniture should be more durable to go-rounds around the years by offering the best performance.
Plus, this product is structured with a rattan border with a plank top. While the weave resin frame gives an accent touch and neutral form to this center table for outdoor.
It stands out as a coffee table under $100 for other reasons. Move on!
If you want more light color you can choose the other color option of this item as light gray. Whatever color you choose this is a beautiful and functional pick with weather-resistant properties.
And the measurement of this product as 27.75 x 19.75 x 15 inches makes it an ideal choice for a poolside, patio, and deck placement. It has a 5.5-pound weight which is easy to move perused need.
Why we picked it?
Durable and stylish
Lightweight and portable
Fastest assembly
Required no maintenance
Weather resistance
Ideal for outdoor and indoor use
15. Elam Wood by Christopher Knight Home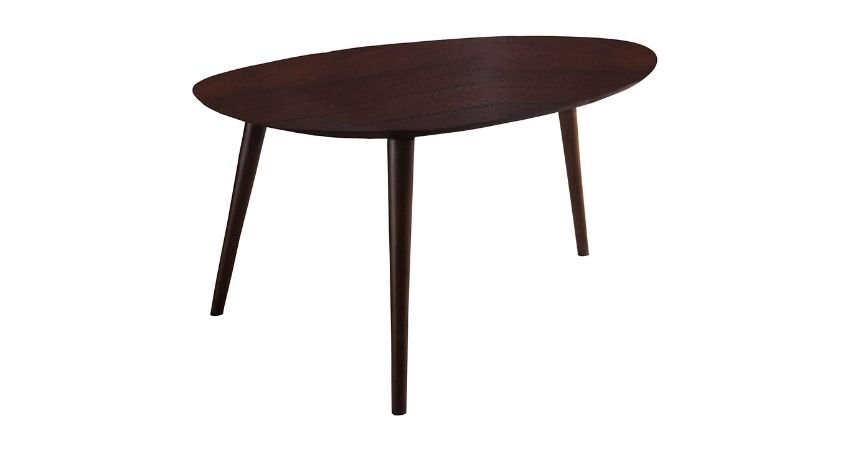 Key Features:
Smooth finishing
Egg-shaped coffee table
Elam wood construction
Presence of Walnut flair
Vintage-inspired
Super sleek and modern
Wooden furniture is always aristocratic and classy even this also me in the case of coffee tables. This table up to the bottom is contracted from wood with a walnut finish which presents this unparalleled design with others.
Also, a smooth finish and clean line provide mid-century touch at your place with this addition. Because of their lightweight, you can move any place according to decoration demand.
Egg shapes provide a unique design with fashionable things at an attractive price. This comes with a footed cup to protect your sensitive floor and carpet. Elam wood construction provides durability and supreme luxury with elegance. This comes with 23.62 x 39.29 x 17.91 inches and fits any small place with tons of functionality.
Why we picked it?
Long-lasting
Cheap in price
Easy to assemble
Easygoing with any decor
Touch of mid-century
Clean line table
16. Yaheetech Wood 2-Tier Black
Key Features:
Large table top with water resistance
Spacious storage shelf
Weight capacity 125 kg(top)
Required manual assembly
Comes with an X design
Used wood material content
X design always gives you an extra gorgeous touch and stability for any furniture even a coffee table. A lot of people shop for this type of wooden furniture to bring a modern vibe of mid-century manner.
While this center table comes in a rectangular shape with a spacious tabletop and bottom shelf to free the top of the cabinet or tabletop. The wide application comes through this study and stylish design.
This table comes with 39.5 x 21.5 x 18 inches with 276 lbs weight capacity for a tabletop. Moreover, this has two color options black and white which provide your own preference. It has reliable construction with green MDF and solid wood.to ensure it's long-lasting it was a protective coating and water resistance to keep your investment safe. So find your best one from 20 cheap coffee tables under $100 today!
Why we picked it?
Space-saving design
Highly stable
Sturdy construction
Elegant black finish
Modern vibe
Multi-functional
17. Homfa Industrial Style
Key Features:
Reclaimed table top
Lower open shelf for extra storage
The neutral choice for any decor
Easy cleaning and low maintain
Matte black finish
Sturdy and stable piece
It is a popular choice for its additional shelf which is amazing storage space. While you want to keep your room decoration simple and neat this coffee table option is specially designed for you.
This table is structured with particleboard and a high-quality metal frame. A great combination of retro color with a smooth finish and matte black frame for a more elegant look.
Give your home industrial-chic touch with this coffee table along with 43.3 x 23.6 x 17.7 Inches overall dimension which fits the bedroom, living room, and office in large or medium space.
Also, this table provides huge possibilities to organize this with heavy flower vases, album accent pieces, and more as this has 264 lbs weight capacity from its robust construction.
Why we picked it?
Captivating appeal
Assembly is easy
A great choice for any setting
Used solid iron frame
Touch of industrial glow
Elegance and durable
18. 2-Tier Modern Oval Style by Studio Designs Home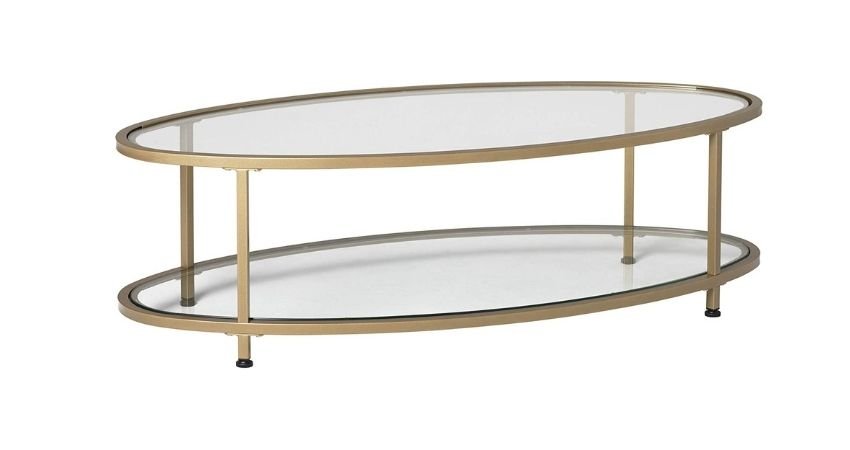 Key Features:
Gorgeous look
Can hold 40lbs weight
Versatile application
Tempered glass top and shelf
Versatile placement
Compact but not short
Let's see why it is one of the best coffee tables under $100. They are more desired shapes, people in recent days have replaced this with oval coffee tables because of their wide application and stylish appearance. It can be used as a console and end table too.
Plus this has a gold and pewter coated frame which matches various color tones and styles of room decoration. The tabletop and shelve of the coffee table come from thick tempered glass which is safe for daily use and aesthetic in look.
For individual shelves, it has 40 lbs weight capacity with a standard dimension of 48 x 23.25 x 14.5 inches. For ensuring supreme stability this table comes with four-floor levelers which offer you the ultimate freedom to place any type of floor safely.
Why we picked it?
Comes with floor leveler
Powder-coated steel frame
Fits all tastes
Easy to put together
Sleek design
Effortless cleanup
19. Winsome Genoa Rectangular Style
Key Features:
Excellent Espresso finish
Used tempered glass inset top table
Solid wood construction
Ample of storage solution
Fits narrow space
Functional and beautiful
Some people want to add furniture which is bright for their dreamy living room decoration to give a festival atmosphere all the time. Because of this excellent color, it can easily catch anyone's attention among the rest of the furniture,
It has a beautiful espresso finish that extremely matches any home style tone and presents your arrangements uniquely. It has slightly flared legs to provide more stability with an accent look. While the cantered lower shelf sources have plenty of storage with a smooth finish line.
It is constructed from solid wood with takes using these rounds over the years. The centered table top has 30.43 w and 12.48 D making it elegant and stylish. Assembling this table is very simple while all the needed things come with a package.
Why we picked it?
Quick assembly
Stylish matching piece
Good customer rated
Comes with great customer service
Unique design
L-shaped leg for stability
20. Plow & Hearth 39006-BK
Key Features:
All-weather withstand
Study rattan frame
It goes rounds over the years
Both for indoor and outdoor use
Timeless style
Eye catchy look
Plow and Hearth wicker constructed one which is specially designed for outdoor use for patio, terrace, yard, garden, and more following traditional design. Plus the hand weaving of rattan sturdy and durable frame to build the table side decoration with resin is undoubtedly a glow of classical style.
It features weather resistance for this high-quality wicker. It is capable of facing any need of you for long-termed uses. While it required less or no maintenance.
To fulfill individual demand it has two amazing colors ivory and natural which easily match the sofa and chairs which you have already purchased. Because of its artistic woven that offers accent shades your place with a 29.5 x 17.5 x 18.5 inches L-shaped design. So choose the best cheap coffee tables under $100 today!
Why we picked it?
Well-designed and durable
Easy to clean
Lightweight and portable
Simple to get together
Glow of tradition
Low maintenance
Things to Consider Before Buying Coffee Tables
We are all sometimes being careless to shop for coffee tables for our homes this plays an important role from its functionality to the overall room decoration.
Size:
Choosing the right size of coffee table is essential to match the decoration with functionalities. In this case, shart your measurement with the couch length it should be half to two-thirds for the best match.
On the other hand, the height also depends upon your couch size. It is you who knows better high or low-type coffee tables actually you need. But the standard measurement is 40-45 cm 5 cm high from the sofa for easy access.
Function:
A coffee table plays a different role up to where you are placed the living room needs a more spacious and studier one while a family coffee table is not good with a glass top for mass use with stains and scratches. You can also choose a coffee table with storage space or a hidden shelf which makes them useful in your room with beautiful appearances.
Shape:
There are several popular shapes of coffee tables such as rectangular, round, square, oval, and free-form. It completely depends on your sofa's length. Rectangular-shaped coffee table for a more spacious room.
While round and square shape are preferable for a small place or a home which have kids. But free form is a good choice for a modern and sophisticated look.
Material:
You should choose materials for your coffee table according to your room decoration and sofa's style. In this list firstly comes wood as wood-made coffee tables are sophisticated and timeless.
Plus wooden are offer durability with lots of finish and colors. Aside from wood, you can choose glass, stone, metal, plastic, rattan, leather, and acrylic are suitable for a modern coffee table.
Style:
Pick a coffee table that blends the rest of the decoration or stands out all of this furniture. Contrasting types of materials and styles of they easily highlight the different coffee tables.
Two small sizes coffee tables can be placed side by side or storage trunk or branch center on one side. Even a fabric ottoman is a trendy style for a coffee table which adds accent with functionality.
Other Features:
Some other features are found in coffee tables that make them more attractive and functional like the use of wheels, upholstery, mirror, and more. For smooth moving in your sensitive floor wheels on coffee table feet is reliable.
When you have a naughty kid you should have extra attention to purchasing furniture which can hurt them in moving or playing time.
Upholstered is a good choice for this purpose. While the mirror is illusionary addition to any furniture decoration which itself elegant addition. Tray top and lift top options for more convenience in using them.
Frequently Asked Questions
What style of coffee table should I get?
You should get a coffee table that is the right height for you. This will depend on your height, but if you are shorter than 5'4″, you should get a coffee table that is lower to the ground. If you are taller than 6'2″, then you should get a higher one.
What functionality do you need from a coffee table?
If you know where and how you increase the functionality of coffee tables with different sizes, shapes, and designs. Most people take these furniture pieces with as much as possible storage space. While you have several functions with stylish. Additional compartments, shelves, and drawers to get additional space.
On the contrary ottomans and trunks is a good idea for an accent look. Moreover, lift-top designs add convenience use of a coffee table. While wheel or cluster ensure easy to move according to user need.
What is the best material and color for a coffee table?
Likewise increasing demand manufacturer offers so many material choices for this item. While each material is durable when you picked them with high quality.If you can decorate a small seating place acrylic or glass is a good option to give it a broad appearance. For traditional touch always pick dark solid wood pieces.
And leather is good to create sophistication of accent glow. It is you and your eyesight that can detect the best color for your coffee table. Dark brown, black, white, and other neutral colors are the most picked color which matches the sofa and other furniture.
What shape do you choose?
Choose your coffee table's shape to depend on placement space and the rest of the furniture exiting your place. If you're purchasing a coffee table for a small place move with a rectangular shape, Though this shape is the most versatile one.
You can choose an oval for a narrow or small place. Whether you have a large sectional or living set pick a round or square to look elegant. Keep nothing thing in your mind if you have kids choose a coffee table oval or round that does have not too sharp an angle to hurt them accidentally.
What is the average height of a coffee table?
The height of a coffee table varies depending on the size, shape, and style of the table. Most coffee tables are between 28-30 inches high. The average height of a coffee table is 28 inches.
What is the standard size for a coffee table?
The standard size for a coffee table is 24 inches in height, 18 inches in width, and 36 inches in length.
What kind of coffee table looks best with a sectional?
A glass coffee table is a good choice for a sectional because it can be seen from all angles. A metal coffee table might not show the full shape of the sectional when viewed from certain angles.
As well as a round coffee table is a good option for a sectional because it can be placed in the center of the seating arrangement.
How much does a coffee table cost on average?
A coffee table can cost anywhere from $50 to $1,000. The price will depend on the type of wood, the size, and the style.
Bottom Line
Like an amazing addition to your seating surrounding, coffee tables are the most desired furniture pieces. While you are busy with thousands of work we are offering you their type, buying guide, and a list of 20 cheap coffee tables under $100 in various shapes, materials, and convenience options actually what your requirements have about them.
So, we hope you have read this article thoroughly and already found your best one at a reasonable price which makes your investment safe and provides a great look at your place.