Last updated on June 20th, 2023 at 10:02 pm
Living rooms are a major part of any home, and with that comes the responsibility of ensuring that your space is comfortable and stylish. One way to do that is by choosing a set of couch sets that are both affordable and quality.
Here we'll explore five incredible cheap living room sets under $300. From sleek modern designs to cozy and traditional aesthetics, these sets offer comfort, functionality, and a touch of elegance, all within a limited budget.
So, let's dive in and discover the perfect affordable living room set for your home!
Our Top Picks
When it comes to finding affordable living room sets under $300, we've done the research to bring you our top picks. These sets offer a perfect balance of quality, style, and value for your budget. Check out our curated selection:
1. FDW Sectional Sofa
Looking for a comfortable and stylish sofa that's easy to transport and assemble? It is perfect for small spaces and can easily be assembled in minutes. The strong frame and quality hardwood materials make it sturdy and durable, while the memory foam cushions provide superior comfort. Whether you're hosting a party or just relaxing with your family, It is the perfect choice for any home.
Why We Picked It?
It is easy to assemble and transport.
It is big enough for two people.
It has a strong frame.
It is comfortable.
You'll be able to quickly and easily get your couch through the door and into your home.
It will make you feel comfortable and supported while you relax with friends or family.
2. HONBAY Convertible Sectional Sofa
If you're looking for a reliable, comfortable, and stylish sectional sofa, It is perfect for you. They come in a variety of colors to match any decor, and their firm cushions mean you'll never have to worry about sinking in. Additionally, the compact design is perfect for small apartments.
It is easy to assemble with no tools required and can be easily disassembled and carried if you need to move to a new place. With a weight capacity of 660 lbs, It can accommodate 2-3 people comfortably.
And if you ever need to change the layout of your room, the chaise can be placed on either side of the couch. This cost-effective piece of furniture is a great addition to any home. So choose the best one from 25 cheap living room sets under $500 today!
Why We Picked It?
You can assemble the couch easily within 20 mins
The chaise could be placed on either the right or left side of the couch
It is easy to disassemble and carry if you would move to a new apartment
It is very cost-effective in the market
3. ZINUS Ricardo Loveseat Sofa
Introducing the Ricardo Loveseat from ZINUS! This small but mighty couch is perfect for those who appreciate style and comfort in one package. The polyester fabric and foam cushioning provide maximum comfort, while the sturdy frame ensures years of enjoyment.
The tool-free assembly makes set-up a breeze, and the easy-care cushion covers can be quickly cleaned with a damp cloth and mild detergent. Worry-free 1-year limited warranty included.
Why We Picked It?
You'll be able to lounge in comfort.
The frame is built to last.
Assembly is easy and takes less than 20 minutes.
Cushions are easy to clean.
Lounge in comfort knowing you're supported by a strong frame.
Assemble your new lounger quickly and easily without any tools.
Keep your cushions looking pristine with a simple damp cloth and mild detergent.
4. Giantex Loveseat Fabric Sofa
Looking for a stylish and elegant addition to your living room? This beautiful set comes with a firm and durable solid wood sofa frame, upholstered in a great textured linen fabric. It also features comfortable spring-framed seating, fine workmanship, rolled armrests, and thick cushions that are removable for easy cleaning.
Plus, its contemporary and elegant appearance will complete any décor. And because of its solid and durable structure, it has a strong load-bearing capacity. So go ahead and invite all your friends and family over – this living room set can accommodate everyone!
Why We Picked It?
Constructed from pine wood
Soft linen fabric
Fade resistance
Get a stylish, contemporary loveseat that will last for years.
Sit in comfort and style with this well-crafted piece.
Imagine how great it will feel to finally relax on your own sofa after a long day.
Enjoy the feeling of luxury and comfort that comes with this finely made piece.
5. JY QAQA Convertible Sectional Sofa
If you're looking for a small yet stylish and convenient couch for your apartment or home, look no further than the JY QAQA convertible sectional sofa! This versatile piece of furniture can be easily converted into a comfortable bed for one or two people – perfect for overnight guests!
It is also perfect for small spaces, as it is sleek and compact, yet still provides ample seating. The reversible cushions and ottoman allow you to customize your seating arrangement to suit your needs,
While the hardwood frame and soft fabric upholstery provide both style and comfort. Easy assembly makes set-up a breeze, so you'll be enjoying your new couch in no time!
Why We Picked It?
Hold 660 lbs weight
Cushions with zipper closing
Sturdy frame construction
You can customize the way it looks to fit your space.
It's comfortable and perfect for small spaces.
It's easy to assemble.
You'll have a cozy place to relax in your own home.
You'll be able to make your house feel like home with your own personalized furniture.
Offers 1-year warranty
6. Divano Roma Modern Folding Style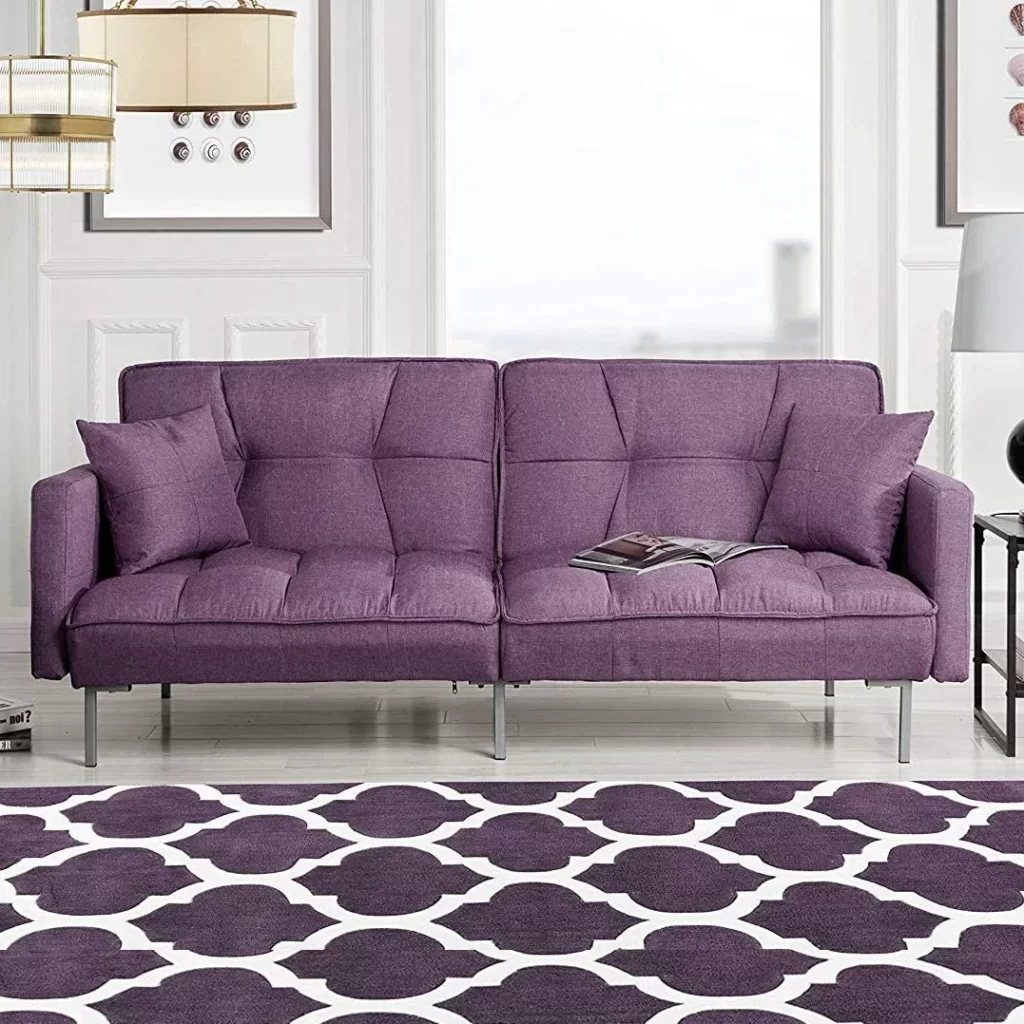 Key Features:
Small in size
Comfortable for the user
Space for three
Linen upholstery
If you're looking for a nice small couch that also provides you with a comfortable place to sleep, then this Divano Roma futon is all you need.
Among all other couch sets for cheap prices, this once seamlessly stands out as it mimics a futon. With a split-back sleeper style, the loveseat warrants coziness to the user.
It encloses a safe-to-use and soft filling on the inside that bears a linen upholstery. Hence, it does not irritate you.
Besides, It comes in a small size which makes it suitable for small areas. It is lightweight furniture and requires no extra effort for assembly.
With an ultramodern yet simple look, It can provide comfortable seating for three persons.
Advantage
Very comfortable
Soft cushioning
Easy to assemble
Disadvantage
No ottoman
No chaise
Not for large families
How We Tested and Picked?
At [Your Company Name], we understand the importance of providing accurate and reliable information to our readers. In order to test and pick the best living room sets under $300 for review, we followed a meticulous and comprehensive process. Here's an overview of how we conducted our testing and selection:
1. Extensive Market Research
We began by conducting thorough market research to identify a wide range of living room sets available in the under $300 price range. We explored various online retailers, furniture stores, and customer reviews to compile a comprehensive list of potential options.
2. Criteria Development
Next, we developed a set of criteria to evaluate the living room sets. Our criteria focused on factors such as quality, durability, comfort, style, affordability, and customer satisfaction. These criteria ensured that we assessed each set from multiple angles and provided a well-rounded review.
3. In-Depth Analysis
We analyzed each living room set based on the established criteria. This involved examining the materials used, construction quality, upholstery fabric, cushioning, frame strength, and overall design. We also considered user feedback and ratings to gain insights into customer experiences with the sets.
4. Hands-On Testing
To provide an accurate assessment, we conducted hands-on testing of the living room sets. Our team carefully assembled and evaluated each set, paying close attention to ease of assembly, comfort, and overall performance. We tested the furniture's sturdiness, cushion support, and functionality.
5. User Feedback Consideration
In addition to our own testing, we also considered user feedback and reviews. We took into account the opinions and experiences shared by customers who had purchased and used the living room sets. This allowed us to gauge the long-term durability and overall satisfaction of each set.
6. Comparison and Selection
After completing the testing and analysis phase, we compared the results and ranked the living room sets based on their performance, quality, and affordability. We considered factors such as value for money, design versatility, and customer feedback. This rigorous process enabled us to select the top living room sets under $300 for our review.
What to Look for When Buying Living Room Sets?
When shopping for living room sets under $300, it's important to make informed decisions to ensure you get the best value for your money. While affordability is a key factor, there are several other considerations to keep in mind. Here are some essential factors to consider when buying living room sets within this budget range:
1. Quality of Materials
Even with a limited budget, it's crucial to prioritize the quality of materials used in the living room set. Look for furniture pieces constructed from durable materials such as solid wood, sturdy metal frames, or high-quality upholstery fabrics. Avoid sets that rely heavily on particleboard or flimsy materials, as they may not withstand regular use.
2. Comfort and Ergonomics
A living room set should provide comfort and ergonomic support for your relaxation and socializing needs. Test the seating options to ensure they offer adequate cushioning and back support. Look for sets with well-padded sofas and chairs, as this can greatly enhance your overall comfort and lounging experience.
3. Space Considerations
Before purchasing a living room set, carefully measure your available space to ensure a proper fit. Consider the dimensions of the furniture pieces, including the sofa, chairs, and tables, and compare them with your room's dimensions. Opt for sets that offer versatility and modular designs, allowing you to customize the arrangement to suit your space.
4. Style and Aesthetic Appeal
While affordability is a priority, it's also important to select a living room set that aligns with your preferred style and aesthetic. Look for sets that complement your existing decor or that offer a versatile design that can adapt to different decorative styles. Consider factors such as color, pattern, and overall design to ensure the set enhances the visual appeal of your living room.
5. Easy Maintenance and Cleaning
Living room furniture is subject to regular use and potential spills or stains. Therefore, it's beneficial to choose sets that are easy to clean and maintain. Look for materials that are stain-resistant or can be easily spot-cleaned. Removable and machine-washable covers are also desirable features that can simplify the cleaning process.
6. Customer Reviews and Ratings
Before making a final decision, take the time to read customer reviews and ratings for the living room set you are considering. Feedback from other buyers can provide valuable insights into the quality, durability, and overall satisfaction with the product. Look for sets that have positive reviews and high ratings, indicating a good level of customer satisfaction.
7. Warranty and Return Policy
Check if the living room set comes with a warranty or guarantee from the manufacturer or retailer. A warranty provides added assurance of quality and protects you against potential defects or issues. Additionally, review the return policy in case you encounter any problems or if the set doesn't meet your expectations.
Frequently Asked Questions
Which is better leather or fabric sofa?
A fabric sofa can be a great alternative to a leather one if you have pets or children. They are easier to clean and maintain, and they also have a more modern look. They are more comfortable and durable, but leather couches look nicer and can be more expensive.
Is There A Difference Between A Couch And A Sofa?
No, not really. "Couch" and "sofa" are both terms for a piece of furniture that is designed for sitting on. The term "couch" is more common in the United States, while "sofa" is more common in the UK and Australia.
What size should a living room sofa be?
The size of the living room set should depend on the size of the drawing room. A small sofa would be appropriate for a smaller reception room, while a larger sofa would be appropriate for a larger sitting room.
Which one is better: contemporary or traditional?
A traditional living room set is usually made up of a sofa, a loveseat, and two chairs. Contemporary sets are usually more modern and may not include a loveseat. They often have the same number of chairs as a traditional set but they may be different shapes and sizes.
What types of materials should I look for in a living room set?
You should look for a living room set with durable materials. You should also consider the style of furniture you want to go with. It would be helpful to know if they have a large or small space, what type of furniture they already have, and what types of colors and patterns they like.
Bottom Line
Finding affordable living room sets under $300 is definitely possible without sacrificing style and quality. With careful research and consideration, you can discover budget-friendly options that suit your taste and meet your needs.
Whether you prefer a cozy oasis, a modern minimalist look, or a space-saving solution, there are sets available that offer comfort, durability, and aesthetic appeal. So don't let a limited budget hold you back from creating a stylish and inviting living room.