Last updated on June 20th, 2023 at 09:59 pm
One of the most essential decisions you'll have to make when furnishing your living room is how much to spend on a living room set.
The price of a living room set can vary significantly based on a number of factors, including the quality of the materials, the reputation of the brand, the design, and any additional features.
In this in-depth guide, we will investigate the world of living room sets and the factors that affect their prices.
Whether you are on a strict budget or seeking a high-end luxury set, we have you covered. Therefore, let's find out how much a living room set actually costs.
Living Room Set Cost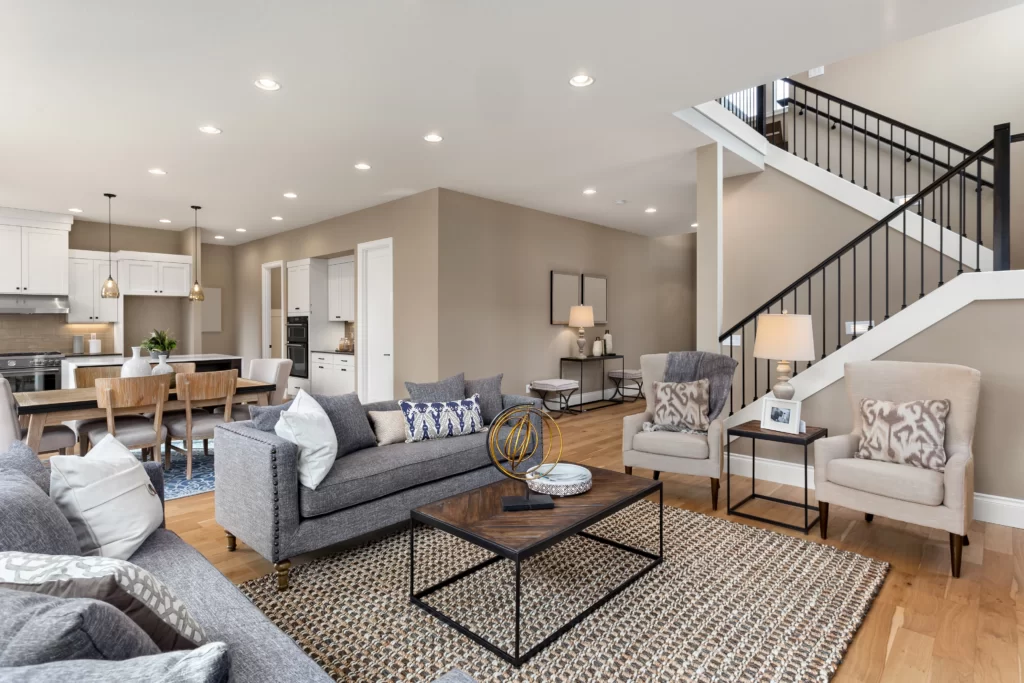 Photo Credit: bob mills furniture
The price of a living room set can vary based on a number of factors, such as the quality of the materials, the reputation of the brand, the design, and any additional features.
A standard living room set can cost between $1,000 and $3,000 on average. Typically, this consists of a settee, a loveseat or armchairs, and a coffee table.
If you're searching for upscale options or luxurious designs, the price can increase substantially.
Depending on the brand, the materials used, and any additional features such as reclining mechanisms or built-in storage, the price of a premium living room set can range anywhere from $3,000 to $10,000 or more.
It is important to note that these are only general price ranges, and the actual price can vary greatly depending on personal preferences and the location of your purchase.
Additionally, seasonal promotions, sales, and discounts can affect the ultimate price of a living room set.
Factors Affecting the Cost of a Living Room Set
Quality of Materials
The living room emanates elegance and comfort due to the use of high-quality materials. The floor is adorned with opulent hardwood, the warm tones of which invite guests to enter and unwind.
Smooth, tastefully textured wallpaper adorns the walls, adding a note of sophistication to the space. The seating is adorned with plush, opulent upholstery, enveloping occupants in a cloud of softness.
The coffee table, crafted from sleek marble or polished wood, functions as a focal point, fusing functionality and aesthetics in an effortless manner.
Elegant draperies are made of high-end fabrics that gently diffuse natural light and elegantly frame the windows.
Every little thing, from the meticulously chosen fabrics to the exquisite finishes, elevates the living room to a level of refined elegance and comfort.
Brand Reputation
The brand has an impeccable reputation in the living room sector. Due to their dedication to quality, innovation, and customer satisfaction, they have earned consumer confidence.
Their products for the living room are renowned for their durability, fashionable designs, and superior functionality. Customers value the brand's attention to detail and ability to accommodate a variety of flavors and preferences.
Superior customer service, quick shipping, and easy return policies all help the brand's reputation. Whether it's sofas, coffee tables, entertainment centers, or home décor, the brand's living room products are consistently lauded for their superior quality and value.
With a proven track record and a devoted customer base, this brand has become synonymous with excellence in the living room market.
Design and Style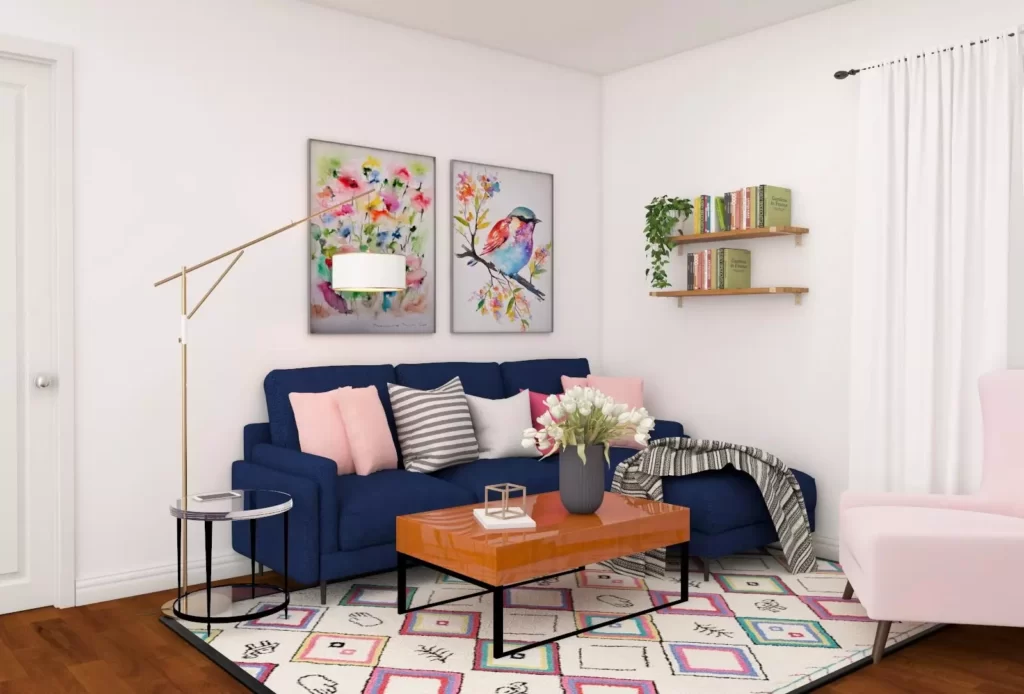 Photo Credit: foyr
The design and layout of the living room should reflect your personal preferences and create an inviting environment. Choose a color scheme that complements your home's overall aesthetic, and select a variety of textures and patterns to add visual interest.
Choose functional and fashionable pieces of furniture and arrange them in a way that facilitates conversation and traffic flow. Include numerous seating options, such as a sofa, chairs, and ottomans, and accessorize for additional comfort with decorative pillows and throws.
Consider incorporating artwork, plants, and decorative illumination to enhance the ambiance of the space. Create a warm and inviting space by incorporating natural light, overhead lighting, and table lanterns into the lighting scheme.
Additional Features and Accessories
Enhance the experience of your living room with a variety of additional features and accessories. Voice-controlled devices such as smart speakers and virtual assistants can transform your space into a smart hub, allowing you to control lighting, audio, and more with just your voice.
Adjustable smart lighting systems that offer a variety of colors and intensities can be used to create a cozy environment. Invest in a high-definition smart TV with streaming capabilities and access to a variety of content to enhance your entertainment setup.
For immersive movie evenings, enhance your audio experience with a soundbar or surround sound system. Stylish storage options, such as ottomans with built-in compartments, will help you maintain a clutter-free living space.
Throw pillows and blankets add a touch of luxury and coziness to a space. The addition of these features and accessories will transform your living room into a versatile and inviting space for relaxation and entertainment.
Number of Pieces
Typically, the living room contains a number of essential pieces of furniture and accent pieces. Together, these elements create a comfortable and inviting space for relaxation and interaction.
A standard living room typically includes a sofa or couch, armchairs or accent chairs, a coffee table, side tables, a television or entertainment unit, shelving or storage units, a rug, curtains or blinds,
a television or entertainment unit, shelving or storage units, a rug, curtains or blinds, and various decorative items such as lamps, artwork, and plants.
Additionally, some individuals may elect to include ottomans or benches as additional seating options. The number of items in a living room can be adjusted based on individual taste and practical requirements.
Customization Options
Some furniture manufacturers provide personalization options, allowing you to tailor your living room set to your preferences. Customization may involve selecting specific upholstery materials, colors, and finishes, as well as adjusting the furniture's dimensions to suit your space.
While customization adds a distinctive element to the set, it can also increase the price. If you have specific requirements or a specific vision in mind, you may incur additional costs.
Size of the Living Room
A home's living room is an inviting and comfortable space where family members and guests congregate to unwind and socialize. It functions as a focal point for various activities, such as watching television, reading, and hosting guests.
The size of a living room can vary depending on the home's or apartment's overall layout and dimensions. The average size of a living room is between 300 and 400 square feet, although larger residences may have living areas that exceed 500 square feet.
In order to create a functional and aesthetically appealing living space, the size of the living room frequently dictates the arrangement of sofas, chairs, coffee tables, and entertainment units.
Upholstery and Cushioning
The padding and upholstery of a living room set may affect its price. Fabrics of superior quality, such as premium leather or imported textiles, are typically more expensive than synthetics. Similarly, the cushioning's quality and density can affect the price.
In the long run, firmer, more durable cushioning materials may be more expensive, but they offer superior support and durability.
Delivery and Installation
When purchasing a living room set, it is essential to factor in the additional costs of delivery and assembly. Some retailers provide complimentary delivery and assembly, while others may charge a fee. When purchasing from an online retailer, you must also account for shipping costs.
In addition, if you require assistance with moving and arranging the furniture within your home, you may need to employ professional movers, which can increase the total cost.
Warranty and After-Sales Service
Photo Credit: Investopedia
The availability of a warranty and after-sales service may have an impact on a living room set's price. Reputable furniture manufacturers provide warranties that cover manufacturing defects and repair or replacement services within a predetermined time frame.
These warranties can provide peace of mind, but they can also increase the set's total price. Consider the warranty's duration and scope when determining the worth of the furniture.
Time of Purchase
The season in which you buy your living room set can also affect its price. Numerous furniture retailers offer seasonal sales and discounts, particularly around significant holidays and clearance events.
Strategically timing your purchases can help you obtain discounts or take advantage of special offers. Conduct research and keep a watch out for sales to save money on a living room set.
Financing Options
If you have a limited budget, you should investigate the financing options offered by furniture retailers. Some retailers offer payment plans or financing options that enable you to pay for the living room set over a period of time.
Although this does not affect the basic price of the furniture, it can make it more affordable by dividing the payments into manageable monthly payments.
FAQs About the Cost of a Living Room Set
Are there affordable options for living room sets?

There are living room sets available at reasonable prices. There are affordable sets manufactured from long-lasting materials that provide comfort and style without breaking the bank.
Consider purchasing during sales, perusing online retailers, and visiting discount furniture stores to locate more affordable options.
Can I find high-end luxury living room sets?

Absolutely! If you are prepared to invest in a high-end luxury living room set, there are numerous options available. Frequently, these sets feature immaculate craftsmanship, opulent materials, and intricate designs.
The collections of well-known luxury furniture manufacturers cater to discerning customers seeking the utmost in quality and design.
Are there any hidden costs associated with buying a living room set?

Despite the fact that most reputable furniture retailers are upfront about their prices, it is essential to inquire about any possible concealed fees. These may include fees for delivery, assembly, and disposal of old furniture.
Before finalizing your purchase, ensure that you have a complete understanding of all fees.
Can I mix and match furniture pieces to create a living room set?

Yes, you can mix and match living room furniture to create a unique ensemble. This enables you to select individual items that fit your budget and aesthetic preferences.
By selecting complementary pieces, you can achieve a unified look while maintaining individual cost control.
What are some cost-saving tips when buying a living room set?

Consider buying floor models or liquidation items. Furniture stores frequently sell their display models at a discount, allowing you to save money on high-quality pieces.
Keep an eye out for sales, promotions, and holiday discounts when shopping. These occasions can provide substantial savings on living room furnishings.
Compare prices from various retailers: Invest the time to investigate and compare prices from various retailers. Online purchasing platforms can facilitate access to a variety of products and price points.
Check local classifieds, online marketplaces, and thrift stores for previously owned living room sets. You may discover excellent deals on gently used, like-new furniture.
How long can I expect a living room set to last?

Several factors affect the durability of a living room set, including the quality of the materials, the craftsmanship, and how well it is maintained.
With appropriate maintenance, high-quality sets made from resilient materials can last for decades.
To prolong the life of your furniture, you must strictly adhere to the manufacturer's maintenance and cleaning instructions.
Can I negotiate the price of a living room set?

In some instances, you may be able to negotiate the price of a living room set, particularly when purchasing from a local furniture store or an independent seller.
When purchasing multiple items or paying in cash, negotiations can occasionally result in price reductions.
Be aware, however, that not all retailers offer room for negotiation, particularly when purchasing branded or luxury furniture.
Bottom Line
The price of a living room set can differ greatly based on factors such as the quality of the materials, the reputation of the brand, the design, the number of additional features, and the availability of customization options.
By contemplating these factors and following money-saving advice, you can find a living room set that complements both your style and your budget.
Consider conducting research, comparing prices, and taking advantage of sales and discounts. With careful planning and consideration, you can create a contemporary and comfortable living room without exceeding your budget.