Last updated on June 25th, 2023 at 05:30 am
Welcome to our thorough guide to sectional sofa covers. This article will discuss the advantages of using sofa coverings to transform and protect your furniture. 
Whether you want to extend the life of your sectional sofa or give it a new appearance, sofa covers are a worthwhile investment.
We will discuss the various varieties of available covers, the significance of a proper fit, and offer maintenance and care recommendations. Therefore, let's delve into the realm of sectional sofa covers!
Sectional Sofa Covers: Protecting Your Investment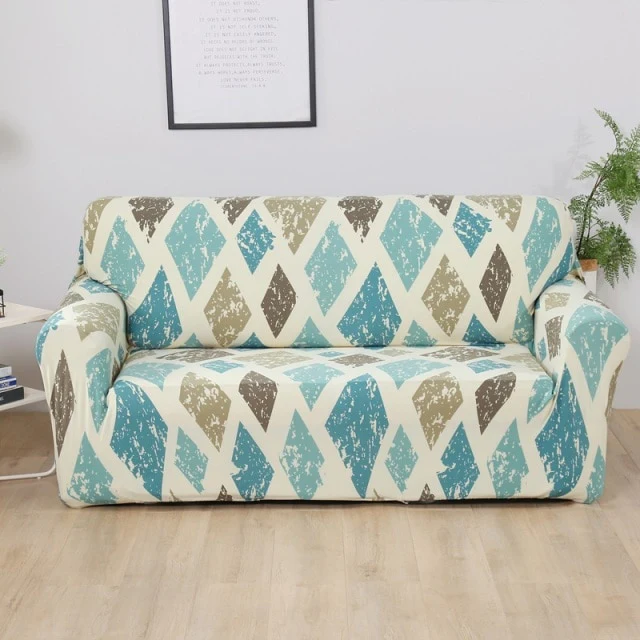 Photo Credit: dablew11
Sectional sofas can be a worthwhile investment for your living space because they offer both comfort and design. Using sofa covers to secure and prolong the life of this valuable piece of furniture is an excellent strategy. Listed below are some advantages of purchasing sectional sofa covers:
Protect Against Spills and Stains: Spills and accidents are inevitable, especially if you have children or pets. Covers for sofas protect against liquid spills, food stains, and other incidents. By protecting your sofa with a layer, you can prevent permanent damage and preserve its appearance.
Protect Against Wear and Tear Daily use can cause wear and tear on your sofa, resulting in tattered edges, fabric pilling, and discoloration. A cover offers additional protection against these common issues, thereby preserving the sofa's original condition and appearance.
Cleaning the cover of a sectional sofa is typically much simpler than cleaning the sofa itself. The majority of covers are machine-washable or spot-cleanable, making maintenance simple. Regularly cleansing the sofa's cover helps maintain its cleanliness and appearance.
Covers for sofas allow you to alter or update the style of your furniture without reupholstering or purchasing a new sofa. To accomplish the desired look, if you want to update your living space or experiment with a new color or pattern, simply replace the cover.
Individuals with allergies or sensitivities to dust mites, pet dander, or other allergens can reduce their allergen exposure by using sectional covers. The covers create a barrier that traps allergens, making their removal through routine cleaning simpler.
If you have pets that prefer lounging on the settee, you can protect them from fur, scratches, and odor by using a cover. Look for coverings with pet-friendly features, such as non-slip backing or materials that are resistant to pet hair.
If you decide to sell or enhance your sofa in the future, having a well-maintained and protected piece of furniture can have a substantial impact on its resale value.
Potential purchasers will appreciate the care you've taken to preserve the sofa, which will make it more appealing for purchase.
Why should sectional sofa coverings be considered?
Numerous advantages make sectional sofa covers a worthwhile investment for your home. Let's examine some of the major advantages:
Spills and stains require protection, particularly in households with children and pets. Covers for sectional sofas provide a protective barrier against spills, stains, and ordinary wear and tear.
Continuous use can cause the upholstery of your sectional sofa to discolor or become worn over time. By using a cover, you can prevent direct contact with your sofa, thereby extending the duration of its original condition.
The covers of sofas are designed to be removable and machine-washable, making them immensely simple to maintain and clean. No longer will you struggle to remove stains or fret about the cost of professional cleaning.
Covers are available in a variety of designs, patterns, and colors, allowing you to easily alter the appearance and feel of your living space. It's like giving your couch a transformation without spending a fortune!
Types of Sectional Sofa Covers
Photo Credit: mammamiacovers
Covers for sectional sofas are available in a variety of styles, each with its own features and advantages. Let's investigate some popular types:
Slipcovers
Slipcovers are an extremely popular and adaptable choice for sectional sofa coverings. They are designed to conform to the contour of your sofa and provide a protective layer.
Typically, slipcovers are made of stretchable fabric, enabling them to fit snugly on sectional sofas of various sizes and styles.
The convenience of slipcovers is one of their advantages. They can be swiftly and easily slipped over a sectional sofa, making them a convenient option for those who wish to alter the appearance of their furniture or shield it from stains and wear. 
Slipcovers are available in a broad variety of colors, patterns, and styles, allowing you to match the appearance of your sofa to your interior design or personal taste.
Another advantage of slipcovers is that they are frequently manufactured from materials that can be machine-washed.
This makes it easy to clean them whenever necessary, particularly if you have pets or young children who can create messes. By routinely washing the slipcover, you can preserve the appearance of your sectional sofa.
Typically, slipcovers are made from a variety of materials, including cotton, polyester, and fabric blends. Each material has distinctive qualities and properties.
Cotton slipcovers are known for their suppleness and breathability, whereas polyester slipcovers are known for their resilience, resistance to wrinkles and shrinkage, and durability.
Blended fabric slipcovers offer a balance of comfort and durability, combining the finest qualities of various materials.
It is crucial to consider the size and shape of your sofa, the material of the slipcover, and your aesthetic and functional preferences when selecting a slipcover for your sectional sofa.
Slipcovers that are properly fitted can give your sofa a new appearance while protecting it from daily wear and tear.
Pet-Friendly Covers
Covers for sectional sofas that are pet-friendly are an excellent option for households with animals. These coverings are constructed to withstand the challenges posed by pets, including scratching, shedding, and accidents. Typically, they are constructed from resilient materials that are resistant to pet fur and easy to clean.
You can protect your sectional sofa from potential damage from your dogs by investing in pet-friendly covers. These covers are designed to resist the sharp claws of cats and dogs, preserving the condition of your furniture.
These covers' durable materials provide an additional layer of protection against potential stains, spills, and incidents.
One of the primary advantages of sofa covers that are pet-friendly is their ability to repel pet hair. They are designed to resist the adhesive nature of pet fur, making it simpler to keep your sofa clean and free of pet hair.
With routine maintenance, such as vacuuming or removing pet hair with a brush, you can ensure that your sectional stays clean and inviting.
Covers that are pet-friendly are easy to clean. The majority of them are machine-washable, making it simple to remove any grime, stains, or odors that may accumulate over time.
This saves you time and effort in comparison to conventional upholstery, which may require professional cleaning or specialized treatments.
In addition to their practical advantages, pet-friendly sectional sofa covers are available in a variety of designs and hues. You can find options that blend seamlessly with your existing home décor, ensuring that your pet-friendly furniture is also stylish.
Waterproof Covers
If you're concerned about liquid accidents or have young children, sectional sofa covers that are water-resistant are an excellent option. These coverings are constructed from liquid-repellent materials, protecting your sofa from accidental spills and stains.
Waterproof coverings are intended to create a barrier against liquids, preventing them from penetrating the sofa's fabric. This is especially useful if you have children who are prone to messiness or if you frequently host visitors.
With a water-resistant cover, you can enjoy your time without fretting about accidental spills ruining your sofa.
In addition to their water-repellent properties, waterproof coverings frequently include additional protective features. They may be resistant to pet hair, making pet hair removal simpler.
Some covers also protect against dust, grime, and allergens, thereby contributing to the maintenance of a clean and healthy living environment.
Consider the material and construction of a waterproof sectional sofa cover when making your selection. Look for waterproof covers manufactured from durable, high-quality, and specifically designed fabrics. 
Water-repellent materials such as polyester, nylon, and polyurethane-coated fabrics are commonly employed.
It is also essential that the cover fit your sofa correctly. Accurately measure your sofa and select a cover that corresponds to its dimensions. Some watertight covers may have elastic bands or adjustable straps to keep them in position and ensure a snug fit.
Choosing the Perfect Sectional Sofa Cover
Photo Credit: works
Several factors should be considered when selecting the ideal sectional sofa cover to ensure the best fit and style for your needs. Here are some guidelines to assist you in making the best choice:
Size and Fit: Accurately measure your sectional before choosing a cover. Consider the sectional's shape and dimensions, as well as the number of seats and any additional features, such as chaise lounges and recliners. Look for a cover that is specifically designed to suit the measurements of your sectional.
Substance: The substance of the cover is a crucial factor to consider. It should be resilient, simple to sanitize, and appropriate for your lifestyle. Cotton, linen, polyester composites, and microfiber are all common alternatives. Each material has its own benefits, so select the one that best suits your preferences and needs.
Consider the style and color scheme of your living space in its entirety. Choose a cover that enhances the aesthetic allure of the room and complements the existing decor. You can choose a solid-color cover for a clean, minimalist appearance, or you can add visual interest with patterns or textures.
Look for a sectional sofa cover that is straightforward to maintain and clean. Check the care instructions for recommended washing and drying procedures. Others may require spot cleansing or professional cleaning.
Slipcover versus Stretch Cover: Choose between a slipcover and a stretch cover. Slipcovers are loose-fitting, readily removable, and launderable.
They have a relaxed and nonchalant appearance. Stretch coverings, on the other hand, offer a snug and seamless fit that replicates the look of an upholstered sofa.
Some sectional sofa covers include additional features such as elastic straps or ties to keep the cover in position, anti-slip backing to prevent shifting, and storage pockets. Consider these additional options in light of your requirements and preferences.
Set a budget for the purchase of a sofa cover. Depending on the material, brand, and quality, prices can vary. Consider the cover's cost and durability in order to make an informed choice.
Reviews and recommendations: Read customer reviews and ask friends and family who have purchased sectional sofa covers for their advice. Their knowledge and expertise can assist you in selecting a trustworthy and high-quality product.
By considering these factors, you'll be able to locate a sofa cover that not only protects your furniture but also enhances the aesthetic appeal of your living space.
Easy Installation and Maintenance
The installation of a sectional sofa cover should be simple. The majority of covers are user-friendly, allowing for simple installation and removal. Look for covers with elasticized edges or ties that keep the cover in place securely. 
This maintains a tidy appearance and prevents the cover from swaying or slipping while in use.  Covers for sectional sofas are easy to maintain and sanitize. 
Numerous covers are machine-washable, thereby sparing you time and effort. Simply remove the cover and launder it according to the manufacturer's instructions, and voila!
Once again, your cover will be clean and prepared to safeguard your sofa. It is essential to note that some covers may require air-drying or low-temperature tumble-drying, so be sure to read the included care instructions.
Maximizing Style and Functionality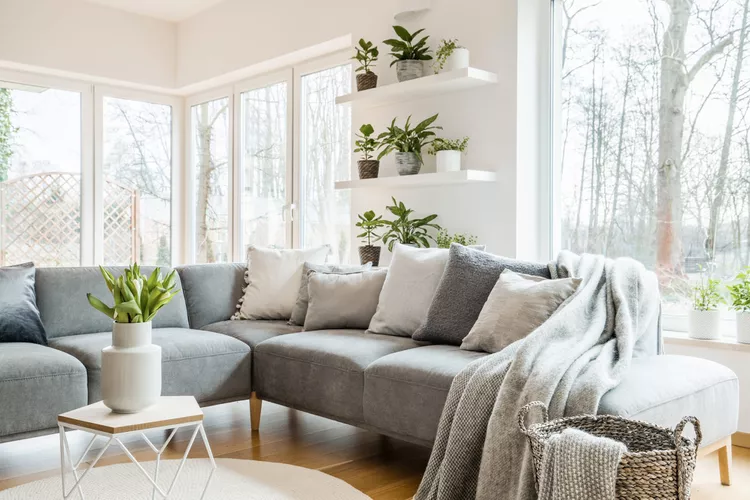 Photo Credit: marthastewart
Not only do sectional sofa covers provide protection, but they also allow you to express your personal style and enhance the aesthetic allure of your living space. Here are some suggestions for maximizing both flair and functionality:
Choose a cover whose color and pattern complement your existing décor and color scheme. Opt for neutral hues for a timeless and adaptable appearance, or experiment with vibrant patterns to inject personality into your space.
Texture and Fabric: Consider the cover's texture and fabric to produce a warm and inviting atmosphere. Velvet or chenille can provide a luxurious feel, whereas cotton or linen provide a more casual and breathable alternative.
Mix and Match: Don't be afraid to combine various album covers to create a visually appealing, eclectic arrangement. You can experiment with contrasting textures or combine solid colors with patterns to obtain a distinctive and personalized look.
Accent the room with decorative accents, such as throw pillows, blankets, or coordinating draperies, to enhance the overall aesthetic. These minor details can tie the space together and create an inviting ambiance.
Frequently Asked Questions (FAQs)
Can It cover fit all types of sectional sofas?
Sectional sofa coverings are available in an assortment of sizes and styles to accommodate a variety of sofa configurations. It is crucial to accurately measure your sofa and select a cover that matches its dimensions.
Are sectional sofa covers machine washable?
Many coverings for sectional sofas are machine-washable. Before washing, it is always recommended to verify the manufacturer's care instructions to ensure the longevity of the cover.
Can I use sectional sofa covers on leather sofas?
It can be used on leather sofas. To prevent potential damage or discoloration, however, it is essential to choose covers designed specifically for leather furniture.
Will a sectional sofa cover provide comprehensive protection against pet damage?
While sectional sofa covers provide protection against spills, stains, and pet hair, they may not secure your sofa wholly from sharp claws or intense scratching. Consider positioning pet-friendly covers or a protective barrier over areas susceptible to pet damage for added pet protection.
Can I change the cover of my sectional sofa frequently?
Yes, one of the benefits of using sectional sofa covers is the ability to easily alter the appearance of your sofa. Swapping coverings enables you to achieve a new aesthetic without having to purchase a brand-new sofa, whether you're looking to update the décor or the design.
Is Sectional Sofa Covers A Cost-Effective Solution?

Absolutely! Covers for sectional sofas are an inexpensive alternative to purchasing a new sofa. They provide a cost-effective means of protecting your investment and extending its life.
your sofa sectional. Instead of spending a significant amount of money on a new piece of furniture, you can simply invest in a sofa cover that satisfies your taste and budget.
Bottom Line
Covers for sectional sofas are a practical and fashionable way to safeguard and transform your furniture. The numerous advantages of these covers, which include protection against spills and stains, preservation of upholstery, simple maintenance, and a variety of style options, make them a cost-effective way to extend the life of your sofa. 
You can enhance the aesthetic appeal of your living space and keep your sofa looking its best by selecting the appropriate sofa cover, ensuring its proper fit, and taking into account your personal style preferences.
Therefore, sectional sofa covers are ideal for protecting your sofa from ordinary wear and tear, updating its appearance, and preventing pet damage. You can find a cover that meets your requirements and complements your home's decor thanks to the variety of designs, materials, and practicalities available.