Last updated on June 25th, 2023 at 01:20 am
When it comes to decorating our living spaces, we are frequently divided between style and comfort. We desire furniture that not only complements our interior design but also provides a comfortable place to unwind.
This is where the chaise sectional sofa comes into play, offering the ideal combination of design and comfort. In recent years, sectional sofas with chaises have grown in popularity, and for good reason. These adaptable pieces of furniture provide ample seating space and an air of sophistication to any room. 
The chaise section, an elongated reclining chair, adds a touch of luxury and invites you to relax after a long day. Flexibility is one of the greatest advantages of a sectional sofa with a longue. It is adaptable to different room layouts, making it suitable for both tiny apartments and large living areas. 
There is a sectional sofa with chaise longue for every taste, whether you prefer a modern, minimalist style or a more traditional, homey appearance. This article will discuss the numerous advantages of possessing a sectional sofa with a chaise.
You'll discover why this piece of furniture has become a favorite among householders and interior designers, from its practicality and functionality to its variety of available design options. Prepare to transform your living space into a stylish and cozy haven with the ideal sectional sofa with a chaise.
What is a Sectional Sofa with Chaise?
A sectional sofa with a chaise is a form of seating furniture that combines a standard sectional sofa with a chaise, which is an extended lounge chair or ottoman. It is intended to provide additional relaxation and reclining comfort, and versatility.
A sectional sofa consists of multiple modular parts that can be arranged in a variety of ways to accommodate various room layouts. Typically, it consists of a settee, a corner unit, and one or more armless chairs. These sections can be readily rearranged to create various seating configurations based on individual preference.
The chaise is a settee that extends from one end of the sectional sofa. It resembles a chair with no backrest or broad footrest.
The chaise section is typically positioned at one end of the settee, allowing individuals to comfortably extend their legs and recline.
Sectional sofas with chaises provide numerous benefits. They offer ample seating space, allowing multiple individuals to sit and unwind together. The chaise provides a comfortable place for lounging or napping.
Additionally, the modular design permits customization to suit the available space and is easily reconfigurable to accommodate various seating requirements.
These sofas are available in a variety of sizes, designs, and materials to accommodate various interior design sensibilities and individual preferences. Popular in living rooms, family rooms, and entertainment areas where flexibility and convenience are desired.
The Versatility of Sectional Sofas with Chaise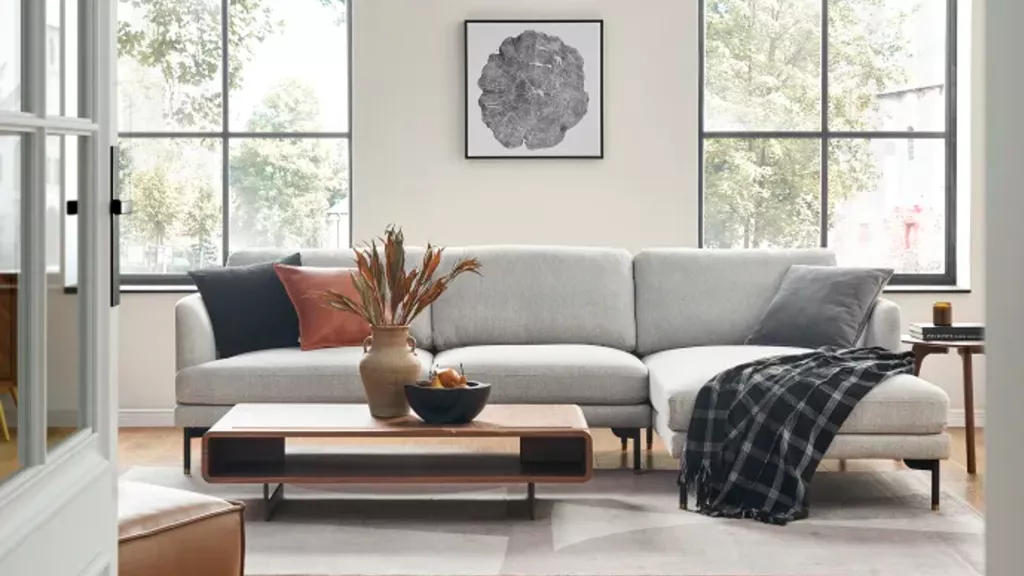 Photo Credit: realhomes
Sectional sofas with chaises are highly adaptable and can be tailored to any room's layout or aesthetic. Their modular design enables you to reconfigure the sections into various configurations, making them suitable for both large and small spaces.
Whether you have a large living room or a cozy den, you can customize a sectional sofa with a chaise to suit perfectly, maximizing both comfort and style.
Maximizing Space with a Sectional Sofa with Chaise
One of the major benefits of a sectional sofa with a chaise is its ability to maximize the space in your room. In contrast to conventional sofas, which frequently require additional chairs or ottomans, a sectional settee with a chaise provides seating for a single individual. 
By incorporating the chaise, you can create a relaxing alcove without the need for additional furniture. This is particularly advantageous for smaller quarters, where every square inch counts.
Creating Distinct Zones
Additionally remarkable is the ability of sectional sofas with chaises to create distinct zones within a room. By strategically positioning the settee, you can create distinct zones for lounging, television viewing, and conversation. 
The chaise section can serve as a dedicated space for reading or sleeping, providing a sense of privacy and serenity amid the activity of a shared living area.
The Relaxing Feeling of Sectional Sofas with Chaise
Photo Credit: inspireddesigntalk
When it comes to comfort, chaise-equipped sectional sofas reign preeminent. They provide unrivaled reclining comfort, allowing you to unwind and unwind after a long day.
The chaise section offers ample space for extending your legs or lying up with a book, enveloping you in coziness. With their plush cushions and superior upholstery, these sofas invite you to sink in and experience a moment of ecstasy.
Ergonomic Design for Optimal Comfort
The ergonomic design of sectional sofas with chaises ensures that every part of your body is adequately supported. The deep seats and cushioned armrests offer superb lumbar support and arm cushioning. 
In addition, the Longue allows you to elevate your legs, which promotes healthy blood circulation and relieves pressure on the lower back.
Whether you're hosting a movie night or simply recuperating after work, the ergonomic design of a sectional sofa with a chaise will ensure your comfort.
Luxurious Fabrics and Materials
Sectional sofas with chaises are available in a variety of opulent fabrics and materials, allowing you to select the option that best complements your tastes and aesthetics. From soft and supple leather to comfortable and long-lasting fabrics, the options are virtually limitless. 
Leather upholstery adds sophistication and elegance to any room, while fabric options offer versatility and a comfortable feel. 
You can choose neutral tones for a classic appearance, or flamboyant, vibrant colors to make a statement. There is a sectional sofa with a chaise that is certain to complement your aesthetic, regardless of your taste.
Design Options and Customizations
Consider the following design options and customizations when selecting a sectional settee with a chaise:
Sectional sofas with chaise longues are available with a variety of upholstery options, such as fabric, leather, and synthetic materials. You may select the upholstery material that best meets your aesthetic and lifestyle preferences.
These sofas are available in an assortment of colors and patterns to complement your existing décor or make a statement. You can choose a color, from neutral tones to vibrant tints, that complements your interior design theme.
Configuration: It can be arranged in a variety of ways to accommodate the available space. L-shape, U-shape, and symmetrical or asymmetrical configurations are typical. Consider the room's layout and select a layout that maximizes both comfort and functionality.
Depending on the size of your living space, you can select an appropriately sized sectional sofa with a longue. There are options available to suit your needs, whether you require a compact sofa for a small room or a larger sofa for a large room.
Some sectional sofas feature configurable cushion firmness options. Based on your personal preference and intended level of comfort, you can choose between soft, medium, or firm cushions.
Numerous sectional sofas with chaises offer additional features and customization options. These may include storage compartments, adjustable headrests, reclining mechanisms, and removable cushions for simple washing.
Accents and Details: Pay close consideration to the sofa's accents and details, such as the style of the legs, armrests, and backrests. These elements can lend your sectional sofa a touch of individuality and character.
Customizing the Configuration
Customization options for sectional sofas with chaises provide a great deal of adaptability to your requirements and preferences. You can customize the configuration of your sectional sofa by taking into account variables such as the number of seats, the orientation of the longue component, and the addition of additional reclining or sections. 
This level of customization guarantees that your sectional sofa with chaise is precisely tailored to your lifestyle and living space layout. 
Whether you prefer a larger or smaller seating capacity, a left- or right-facing chaise, or the ability to convert certain sections into recliners or sleeper units, you have the freedom to construct a sectional sofa that precisely meets your needs. Thus, you can maximize the functionality of your living space while also maximizing comfort and design.
Stylish Features and Accents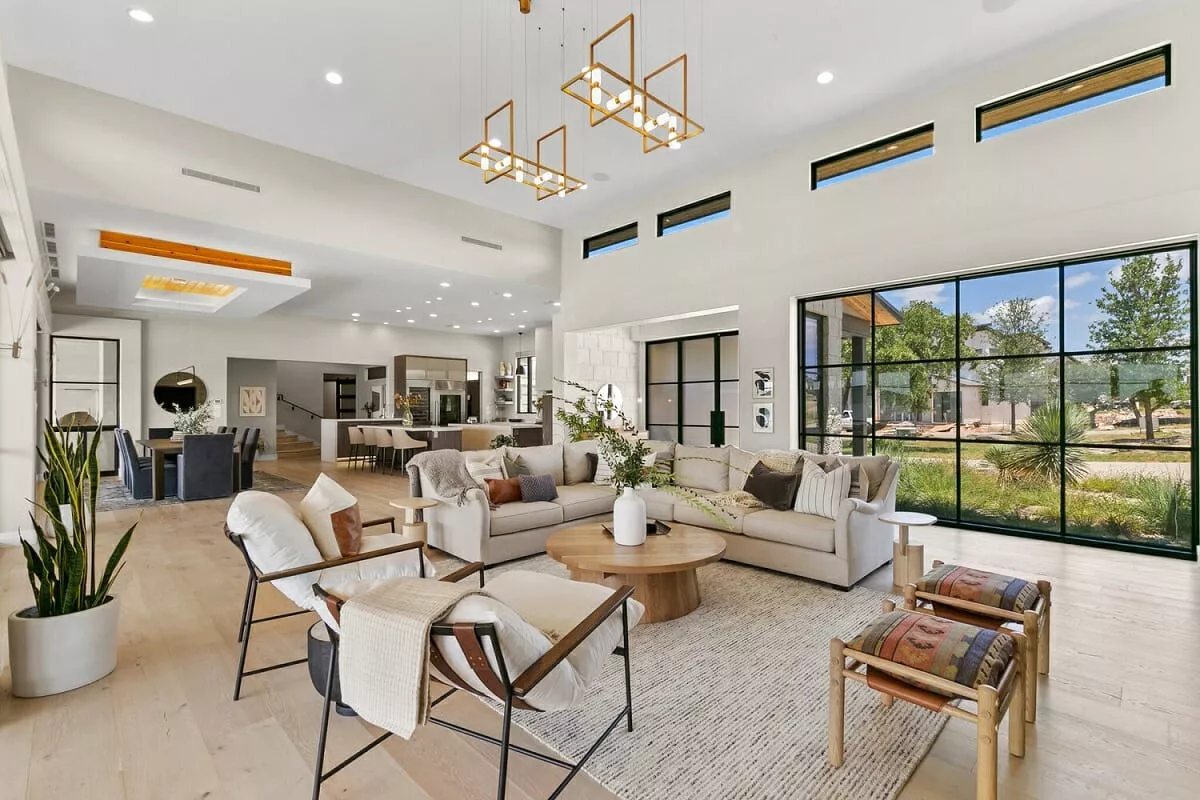 Photo Credit: decorilla
Additionally, sectional sofas with chaises come with a variety of fashionable features and accents that enhance their visual allure. Modern touches can be added to sofas with tufting, decorative embroidery, or sleek metal legs. 
In addition, some models include built-in stowage compartments or cup holders, which increase the functionality and convenience of your seating arrangement.
These considerate design elements permit you to personalize your sofa with a chaise and make it the focal point of your living room.
Maintenance and Care
Even though chaise-sectional sofas are luxurious and comfortable, it is essential to understand how to care for them to ensure their durability. Here are some suggestions for keeping your sofa with chaise longue in pristine condition:
Regular Vacuuming: Regularly vacuum your sofa to remove dust and debris. Use a gentle brush attachment to protect the upholstery from damage. Refer to the manufacturer's instructions for appropriate cleaning methods for accidents and stains.
Rotating Cushions: To maintain uniform wear, periodically rotate and fill the cushions. This will prevent sagging and increase the sofa's longevity.
Avoid direct sunlight: Prolonged exposure to direct sunlight can fade and harm your sofa's fabric or leather. Consider using drapes or blinds to shield it from UV radiation.
Consider employing a professional upholstery cleaning service for comprehensive cleaning. They have the knowledge and equipment necessary to remove stains and restore the attractiveness of your sectional sofa with a chaise.
By adhering to these maintenance guidelines, you can ensure that your sectional sofa with chaise retains its comfort and aesthetic allure for years to come.
Frequently Asked Questions (FAQs)
What is the average size of a sectional sofa with a chaise?
The proportions of sectional sofas with chaise range from compact two-seaters to large L-shaped or U-shaped configurations. The standard dimensions vary depending on the model and manufacturer.
Before making a purchase, it is always recommended to measure your space accurately to ensure a suitable fit.
Can The Chaise Component Be Moved To The Other Side?
The chaise component of a sectional sofa can typically be repositioned to the opposite side during assembly. However, this depends on the design and manufacturer of the product.
For instructions on adjusting the chaise orientation, it is advisable to contact the retailer or consult the product manual.
Can I Add Additional Seating To A Sectional Sofa With Chaise?

Yes, it is possible to add additional seating to a sectional sofa with a chaise. Many manufacturers offer additional sections or ottomans that can be integrated seamlessly into the existing configuration, allowing you to increase the seating capacity as required.
Are Sectional Sofas With Chaise Suitable For Small Living Rooms?
Sectional sofas with chaises can also be an excellent choice for compact living rooms. Although they may take up more space than conventional sofas, their modular design allows you to configure them to suit the available space.
Choosing a compact sectional sofa with a reduced chaise component or a reversible chaise allows for greater versatility and space efficiency.
How Do I Choose The Right Sectional Sofa With Chaise For My Home?
Several factors should be considered when selecting a sectional settee with a chaise. First, measure your space to ensure that the sofa will fit comfortably. Consider the design and style that will complement your existing decor.
Consider the desired seating capacity and any additional features, such as reclining sections or built-in stowage, that you may desire. Lastly, prioritize comfort and quality by choosing a sofa with supportive cushioning and sturdy upholstery.
Bottom Line
A chaise-equipped sectional sofa is a versatile and fashionable asset to any living room. With its adaptable configuration, ergonomic design, and opulent comfort, it offers the ideal combination of functionality and aesthetic appeal.
Whether you have a spacious living room or a cozy den, a sofa with a chaise can be customized to meet your requirements and enhance the ambiance of your home. Why settle for ordinary seating when a sectional with chaise longue offers extraordinary comfort and style?
Remember to maintain your sectional sofa with a chaise to extend its life and preserve its attractiveness. Regular cleaning, rotation of cushions on occasion, and protection from direct sunlight can go a long way toward preserving its pristine condition.
The purchase of a sectional sofa with a chaise will transform your living space and provide you with years of comfort and pleasure. Find the sectional sofa with a chaise that complements your taste, and immerse yourself in a world of relaxation and opulence.