Last updated on June 25th, 2023 at 12:16 am
When it comes to fashionable and comfortable furnishings, sectional sofas with recliners are a popular option for homeowners. These adaptable pieces of furniture provide both comfort and functionality, making them ideal for any living room or entertainment area. 
In this thorough guide, we will cover everything you need to know about sofas with recliners, from their benefits and features to their various designs and buying considerations. So, let's dive in and explore the realm of sectionals with recliners!
What is a Recliner Sectional Sofa?
Combining the features of a recliner chair and a sectional sofa, a recliner sofa is a form of seating furniture. Typically, it is composed of multiple seating modules joined together to form a larger seating arrangement.
The sofa characteristic denotes that the sofa is comprised of multiple sections or parts that can be arranged in a variety of configurations to accommodate the available space and the desired seating requirements. Typically, these sections consist of a combination of recliners, loveseats, and chaises.
The recliner function refers to the capacity of specific sofa sections or seats to recline. These seats typically feature a mechanism that enables the backrest to recline and the footrest to extend, allowing the occupant to find a comfortable position for relaxation.
Reclining sectional sofas are popular because they offer flexible seating options as well as the relaxation and luxury of a recliner. They are frequently chosen for living rooms and home theaters, where individuals can relax and watch movies, and television, or simply decompress after a long day.
The Benefits of Recliner Sectional Sofas
Photo Credit: frankknighton
Numerous householders favor recliner sectional sofas due to their many advantageous features. Here are some important benefits:
They are extremely versatile, allowing you to arrange the sections according to your space and seating needs. Whether you have a small living room or a large entertainment area, the configuration can be altered to meet your requirements.
With their built-in reclining feature, sectional recliners offer unparalleled comfort. By adjusting the reclining mechanism to your inclinations, you can easily find the ideal seating position.
A recliner sofa offers versatility to accommodate your comfort requirements, whether you desire to sit upright, recline with your legs elevated, or even take a nap.
In contrast to conventional sofas and recliners, recliner sectionals are created to maximize space utilization. By combining seating arrangements with recline functionality, they eliminate the need for discrete pieces of furniture, thereby conserving valuable floor space in the living room.
Numerous sectional sofas include built-in cup holders, storage compartments, and USB outlets for entertainment. These convenient features make it simpler to enjoy your favorite beverages, store remote controls or magazines, and charge electronic devices while lounging on the sofa.
Choosing the Right Size for Your Space
Before purchasing a recliner sectional sofa, it is crucial to consider the room's available space. Accurately measuring your living space will help you determine the ideal sofa size and layout. Here are some guidelines for selecting the correct size:
Measure the room: Using a measuring tape, determine the room's length and breadth. Consider any obstacles, such as doors, windows, or existing furniture, that could affect the placement of the sofa.
Consider the Traffic Flow: Ensure that the sectional sofa recliner does not impede the natural flow of traffic in the room. Leave sufficient space around the sofa for effortless movement without causing any inconvenience.
Consider Existing Furniture: Consider any existing furniture or accessories in the room. If you have a coffee table or side tables, ensure there is sufficient space alongside the recliner sectional sofa to accommodate them.
Identify the Optimal Configuration: Determine the configuration of the sectional sofa recliner according to the available space and your seating requirements. Whether you prefer a U-shaped, L-shaped, or curved design, choose a configuration that complements the room's layout and enhances its aesthetics as a whole.
Types of Recliner Sectional Sofas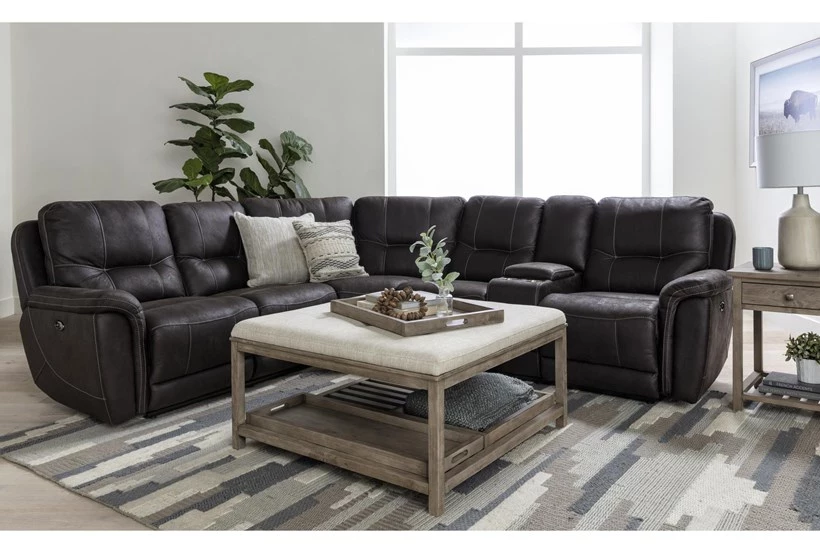 Photo Credit: livingspaces
Each sort of recliner sectional sofa offers distinctive features and benefits. Let's investigate some popular types:
This style of reclining sofa is equipped with an electrically powered reclining mechanism. You can effortlessly adjust the position of the recliner to your desired level of comfort by simply pressing a button.
As their name implies, manual recliner sectional sofas require manual exertion to recline. Typically, they have a lever or handle that can be pulled to activate the recline mechanism.
Modular Sofa: Modular recliner sofas are composed of re-arrangeable individual sections. This adaptability enables you to construct a variety of seating arrangements and even add additional sections in the future.
Sleeper Sofas: They are ideal for those who frequently entertain overnight visitors. By pulling out a concealed mattress, they can be converted into a comfortable bed, providing a convenient sleeping space.
Materials and Upholstery Options
You can find recliner sectional sofas in a variety of materials and upholstery options, allowing you to select one that complements your personal style and preferences. Here are a few prominent alternatives:
Leather upholstery exudes sophistication and opulence. It is long-lasting, simple to maintain, and ages gracefully. Leather sectionals with recliners are a popular option for those seeking a classic and elegant appearance.
Upholstery fabrics are versatile in terms of colors, patterns, and textures. It offers a pleasant and comfortable ambiance and complements a variety of interior design styles.
Microfiber is a synthetic material that is known for its suppleness and durability. It is stain-resistant, making it a great option for households with children or pets. Microfiber sofas with recliners are available in a variety of colors and are relatively simple to clean.
Vegan Leather: It also known as faux leather, is a cost-effective alternative to genuine leather. It has a comparable appearance and is simple to sanitize and maintain.
Popular Styles and Designs
Photo Credit: sofadreams
Reclining sectional sofas are available in a variety of styles and designs to accommodate various tastes and preferences. Here are a few prominent alternatives:
Traditional recliner sofas feature traditional designs with intricate details, including rolled arms and tufting on the cushions. They frequently feature opulent, dark-hued upholstery and are ideal for producing a timelessly elegant appearance.
Modern sectional sofas with recliners feature sleek lines, minimalist designs, and a concentration on functionality. They frequently include features such as LED illumination and adjustable headrests, lending a modern touch to any living space.
Transitional recliner sofas combine traditional and contemporary design elements. They offer a balanced combination of traditional and modern aesthetics, making them a versatile choice that can complement a variety of interior design themes.
Contemporary recliner sectional sofas feature bold forms, clear lines, and a contemporary aesthetic. They frequently feature innovative designs and materials, making them a focal point in the living room.
With their natural finishes and earthy tones, rustic sofas with recliners invoke a cozy and welcoming ambiance. They frequently integrate elements such as distressed wood or natural fabrics, lending your space a touch of rustic charm.
Mid-Century Modern: Mid-century modern sectionals with recliners pay homage to the iconic designs of the middle of the 20th century. They have sleek lines, tapered legs, and upholstery inspired by the past, giving your living room a fashionable and nostalgic appearance.
Factors to Consider When Buying a Recliner Sectional Sofa
Before purchasing a sectional sofa with a recliner, it is essential to consider a number of factors to ensure you make the best decision. Here are a few important considerations:
Test the sofa's reclining mechanism to ensure that it provides the intended level of comfort. Check the sofa's cushioning, lumbar support, and overall feel to ensure it meets your needs for relaxation.
Examine the construction of the sofa, including the frame, springs, and upholstery, for quality and durability. Choose durable materials and fine craftsmanship to ensure the sofa can withstand frequent use and last for years.
Size and Configuration: Take accurate measurements of your space and consider the available space for the sofa. Choose a configuration and size that complement your space without overwhelming it.
Style and Aesthetics: Choose a sofa that complements your existing décor and reflects your personal style. Consider the sofa's color, style, and overall aesthetic allure to ensure that it complements your vision for the room.
Determine your budget range and search for sectional sofas with recliners within that range. Consider the long-term investment value and strike a balance between affordability, features, and quality.
How to Properly Care for Your Recliner Sectional Sofa
Photo Credit: buzzfeed
Maintaining the appearance and functionality of your recliner sectional sofa requires proper care and maintenance. Here are some maintenance tips for your sofa:
Routine Cleaning: Regularly vacuum or scrub the sofa to remove dust and debris. Follow the manufacturer's cleaning instructions for particular upholstery fabrics.
Immediately remove stains by blotting them with a clean cloth or sponge if they occur. Avoid rubbing the stain, as this could cause it to penetrate deeply into the fabric. If necessary, use the proper stain-removal products or consult a professional cleaner.
Prolonged exposure to direct sunlight can cause discoloration and damage to the upholstery. Place your recliner sectional sofa out of direct sunlight or shield it with curtains or shutters.
Rotate Cushions Routinely rotate and fluff cushions to preserve their shape and prevent asymmetrical wear.
Follow the manufacturer's guidelines: Read and adhere to the maintenance instructions provided by the manufacturer to properly maintain your sofa.
Frequently Asked Questions (FAQs)
Can I customize the configuration of a recliner sectional sofa?
Are recliner sectional sofas suitable for small spaces?
Yes, sectional sofas with recliners are available in various configurations, including compact options designed for smaller rooms. Choose a size and arrangement that complement your space without overwhelming it.
How do I choose the right upholstery material for my recliner sectional sofa?
When selecting upholstery, consider durability, comfort, and aesthetics. Materials for your sectional recliner. Leather is a durable and opulent option, whereas fabric is available in an array of colors and patterns.
Due to its stain-resistant properties, microfiber is an excellent choice for homes with children or pets.
Can I find recliner sectional sofas with additional features like cup holders and storage compartments?

Many reclining sectional sofas include convenient cup holders, stowage compartments, and USB ports. These features enable you to keep essentials close at hand while you relax on your sofa.
How can I ensure that the sofa's reclining mechanism is of high quality?
Before purchasing a sectional sofa with a reclining mechanism, ensure that it operates effortlessly and without hiccups. Choose well-known brands that are renowned for their quality craftsmanship and dependable mechanisms.
Are sectional sofas with recliners appropriate for individuals with mobility concerns or limited mobility?

Yes, sectional sofas with recliners are an excellent option for individuals with mobility issues. The built-in recline function enables effortless adjustments and finding a comfortable position without exerting undue physical effort.
How do I assemble a sectional sofa with recliners?

Depending on the specific settee model, assembly instructions will vary. Typically, recliner sectional sofas are packaged with assembly instructions and all the required hardware. To ensure proper assembly, it is essential to attentively read the instructions and follow the steps.
Can I purchase additional sections or accouterments for my sectional sofa with a reclining chaise?
Frequently, you can purchase additional sections or accessories to expand or personalize your reclining sectional sofa. Consult the manufacturer or retailer regarding available options and compatibility.
Bottom Line
Sectional sofas with recliners offer the ideal combination of comfort, design, and functionality for your living space. Whether you want to relax, entertain visitors, or create a cozy family gathering space, these multifunctional pieces of furniture are an excellent choice. 
You can discover the ideal recliner sofa to meet your needs and enhance the aesthetics of your home by considering factors such as size, configuration, materials, and additional features.
Invest in a high-quality sofa, observe proper care and maintenance instructions, and your recliner sectional will provide years of comfort and relaxation