Finding the ideal equilibrium between design, functionality, and space efficiency can be challenging when it comes to furnishing your living space. Convertible sectional sofas, therefore, come to the rescue!
These multipurpose marvels provide the optimal seating solution, allowing you to convert your living room into a versatile oasis. In our exhaustive guide to sectional sofas, we'll take you on a tour of their benefits, features, and other pertinent information. 
Learn how these adaptable pieces of furniture can maximize your space while adding elegance to your interior design. They are the ultimate game-changers, whether you have a small apartment, or a large living room, or simply enjoy entertaining visitors. 
Prepare to explore the world of these transformative marvels and discover the one that fits your lifestyle best. Abandon the limitations of traditional seating and embrace the versatility and style of convertible sofas!
Convertible Sectional Sofa: A Versatile Seating Option
It is a flexible and functional seating option that incorporates the functionality of a conventional sectional sofa with the added benefit of transformation. This form of sofa is designed to adapt to various needs and living situations, making it an asset in any room.
The standard configuration of a convertible sectional sofa consists of multiple seating sections that can be arranged to create an L-shape or other configurations according to your preferences. It offers ample seating space for lounging, socializing, or viewing television, providing you and your guests with comfort and relaxation.
The ability to convert into a bed and offer additional seating options distinguishes a sectional sofa. Numerous convertible sectionals feature a concealed mechanism or folding mechanism that enables you to convert specific sofa sections into a comfortable bed. This is particularly useful for accommodating overnight guests or when additional sleeping space is required in the residence.
The transformation process is typically simple, with various models offering varying degrees of adjustability. You may be able to recline the backrests of certain sections, lower the armrests, or reconfigure the seating components to create a sleeping surface. Some models even include built-in storage compartments for storing bedding and other necessities.
The Benefits of a Convertible Sectional Sofa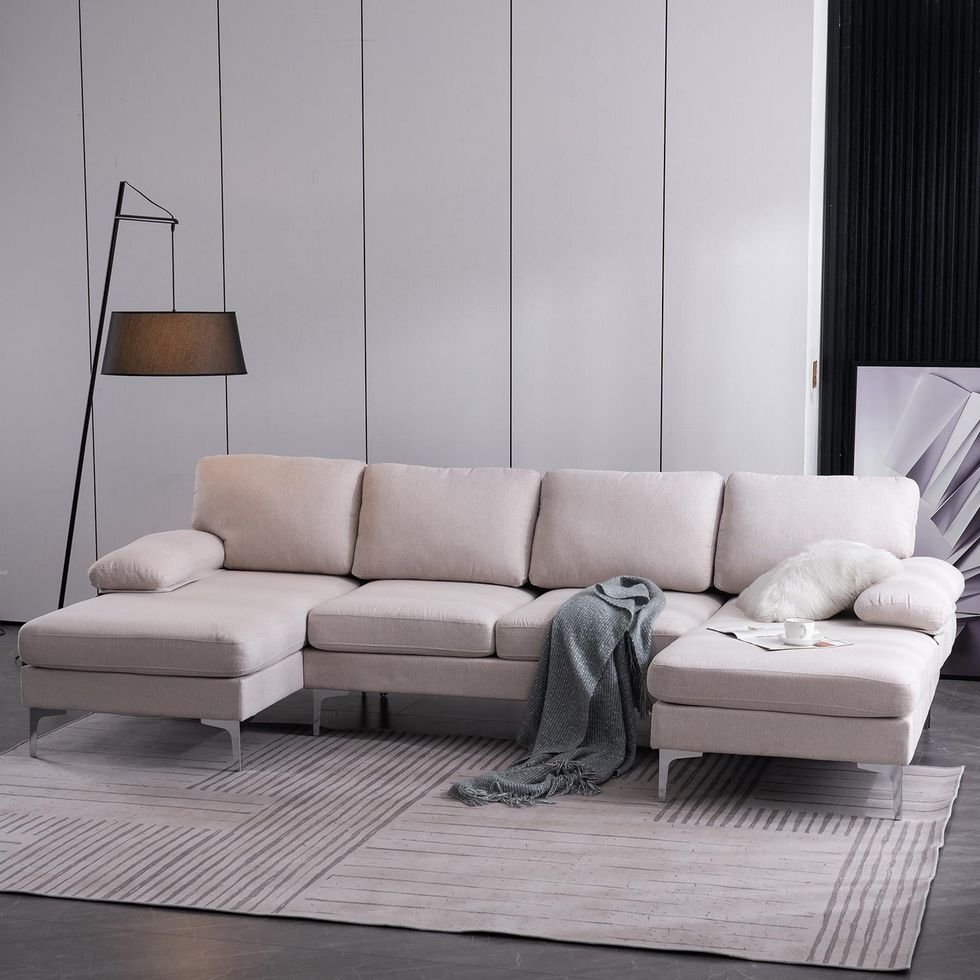 Photo Credit: housebeautiful
The ability to save space is one of the most significant advantages of a convertible sectional settee. In lieu of distinct seating and sleeping furniture, a convertible sectional sofa combines both functions into a single piece, maximizing the functionality of your living space.
Whether you have companions staying the night or unexpected guests dropping by, It can quickly be converted into a comfortable bed. With its adjustable features, you can create a comfortable sleeping area for guests without a distinct guest room.
Customizable configurations: They are available in a variety of designs and configurations, allowing you to select the optimal arrangement for your requirements. From L-shaped to U-shaped, with chaise lounges or recliners, you can design a living room layout that flows naturally.
The days when convertible furniture necessitated sacrificing design are long gone. Modern sofas are available in a variety of styles, fabrics, and hues, allowing you to find the ideal match for your interior design. There is a convertible sofa for you, regardless of whether you prefer a streamlined and modern aesthetic or a warm and traditional atmosphere.
Selecting an Appropriate Convertible Sofa
There are numerous factors to consider when choosing a convertible sectional sofa. Here are some essential considerations:
Size and Dimensions
It is essential to consider the sofa's dimensions to guarantee a proper fit in the living room. Here are several essential considerations:
Utilize a measuring tape to determine the length, width, and height of the area where you intend to position the sofa. Consider any windows, doors, or columns that could affect the placement and dimensions of the sofa.
Allow for Sufficient Clearance: Leave sufficient space around the sofa for the simple movement of other furniture. This includes leaving sufficient space for side tables, coffee tables, and other accessories and ensuring sufficient strolling space around the sofa.
Consider the Room Layout: Consider the overarching room layout of your living space. A sectional sofa or a larger settee with additional seating options may be appropriate if you have a spacious living area. A small sofa or love seat can help maximize available space in smaller rooms.
Determine the Seating Capacity: Determine how many people the sofa will comfortably seat. If you frequently host gatherings or have a large family, you may prefer a sofa with a larger seating capacity, such as a sectional or a sofa with a chaise tongue.
Before making a final decision, sit on the settee to ensure that it offers sufficient seating space and comfort. Consider the depth of the seat, the firmness of the cushion, and the back support to determine if it meets your preferences.
Material and Upholstery
Photo Credit: bassettfurniture
There are numerous materials available for convertible sectional sofas, including leather, fabric, and microfiber. Each material has its own advantages and disadvantages. Leather provides durability and an elegant appearance, whereas fabric offers a vast array of color and pattern options. Consider the material's upkeep requirements and overall aesthetic allure when selecting upholstery.
Comfort and Support
Examine the seating and sleeping comfort of the settee before making a purchase. Sit on the settee, then lie down and examine the mattress and cushions for adequate support. A good sectional sofa should provide both comfort and durability, making both seating and sleeping enjoyable.
Convertibility Mechanism
Consider the simplicity with which the sofa can be transformed into a bed and vice versa. Look for a machine with a secure and seamless operation. Some sofas may have click-clack or pull-out mechanisms, while others may conceal linen storage compartments. Choose a mechanism that meets your requirements and preferences.
Additional Features
Consider any additional features that could improve your experience with the sectional sofa that converts into a bed. Some models may include USB connections for charging electronic devices, cupholders, and adjustable headrests for added comfort. Consider your individual preferences and way of life to determine which features would be advantageous for you.
Durability and Quality
Investment in a high-quality sectional sofa is essential for long-term happiness. Consider sofas made from durable materials and sturdy frameworks. To ensure you're purchasing a dependable and long-lasting product, read reviews and research the manufacturer's standing.
Style and Design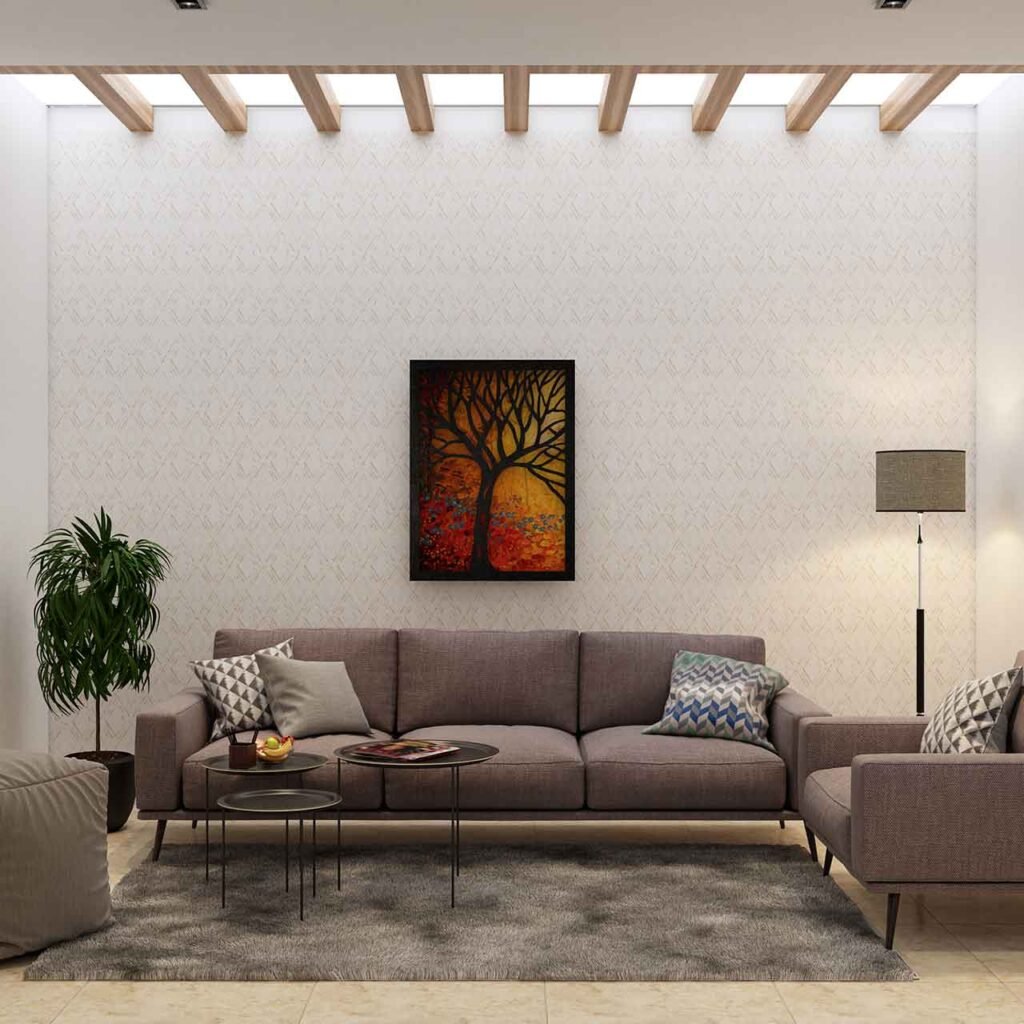 Photo Credit: designcafe
Choose a design and style that complement your existing decor and personal preferences. Consider the overall aesthetic of your living area and choose a sectional sofa that integrates flawlessly. Whether you prefer a minimalist, modern design, or a more traditional appearance, there are a variety of options to suit your taste.
Budget Considerations
Set a budget for the purchase of your convertible sofa. Depending on factors such as brand, size, material, and additional features, prices can vary substantially. Determine your budget range and investigate options within that range to find the optimal quality-to-cost ratio.
Questions Frequently Asked (FAQs)
Can a sectional sofa that converts accommodate towering individuals?
They are available in a variety of sizes, including variants designed for taller individuals. Consider sofas with extra-long dimensions or height-adjustable features to accommodate individuals of all heights.
How Simple Is It To Sanitize A Sectional Sofa That Converts?
The simplicity of cleaning depends on the material of the upholstery. In general, leather couches are simpler to clean and maintain, requiring only occasional conditioning. Sofas made of fabric may have covers that are removable and machine-washable, making them easier to clean.
Can The Configuration Of A Convertible Sofa Be Altered?
Many sectional sofas feature modular designs that permit you to customize the configuration to your liking. You can frequently rearrange the sections to create various layouts, allowing you to adapt to your changing needs.
Are Sectional Sofas That Convert Suitable For Compact Spaces?
Yes, due to their space-saving design, they are particularly well-suited for compact spaces. They optimize the functionality of small living spaces without sacrificing comfort or aesthetics by combining seating and sleeping functions.
How Durable Are The Mechanisms Used In Sectional Sofas That Convert?
The quality of the sofa can affect the durability of the mechanisms. It is essential to choose a reputable brand that employs dependable and sturdy mechanisms to guarantee the product's durability.
Can I Locate Convertible Sofas In Various Hues And Patterns?
Absolutely! There are numerous colors, patterns, and textures available for convertible sectional sofas. There are options for every style and preference, whether you favor a flamboyant statement piece or a subtle neutral tone.
Final Thought
A convertible sectional sofa is a functional and versatile asset to any living room. It provides convenience and adaptability by transforming from a comfortable seating arrangement to a toasty bed. 
Consider factors such as dimensions, material, comfort, convertibility mechanism, and additional features when selecting a convertible sofa.
By choosing a sofa that corresponds to your preferences and requirements, you can improve the functionality and appearance of your home. 
Explore your options and discover the ideal sectional sofa to create a comfortable and inviting living space.