Finding the correct sofa is essential when it comes to furnishing your living room. A sofa not only provides comfortable seating but also enhances the aesthetic appeal of your residence as a whole.
A reversible sectional sofa is an excellent choice if you're looking for a versatile and stylish seating solution. 
In this article, we will examine the characteristics, advantages, and design options of sectional sofas. Whether you have a compact apartment or a large living room, it can make your space cozier and more welcoming.
Reversible Sectional Sofa: An Overview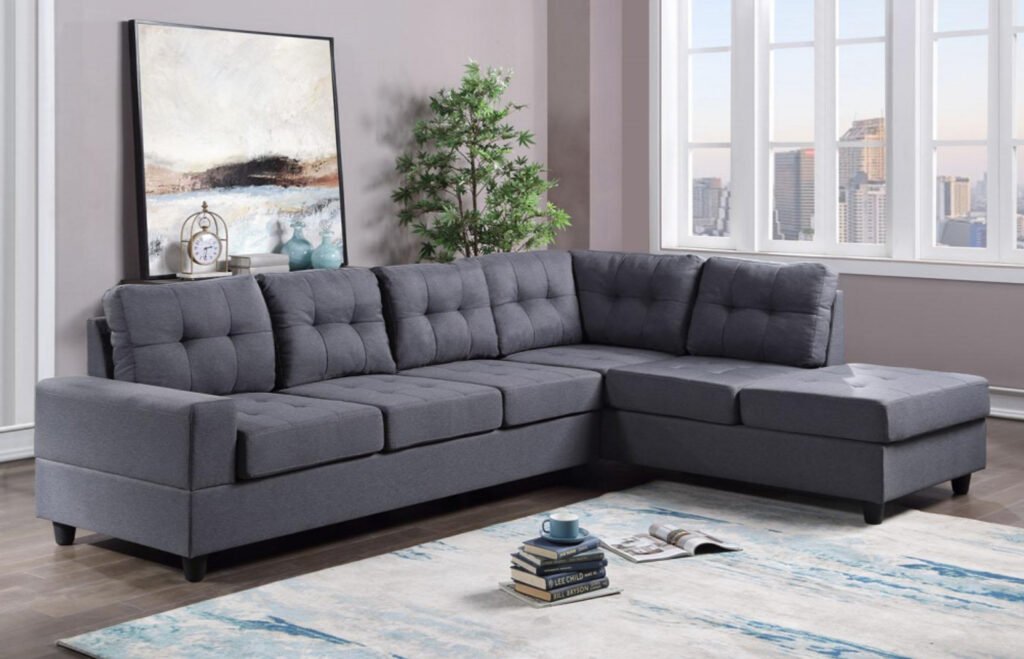 Photo Credit: kassamall
A reversible sectional sofa includes a chaise lounge or ottoman that can be set on either side of the sofa, allowing you to change the configuration whenever you wish. 
This adaptability makes it a great option for those who enjoy rearranging their living room or who have limited space and require flexible furniture.
Here are some important characteristics and advantages of a reversible sectional sofa:
The ability to alter the arrangement of the sections enables the creation of a variety of seating options. You have the option of placing the chaise lounge on the left or right side or even separating the sections to create distinct seating locations.
This adaptability is especially useful when the living room is used for a variety of activities and gatherings.
The design of reversible sectional sofas is optimized to make the most of the available space. You can maximize seating capacity without compromising design or comfort.
You can optimize the sofa's layout to suit the shape and size of your room, whether you have a small apartment or a large living room, by adjusting the configuration.
Versatile Seating Options: With a sectional sofa, you can create various seating configurations to meet your requirements. You can unwind and stretch out on the chaise lounge, use the ottoman as a footrest, and arrange the sections for face-to-face conversations. 
This versatility makes it ideal for entertaining guests or accommodating various seating preferences in the home.
Style and Design Selections: They are available in a variety of styles, designs, and upholstery options to complement your interior design preferences. 
You can find a sectional sofa that complements your interior design, whether you prefer a modern, contemporary, or traditional aesthetic. In addition, you can select from a variety of materials, colors, and patterns to complement your personal taste.
The design of reversible sofas prioritizes comfort and support. They feature typically plush cushions, robust frames, and high-quality upholstery materials to provide ample support and a comfortable seating experience. There are options with varying levels of firmness and padding to accommodate your preferences.
A reversible sectional sofa allows you to alter your seating arrangement, maximize your space, and create a variety of seating options.
A sectional sofa offers functionality, comfort, and style, whether you have a small living room, frequently entertain guests, or simply appreciate rearranging your furniture.
Design and Style Options
Photo Credit: decorilla
In terms of design and aesthetic options for reversible sectional sofas, the following are popular alternatives:
Modern and contemporary sofas are characterized by their clean lines, minimalist designs, and often elegant and streamlined appearance. They are ideal for those who prefer a contemporary aesthetic and a contemporary accent in the living room.
There are reversible sofas available in traditional designs if you prefer a look that is more timeless and elegant. The decorative details on these sofas, such as rolled arms, tufted cushions, and intricate woodwork, lend an air of sophistication to your space.
Mid-Century Modern: Mid-century modern sectional sofas offer a retro charm with their distinctive shapes, tapered legs, and vintage-inspired upholstery. They can give your living room a sense of nostalgia and personality.
Rustic and Farmhouse: For a cozy and inviting ambiance, you can choose a sectional sofa with rustic or farmhouse-inspired designs that is reversible.
These sofas typically feature distressed wood accents, natural materials, and organic color palettes to create a warm and inviting atmosphere in your living space.
Transitional: If you favor a blend of traditional and modern styles, a transitional sectional sofa may be the best option for you.
These sofas feature a balance of traditional and contemporary elements, allowing them to blend in with a variety of interior design styles.
In addition to the overall design, you can also consider details such as the arm shape, the type of legs, and the embroidery or tufting patterns on the cushions.
These elements contribute to the overall aesthetic of the reversible sofa and can be customized to reflect your individual taste.
When choosing a design and style for your reversible sectional sofa, remember to consider the existing décor and color scheme of your living room. This will ensure that your space has a uniform and harmonious appearance.
Advantages of Reversible Sofas
Photo Credit: apt2b
Space Optimization
One of the major benefits of a reversible sectional sofa is its capacity to maximize space. These sofas are designed to maximize available space, particularly in small apartments or living rooms with limited square footage. 
By optimizing seating capacity and utilizing the corners, sectional sofas create the illusion of a larger space.
Versatility
Reversible sofas offer unparalleled versatility. As mentioned previously, the sections can be easily rearranged to create various seating arrangements. Whether you prefer a traditional
L-shape, a U-shape for enhanced conversation, or to separate the sections to create individual seating options, the configuration options are virtually limitless. This adaptability ensures that your sofa can grow and change as your requirements do.
Enhanced Comfort
When selecting a sofa, comfort is of the utmost importance, and sectional sofas excel in this regard. These sofas typically feature luxurious cushions and ample seating space, providing you and your guests with the utmost comfort. The ability to spread out, unwind, and cuddle on a reversible sectional sofa adds to the coziness of your living area.
Visual Appeal
In addition to being functional, They are also aesthetically pleasing. These sofas can be the focal point of your living room due to their fashionable designs. They add a touch of sophistication and elegance while blending seamlessly with the existing décor.
Whether you prefer a contemporary, minimalist aesthetic or a more traditional, ornate design, there is a reversible sectional sofa to suit your preferences.
Socializing Made Simple
Photo Credit: happyhomesindustries
The ability of a reversible sectional sofa to facilitate social interaction is another advantage of possessing one. It is ideal for entertaining visitors or spending quality time with family because the configuration options make face-to-face conversations simple. 
A reversible sofa offers a comfortable and inclusive seating arrangement, whether you are hosting a movie night or engaging in a vibrant conversation.
FAQs about Reversible Sectional Sofas
How Do I Clean And Maintain A Reversible Sofa?

Cleaning and maintaining a sectional sofa that is reversible is relatively simple. For routine maintenance, it is recommended to vacuum or brush away any loose debris or crumbs.
Depending on the upholstery material, stains can be spot-cleaned with a moderate detergent and water solution or with the manufacturer-recommended cleaning products.
It is essential to observe the sofa's care instructions to ensure its durability and appearance.
Can The Configuration Of A Sectional Sofa Be Altered?

The customizable configuration of a sectional sofa is one of its primary advantages. You may rearrange the sections according to your preferences and available space.
Some reversible sofas include modular parts that can be added or removed to create a seating arrangement that meets your specific requirements.
Are Reversible Sofas Appropriate For Compact Rooms?

For small locations, they are an excellent option. Their ability to maximize space and nestle into corners makes them ideal for apartments, studio apartments, and intimate living rooms.
You can select a sectional sofa in a size and configuration that fits your space while still appreciating its comfort and versatility.
Are Sectional Sofas That Reverse Comfortably For Sleeping?

They are designed primarily for seating, but some models offer a pull-out or convertible feature that allows them to be used as a sleeping surface.
Typically, these slumber sectionals include a fold-out mattress or an extendable chaise to create a sleeping area. 
However, it is essential to note that the level of comfort can vary contingent on the design and quality of the mattress.
Can I Add Accessories To My Sectional Sofa That Reverses?
You can add accessories to your sectional sofa to enhance its comfort and style.
Consider adding decorative throw pillows, cozy blankets, or a fashionable ottoman to enhance the appearance and increase the level of comfort. Ensure that the accessories you select complement the style and proportions of your sofa.
How Do I Determine The Appropriate Dimensions For A Reversible Sectional Sofa?

When choosing a reversible sofa, it is crucial to consider the size of the room and the number of seats required. Accurately measure your space, allowing enough room for comfortable movement. 
Consider the dimensions of the settee to ensure that it can pass through doors, hallways, and stairs.
Consider the number of individuals you anticipate accommodating on a regular basis when determining the appropriate sofa size.
Final Thought
Versatile and fashionable, a reversible sectional sofa can completely transform your living space. With its space-saving design, customizable configurations, and enhanced comfort, it offers the ideal combination of utility and beauty. 
Regardless of the size of your living space, a sectional sofa can be a valuable addition to your living room furniture. Explore the available designs, styles, and options to find the ideal reversible sofa for your personal preferences and way of life.