Last updated on December 17th, 2022 at 08:52 pm
The official first day of summer is June twenty-second. In many places in the country, it begins to get hot before this official start date. Once summer begins, people find themselves spending more time outdoors.
Cookouts, swimming parties, and other informal gatherings are a great way to get together and enjoy the weather. It can be a great way to bond with family and loved ones or to make new friends. It's also a great way to make sure that you are getting the vitamin D that you need.
Did you know that about forty-two percent of the US population is vitamin D deficient? Click here for more information about this issue. Spending time outdoors helps our body to produce this chemical. It is responsible for maintaining bone integrity. Some scientists are even saying that it plays a vital role in helping us fight off Coronavirus.
If you've been looking to transform your backyard into a fun, usable space but haven't found the motivation to pull the trigger and do the darn thing, now you have the perfect reason. Having an attractive backyard isn't just fun, it could be vital to your continued health!
In this article, we're going to look at three ways to utilize patio furniture that you may not have considered before.
Comfy Cozy
Do you remember spending long summer afternoons at the public pool? They always had white plastic chairs available for you to lounge on in between dips into the water. These chairs were made to withstand a lot of pressure. They were durable, but not very attractive. Neither were they comfortable.
If that's your idea of outdoor furniture, you're really missing out. Now there are many different pieces of furniture that are designed to withstand the elements while still looking stylish and providing maximum comfort.
You may not know that there are outdoor sectional sofas available. These can seat you and your family comfortably. There are even models big enough for you to provide seating for your best friends, too.
This can be a great place to hang out. You can install an outdoor television so you can all enjoy a baseball game and pretend you're really at the stadium. It might be fun to pop some popcorn and pour beer into little plastic cups to really complete the theme.
This can also be the perfect setting to enjoy the Planet Earth documentary series. You can enjoy the sounds of nature in your own neighborhood while learning about plant and animal life all around the globe. It can be fun and educational.
Of course, a sofa can also be a great place for your guests to really let their hair down and make themselves comfortable. You'll find that one glass of wine with your besties has a way of turning into two or three or more once you all get started.
If there's one thing we all missed at the height of the Coronavirus pandemic, it was socialization. Some people missed it so much that they were in physical pain. That's because we need interaction with our fellow humans almost as much as we need water and air. It can help improve our cognition and lead to us living longer healthier lives. Click here for more information about the health benefits of socialization.
Take Some Pics!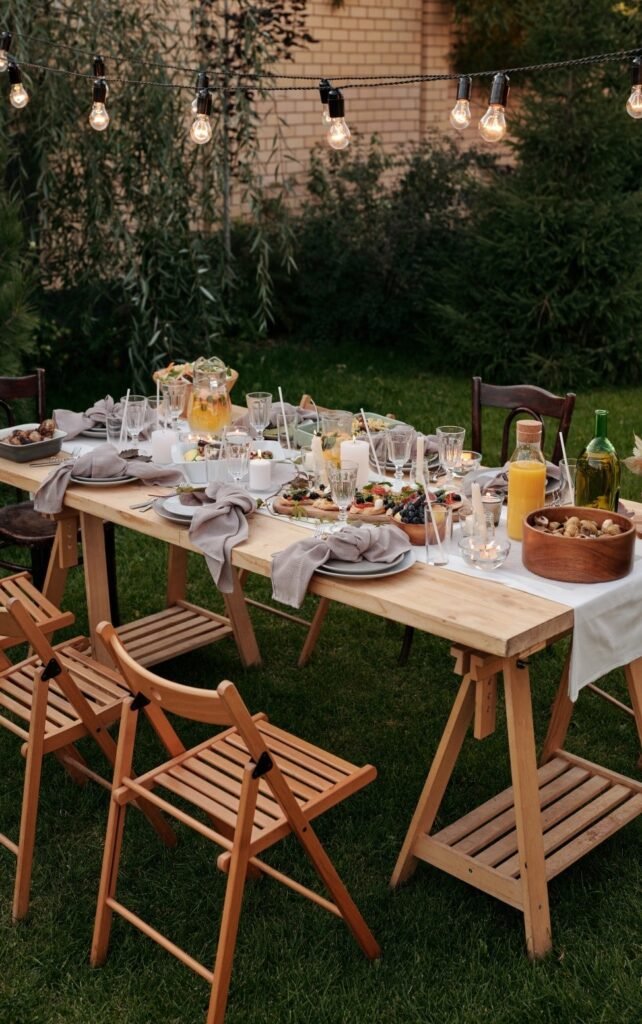 With the widespread use of smart phones, more people are taking pictures more often than ever before. Whether you're looking to capture some beloved memories of your children as they grow or trying to catapult your Instagram account to influencer status, the right backyard furniture can be the perfect setting.
It might be fun to gather a supply box and take a bunch of pictures at once. Look for fun and funny hats, sunglasses, and beachwear to help you complete the look.
Friends and family will be sure to "like" your photos. You never have to reveal that you didn't go any further than your own backyard!
Ultimate Relaxation
Everyone needs some quiet now and then. With a chaise lounge or two, you can treat yourself to a relaxing day in the sun.
You may want to add small tables to your setup so you can keep your sunblock, frosty cold drink, and backup reading material close at hand. You'll feel like you're at a resort for a fraction of the price! You would never know that you purchased an inexpensive patio furniture set based on looks or feel alone. That's because many retailers are offering discounts on high-quality items.
There's no shortage of fun to be had with patio furniture. If you decide to upgrade your backyard, you and your friends and family will have a summer you all will talk about for years to come. Now get out there and have some fun!