Last updated on December 11th, 2022 at 04:09 am
Summertime is the perfect time to splash around in an inflatable pool. Not only do they provide hours of fun, but they're also great for cooling down on a hot day. With so many pools to choose from, it can be hard to know which one is best for you. Here are the 10 best inflatable pools for adults worthy of your purchase:
Our Top Picks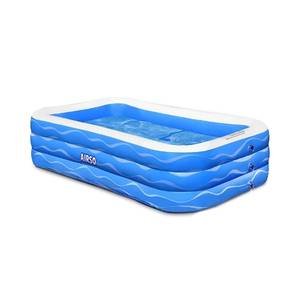 Overall Best
Family Full-Sized Inflatable Pools
Rectangular inflatable pool measures 118 inches long, 72 inches wide & 22 inches deep
Oversized inflatable pool fits up to 2 adults & 4 kids comfortably
Takes 3-4 minutes to inflate
Inflatable pool made from heavy-duty material
Strong & stable outer walls
Budget Friendly
QPAU Inflatable Swimming Pool
Family Full-Sized Blow Up Pool
 Heavy Duty Above Ground Pool for Kids, Adults
0.5mm thicker material
BPA-free and non-toxic environmental-friendly 6P PVC materials
Easy to use
The size of QPAU is 118" x 72" x 22"
Value For Money
Taotique Thickened Inflatable Pool
Rectangular inflatable pool
130 inches long, 72 inches wide & 22 inches deep
400+ gallons of water
Take 3-4 Minutes To Inflate
Made with 0.4mm thickness PVC material
Multiple-Application Scenarios
Safe for Your Kids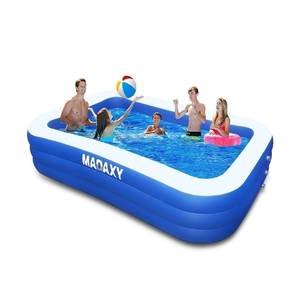 MADAXY Swimming Pool for Kids and Adults
Family-size Inflatable Pool
Safe & Durable Rectangular Inflatable Pool
Quick and Easy to Use
Sturdy &Stable Inflatable Pool
Great Gift, Swimming Pool, and Ball Pit
built-in 2 curve water valves double the drainage speed
Brace Master Inflatable Swimming Pool
The dimensions are 120"x 72"x 22"
3 independent inflatable chambers
Safe and thick PVC material
Durable, wear-resistant, high elasticity, soft edges, safe material
Fully inflate the pool in 3-4 minutes
Multiple uses
Inflatable Pools Reviews
With a lot of options in the market, you may face difficulty in choosing the best inflatable pool for adults. From the pool size and design to the robustness and safety, you will have to keep in mind a lot of things. Nonetheless, there are some brands that seamlessly top the list.
1. Intex Swim Center Paradise Inflatable Pool
Key Features:
Graphical beach-themed design
Two air chambers
Easy to fill with double valve
Includes a patch repair kit and shelf box
This Intex inflatable pool is truly a swimmer's paradise. From an exquisite design to comfort and a large space, it has got everything you want in your personal pool.
The most prominent feature of this pool that draws your attention is its catchy graphics depicting a beach. This attractive design is not only pleasing to the sight but also jazzes up the decor of your yard.
Then, once you get inside the pool, the sturdiness of its material is the next to impress you. It is made from high-quality plastic that survives potential damage.
Besides, the Intex Swim Center is also quite roomy exhibiting the dimensions of 103″ x 63″ x 18″. Leveraging its space, you can easily keep an eye on your kids as you spend quality time with your family.
Moreover, as it permits only 12 inches of water depth, you remain stress-free regarding the safety of your kids. In all, it's a lovely pool to cherish the summer in a cool manner without affecting your budget.
Advantage
Attractive beach design
Highly durable
Strong plastic sidewalls
Easy to install
Disadvantage
2. Intex Mandarin Swim Center Inflatable Pool For Adults
Key Features:
Simple design with a vibrant color
Two-ring style
Allows 13-inch water depth
Dedicated drain plug
Enclosed repair kit in the package
This is the best inflatable pool for adults to enjoy a comfortable swimming experience. With a length of 8 feet, you can easily lie down to relax your body. While you can also let your kids play in the pool under your supervision using its wide space.
The vibrant color of the pool makes it appealing even for the kids. And, to let them enjoy as they want, the pool is made from robust and durable 13-gauge vinyl material to resist damage.
Moreover, while it serves as a swimming pool to beat the heat during hot summers, you can also transform it into a ball pit during winters. Simply drain the water via the provided dean plug, and you are all set to fill it back with the balls and have fun.
Advantage
Suitable for kids and adults
Durable and sturdy
More fun with less amount of water
Easy to drain water
Disadvantage
No slides, benches, or other features
Not suitable for small children
3. Intex Swim Center Deep Inflatable Pool For Adults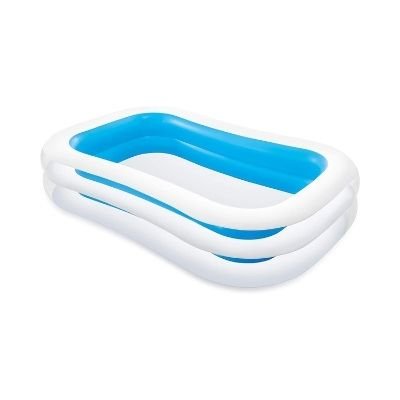 Key Features:
Two air chambers
Easy to inflate and deflate with intake and exhaust valves
Pro swimming experience with great depth
Repair patch included.
For everyone looking for a deep inflatable swimming pool, this Intex Swim Center serves the purpose with a 14-inch depth. It means you get the perfect pool experience with this one. Moreover, its wide and deep dimensions also make it a perfect swim center to spend with your family.
However, you must remain careful if you have small kids or pets at home. Its depth might not be appropriate for them to use. Besides, the pool comes in a simple yet catchy design with a vibrant color combination of blue and white.
It bears two air chambers with separate intake and exhaust valves. Hence, it takes the minimum amount of time to set up and deflate. With a smooth interior, the pool is perfect for relaxing your stressed body.
While it may not comprise an enormously robust material, it does enclose a repair patch with it. Thus, you can easily fix any mild damage to the pool on your own.
Advantage
Perfect for adults and big kids
Maximum water depth makes it a perfect pool
Cool design
Disadvantage
Sidewalls are not as strong
Not suitable for small kids
No added features
4. Intex Swim Center Family Inflatable Pool For Adults
Key Features:
Three air chambers with intake and exhaust valves
Separate drain plug
Sturdy 15-gauge vinyl material
This Intex pool better serves as a swim center for the whole family. With a dimension of 120″ x 72″ x 22″, it boasts a large and extra-wide space that makes it perfect even for adults.
Whereas the kids also get plenty of space to play and enjoy. So, whether you want to relax in solitude, or wish to let your kids enjoy themselves under your supervision, this pool will serve it all.
It is made of sturdy vinyl material that makes it the best inflatable pool for adults to tolerate any damage. Setting up the pool is way easier with three air chambers that bear double intake valves. And if you want to wrap it up, you can also do so within minutes owing to its free-flow exhaust valves.
Cleaning this pool is also quite simple. It has a separate drainage plug through which you can empty the pool within minutes. You may then clean the surface as you like.
Perhaps, the only major drawback of this product is that it does not come with an air pump. But if you already have a pump with you, then this would be the best blow-up pool for your family.
Advantage
Quick installation
Swift drainage of water
Large space suitable for adults
Disadvantage
Not appropriate for small kids
Does not enclose the pump in the package
5. Intex Inflatable Pool for Adults
Key Features:
Comfortable side walls and backrest with bench
Built-in cup holders
Two air chambers with a combo valve
Drain plug available
Repair kit included
The Intex inflatable lounge is the perfect inflatable pool for adults with seats. It comes in an exotic rounded shape mimicking a lounge-like seating arrangement with a built-in bench. This amazing feature lets the parents keep an eye on their children while they can get cozy.
It is also great if you want to have a nice sunbath while guarding your kids. The pool only allows a shallow water depth that keeps your kids safe as they enjoy.
The other attractive thing about this pool is its light blue color which makes you feel like the actual swimming pool. Its sidewalls and backrest are also quite comfortable.
Whereas the overall material is strong enough to endure rough use. Still, if you encounter any damages, you can easily fix them with the enclosed patch kit. Certainly, if you are looking for a robust, spacious, and comfortable family pool, perhaps, this one is for you.
Advantage
Fun-filled pool experience
Attractive design and color
Comfortable bench
Sturdy sidewalls
Quick installation
Disadvantage
6. Intex Clearview Aquarium
Key Features:
Attractive aquarium-themed design
Transparent sidewalls
Spacious for the whole family
Convenient drain plug
If you are looking for a very attractive pool to decorate your backyard, then here we have a nice option. This Intex Swim Center comes in an exquisite design as it boasts aquarium graphics with transparent sidewalls.
While it is surely very appealing for kids, the adults like this design too. This pool not only looks good but also features amazing quality with sturdiness. Plus, its typical square shape makes it roomy enough for small families.
You can also maintain the cleanliness of this pool without hassle. It includes a separate drainage valve which makes emptying the pool way easier. In addition, you also get a repair patch with the package to fix any minor damages to the pool.
Advantage
Cool design
Sturdy enough to serve as a ball pit
Perfect for kids
Disadvantage
Not suitable for large families
Does not include any additive features such as slides or benches
7. Sable Inflatable Pool For Babies
Key Features:
Made from durable Phthalate and lead-free material
Three air chambers
Rapid water drainage with two valves
Repair patch included
Ground cloth included
For those who want to enjoy some leisurely time with their kids, here is the best inflatable pool for adults from Sable for small families. The pool comes in a striking color combination of blue and white, giving it the feel of an actual pool.
You can get it set in your yard within minutes as it inflates quickly with an electric pump. Similarly, it also allows quick water drainage with 2 valves. So the overall maintenance of the pool consumes less effort.
What makes this one distinct from most other pools is its premium quality material. Being made from Phthalate and lead-free, it flaunts a thickness of 50% more than the rival brands in the market.
With such durable material, the pool is robust enough to survive all the splashing and fun with reduced chances of damage. In all, it is perfect for cherishing the hot summer in a cool way.
Advantage
Highly resistant to damages
Quick inflation with an electric pump
Easy to drain water
Disadvantage
Air pump not enclosed
No additional features
8. Intex Kiddie Sable Inflatable Pool For Babies
Key Features:
Unique tri-color design
Extremely durable and resilient
Separate inflation valves with each layer
Soft padded flooring
In-house pools are the best to keep the kids happy at home. But, at the same time, a dull-looking pool would be a turn-off for those little souls. However, this amazing kiddie pool from Intex will be a wonderful treat for them.
Boasting a combination of three vibrant colors, the sunset glow pool is sure to charm the children. Surely, it rejuvenates the fun for the kids when they have a nice pool to play in. Besides, it also serves as an inexpensive yet useful decoration for the yard!
Apart from the attractive design, the pool also ensures the utmost safety for the kids. With dimensions of 58" x 13", the pool is safe even for toddlers. Plus, the padded flooring of the pool also feels soft to the small feet of your little ones.
Advantage
Vibrant multicolored design
Comfortable material
Easy to inflate
Uses the least amount of water
Disadvantage
No drain
Not spacious enough for adults.
9. Crystal Blue Inflatable Pool For Babies
Key Features:
Shallow water depth safe for kids
Three-ringed style with separate intake plugs
Easy to inflate
Enclosed repair kit
Looking for a classic pool for your small kids? This crystal blue pool is a lovely presentation from Intex. Its classic blue color makes it a nice embellishment for your yard, whilst making the pool easy to spot.
It has a nice three-ringed style with a flat bottom, giving much room for the kids to play freely. Since it permits a shallow water depth, you can stay relaxed in regard to the safety of small kids.
Moreover, the flat floor also makes the pool suitable for your pets. Although, the absence of a drainage valve is a drawback with this otherwise nice product.
However, you can still manage to drain the pool easily since it is small and light. Certainly, you get the super inflatable pool while purchasing this one without burdening your pocket.
Advantage
Attractive color
Suitable for small kids
Shallow depth ensures the safety
Light in weight
Suitable for pets too
Can be used as a ball pit
Disadvantage
No drainage plug
Thin vinyl flooring
10. Jilong Pentagon Inflatable Pool For Babies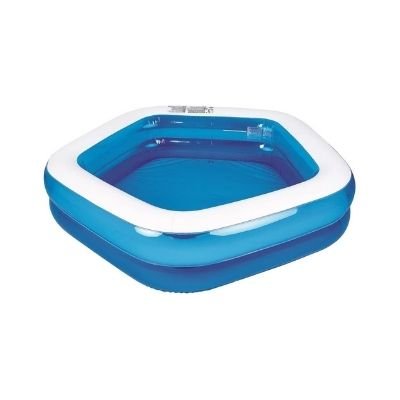 Key Features:
Nice dual-color reflective design
Two air chambers
Sturdy material to endure damages
Easy to install
Allows quick drainage of water with a dedicated valve
Amidst all the typical pool designs featuring common circular or rectangular shapes, here is a nice choice for you with a unique style. This amazing inflatable pool from Jilong appears as a pentagon.
This unique shape makes it the top inflatable pool even for adults as it offers more space. Whereas, for the children, it serves as an exotic pool for enjoying the summer.
The pool flaunts a reflective design with a classy color combination of white and blue shades. It includes two air chambers, and a dedicated drainage valve makes it easy to empty the pool.
The overall material of the pool is also durable and resistant to wear and tear. Whether you want to relax alone or wish to spend some fun time with the kids, this inflatable pool serves you the best.
Advantage
Attractive style with a unique pentagon shape
Highly resilient
Minimum installation time
Supports great water depth to have a nice pool experience.
Disadvantage
Not suitable for small children
How to Choose the Best Inflatable Pools?
Although, the market is flooded with a wide variety of inflatable pools and islands. However, not every available product may be worth buying for you.
Before you label something as the perfect inflatable pool to buy, you need to consider a few things. Here we list some important factors you should keep in view while shopping for a portable pool.
Material:
The material of an inflatable pool determines its durability and longevity. Ideally, It is robust enough to endure prolonged usage. Most high-quality pools boast a blend of polyvinyl chloride (PVC) and rubber to ensure the utmost sturdiness
Safety:
Besides being strong, the material of a good inflatable pool should also be safe to use. Most inflatable pools of average quality are made of plastic material and may contain various toxic compounds.
Therefore, before making a purchase, ensure that the pool does not comprise any harmful or toxic components which can trigger allergies, especially when you are buying it for the kids.
Inflation Pump:
Inflatable swimming pools come in a variety of options. Some of these require electric pumps for inflation. Whereas, the others also support simple hand pumps or foot pumps. However, if you don't already have a pump, then choose the pool that encloses the pump in the package.
Size:
You will find a huge variety of portable swimming pools with respect to the sizes in the market. However, the top inflatable pool for you is the one that not only meets the requirements of your family but is also suitable for your backyard without it becoming a mess.
For instance, if you have a small space in your backyard or have a couple of small kids, a 3 ft pool would suffice for you. Whereas, for families with more kids who need adult supervision as well, a 5-6 ft pool works best.
Likewise, you can also buy large inflatable pools, around 20 feet in diameter, for your entire family. But make sure you have enough space at your home to manage these pools.
Depth:
Alongside the size, the depth of the pool is also a key factor to consider. For toddlers or small children, you should consider the one permitting a lower water depth. Whereas, for older kids and adults, a deeper pool works fine.
Shape:
The shape of the pool is very important from an aesthetic point of view. You should choose the one that looks good in your yard. For instance, a rectangular pool is ideal for yards with a small area. Whereas, if you have more space, you can go for the round ones too.
Design And Color:
While most of the pools are available in shades of blue, you can also inflatable pools in vibrant colors. Some of the pools meant for kids also boast various cartoon characters and themes which makes them more attractive.
Additional Features:
When choosing the top inflatable pool, perhaps you should go for the one that offers the most features.
If you can make a choice without burdening your pocket, then see if you can get the variants offering built-in slides, water sprayers, volleyball nets, or support for other games. Some deep inflatable pools also bear a removable ladder for ease of entry and exit.
Cost:
In general, the cost of an inflatable pool ranges between $10 and $410. Although, for the pools with affordable price tags, you may have to compromise on some features.
Below we explain the usual price range for the perfect inflatable pool to buy.
Low-cost pools: small in size, cost between $10 and $50; typically have mediocre to low-quality PVC.
Mid-range price: medium-sized pools with better quality PVC; cost between $50 and $175.
High-priced pools: usually large in size, composed of premium quality PVC; the cost ranges between $175 and $410.
Frequently Asked Questions
Here are some questions we picked to make you more clear about inflatable pools in general:
What is an inflatable pool?
An inflatable pool is a type of swimming pool that can be inflated and deflated. The inflatable pools are usually made from durable vinyl and come with a pump for inflating and deflating them.
What are the dimensions of the inflatable pool?
The dimensions of the inflatable pool are 4ft x 8ft.
What is the height of an inflatable pool?
The height of an inflatable pool is dependent on the type of pool. Some pools are only a few inches deep, while others are up to 18 feet deep.
What is the weight limit for the inflatable pool?
The weight limit will vary depending on the size and type of inflatable pool that you purchase. However, most pools are able to hold up to 300 pounds.
What is the difference between a pool and an inflatable pool?
An inflatable pool is a pool that is constructed with an inflatable liner. The liner can be inflated by mouth or with a pump, and the pool is usually deflated for storage. A pool, on the other hand, is not inflatable and may have a rigid frame, but it's typically made of concrete or metal.
How many people can fit in the inflatable pool?
The inflatable pool is designed to hold up to 5 people.
How long does it take to inflate an Inflatable Pool?
It depends on the size of the pool and how powerful the pump is. If the pool is small and there is a powerful pump, it can take less than 10 minutes.
How often does a pool need maintenance?
Small pools need a thorough cleaning after every use. While, the larger pools require the usual cleaning for debris or anything else after every two days, and a thorough overhaul with vacuuming once a week.
How to drain the inflatable pool?
Draining the inflatable pool is never difficult as it includes a separate drainage valve. For small pools, you can simply tip the water into the yard. Or, you can scoop the water out and dump it into a small tub which you can then empty into a sink. But the latter will take time. Another method is to use a garden hose to drain the pool. This can be done for both the smaller and the larger ones.
What are the benefits of an inflatable pool?
Inflatable pools are great for people who live in apartments or homes with small backyards. They are also great for people who want to cool off but don't have the time or money to go to a pool.
Inflatable pools are great for people who don't have much space. They can be stored in a garage or shed when not in use, and they take up less space than a traditional pool.
How long do inflatable pools last?
The lifespan of an inflatable pool depends on how often it is used. The more often the pool is used, the quicker it will wear out. For example, if your pool is inflated and deflated for 6 months every year, you can expect it to last for about 3 years.
How much does an inflatable pool cost?
Pools are available in a variety of sizes, shapes, and prices. Inflatable pools can range from $200-$600 depending on the size, brand, and features.
Where to buy an inflatable pool?
There are a variety of places to buy an inflatable pool. One place is Wal-Mart, which sells inflatable pools for as low as $25. Another option is Amazon, which sells inflatable pools for as low as $30.
Final Verdict
Blow-up swimming pools provide an affordable means to beat the heat and enjoy quality time with your loved ones. For all of you to have an abandoned or messy backyard, these inflatable pools also serve as a useful decoration for the place.
With a little research about the pools and a clear idea of your requirements, you can certainly buy yourself the best inflatable pool for adults that accompany you at least for a couple of years. That won't be so difficult if you keep in mind all the information that we have just shared through this article.