Last updated on December 11th, 2022 at 04:06 am
You have been looking for the perfect gas grill to add to your backyard repertoire, but unfortunately, they can get pricey. We have reviewed the 10 best gas grills under $300 and worth buying.
Every grill enthusiast will have a personal preference when it comes to choosing the perfect type of grill. Some people will want to cook outside all year round, while others might be content with cooking in the winter months only. Regardless of your tastes, there are a variety of gas grills that are worth considering.
Our Top Picks
Overall Best
MASTER COOK 3 Burner BBQ Propane Gas Grill
This propane gas grill has 3 Stainless Steel burners
Porcelain-enamel wire cooking grates
Extra Large Cooking Area
Stainless Steel Control Panel
Easy to Move with Two 6-Inches Wheels
Metal Foldable Side Shelves
Budget Friendly
3-Burner Liquid Propane Gas Grill
360 square inches of cooking space over porcelain-coated grates
Convectional cooking system
170 square inch porcelain-coated swing-a-way rack for warming
Three stainless steel in-line burners for cooking performance
Metal side shelves measure 12-inches w x 13-inches
Value For Money
Dual Fuel Combination Gas Grill
57 sq in total cooking space
Cast iron cooking grids Chrome-plated warming racks
 24,000 BTUs Stainless steel 
 2 wheels for mobility
This grill uses a 70″ grill cover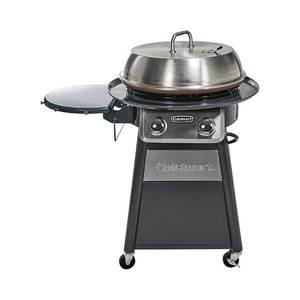 Round Outdoor Flat Top Surface Gas Grill
Cold-rolled steel cooks evenly and heats up quickly
360° grease pan with removable grease cup
Two 15,000 BTU burners for maximum heat control
Vented stainless steel lid
Collapsible side prep table with integrated paper towel holder
Easy to position and move
Liquid Propane Gas Grill with Side Burner
280 sq. in. Primary Cooking Space
Stainless Steel Inline Burners
Porcelain-Coated Steel Lid & Firebox
8,000-BTU Side Burner
Piezo Ignition
Wheels & Metal Side Shelves
Best Gas Grills Under $300 Reviews
With summer coming, many people are looking for ways to enhance their outdoor living spaces. One of the best ways to do that is with a durable and efficient grill.
There are many gas grills on the market, but not all of them are worth your hard-earned money. Instead of getting duped into buying a grill that is just going to let you down again, look into some great options for gas grills under $300. Here are just a few of our favorites!
01. Best User-Friendly: Kenmore 4 Burner Cart Style Gas Grill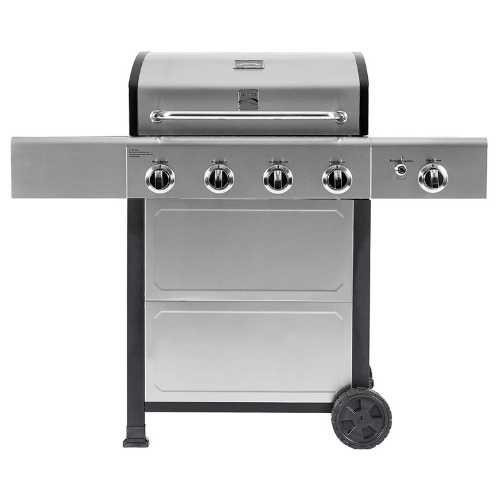 Product Features:
4 burner gas grill
644 total cooking area
53000 BTU
Electronic ignition system
Stainless steel powder-coated surface
Side shelves
Are you looking for a cheap, 4 burner gas grill? Then Kenmore PG 40406S0L-SE-AM would be an ideal choice for you. It provides a large 644 square inches total cooking area; 476 square inches of primary space and 168 square inches of secondary space.
The stainless steel main four burners wholly produce 53000 BTU. Apart from that, the side burner is also capable of 13000 BTU. You can cook up to 41 burgers at once. Its durability is beyond question. The stainless steel powder-coated surface plus the side shelves are strong enough to face any rival condition.
Moreover, the electronic ignition system works like an individual ignition system. You will see just a push of a button relaxing your whole activity. Do you know why do we call it the most user-friendly? Especially because of the convenient setting of a propane tank with an open back and easy conversion to natural gas, alright!
You can entertain several guests at a time, and arrange a barbecue party to remember on Saturday Nights. It is also very easy to clean.
Why We Picked It?
Time-saving
The convenient setting of the propane tank
Easy to clean
Longevity
Can face tough weather
02. Best Budget Grill: Char-Broil Propane Gas Grill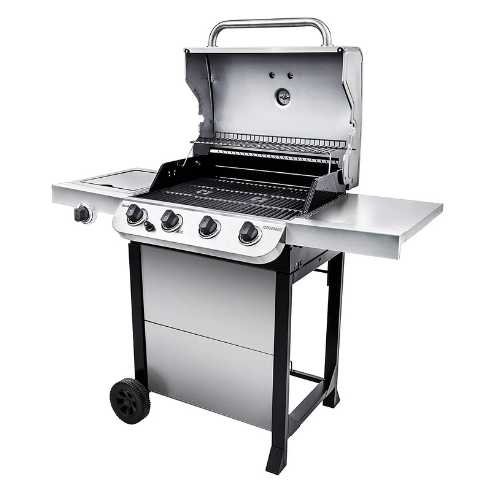 Product Features:
4 stainless steel top ported burner
10,000 BTU
Lidded side burner
Total 575 square inches of cooking area
Lid-mounted temperature gauge
Stainless steel side shelves
Two 7 inches wheel
This is exclusively one of the best gas grills under 300 bucks. Just look at its functionality. The 4 burner gas grill features a cart design. Its outstanding stainless steel finish with a stylish look is simply wow! It says how long it can last. And the porcelain-coated grease pan is also durable and quite easy to remove for cleaning.
You can evenly cook for your friends or family with comfort as the burners discharge flame from the top. Its porcelain-coated cast-iron grates are rust-resistant. It provides a reliable electric ignition system, and a lid-mounted temperature gauge to observe the inside temperature.
The Performance includes 425 square inches of primary cooking area and a 150 square inches swing-away warming rack. Else, it has a 10,000 BTU lidded side burner which is ideal for preparing sauces or sides while grilling. And in case of not used, it protects the core burners. You will enjoy easy mobility with its two 7 inches wheels. Each and every time it rocks with a fast and reliable start-up.
Why We Picked It?
Durable
Partner-protective
Easy to move
Precise control
Smart looking
03. Best Barbecue Friendly: Char-Broil Cabinet Liquid Propane Gas Grill
Product Features:
Stainless steel lid & UFC
cabinet style with 4 casters
lid-mounted temperature gauge
removable grease pan
300 square inches of primary cooking space
100 square inches swing-away rack
Next up, is this two-burner cabinet gas grill with 24000 BTU. They are known for their long-last performance. The Performance can evenly heat across the surface to please your friends and family members. It has a cabinet to store the propane tank and accessories.
The unmistakable quick start-up assurance makes it dependable. Additionally, it features a lid-mounted temperature gauge for better monitoring. Having porcelain-coated 300 square inches cast iron gate rates and a swing-away rack ensures longevity.
You can pride yourself on this stylish gas grill. Most users found it favorable for BBQ. It needs a little effort to move and is so easy to assemble. And nothing to worry about in tough weather. You see the stainless steel lid, sturdy handle, and precise heat control are there.
The Cabinet believes in performance so far we have seen. It sits on four casters, two of which are a lock. So simultaneously this is mobile and secure. Even the metal folded side shelves protect the burners as well. So, choose the best gas grills under $300 today!
Why We Picked It?
Best for BBQ
Increased work and prep space
Top-ported durable burners
Better heat control
Convenient access to the storage area
04. Most Crowd-Friendly: Char-Griller E3001 Grilling Pro Gas Grill
Product Features:
6:30 square inches total cooking area
Powder-coated finish
40,800 BTU Main Berners
12,000 BTU side burner
Ignitor probe
Electronic ignition
Dozens of friends insist on you for a party? Providing a 630 square inches cooking area it can widely meet your emergency needs. It measures 48*28*48 inches and weighs only 1.4 ounces. So you can enjoy this lightweight companion with better mobility. It features dual smoke stacks for better ventilation.
And the sturdy tubular steel construction assures long-lasting performance. The three core burners are capable of 40800 BTU and a side burner of 12,000 BTU. So you can assume how fast it can finish your cooking. Comprising porcelain-coated cast-iron grates and a warming rack the Char-Griller can grill your steak and cook your side dish simultaneously.
The powder-coated finish is certain to last for long. Also, it includes an electronic ignition to deliver Surefire each and every time. It won't annoy you with any delay. You just need to light the grill, the main burners promptly will be working for you.
But you must not cook all the food at the same speed, alright! You will find the side shelves quite handy also. Additionally, it includes an Igniter probe on every burner for increased convenience.
Why We Picked It?
Increased convenience
Reliable start-up
Heat without any delay
Easy to move
Durable construction
05. Best Cost-Effective: Mega Masters 6 burner Propane Gas Grill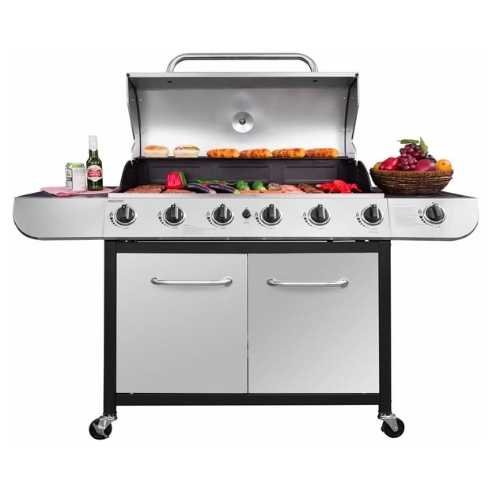 Product Features:
54,000 BTU
Heavy-duty caster wheels
Oversized side shelves
Built-in thermometer
753 total cooking area
Perhaps you're looking for a cart-style gas grill with several burners. See, the Mega Master is so closer to you. Leveraging a 753 square inches cooking area, this 6-burner LP gas grill got an appraisal of many users not because of a big space or half-dozen burners, but rather because of efficiency.
Likewise, If you need exceptional heat retention and uniformed heat trek shift, you may think of It. Its porcelain-enameled cast-iron grates are that much able. The burners get protection from the porcelain enamel 0.6 mm flame tamers and evenly heat to taste you the best.
All burners totally produce 54,000 BTU and you will have 210 square inches of warming rack to keep your food toasty. The manufacturer provides a built-in thermometer for accurate temperature control. Besides the electronic ignition system confirms quick start-up and the easy-to-read gauge would facilitate you accordingly.
This gas grill consumes liquid propane only. It includes a tank lock for better security also. It is so easy to move by the heavy-duty 4 cart legs with 2 wheels. Else, the 13.5 wide shelves meet your additional needs.
Why We Picked It?
Meet your bigger need
Flame tamers for burners protection
Easy to move
Keeps your food toasty
Best for party
06. Best Portable: Royal Gourmet portable propane gas grill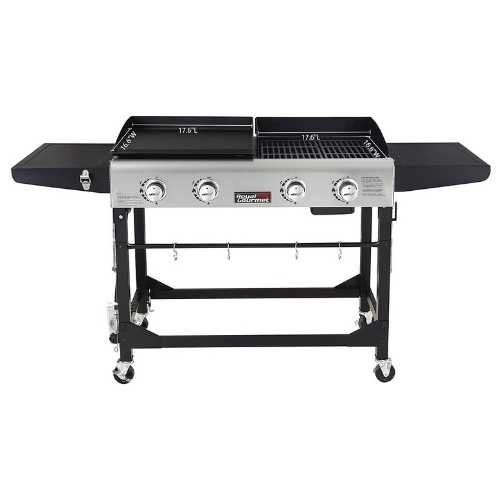 Product Features:
Dual cooking surface
Collapsible design
48,000 BTU
Stainless steel burner with flame gamers
4 inches casters
Built-in grease channel
Tool hanging bar
This is indeed a hit-or-miss item. Let us tell you why. Featuring a griddle combo design with a dual cooking surface it distinguishes it from other grill grills. You can use them separately or together. Each of the surfaces contains 292 square inches of cooking space.
It has 4 stainless steel burners of 48,000 BTU capacity as a whole. You can grill and griddle at the same time, okay? This gas grill would be perfect for outdoor events like a picnic, camping, or tailgating. You can grill various foods at once. Also, it includes a collapsible design.
Just fold down the legs to fit your rear trunk and go wherever you want to go. The 4 burners having porcelain-coated flame tamers as protection can evenly heat across the grates. And no worries about cleaning. It has a removable grease cup for that.
The 4-inch casters with brake and lock system ease your activity. You simply push big knobs on the control panel and let it perform automatically. It has two side tables for additional workspace also. Fine the best gas grills under $300 today!
Why We Picked It?
Best for outdoor
High portability
Shows your pride
Easy to clean
07. Most Versatile: Champ Chef Big Gas Grill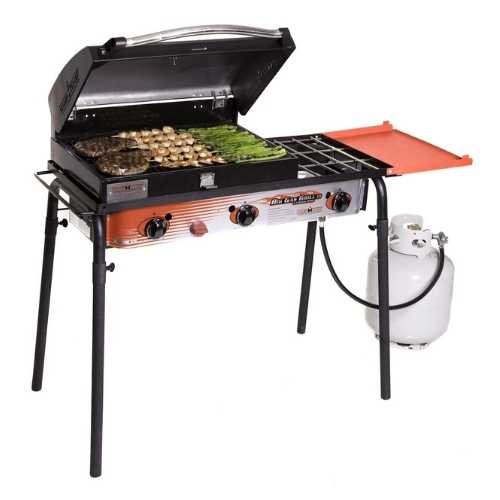 Product Features:
Removable grill box
Matchless ignition
True season finish
90,000 BTU
Pre-seasoned cast iron grill grates
Regulator and hose
You might be craving an outdoor kitchen master. Then the Champ Chef would be best. It contains three cast aluminum equal to 90,000 BTU burners to heat up the 608 square inches of the cooking ground. You will have an adjustable leg plus folding side shelves.
Especially it includes a 16*24″ professional grill box accessory to help you. The Delux BBQ box features an exclusive heat diffusion system and pre-seasoned cast-iron grates for perfect searing. These will meet your urgent needs. You can even replace the Delux box with any Champ Chef 16-inch accessory for further versatility.
Apart from this, it includes fully-adjustable heat control knobs and a 3-feet hose. Though it lacks a stainless steel body, still can be an apt choice for camping, catering, tailgating, hunting, Dutch Oven cooking, etc. It provides a matchless ignition and cooks faster than other gas grills.
Why We Picked It?
Lightweight
Exceptionally versatile
Best for outdoor
One-year warranty
Boss at barbeque
Dexterous burners
08. Best Reliable: Char-Broil 5 Burner Stainless Steel Gas Grill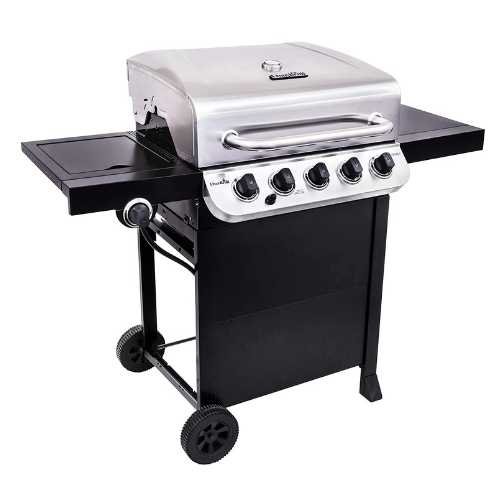 Product Features:
Stainless steel 5 burner and heat tent
Electronic ignition system
475 primary cooking space
Removable grease pan
Two 7 inches wheels
Lidded side burner
To fulfill the need for a 5 burner gas grill of a reputed brand we have picked this one for you. Producing 40,000 BTU the topmost burners evenly rule over the cast iron grates. The porcelain-coated grates are as durable as rust-resistant.
Like some other Char-Broil grills it also features an electronic ignition system for fast and reliable start-ups. Moreover, it has a lidded side burner of 10,000 BTU capacity. You can use it to prepare sauces or sides. And void of any usage it protects the main burners and offers additional work or prep space.
It provides 475 square inches of primary cooking area and 175 square inches of swing-away warming rack. And no tension for cleaning, the removable grease pan is as durable as easy to clean.
Delivered in a sleek stainless steel cart-style design it pleases your guests as well. Having two 7 inches wheels and two fixed feet this gas grill moves easily and stays in balance. It can perform well in your backyard also.
Why We Picked It?
Easy mobility
Reputed brand
Easy to clean
Durable construction
Perfect grilling for family or friends
09. Best Home Companion: Cuisinart 4 Burner Propane Gas Grill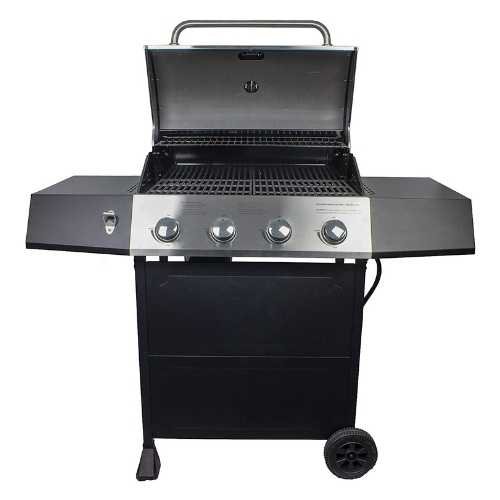 Product Features:
A total of 610 cooking area
Stainless steel
4 burner with warming rack
Built-in thermometer
Reliable startup
44,000 BTU capacity
This one is Cuisinart's full-size gas grill. It has an impressive look and durable construction. The four stainless steel burners are separately controllable. They can even heat across the 443 cooking grounds. And cast-iron grates retain proper heat and radiate more precisely than wire grates.
You will get an eligible 167 square inches rack to keep food warm to duly deal with each of the burners. Please note that the actual product may be different than the image above. But a stainless steel lid and control panel is a must. The CGG-7400 also includes a drip tray for collecting grease and drippings.
Moreover, it contains a 20 pounds propane tank along with 4 feet LP hose. You will face no problem moving as it has two wheels to set in the sun, shade, or outdoors. Besides an unfailing built-in thermometer shall let you monitor well. However, the griddle top might not be as durable as it claims. Pick the best gas grills under $300 today!
Why We Picked It?
Easy to assemble
Nice mobility
Long-lasting construction
3-year warranty
Best for home uses
10. The Crowd Tackler: Char-Broil 4 Burner Cart Style Gas Grill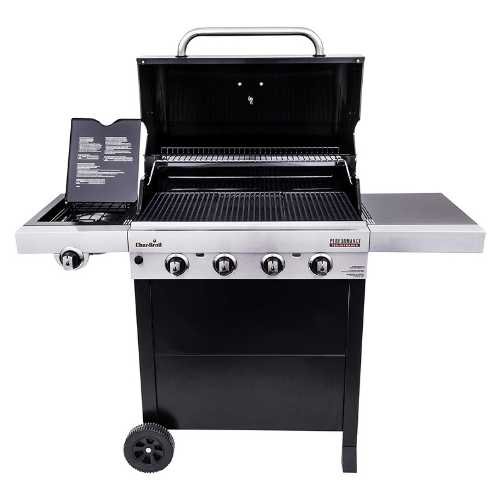 Product Features:
TRU-Infrared Technology
Total 37,000 BTU
Lidded side burner
Swing-away warming rack
Stainless steel top ported burner
Probably you are in quest of TRU-Infrared Technology with several burners. Well, this one is a great match for that. The Char-Broil 463280219 burners are even able to deal with a crowd! Again, these stainless steel top-ported burners are durable enough for long-lasting performance.
It provides 500 square inches of primary cooking area and a swing-away warming rack for grilling. You will be happy to see that the TRU-Infrared burners spread even heat and become a bar between food and flames.
Also, it prevents hot and cold spots on the cooking surface and ensures faster cooking reducing the use of gas. It can accommodate approximately 30 burgers at once. Just with a push of a button, you can enjoy Surefire each and every time.
The core four burners are capable of 27,000 BTU and the lidded side burner of 10,000 BTU. Else, the lid-mounted temperature gauge facilitates better heat monitoring and control. Don't worry, the porcelain-coated grates are rust-resistant and sustainable.
Why We Picked It?
Ideal for deck or patio
Bare flare-ups
Easy to move by wheels
Can even tackle large gathering
The last use of gas
Frequently Asked Questions
What types of gas grills are available?
There are many different types of gas grills available, including the following:
Charcoal Grill
Gas Grill
Propane Grill
What is the difference between a gas grill and a charcoal grill?
The main difference between these two grills is the fuel. Gas grills use natural gas or propane to create heat, while charcoal grills use charcoal fire to create heat.
Charcoal is typically more expensive than gas and requires more maintenance in the form of adding new charcoal when it burns down.
What is the difference between a gas grill and an electric grill?
Gas grills are powered by natural gas or propane and run at higher temperatures than electric grills. Gas grills also have a flame that cooks food from below, while electric grills use an electric heating element that cooks food from above.
What is the difference between a grill and a stove?
A grill is a cooking device that cooks food by applying direct heat from below or above. A stove is a cooking device that cooks food by applying heat from a source other than the food itself.
Gas grills come in two main types: propane and natural gas. Propane is easier to find, but natural gas has more even heat and produces less smoke than propane.
What size gas grill should I get?
The size of your grill depends on the size of your backyard and what you plan to cook. A small gas grill is perfect for smaller backyards, and a large gas grill is perfect for larger backyards. If you're looking to cook large amounts of food at once, such as for a family reunion or tailgate party, then you'll need a large grill that can accommodate all those people.
Which type of grill should I buy?
The type of grill you should buy will depend on what you plan to cook, the size of your family, and how often you plan to use it. Some people prefer charcoal grills because they can be cheaper and easier to use for beginners, but gas grills are more popular because they are easier to start up and maintain.
What are the benefits of using a gas grill?
Gas grills are cheaper to operate than charcoal grills, and they are easier to use because you don't have to worry about starting a fire. The benefits of using a gas grill are that they are easy to use, don't require much work beyond adding fuel, and can be left unattended for hours.
What is the best way to clean a grill?
The best way to clean a grill is to use a wire brush and some soap. The wire brush should be used to scrub off any stuck-on pieces of food, and then some soap should be sprayed onto the grill. Then the wire brush should be used again to scrub off any residue from the soap.
What is the best type of gas grill for beginners?
The best type of grill to get for beginners is a charcoal grill. Charcoal grills are easy to use, and they're often cheaper than other types of grills.
How much does a gas grill cost?
A gas grill can cost anywhere from $200-$1000. The price is determined by the quality of the materials, how many burners it has, and whether or not it has a side burner.
Final Verdict
We strongly believe that any of the above-mentioned gas grills can please you well. And learning in detail is also a matter of pleasure. Now you know the best gas grills under $300 outright.
Yes, this is a limit. But in the case of efficiency, these are higher than their price. Actually, efficiency and pleasure are the most expected things overall.