Last updated on July 27th, 2023 at 03:39 am
Although it's called a small bedroom, that doesn't stop your bedroom from becoming what you dream of; it doesn't matter whether your space is tiny or you're afraid it'll be cramped at the end of the day. You can turn that small space into a nice, lovely bedroom with practical arrangements and design plans.
All you'll need is the right idea of interior decorations, furniture, and storage plan, and before you know it, your box room is already serving you most comfortably ever. Do you want to know how? Then keep reading.
Rethink the Layout
In trying to minimize space and reorganize your bedroom space, one thing that'll help you seriously is to think of another layout other than the traditional one. You can reposition the furniture, maybe move most of the furniture into just an angle or corner of the wall. Take a look at it; make sure it doesn't overwhelm the room.
Positioning the furniture close to the wall will help you know the remaining space has left for others. In addition, you should reduce the number of furniture you'll have in your bedroom, it's a bedroom remember. Rethinking your layout also means you're thinking of dualizing your pieces; for example, the center table can also have a mirror or serve as the dressing table.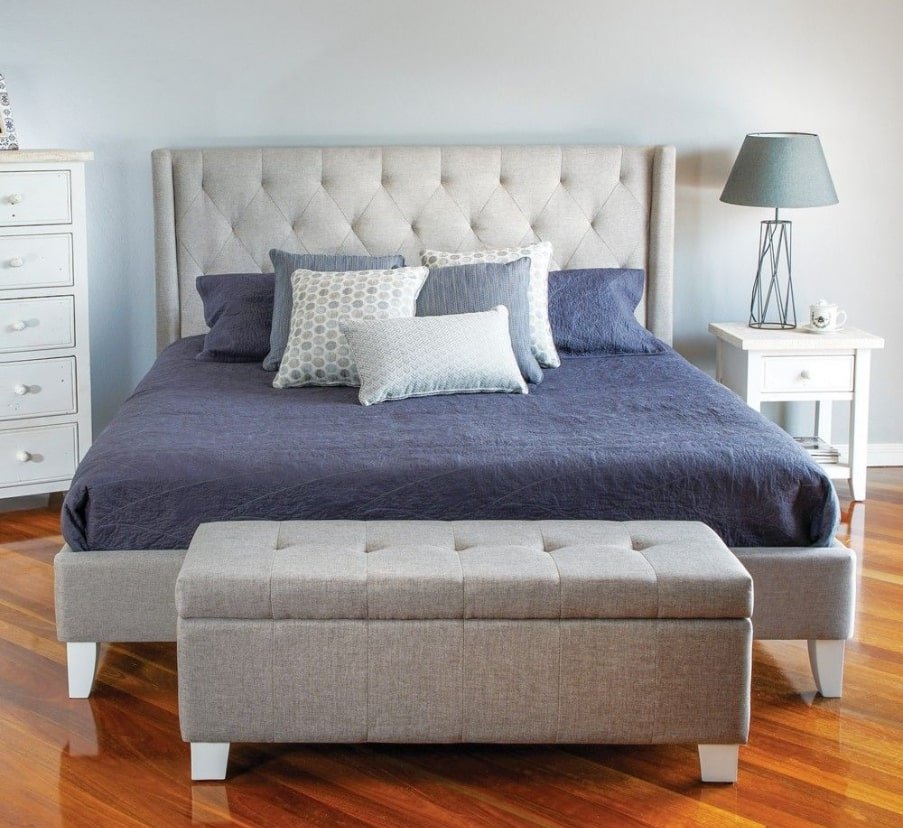 Utilize Your Awkward Spaces
Since you're planning a small bedroom arrangement, you don't want to leave any space unused right?. Using up your space prevents the room from feeling overcrowded. You don't want to have any object littering around or a storage space crampy. In this case, you are balancing all matters. Remember that out of sight gives your bedroom enough space to walk, relax and feel okay instead of overcrowding an already small space.
Create Space Around Your Bed
Generally, what you're trying to do is make sure that there's enough space to breathe in your bedroom, so you're trying to clear up anything that might occupy your space unnecessarily. When your bed has wardrobes on the side, you can create a space using a frame that fits your wall. Any other wall space in your room can be used for artwork or possibly mirrors. You can even use the space for decorations, or you could have another box of space just above your head, where you can also put things.
Reflecting On Surface Choices
There's a thing with mirrors on surfaces that makes the space look bigger than its size; you can also create an illusion of a bigger space in your bedroom. Have you ever entered a bar, and you felt the breeze coming from everywhere in the space as though you're in an amphitheater of some sort?.
You sincerely do not have to use it all to avoid being overwhelmed; too much of everything is bad. But, Mirrored wardrobes, a shiny wall, mirrored tables can be used to make your tiny space feel bigger. You can use one or two, or just think of the best place in your bedroom that can accommodate a little surface designing here and there.
How Do I Arrange My Small Bedroom?
Well, try as much as possible to minimize litter and clutter. Making your bedroom clutter-free can initiate and help you get a goodnight's sleep. Work towards creating small boxes on your walls instead of putting them all on the bedroom floor. Create spaces around your bed and ensure all items are put out of sight. In general, comfortability is everything. Make sure you're comfortable in your bedroom space regardless of the size.
There are a few factors to consider when deciding what decorations to use. If you have a large space, then it is important to make the room feel cozy and inviting. You can do this by using light colors on the walls and furniture, as well as adding textures such as rugs, pillows, and curtains. Another consideration is if you want to make your room feel small or large.
Storage solutions: Store things in small spaces
There are many things you can do to make the most of your space. For example, if you're living in a studio apartment, try to use every inch of space you have. If you have a small closet, then hang up clothes that are similar in color or style together. You can also buy shelving that folds into the wall and stack boxes on top. This will save space and make your room look neat and organized.
Furniture placement: Put furniture where it has the most impact
The living room is the best place to put furniture because it's where visitors usually go in houses. It's also the most important room in the house so it should have the best furniture.
A lot of people like to put their furniture in the center of their living room. This is a mistake because it takes up too much space and makes the room feel crowded. A better option would be to place your furniture against one wall. This way, you can still have a conversation area without feeling cramped.
Spaces for relaxation: Find a private or relaxing space in a small bedroom
There are a number of ways to create a private space in a small bedroom. One is to create an enclosed nook or reading area with bookshelves, curtains, and/or screens. Another is to use furniture that divides the room into sections (e.g., a desk, dresser, bed). A third is to use furniture that blocks off one corner of the room (e.g., a chair or ottoman). You can use curtains or blinds to block out the light from outside. You can also hang up some pictures on the wall, like paintings of nature scenes.
To Sum Up
Small bedroom ideas can be many things from a cozy little retreat to a place for some semi-serious crafting. Make the most of the space you have by playing with proportion and utilizing your walls, windows, and even closets. It can be a great opportunity for creativity. A cozy little retreat, a place for crafting, or a harmonious mix of both – it's up to you!
In conclusion, if you are looking for small bedroom ideas to make the most of your space, look no further! All of these designs are stylish and will help you maximize space. Remember to take into consideration the layout of your house when choosing what furniture to place where. You may not want to put a large piece in an awkward location, which can also affect the flow of the room.