Last updated on June 20th, 2023 at 06:29 am
If you're looking for a twin bed that is affordable, durable, and easy to assemble, then this blog post will help. We review the best cheap twin beds under $100 on the market today.
They are perfect for kids' rooms, guest rooms, or anywhere you need an extra bed. They're also a great choice if you've limited space.
In this article, we'll review the different types of twin beds and share some tips on how to choose the right one for your needs. We'll also provide a buying guide to help you find the best one. So read on to learn more!
Our Top Picks
Overall Best
Metal Twin Size Bed with Headboard
It is made of steel with ultimate strength
6-legs contacting the floor for durability and stability
Enough storage space 
It comes flat-packed in one box for easy home assembly
Strong support for a good night's sleep
Budget Friendly
Yaheetech 13 inch Twin Size
Modern Styled Headboard
Under-bed Storage
Sturdy Slat Structure
Frosted Coating Surface
Solid Support Legs
Protective Foot Pads
Value For Money
Twin Size Platform Bed with Wood Headboard
Rustic Country Style
Strong Metal Slats Support
Bed dimension: 79.1″ x 39.1″ x 37.1"
Mattress size: 39" x 75";
Capacity: Maximum 300lbs
Easy Assembly
HAAGEEP Black Twin Metal Bed
14 inch tall with 12 inches of ample under-bed storage
 Strong steel and sturdy structure, durability, noise-free
No box spring needs
No tools required, quick and easy to assemble
5-year warranty guarantee
Twin Metal Platform Bed with Mattress Foundation
Overall dimensions: 41.5 x 78 x 35" 
Max. weight capacity: 300lb
Metal bed frame for twin size
Strong Slats Supports
Stable Structure
Easy assembly
Cheap Twin Beds Reviews
Looking for a good deal on a twin bed? Check out these reviews of 10 cheap twin beds! While some beds are cheaply made and may not be worth your money, others are quite affordable and may be just what you're looking for.
1. Zinus Metal Frame:
Key Features:
Comes with 10 stats of wood
Assembles in a couple of minutes
Nonslip tape-made wood
Equipped with a bed frame
This is the best cheap twin bed frame when it comes to mattress support. It has 10 layers of wood that support your mattress perfectly and does not let it sag. This makes your mattress last much longer and maintains its form.
Not only do these wooden slats make your bed last longer but it has made with nonslip tape which reduces the mattress's movement completely.
You do not even have to worry about spending hours assembling it because it has been designed to be assembled in just a matter of minutes.
Before assembling your bed you should take the time and read the instructions because they give you proper directions on how you can put the bed together. Give your room a touch of style with this great twin bed frame because it also comes with an elegant headboard.
Advantage
It is very strong and sturdy
It does not make any noise when moving
The frame has made of durable metal
Disadvantage
It can break if you mishandle it
It does not hold more than 300 lbs of weight
2: Zinus van 16 Inch Metal Frame:
Key Features:
Made out of strong steel
Has 12.5 inches of storage capacity under the bed
Does not make sound
Victorian headboard.
If you are looking for an apt cheap twin bed under $100, then this can be a good fit for you. Why?
It has made of metal steel and has a simple square structure. The structure of this great twin bed makes the bed steady and does not let the mattress move out of place.
No worries about moving around a lot in bed because with every move you make you will only get silence in return. This is also a storage twin bed because of the nice 12.5 inches of space you have below the bed.
It is just perfect for a girl's or boy's bedroom or even a guest's room. It is very easy to assemble and has a beautiful headboard similar to a Victorian style.
Advantage
It is durable and strong
It assembles easily
It is very sturdy
Disadvantage
Does not bear more than 330 lbs of weight
If you mishandle it,
it might get crooked.
3: Zinus Abel Twin Bed Frame:
Key Features:
Has 13 inches of storage capacity under the bed
Constructed to fit through tight spaces
Made from strong steel.
If you are looking for a top-quality storage twin bed, we have listed the best and cheapest ones out there. It has a full 13 inches of space to store your belongings.
Do not worry if your room is located in a very tight hallway or stairway because this bed is designed to fit in easily through these tight spaces.
It can even go through doors without any problem and without getting damaged. The structure of this bed has made from durable steel and gets assembled in just a couple of minutes.
The assembly is so easily combined with the bed frame's lightweight design that this bed can be put together even by early teens or elders. Of course, it has been recommended that a second person should be present just for security when the assembly takes place.
Advantage
Easy to assemble by ages 14-90
It does not squeak
Comes in strip pads to keep the mattress from moving
Disadvantage
The steel is sturdy and strong
It is easy to unpackage
It is easy to assemble because it is light
4. SmartBase Twin Bed Frame:
Key Features:
Takes less than 10 minutes to assemble
Comes with 13 inches of storage capacity under the bed
Equipped with leg caps
Made of durable steel.
It requires 10 minutes to assemble in your room without tools. It saves a lot of space due to its 13-inch storage capacity for your valuables.
It is also equipped with leg caps to prevent damaging your floor with harsh scratches. It is light and durable.
It also does not make any noise while moving because the leg caps not only keep your floor from getting damaged but also prevent squeaky noises that we all know are hard to stand.
This way, as a cheap twin bed under $100, it simply rocks!
Advantage
The steel is sturdy and strong
It is easy to unpackage
It is easy to assemble because it is light.
Disadvantage
Does not hold more than 400 lbs
Squeeks if there are 250 lbs pounds or more on the bed.
5. Zinus Yelena Frame: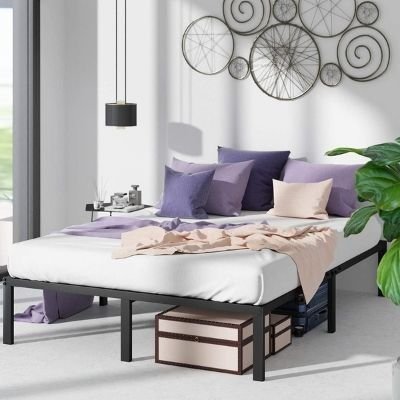 Key Features:
Equipped with slats to support the mattress
Assembles in a couple of minutes
12 inches of storage capacity under the bed
Equipped with foam tape to reduce noise.
It is made of strong and durable steel. The slats support the mattress and do not let it sink in. This causes the mattress to have a longer lifespan and not form those massive holes and saggy parts that make it impossible to sleep peacefully.
The assembly is not a problem because it can be done in just a few minutes. The tools and instructions come with the bed, so you do not have to worry about setting it up independently and without directions.
It has 12 inches of storage space for you to put your valuables and is equipped with foam tape to make the bed noise-free even with the biggest of movements. This set comes with a studio table that you can purchase separately.
Advantage
Handles large weight
Makes no noise under average human activity
It is a great piece for small living spaces
Disadvantage
The bars in the center are short
Rubber bumper might break if mishandled.
6. Zinus Joseph Low Frame For Adults: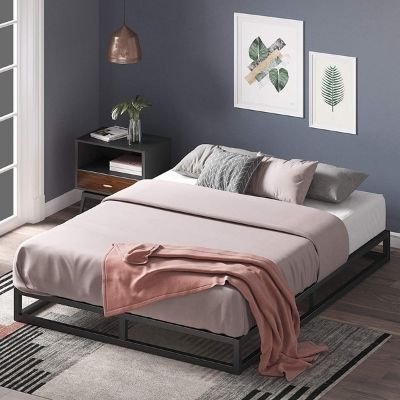 Key Features:
Low profile twin bed frame
Is made for Spring, Hybrid, or a Memory foam mattress
Equipped with slats of wood to support the mattress
Box Spring is included based on preferences.
If you are looking for an elegant low-profile twin bed frame then this is just the best one you can come across. It can hold a Spring, Hybrid, or Memory foam mattress.
The structure of the bed is made out of strong steel and is also designed with slats made out of wood to keep your mattress balanced and comfortable. Not merely these, it is one of the best cheap twin beds under $100 for other reasons.
The slats are made with non-slip tape to prevent the mattress from moving. These slats also prevent the mattress from getting damaged or aging. If you want to personalize the height of your mattress you can easily use a box Spring.
It takes roughly 20 minutes to put together. Instructions are included to make the assembly easier.
Advantage
Easy to make storage space under the frame
It is very sturdy and durable
Easily assembles in just 20 minutes
Disadvantage
Does not support a large amount of weight
The mattress might bulge between the slats of wood.
7. Box Spring Frame:
Key Features:
Traditional look box Spring twin bed frame
Equipped with 2 pieces of fabric, top to bottom
Foldable structure
Made of highly durable steel.
This lovely and simple box spring twin frame is highly durable steel. It is extremely strong and can easily support any mattress or foam. The slats are made horizontally to provide more support for the mattress.
It is equipped with a steel structure and two pieces of fabric to cover the whole bed, one of the fabrics is placed on the top of the bed and the other on the bottom.
These pieces come together with a zipper and make the bed look neater and put together. This cover can be easily removed for cleaning purposes.
The assembly is easy because the bed is only designed to be folded and unfolded. This box spring frame is unique because it is also equipped with slats, so you have two supportive structures for your mattress. So find your best one from 10 cheap twin beds under $100 today!
Advantage
Shows up in a simple compact box
It is well put together
Easy to fold up and unfold.
Disadvantage
Putting on the box Spring cover can be difficult
The instructions do not give any details on how to put the covers on the frame.
8. Zinus Trisha Low Frame:
Key Features:
Low profile twin bed frame
It is designed for hybrid, memory foam, and spring mattresses
Made of dark matte steel
Slats made of wood support the mattress.
This low-profile twin bed frame is designed for hybrid, memory foam, and spring mattresses. If you want to personalize the height of this frame, you can easily use a box spring.
The structure is designed with matte dark steel that easily blends in with your room. It is also equipped with slats made of wood to support the mattress and prevent it from sagging.
These slats are designed to make your mattress stay in place and not move. This bed is tested for sturdiness and durability and can overcome years of usage without getting damaged.
If you have a simply furnished room or a darker-themed room, It will give your room a kick of style.
Advantage
It is very sturdy
Easy to assemble with tools for half an hour.
Disadvantage
After several months of use, the bed can make some squeaky sounds but they can be repaired with oily substances
Does not support more than 200 lbs of weight.
9. Zinus Wen Frame For Adults:
Key Features:
5-inch frame
Made with a wooden frame
Equipped with foam tape to reduce noise
Slats made of wood support the mattress.
This box spring bed is well put together and looks great, especially if you have a wood-themed room. The frame is 3.5 inches and is somewhere 12 inches in height. It is used with a footboard or a headboard.
Like an ideal cheap twin bed, there is also no need to worry about irritating squeaky noises because it is designed with foam tape that is added to the steel structure of the bed.
The slats made of wood also prevent your mattress from moving and make them age less quickly. It looks imposing because the wood looks expensive and of good quality. And definitely, a good purchase when compared to its price.
Advantage
It feels solid
It is very easy to assemble without the use of any tools
The wood looks high-quality in comparison to the bed's piece.
Disadvantage
The wood feels like some other lighter material when you touch it
If you look under the bed you can spot glue lines. Although this does not affect the well-being of the bed.
10. Zinus Cherie Leather Frame:
Key Features:
Designed with faux leather
Equipped with middle legs
Made of strong metal
The slats are designed to support the mattress.
It gives you room style. It is designed with a solid dark steel frame and an exceptionally soft head frame made of leather.
The head frame is buttoned, giving a luxurious tint to the bed.
The legs of the frame are also equipped in the middle to prevent the bed from moving. It has slats to not let the mattress sink or get damaged.
It is simple, making your room look neat and giving it the illusion of a bigger space. If you do not have time to decorate your room, this is the perfect bed for you because it is decorated.
There is no need to worry about the assembly because it has clear instructions about putting it well together. So get your best one from 10 cheap twin beds under $100 today!
Advantage
The assembly is easy and takes about 15 minutes
The plates that support the bad make it feel sturdy
Comes with the tools you need to assemble.
Disadvantage
It is made of chemicals that might irritate you
It can be dented if not handled well.
How to Choose the Cheap Twin Beds?
Well, the process of buying a frame is very hard because you have to choose the right material and quality but it can also be a bit overpriced at times.
Material:
When buying anything from the store we first check the material it is made of. that is the same for buying a twin bed frame. Usually, a normal and traditional frame comes in a square-like structure and is made of wood or steel.
The metal frame beds get dented through time and if not of good quality they can even get scratched. But when it comes to an affordable price the metal frame definitely wins.
Safety of the mattress:
Another important thing you should be aware of when picking a mini crib mattress for your baby is the level of harsh chemicals and the level of flammability of the mattress. In modern days mattresses are created to be toxic-free and anti-flammable, but not all of them are like this. So when choosing a mattress for your baby be sure that these mattresses are tested and approved.
Your baby's health in the long term is determined by the quality of the mattress, so I recommend you buy an expensive mattress because as the saying goes; better safe than sorry. Apart from that, you want the mattress foam to last long right?
Well, it is best to get the cover water-resistant, anti-mold, and anti-bacterial, this means that if water or if the baby accidentally urinates in the mattress the liquid will not access the foam part of the mattress because if that happens the mattress will smell awful.
Wood slats or box springs:
Your mattress needs support when putting on the bed frame and slats or box spring is just the thing that keeps your mattress looking brand new. A box spring is more elastic and made out of metal, while wood slats are horizontally placed bars of wood under the bed frame.
Both do the job just fine but in my experience, the box spring seemed to get ruined with time and the broken springs tended to ruin the mattress also.
This is probably because the box spring I had was not the best quality. I would recommend wood slats for your bed frame because it is easy to put on, easy to replace if broken, and do not make noise after a long period of time using them. The box spring, on the other hand, might squeak after some time of use.
Height and storage space:
There are two types of bed frames when it comes to height. There are low-profile bed frames that are designed with short legs and are closer to the floor. Most of these have a box spring you can include if you want to increase the height of the bed. And the high bed frames that are usually perfect to store stuff below.
Whether you want a high or low-profile bed frame you can choose it according to the furniture you used to furnish the room. If the room is furnished with a lot of things and it is complicated then the right bed for you is a high-profile bed frame. If your room looks more unique and is lightly furnished with more of a dark theme,
Depending on the way the bed is designed both can handle some type of storage space underneath, but if you got a lot of things going on in your room and don't know where to put your valuables then stick to a high-profile storage bed frame.
Size:
When buying a bed you always have to make sure that the bed is not too big or too small. When I got a house for rent I was not educated on this topic, so I ordered the bed without studying its size and comparing it to my room and when it arrived it was too big.
Make sure that the bed you are buying clears up the fact that it is noise-free and does not squeak. Try to buy a bed frame that has a socket-like structure or has its slats equipped with tape-like material to prevent the movement of the mattress.
Reading the Reviews:
When it comes to the final step of deciding to buy a bed frame you have to keep in mind that the reviews are important also. Check the reviews to be more sure of the quality of the product and mostly, how easy it assembles. Consider both good and bad reviews and make sure that the bed you are about to choose is the right one for you.
Frequently Asked Questions
What are the dimensions of a twin bed?
The dimensions of a twin bed are 39.5 inches by 75 inches.
What is the weight capacity of the twin bed?
The weight capacity of the twin bed is typically around 300 pounds.
How much space do you need between twin beds?
To know if the space between your twin bed is comfortable and does not make you feel claustrophobic then make sure it is as big as three people standing in a vertical position very close to each other and in a straight horizontal line.
If they fit perfectly between the twin bed then the space between them is comfortable. Any space smaller than that will be very irritating.
How much does a twin bed cost?
There are a variety of prices for twin beds depending on the material, brand, and size. It can range from $200 to $500.
Bottom Line
A twin bed might be the solution you need because they are relatively inexpensive. They also offer enough space for two adults to sleep comfortably, saving you money on a bigger bed that is not needed.
They come in many styles and colors. This article discussed some of the cheap twin beds under $100 and their features that won't break your bank account.
If you are looking for a mattress for your twin beds, you can read this blog about the best twin bed mattress. It is a viable option for those looking for an affordable and clever way to save space in their home. They are lightweight, easy to move around the house, and easier to store when not in use.