Last updated on June 24th, 2023 at 01:38 am
Portable washing machines are a great addition to any household. They are super easy to move from room to room, and they can be used in a lot of different ways. Here are the 10 best portable washing machines that are worthy of buying.
Portable washers and dryer units make life much easier when it comes to laundry. However, finding the right one for you can be a daunting task. After reading this post, you should be able to make an informed decision as to which machine is right for you.
Our Top Picks
Overall Best
Portable Laundry Washing Machine
Small portable washing machine
Convenient design & large capacity
5 cycle programs & 3 water settings
Energy-efficient operation
Automatic unbalance detection
Budget Friendly
Giantex Portable Mini Twin Tub Washing Machine
Easy to Operate
17.6LBS Large Capacity
Semi-Automatic Relieve You from Hand Washing
300W Wash Power &110W Spin Power
Compact Twin Tub Washing Design 
Value For Money
BLACK+DECKER BPWM16W Portable Washer
Small portable washing machine
Included drain hose & sink adapter
Convenient design & large capacity
Auto cycle programs & water settings
LED digital display panel & a clear top window
COMFEE' Portable Washing Machine
The full-automatic washing machine equipped
Heavy, Soft, Normal, Rapid, and Soak 5 programs and 3 water levels
Space Saving Full-Automatic Washer
 0.9 cu.ft Compact Washer With LED Display
Item Weight: 44.1 pounds
SUPER DEAL Compact Mini Twin Tub Washing Machine
Twin Tub Design
1300RPM powerful motor with a max frequency of 60Hz
Time/Space-Saving
Simplest yet most effective
Considerable design & Energy saving
Portable Washing Machine Reviews
If you are short on space but want to save time with your laundry, the best portable washing machine might be for you. These machines are great for dorms or apartments where space is limited and their compact nature makes them easy to move and store.
For the most part, these machines will use less water and electricity than a traditional washing machine, and typically their drying cycles also take up less energy.
01. Best Overall: ZENY Portable Twin Tub Washing Machine
Key Features:
The twin tube, one for washing, the other for drying
A top-loading concise machine
Capable of 8lbs per wash, 5lbs per spin
Translucent monitoring glass
In the long run, we have researched and would love to suggest this mini portable washing machine. Because it is simply the best! The washer is able to wash and spin at the same time. It has separate timer control. You will enjoy an easy operation as the wash cycle runs up to 15 minutes and the spin cycle for up to 5 minutes only.
It is simply a movable lightweight device like your beloved pet! It comprises two built-in units. One does washing while the other looks after spinning out excess water. No matter whether we live in dorms, apartments, or in travel for sake of our corporate lives, this portable washing machine would be efficient enough.
Although some complain that its hose attachment doesn't work effectively, its sturdy plastic body is knacky for condos, camping trips, or any other place where space management is a concern. So, get the best portable washing machines today!
Why We Picked It?
ZENY makes you feel free to set timers and options
Optimal portability
Perfect for RV's Apartments, dorms, closet
02. Best User Friendly: Mini Portable Washing Machine
Key Features:
Out-of-rust risk
The smallest and lightest version of twin tube
Simultaneous wash and spin
Washer control timer
Uncommon, durable rinse technology
Engineered to perform any sort of laundry additives
If you are in quest of a handy reliable machine, then Super Deal Portable Washing Machine would be an apt choice for you. This twin-tube compact machine contains an upgraded 1300 RPM motor that ensures less twisting of your clothes.
You don't even need a hook-up and can say goodbye to the laundromat where managing space is a problem, this washer of 8-9 pounds capability is a solution. Despite having a heavy bottom its lightweight seems to be friendly.
It also ensures five kinds of washing timers, three kinds of washing moods, and five kinds of spinner timers. This portable washing machine with a dryer provides you with a plate in the spin tube to protect your clothes' health.
Why We Picked It?
Super Deal is reliable in the appliance world
Ruffle-free to use in apartments or in travel
Safe spin with zero sound pollution
Most friendly washer for delicate clothing
Space-saving plus money saving
03. Best Budget Friendly: Cheap Portable Washing Machine
Key Features:
Capable of 10-pound washing and 5.5 spinning
Translucent cover design with easy operation
Power cord with UL certification
Easily portable for the lightweight and tiny size
Environment-friendly paints of 4 kinds
All the days don't go solvent and end of the day it is your financial ability that matters. So if you are looking for a cheap, budget-friendly portable washing machine, the KUPPET compact washer would be suitable for you. Having a separate timer control its washer timer runs for 15 minutes and the spin timer runs for 5 minutes at each load.
This washing machine is most liked by couples or individuals. It has a powerful motor and lucid cover to see the inside functions. It provides you with four types of washing duration in accordance with actual cloth conditions. This lightweight washer also guarantees less twisting and easy handling. So, choose the best portable washing machines today!
Why We Picked It?
Affordable for thrifty people
Perfect for apartments, dorms, condos, motor homes, RVs, and camping
KUPPET smartly deals with delicate garments
No pressure on hearing
04. Best Kuppet Portable Washing Machine
Key Features:
Facilitates separate and simultaneous operation
Large capacity
Very powerful 3600 RPM quality motor
360 degree rotation produces tumbling water so quickly
Stainless steel snap ring
Simply designed functionality
Easy to operate time setting
For a space-compromised environment, this Kuppet Compact Washing Machine would be a perfect solution. It is indeed a standard-size portable washing machine capable of 26 lbs in total i.e. the washer 18 pounds and the spin cycle 8 Pounds. This large size saves your time and washes efficiently.
Suppose you want your whole family's clothes washed at a time, then there is nothing to hesitate. You can certainly choose it! Its built-in drain pump drains water well. The 360-degree rotation of the motor not only cleans but reduces cloth wrapping also. Having an easy wash or spin selection it will work for you automatically.
Why We Picked It?
Ensures little more between washing and spinning
Suitable for dorms condos apartments, RV's, camping, and more
Quite satisfying for a family need
Easily portable during tours
Simple load and excellent performance
Transparent veil to watch the activity
05. Best Giantex Portable Washing Machine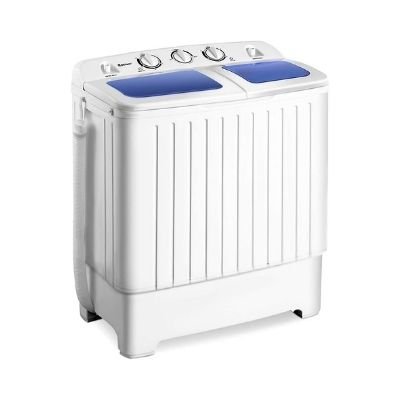 Key Features:
Top load twin tub
Drain and Intel hose sets you free from water
Lightweight
17.6 lbs. capacity
The washer runs up to 15 minutes while the spin section 5 minutes
This time depending on numerous customer reviews, we are here to vote for the Giantex Portable Mini Washing Machine manufactured with 17.6 lbs. The capacity of which washtub deals 11 lbs. while the spinner dryer is 6.6 lbs. You don't even need to touch the water.
Likewise, you would be glad to know that Giantex uses only 400 watts in total. It features a drainage tube which is also energy-saving. It allows you to set your preferred timer or you can choose to use the 15-minute timer.
Ensuring separate timer control is so easy to operate. However, two things, the washer doesn't stop filling water by itself. It needs you to monitor and the hoses are of low quality.
Why We Picked It?
Handy for home usage
Easily movable
Ideal for apartments, dorms, condos, motor homes, RVs, campaigns, and more
Relatively quiet
Incredibly spacious
06. Best High End: Panda Portable Washing Machine
Key Features:
A durable stainless steel tab
Transparent lid
Control panel
LED display
Inlet hose & quick adaptor
The Panda Automatic Portable Washing Machine PAN56MGP3 has been regarded as one of the best high-end machines. It arrived in July 2018. It comprises an inlet hose and drains hose of 39 inches and 55 inches respectively.
It provides you with 10 different washing programs and 5 water level settings. This lightweight model has one water inlet to connect to the faucet using the inlet hose and a quick adaptor. Having a stainless tub with a 1.6 cubic feet capacity it is able to handle 11 lbs. at each load.
Nonetheless, it uses only 320 watts which is moderate as well as energy saving. But it has no dryer and the drainage system may be dysfunctional at any time. So, find the best portable washing machines today!
Why We Picked It?
Can easily fit on your veranda, kitchen, or before the bathroom
Travel friendly
11 LBS capacity at each wash
1-year warranty
Pre-installed washer
Full automation
07. Best for Apartments: Costway Portable Washing Machine
Key Features:
Translucent veil to monitor
Brand new with proven efficiency
Compact size for easy portability
2- in-1 function used both as washer and dryer
If you desire a suitable version for your apartment, Costway Mini Portable Washing Machine would be a great option. It can easily accommodate itself to a small apartment, closet, dorm, or RV'. Even for a long tour or campaign, it would be indeed an excellent choice.
Though mere 14*13.5*20 inches, it is capable of 7 pounds of washing per load. But the problem is, the drain basket needs to be taken out before washing. To some people it is painful. However, you can easily drain the filthy water through the drain tube. It weighs only 12 lbs. This viable electric laundry machine has a rotary controller above.
Why We Picked It?
Eco-friendly as less water and detergent used
Control timer to meet your different needs
Lightweight for easy moving
Low power consuming washer
User-friendly washes more than you expect
Delivery within 3-6 business days
Can hold quite a lot though much quieter
Straightforward directions
08. Best Compact Portable Washing Machine
Key Features:
6 programs and 3 water level selections on the control panel
Alarm alert in case of the wrong operation
Advanced high-frequency vibration
360-degree forward reverse cleansing
Bottom feet are controllable according to needs
Laconic design with a large capacity
Giantex Full Automatic Washing Machine is found to be a sweetly concise washer in our research. Simplicity is a matter of beauty and as a user, you will find it for sure. Because it is really so simple to use by some naive directions. It is an impressive updated machine with 10 pounds capacity.
You just put your clothes in it, set the instructions, fair enough. Then let it function on its own. You are free! Especially its Imbalanced Adjustment' function is designed to adjust the balance of laundries inside. Even when the need is fulfilled within 10 minutes, the power supply is cut off automatically.
Why We Picked It?
Simplified comfortable activity
Perfect choice per department camping
Built-in barrel light drain pump
Portable to anywhere
Energy plus time-saving
Provides best cleaning and gurgling
09. Best Space-Saving: Small Portable Washing Machine
Key Features:
5.5 pounds washing, 4.4 pounds spinning
Lightweight design
Accommodate anywhere
Sustainable plastic body
Comparatively much more free and optional to operate
In a metro life in homes generally managing space for various devices is more or less challenging. We have gone through the market thoroughly and in this regard would like to suggest ZENY Portable Compact Washing Machine for you. This is a lightweight modest laundry washer capable of 9.9 lbs.
Especially suitable for an apartment or RV. It is as portable and easy to operate void of any vibrating disturbance. This 22.6*22*14.7" machine can suit anywhere in a limited space. That's the reason it is considered one of the best portable washing machines around the world.
You can wash and spin at the same time, the washer control timer rounds for up to 15 minutes while the spin cycle timer is up to 5 minutes where its gravity drain requires it to be lifted off the surface near the outlet to drain out dirty water. Although some criticize its short drain hose that often fails to fit the kitchen faucet.
Why We Picked It?
An apt choice for apartments, dorms, condos, motorhomes, RVs, and camping
Consumes only 360 words that save your utility bill
Space saving
Portable to anywhere
Small but mighty
10. Best Large Portable Washing Machine
Key Features:
Large load-capable honeycomb
Lightweight
Easily movable compact design
Ten programs and eight water level selections
LED display
Transparent lid to monitor
You might be looking for a large but portable washing machine. See we have a nice option for you. It is Giantex Full Automatic Washing Machine. This is an exclusive washer that conjoins a see-through veil, electronic control with an LED display, a stainless inner tub, and two water pipes.
This washer gives you a multifunctional water panel along with 9.92 LBS washing capacity. You will certainly enjoy its candid operating system. Moreover, it takes merely a tiny space to store. It's automatic Imbalance Adjustment and Adjustable Foot make it more exclusive and worthwhile. Its built-in drain pump facilitates you to quickly drain out the filthy water.
Why We Picked It?
Full automatic, you just need to select a wash program
Both water and power saving
Automatic Imbalance Adjustment in case of violent vibration
Modern solution to metro life
Suitable for individuals or couples
Brand new and high quality
Easy and safe operation
Our Research
Why You Should Trust Us?
We attempt to give the most thorough and reliable washing machine evaluations possible. Our team of professionals is committed to researching and evaluating a variety of models to ensure that you have all the information you need to make an informed purchase decision. We evaluate each product based on its design, features, functionalities, performance, price, and customer service.
Our team is comprised of highly experienced specialists that recognize the significance of a customer's decision when acquiring a new appliance. In addition to being experts in their respective professions, all of our reviewers have vast expertise with various washing machine models. This assures that all reviews are published objectively, without any financial interest in or advantage from any certain brand or model.
Who Is This For?
This washing machine is ideal for anyone searching for dependable and energy- and time-saving equipment for doing laundry. Unique and useful features include its intuitive digital display with pre-set programs and user-friendly controls.
In addition, this machine's huge capacity allows you to wash more garments in fewer loads. This makes it a fantastic option for busy households or those who often launder huge loads of clothes.
Additionally, it is created with energy efficiency in mind, and its Energy Star rating will help reduce your monthly electricity bill. Furthermore, it has been constructed using long-lasting materials and components, so you do not need to worry about maintenance or malfunctions over time.
How We Picked?
We scoured the Internet for reviews written by individuals who had purchased each machine. To guarantee you receive the best value for your money, we compared the characteristics provided on manufacturers' websites. We also considered energy efficiency ratings in order to assist you save money on initial and recurring energy costs.
Our experienced staff listened to customer feedback and utilized their washing machine expertise to compile a selection of the top machines that are assured to satisfy your demands.
How We Tested?
Our team evaluated each machine's power and efficiency, water temperature accuracy, cycle duration, fabric protection features, and spin-dry speeds. Each of these tests was completed with both large and small loads of towels, sheets, jeans, and blankets, among other clothing and bedding items.
In addition, we examined the amount of noise produced by each model during its cycles, as well as its general design elements, such as the size of the inside drum, its load capacity, and its depth.
What To Look For When Buying A Washing Machine?
Type of machine: There are three types of washing machines – top-loading, front-loading, and portable. Determine which type is most suitable for your needs and space.
Capacity: Measure the space you have in your home and then determine the size of the machine that will fit. The larger the capacity, the more clothes you can wash in one cycle.
Loader options: Consider the different types of loaders, such as top load, front load, and portable. Determine which option is best for your needs and space.
Energy Efficiency: Look for a washing machine with a high energy efficiency rating to save on your energy bills.
Speed: Choose a machine with a high spin speed to get clothes dry faster, reduce energy usage, and save on drying costs.
Features: Some machines come with additional features such as a delayed start, steam cleaning, and automatic dispensers. Determine which features you need or want.
Noise: Some washing machines can be quite loud during operation. Look for a machine with a low noise rating if you want a quiet operation.
Brand and Price: Consider the brand and the price when making a purchase. It is important to find a machine that offers good value for the money.
Warranty: Read the warranty carefully and look for a machine with a warranty that covers both parts and labor.
Repair and Maintenance: Consider the cost of repair and maintenance when making a purchase. Choose a machine with a good track record for reliability.
Frequently Asked Questions
What is a portable washing machine?
A portable washing machine is a small, lightweight machine that can be used for laundry on the go. Portable washing machines are a relatively new invention. They are small, lightweight, and easy to transport. A portable washing machine can be used for laundry on the go or in a small space.
How much does a portable washing machine weigh?
Does a portable washing machine have a water tank?
Yes, a portable washing machine has a water tank. The tank is usually located at the bottom of the machine.
What is the capacity of a portable washing machine?
The capacity of a portable washing machine can vary depending on the size and model. The smallest portable washing machines are around 3 cubic feet, which is about the size of a small refrigerator. Most standard-sized models are around 5 cubic feet, which is comparable to a dishwasher.
How long will it take to charge a portable washing machine?
It will take about 10 hours to charge a portable washing machine.
Bottom Line
You see modern life is full of complications. Hence this advanced engineering is invented to ease your life. These portable washing machines are described to meet various needs, making life comfortable, and giving the satisfaction of wearing clean garments.
In this article, we reviewed some best portable washing machines. Each one comes with its own set of pros and cons, but overall they're excellent machines that will make your life a lot easier. So if you're in the market for a portable washer, be sure to check out these reviews before making a purchase.