Last updated on June 22nd, 2023 at 01:18 am
A product becomes reliable for its credibility. Unless it wins en masse faith, natch, as a consumer you won't rely on. This is equally true for top load washing machines on which today I am going to pen down.
If you are in need to know which are the most reliable top load washing machines and why then let me confirm you are in the niche! There are a lot of overpriced washing machines in the global market. So mere a guided purchase can fulfill your expectation and I hope this write-up will be sufficient for you.
Our Top Picks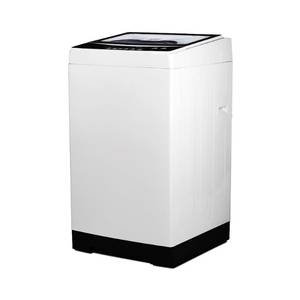 Overall Best
BLACK+DECKER BPWM16W Portable Washer
Elegant Design
Unit Dimensions (WxDxH): 20.3" x 20.7" x 36.6"
Height with Lid Open: 47.9″
Classic Washer… Just Smaller
A 6-cycle selection for your specific laundry wash load needs
 LED digital display panel.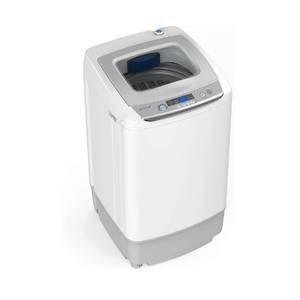 Budget Friendly
hOmeLabs Portable Top Load Washing Machine 
Portable Full Automatic Washer
Large Wash Capacity
Flexible 5 Cycles and 3 Water Level Settings
Blue LED digital display to help you to use the machine with ease
Quiet and Energy Efficient
Top Load Compact Clothes Cleaner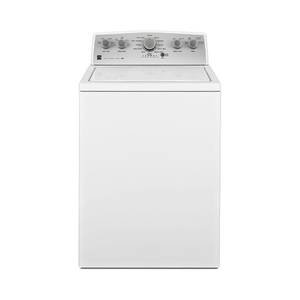 Value For Money
Kenmore Top-Load Washer with Triple Action Agitator
Top-load washer: large 4.2 cubic foot capacity washing machine
Advanced cleaning: features a triple action agitator
Convenient and easy to use
Customized cleaning modes: features 12 wash cycles for a custom clean
Ideal size: measures 27.5″ w x 28.0″ d x 37.0″ h and 51.2″ h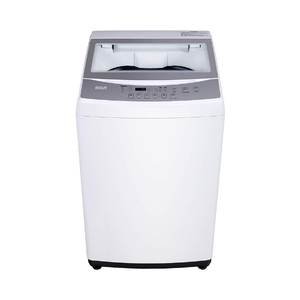 Top Loading Design-Low Noise Washing Machine
Transparent Lid & LED Display
Convenient and easy to use
Save money by avoiding trips to the laundromat
6 Fully automatic wash cycles
6 Water level options
It provides easy access to the stainless steel water basin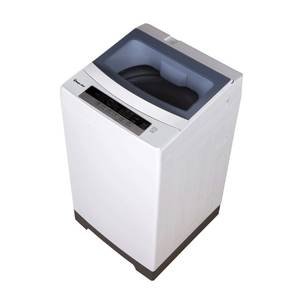 Magic Chef Compact Top-Load Washer
Easily accessible control panel provides convenient access to wash options
6 fully automatic wash cycles provide optimal care for a variety of fabrics
3 water level & 3 temperature settings ensure clothes are washed properly
Delay start function
Auto shutoff after the cycle end signal for added convenience
Most Reliable Top Load Washing Machine Reviews
Washing machines are a modern convenience that makes life easier. Top loading washing machines have been around for a while and understandably still remain one of the most popular choices. We've compiled a list of our favorite top loaders, along with their pros and cons, so you can decide which one best suits your needs.
01. Advanced Companion: Giantex Full Automatic Washing Machine
Key Features:
Time and water level control
LED display
Stainless steel inner tub with two water pipes
Drain pump and drain pipe
Lightweight
Automatic balance adjustment and adjustable foot
10 programs and 8 water level selection
Our study discovered it is one of the most reliable washing machines. Hey, who doesn't love an automatic machine? Automation is a great surprise in human engineering. It is indeed a smart-looking top load washing machine with 9.92 LBS capacity.
You just need to set some directions in a relaxed mood, and Giantex will be working for you. Its transparent lid lets you observe the inner activity. More importantly, it comprises an Imbalance Adjustment function to balance the laundry inside in case of the wrong measurement while spinning.
Although its loud crashing sound or vibration may disturb you, trust me, overall it's an ideal washing staff for dorms, apartments, RVs, or camping.
Why We Picked It?
Meet your different needs
Power and water-saving washer
Perfect for dorms, apartments, RVs or camping
Lightweight easily movable
Can run in some naive directions
02. Most Urban-Friendly: Costway Twin Tub Washing Machine
Key Features:
large capacity of 20lbs
takes 15 minutes for washing and 5 minutes for spinning
top load twin tub design
drainage tube to drain out filthy water
rotary controller
If you are looking for a top-load washing machine that is at the same time succinct and portable, you can choose this. Generally in urban life, we remain too much busy. We can't even do our lovable chores like gardening. In such a case to ease your life Costway Twin Tub Washing Machine is a nice solution.
It is capable of 12 pounds per wash and 8 pounds per spin. No matter whether you are in your dorms or in traveling, this mini washer will suit the environment. Having separate timer control settings for wash and spin it features a drainage tube to instantly drain out the dirty water.
It takes only 260 watts to wash and 140 watts for a spin. Just one thing, you have to stand by the washer to maintain the water limit.
Why We Picked It?
Both simultaneous and separate facilities for wash and spin
Twin tub to meet different needs
Reliable shipping and customer service
Easy to operate
Ideal for dorms apartments condos motor homes RVs camping and more
03. Best User-Friendly: Panda PAN56MGP3 Automatic Portable Washing Machine
Key Features:
Stainless steel tab
electronic control with LED display
inlet hose, quick adaptor, and drain hose control panel
transparent lid
good-looking lightweight washer
Consumers do love the newer versions with large capacities. If you too in search of such a top-load new model washing machine then this is for you. This compact full automatic 1.34 cu. ft. portable washer is dexterous for washing, rinsing, and spinning. It can carry up to 10 pounds of load consuming 310 watts reducing your power bill.
This lightweight bold beautiful design will impress you. The washer is engineered with 10 different washing programs and 5 water level settings. Also, you will be provided with one quick-connect adaptor kit, one inlet hose, and one drain hose. Its water inlet can easily suit a standard-size faucet.
You only need to adjust the water temperature by the faucet. You will be amazed by its translucent veil, control panel, and overall performance. Please don't take it as promotional jargon, my friend! This is just for the sake of reliability. Moreover, it sounds so soothing and doesn't splash or leak. It would be so friendly to your clothes for sure.
Why We Picked It?
Portable to anywhere
Suit to apartments dorms RVs condos
Full automation sets you almost free
Durable plastic body
Energy saving
Water tasted for safe purchase
04. Most Eco-Friendly: COSTWAY Mini Washing Machine with Spin Dryer
Key Features:
Control timer to meet different needs
Two in one function
A transparent cover
Drainage tube
Spin basket
10 minutes to wash 5 minutes to spin
A number of washing machines are there in the market. But do you think all of them are reliable? Pretty sure you don't. So this time we're going to suggest COSTWAY Mini Washing Machine. This brand-new highly qualified washer consists of a spin dryer and rotary controller.
It requires only a little amount of water and detergent which labeled it an eco-friendly device. Its 2-in-1 function allows you to use I both as a washer and dryer. Especially the transparent lid all around the body would let you clearly see the inside activity. This little blue star with 5.5 LBS washing capacity is simply amazing!
It is so simple to operate and highly efficient. After loading the garments you just need to set the timer and may think that your job is almost done. You have merely to specify the amount of water and take out the drain basket before washing by yourself. This lightweight tiny washing machine is comfortably portable. It occupies only a little space in your dorms, motor homes, or apartment.
Why We Picked It?
Eco-friendly as requires less detergent and water
Space-saving
Compact design with comfortable
Portability highly praised by many users
05. Best Energy-Saving: ZENSTYLE Compact Washing Machine
Key Features:
Large capacity 17.6 pounds in total
A mighty and quiet 1300 RPM motor
Separate timer control
2 in 1 multipurpose design
Twin tub compact washer
Gravity pump power cord and inlet hose
This is one of the most dependable top load washing machines in 2020. Seems that its credibility will be expanding more and more. It is tremendously capable of 17.6 lbs for both wash and spin. Consuming only 360-watt power its wash and spin section can run at the same time.
It has a built-in gravity pump, 5.74 ft power cord, and 6.57 ft inlet pipe. Its durable plastic body and tiny size made it more reliable to people. In spite of containing 1300 RPM powerful motor with a maximum frequency of 60Hz, it sounds very gentle and accomplishes the job cap-a'-pie! ZENSTYLE also contains separate timer control while the washer takes 15 minutes and the spinner 5 minutes maximum.
Although some consumers are not satisfied with the spin portion and some seriously argue that its gravity pump is not worthy enough!
Why We Picked It?
Time and energy saving
Standard option for dorms college
Rooms apartments RV and more
Lightweight
Space-saving
Easy to operate
06. Highly Efficient: KUPPET Compact Twin Tub Washing Machine
Key Features:
Capable of 26lbs was and Spain spin
56.3 drainage tube
Produces dumpling water by 360-degree rotation
Stainless steel snap ring adjustable to different sizes of faucets
Monitoring veil
Now, look at this one, since you are looking for a top load trusted washer. This 26 pounds capacity semi-automatic washing machine might certainly be a big solution for your family. This larger updated version will relax your busy life.
Its 360-degree rotation not only cleanses but knocks off clothes wrapping also. The built-in brain pump will launder 99.5% of wastewater. However, the semi-automatic requires you to do this and that between wash and spin.
Having a very powerful 3600 RPM motor its washer can digest up to 18 pounds and the spin cycle up to 8 pounds at each load. Its stainless steel snap ring is adjustable to different sizes of faucets. Besides, separate timer control and observing the lid made it more reliable.
Why We Picked It?
Saves your time tremendously
Easy-to-use
Quality motor and great frequency
Separate timer control
Ideal solution for a combined life or family
07. Best High-End: Panda PAN50SWF2 Full Automatic Washing Machine
Key Features:
Top load 1.6 cubic feet facility
Two inlet hoses for cold and hot water
Touchpad control panel
LED display
Standard size faucet adaptor along with the power cord
Folding lid
Anti-rust stainless steel tub
High-end full automatic
This time we are going to advocate for the Panda PAN50SWF2 Full Automatic Washing Machine as one of the most reliable top load washing machines. Weighing 79.2 pounds it has a capacity of 11 pounds in each load. Its two built-in rollers at the backs assure you fine mobility.
You cannot but love its full automation that includes an electric touchpad control, LED display, and 6 washing programs with an extra rinse function! It also comprises a folding lid, drain hose, steel tub, and two water inlets- one for cold water, the other for hot water. This space-saving washer deserves to be a solution for apartments, dorms, or RVs.
You can simply use one of the hoses, the copper adaptor, or the quick adaptor to connect to a faucet. The smart-looking white Panda features a durable plastic body. You can plug its regular 3 prongs of 110 voltage anywhere you want. Just after the command, you can freely get engaged in your other necessary stuff.
Why We Picked It?
Time-saving
Looks after your cloth health
Fine mobility with rollers
Ideal for apartment dorms or RV
User-friendly
08. Best Space-Saving: Panda Automatic Portable Washing Machine PAN6360W
Key Features:
Top load upper drainage washing machine
Automatic washing, rinsing, and cleaning
8 washing programs and 4 water level settings
Control panel with LED display
Transparent folding lid
Inlet hose and quick adaptor
The Panda PAN6360W is another powerful pick for you featuring an excellent space-saving design. This portable top load washing machine is a popular choice for people. It can easily accommodate your dorms, condos, apartment, or RV. Providing an 11-12 pounds capacity ensures a stable body that is very lightweight and comfortable.
It offers you 8 different washing programs along with 4 water level settings. Trust me, it is as quiet as you want while running! Like other washers, it has a control panel, folding lid, etc but based on people's opinions, we can say it is an extraordinarily efficient washer available in the market.
Using the inlet hose and quick adaptor this washing machine can easily connect to a standard faucet. Moreover filling and stop filling water are also their own job. But keep in mind that manually adding water is not allowed for the washer for sake of proper functioning.
Why We Picked It?
Space-saving
An apt choice for urban life
Water tested by the manufacturer
Easy to operate
Highly praised for efficiency
Portable compact design
09. The Unique Addition: Mr. You Waterproof Portable Washing Machine
Key features:
Exclusive multipurpose cover
Thickened oxford polyester material
Covering three sides
Velcro design
Unique lace rolling and zipper
No dude, I am not addressing you! Rather the producer brings it for you. And we also discovered this as a reliable one. This top load waterproof full automatic washer can carry up to 6-7.5 kg. It is suitable for your toilet, kitchen, balcony, or bathroom.
It features an exclusive waterproof cover that is at the same time sun protective, anti-aging power, and very cool for the machine. Although heavy rainfall may penetrate at any time. It is designed to veil 3 sides of the washer. You don't even need to remove it while filling it with water.
This velcro design lets you open and closes the machine comfortably. It comprises a unique lace rolling design and zipper design for the drain outlet. It also consists of an independent water inlet and its size can even be adjusted favorably. However, few people get burdened with maintaining all these things.
Why We Picked It?
long-lasting
ideal for toilet, kitchen, balcony, or bathroom
providing an upgraded version of high-grade fabrics
upper cover can even combat a typhoon
adjustable water inlet for the changed situation
10. Most Versatile: KUPPET Compact Twin Tub Wash & Spin Combo
Key features:
Separate timer control
1300 RPM Mikey motor with a max frequency of 61Hz
29.5 inches drainage tube to sweep out the dirty water
Three times off mood and four types of washing time
Power cord with UL certification
Are you looking for a top-load washing machine that is capable of carrying lightweight to medium laundry? Here is a powerful pick for that. This lightweight portable washer is nothing but the KUPPET compact combo. Capable to deal with 16.5 pounds per load this highly efficient washing machine is proven to be one of the most reliable.
This washer with advanced, new technology ensures less twisting of your cloth and is worthy of small loads like t-shirts, socks, towels, underwear, etc. It gives you three times of mood and four types of washing times to get set with the actual clothes condition. Else, through the lid, you can see what's going on inside the washer.
Weighing only 22 pounds this is a perfect servant for an apartment, dorms, RV, campaigns, and more. Per each load its wash timer rocks on for 15 minutes and the spin timer for 5 minutes. You would also be glad to see it's mighty 1300 RPM motor saving you time and washing cleaner than any laundromat.
But some consumers complain that this product lacks any instruction on the amount of water to be added to the spin cycle it can tangle if you fail to add sufficient water for rinsing.
Why We Picked It?
Largely capable twin tub dual function
Time-saving efficient washer
Easy to operate
As quiet as you want
Powerful motor reduces electricity bill
Easily portable
Our Research
Why You Should Trust Us?
We attempt to give the most thorough and reliable washing machine evaluations possible. Our team of professionals is committed to researching and evaluating a variety of models to ensure that you have all the information you need to make an informed purchase decision. We evaluate each product based on its design, features, functionalities, performance, price, and customer service.
Our team is comprised of highly experienced specialists that recognize the significance of a customer's decision when acquiring a new appliance. In addition to being experts in their respective professions, all of our reviewers have vast expertise with various washing machine models. This assures that all reviews are published objectively, without any financial interest in or advantage from any certain brand or model.
Who Is This For?
This washing machine is ideal for anyone searching for dependable and energy- and time-saving equipment for doing laundry. Unique and useful features include its intuitive digital display with pre-set programs and user-friendly controls.
In addition, this machine's huge capacity allows you to wash more garments in fewer loads. This makes it a fantastic option for busy households or those who often launder huge loads of clothes.
Additionally, it is created with energy efficiency in mind, and its Energy Star rating will help reduce your monthly electricity bill. Furthermore, it has been constructed using long-lasting materials and components, so you do not need to worry about maintenance or malfunctions over time.
How We Picked?
We scoured the Internet for reviews written by individuals who had purchased each machine. To guarantee you receive the best value for your money, we compared the characteristics provided on manufacturers' websites. We also considered energy efficiency ratings in order to assist you save money on initial and recurring energy costs.
Our experienced staff listened to customer feedback and utilized their washing machine expertise to compile a selection of the top machines that are assured to satisfy your demands.
How We Tested?
Our team evaluated each machine's power and efficiency, water temperature accuracy, cycle duration, fabric protection features, and spin-dry speeds. Each of these tests was completed with both large and small loads of towels, sheets, jeans, and blankets, among other clothing and bedding items.
In addition, we examined the amount of noise produced by each model during its cycles, as well as its general design elements, such as the size of the inside drum, its load capacity, and its depth.
What To Look For When Buying A Washing Machine?
Type of machine: There are three types of washing machines – top-loading, front-loading, and portable. Determine which type is most suitable for your needs and space.
Capacity: Measure the space you have in your home and then determine the size of the machine that will fit. The larger the capacity, the more clothes you can wash in one cycle.
Loader options: Consider the different types of loaders, such as top load, front load, and portable. Determine which option is best for your needs and space.
Energy Efficiency: Look for a washing machine with a high energy efficiency rating to save on your energy bills.
Speed: Choose a machine with a high spin speed to get clothes dry faster, reduce energy usage, and save on drying costs.
Features: Some machines come with additional features such as a delayed start, steam cleaning, and automatic dispensers. Determine which features you need or want.
Noise: Some washing machines can be quite loud during operation. Look for a machine with a low noise rating if you want a quiet operation.
Brand and Price: Consider the brand and the price when making a purchase. It is important to find a machine that offers good value for the money.
Warranty: Read the warranty carefully and look for a machine with a warranty that covers both parts and labor.
Repair and Maintenance: Consider the cost of repair and maintenance when making a purchase. Choose a machine with a good track record for reliability.
Frequently Asked Questions
They are heavy. A top-load washing machine can weigh anywhere from 70 to 170 pounds. They can weigh up to 300 pounds.
How long does a top load washing machine last?
There are many factors that affect the lifespan of a washing machine. For example, the type of washer you have, how often it is used, and how well it is maintained will all influence its lifespan.
What Is The Maximum Capacity Of A Top Load Washing Machine?
The maximum capacity of a top load washing machine is about 6.5 cubic feet or about 1.2 cubic meters.
The amount of water used in a top load washing machine varies depending on the size and model of the machine. Typically, a top load washing machine will use anywhere from 40-150 gallons of water per load.
How Much Does A Top Load Washing Machine Cost?
They are the most common type of washer and can be found at any department store. The average cost for a top load washing machine is $400. This price is for a basic model, and prices can range from $200 to $1,000
What is the best way to clean a top load washing machine?
Washing machines are difficult to clean because they can't be submerged in water. The best way to clean a top load washing machine is to use a cloth with warm, soapy water and wipe down the exterior of the machine.
The Bottom Line
We simply understand engineering is something that eases our life. But life is complicated and unless we choose a reliable machine, we can't relax our lives. The above-mentioned washers are that much reliable and that's why we termed them as the most reliable top-load washing machines.
No matter whether you lead a single or combined life, you can choose any of our top picks. But you know, in the case of taking a decision self-reliance is the best reliance!
In conclusion, the best washing machines produce the highest quality clothes while using less water. If you are looking for a reliable, efficient machine it is important to consider the type of material and size of the load when buying a new washer.
If you want to be sure that your next purchase is worth your money, follow our tips on how to find the right washing machine for your needs, what features to look for in a quality appliance, and on what criteria should influence your decision.