Most of the homeowners haven't any clear idea about the Best washing machine hoses qualities, materials, prices, and importance of them. As a result water damage is often flooded at your house by break or leak after installed in a few days.
The market is full of various washing machine hoses according to length, materials, flexibility, temperature requirements, and price. Per their material, it can be available plastic, rubber, stainless steel, and the polyurethane hoses. Though plastic made are common but stainless steel and the polyurethane are high in price as their flexibility gives longevity.
To keep operative your washing machine's water supply line you should select the right plumbing component which go-rounds of the years. A good quality washing machine hoses need 5 to 10 years later replacement. If you place your washing machines at the main house level except for individual laundry room your old hoses could be the reason for the damping floor.
So finding the suitable one is quite tricky but not impossible. Our today's article helps you to pick the best one of the market.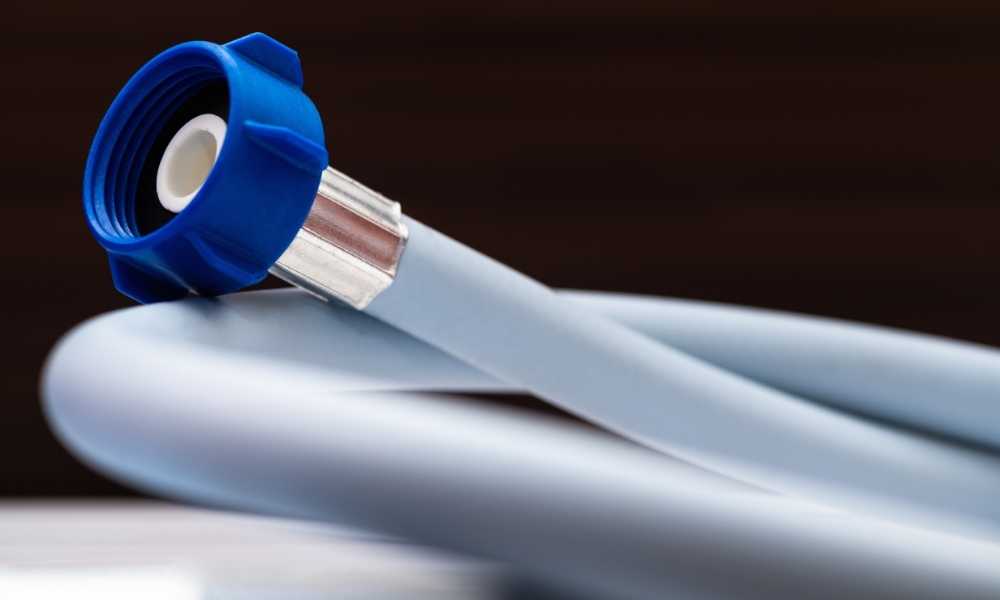 –Our Top Picks–
---
1. Best Extension Hose: 12 Ft – Universal Washing Machine Drain Discharge Hose
Key Features:
Extra Long.
Saddle Hook for perfectly fighting to drain.
Spiral Core ensures Heavy Duty.
Economical option.
Steel Clamp included.
Universal Nozzle with 3 sets.
The universal design and length as 12 ft. of this hose are its most reliable qualities to acknowledge of being the best washing machine hose extension titleholder. The high quality corrugated rubber provides flexibility as you will not experience the unwanted leakage and crimping.
With it, you can easily replace the old one without calling any plumbers. It has a 3 set installation system- with 1 inch, 1-1/8 inch and 1-1/4 inch easily cut nozzles to the washer outlet in diameter and securely connected to the washer drain outlet. On the other hand, a reinforced saddle hook made from polypropylene approaches in water drains safely.
Sturdy steel clamp which is included with the tube package do effectively hold the drain outlet firmly to provide leakage-free extension for the washing machine which is most probably placed in your main house.
As it has a high-density spiral core with heady duty polypropylene finally provides study construction but lightweights features, where extra thick exterior shells capable to take heavy water load without kinking.
Adjustability with any branded washing machine makes it more preferable option. Along with waterproof feature reputed among other comparable expensive hose,
Why We Picked It:
Affordability.
Flexibility.
Durable long lasted.
Very easy to install.
Safety and Leakage free pick.
Fittings are incredibly strong.
2. Best Set Up: Universal Washing Machine Drain Hose
Key Features:
Super easy to install.
Standard length.
Leakage proof.
Well constructed.
No overflowing.
Usable for both indoor and outdoor places washing machines.
After picked this tube you don't need to worry about the rightly install of it. As it follows a few steps to complete the full task within a maximum of 15 minutes. Firstly cut the length,  secondly hook the drain hose to the washer and finally tighten the clamp.
After that passes into the hose retainer according to your required angle. Isn't it very simple? With these 3 steps, you will get your washing machine again at work.
Most of the reinforced rubber washing machine hoses has three adjustable washer head connection as 1″, 1-1/8″ or 1-¼" which re mostly coherent all branded washing machines. Steel made the clamp fitted with it's the top part into the machine tightened and securely. As a result chances of leakage will be lessened mostly.
Made with industrial-grade polypropylene with high-density spiral code provides elasticity at the time of water flowing to prevent any breakage. The length of this hose is 10 which comparably can allow a long area. Through the spiral core, you will get overflowing free washing cycles.
A standard washing machine hose can be replaced within 3 to 5 years but this one has incredible warrant 10 years which complete value of money with a quicker laundry cycle.
Why We Picked It:
Flexibility with durability
Fits nicely
10 years warranty
Lots of the volume of prizes
Suitable for tight-fitting
Quicker laundry cycles
3. Best Budget-Friendly: Stainless Steel Braided 90-degree elbow Water Supply Line
Key Features:
90-degree elbow connection
Burst proof
Comes in 2 packs
Hot and cold color-coded
Layered designs
Versatile uses
A good product required good prizes but here you will find a good product at standard prices. With bad quality many washing machine hoses arrives in the market at a high price, on the contrary, out picked one has fulfilled so many good features even in standard prices.
Not only they are affordable in price but also use. They come in PVC Layer with two color-coded as red for hot and blue for cold water. If you think about the hassle of installing them be clam down. It demanded very easy steps to install. Furthermore, these washing machine hoses are easy going with all branded washing machines.
For ensuring safety we did not leave anything to do. When we have a talking about washing machine hoses which can be a reason of unwanted incidents. In this issue these pieces are updated.
They are well-made by high-quality stainless steel along with three extra layer protection. Moreover, they have a burst-proof feature. Plus the nature of stainless steel braided design ensures excellent pressure-retaining capacities at the running time of the washing machine.
As extra, you can use them with all major washer and dryer brands for both residential or commercial use as they have up to 1500psi bust proof protection and Superior grade 304 stainless steel. This product has UPC CERTIFIED and AB 1953 LEAD-FREE qualities for being reliable.
Why We Picked It:
Sturdy construction
Inexpensive
Reliable performance
Ease to install and use
Safe and securely fitting
Flexible and durable
4. Best interchangeable: 2-Pack Rubber Washing Machine Hoses
Key Features:
Standard length
Modification water supply line
Highly extensible
Fits all branded watching machines
Affordable in price
Well-made, durable, and flexible
If you are thinking about replacing your old washing machine hoses and finding that one that has enough durability with functionality. Then you can select this one as it has extra thickness with interchangeable functionality which makes it free from a common question that which one is compatible with hot or cold.
With so many best features such as super-high tensile strength fiber-mesh-fortified rubber ensures maximum pressure-retaining qualities and burst resistance whereas with metal corner ensure its securely fitting.
It made so well with the extra-thick internal rubber washers. Even these hoses will outlast than any other expensive hoses. It has the capacity to bear 90psi even more than any stainless steel hoses.
Not all hoses of rubber are not the same low quality. This equipment is subducted from durable rubber which is mainly used for car tires. So you shouldn't have any doubt about the quality of the rubber. Also, the authentic black color which you may search for a long time. Finally, here you piece.
Why We Picked It:
Great performance
Easy to use
Usable for indoor and outdoor placements
High-quality structure
Metal end ensure perfect fitting
Suitable for both cold and hot tubes
5. Best fast washers to Fill: Premium Stainless Steel Washing Machine Hoses
Key Features:
Reasonable price
Color-coded
90-degree elbow
Faster washer fill
Burst proof
Time saver
A premium hose should fulfill customers' requirements from every standpoint, and this washing machine hose is Reliable. Firstly, the capacity of a faster washer to refill nearly 50% more than others hoses So, you can get a ready machine rapidly to wash your clothes. From a time saver point of view, this one is best undoubtedly.
The 90-degree angle suggest you to place your washing machine besides the wall. Most of the people prefer to set this app lice much closer for easy use and saving space in your home.
Also, it has different colors code for hot and cold water pipeline usage. The red marked hose is for hot water supply while the blue one eligible for cold water supply. As a result now you can leave the interchange use.
A stainless steel braided hose brings back its safety emission and durable use for a long time. Grade 304 Stainless Steel and PVC Core make sure their technology base construction is trustworthy safety features for your cloth and washing machine whether it is outdoor or indoor place.
Moreover, the inner part is made with quality PVC, and the ferrules and brass couplings which all are rust-proof materials that adds extra durability to this product. The strength of pipeline makes correct pick for Homeowner or Contractor Installation.
Why We Picked It:
Durable with flexibility
Safety feature available
UPC Certification
Burst and leak-proof facility
Perfect for contractor and homeowner use
Fits in most washing machine hose
6. Best Daily Use: 2-Pack Premium Stainless Steel Washing Machine Hoses
Key Features:
Well build construction
90-degree elbows
Comes with 10 years warranty
Very easy to install
Water supply pressure 290psi with burst strength up to 1500psi
Working temperature ranges -40 to 210F
In a limited budget getting the best washing machine hose with all requirements as -adjustable length, well-made, burst and leak-proof, rust resistance, water pressure, and working pressure retainer along with temperature withstand and finally included set up connectors can be nightmarish, but this pair will capable to satisfy with all the excellent features which are above listed.
6ft long water supply lines come with strong inner and outer constructions which can ensure you that your hoses are long then your washing machine oneself. Though the most common saying about washer hoses is that they used 304 stainless steel for braided, but they don't as a result burst. Here these products will prove their durability with going rounds of the year.
As they have certification of ASME A112.18.6-2017/CSA B125.6-17, NSF/ANSI 61,372 for their high quality and performances. About installing procedure they have industry-standard 3/4″ 90-degree elbows with FHT(Female Hose Threaded) or FGH(Female Garden Hose) connector fittings inflict easy set up with tightly fitting.
It is time to leave the one-way tube for both cold and hot water supply. this pair is color-coded for individual use. Thankfully, they come in 2 in 1 pace at a reasonable price.
Why We Picked It:
Stainless steel braided facility
Durability with flexibility
Inexpensive rather than performance
2-packed hot and cold water supplying pair
rust, and corrosion resistance
Safe and simple to daily use
7. Best Safety: Certified Appliance Accessories Washing Machine Hoses
Key Features:
Female Garden Hose with fitting
Secure connection
Long lasted
Included all accessory to install
Hassle-free installation
Well-made with Premium Stainless Steel
To speak the truth, if I start to describe the safety feature s which accumulate this standard size hose it takes more than 10 minutes time to read but understand the tour value of time.
Here simple want to say that it has UPC (Universal Plumbing Code) and NSF 61 (National Sanitation Foundation), moreover ASME # A112.18.6 (American Society of Mechanical Engineers) last but not the least CSA B125.6 (Canadian Standards Association) certification for being safety product.
After that I am moving toward its construction and installation process of this excellent product. This braided stainless steel washing machine hoses with durable PVC inner core and clear vinyl surrounds provides the strength to work in the utmost water pressure and polyester woven for unexpected soon tearing or breaking. Whereas Stainless Steel confirms punctures, crimping, and kinking free water supply line for surprisingly 5 years warranty.
The hose pair is required simple set up with included accessories. You will get 2 hoses & 4 washers that resist weathering and aging for long-lasting washer hookup.
This hose comes with ¾ inches female thread and connector, which is suitable for most of the branded washing machines. Along with the addition of needed accessory makes installation is very anywhere need not other things to install.
Value to your purchase refers to efficient performances at reasonable prices. Here this equipment comes in two packs that does mean they are cheap or will not maintain well in qualities even it means they are reasonable.
Why We Picked It:
Flexible and durable pick
Excellently works
Filled with safety feature
Ease to connect and use
Reliable appliance Connection Solution
Certifications with warranty
8. Best Leak and Burst Proof: 2-Pack Premium Stainless Steel Washing Machine Hoses
Key Features:
Well-made for safety and smooth use
Universal connection hoses.
Color-coded
Applicable food both residential and industrial
10 years warranty
90-degree elbow helps a superb connection
One of the underlying problems with most washer hoses is that they leak and burst. But with this, you are getting an accurate option for leak and burst proof at your washing machine hoses for a long time. So here you will have the best pick with a solid-constructed stainless steel water supply line that is affordable and high performing at the same time as so many features in one.
The pair of these hoses for washing machines available with universal flexibility to built-in connection with super simple installation. It has a shocking feature that can easily fit with regular water supply lines in the household. So, this pipeline is the perfect option for both contractor and household installation.
When buying the best washing machine hoses being task for their made of stainless steel components. You can easily can trust upon the 304 stainless steel braided premium with industrial standard -ASME A112.18.6-2017/CSA B125.6-17, NSF/ANSI 61,372 as it is effective protection against rust, corrosion, and burst.
It has three layers as two about reinforced PVC Core and nylon braided and the third one is 304 stainless steel braided as an outer cover enough to hold a surety for long-lasting.
Furthermore, you won't need to be anxious about the supply hot and cold-water flow once you purchase this rubber hose. Luckily, the hot and cold water hoses are marked with two individual colors cod as red for hot and blue for cold water supply for the washing machine.
Why We Picked It:
Goes rounds of the years
It comes with two color variants to choose from
Flexible design for any washing machine
Sustainable performance
Capable of carrying both hot and cold water
No rust and corrosion
9. Best Temperature Endurable: Eastman 41065 Washing Machine Hoses
Key Features:
Made out of quality materials
Burst proof
Secure connection
90-degree elbow
easy installation
Interchangeable
Also, this super-durable hose will remain functional at 20 °F-190 °F temperature. So, whether you are living in a cold area or a place with scorching heat, this hose will supply the water from the water source to your washing machine.
This ultimate premium hose pack has some incredible features that you will fall in love with it. Firstly, it's made of a grade 304 braided stainless steel exterior with multi-filament braided nylon reinforcement, a clear vinyl outer shell along with elbows that have superior strength with a PVC core, whereas The brass nuts are nickel-plated with stainless steel ferrules. By them, you may connect them securely.
This equipment is a highly recommended pick for any washing machine hoses for easy installation because of the most convenient features as a 90-degree elbow. With easy use, it performs better than any expensive model in the market. To ensure the construction of the tube is high quality, the materials involved are also heavy-duty and reliable for rounds of the years use without any replacement.
They have the capacity to be standing with higher water flowing pressure and temperature for their sturdy construction without leaks, kinking, crimping, and corrosion. So no worries about hose for a long time!
The last plus point of this hose is except hiring someone for plumbing you can place them right as they have included all appliance to set up.
Why We Picked It:
Heavy-duty tubes
Inexpensive in price
Crimp protected
Compatible with cold and hot water supply
Working temperature 15° F to 158° F
Flexibility and softness
10. Best Stainless Steel: Eastman Braided Stainless Steel Washing Machine Hose
Key Features:
Strong materials serve Crack, puncture or kink-free.
Stainless-steel hoses
Safe and easy to use,
Incredibly durable.
Very easy to install.
Wide openings add greater convenience to fill.
Being made of braided stainless steel material, Eastman:48377 Braided Stainless Steel Washing Machine Hose provides sturdy construction with excellent performance. Because of their overall structure, they have outstanding potency to work on a lower temperature of 15-degrees to higher Fahrenheit to 158-degrees Fahrenheit.
The inner core is made with PVC and multi-filament braided nylon reinforcement provides extra capacity for long-lasting, On the contrary, a high-quality clear vinyl outer shell which added reliable endurance and flexibility.
Then, the exterior is covered with a braided 304-grade stainless steel which delivers the ability to being static under extreme burst and working pressure. Therefore, it is the stainless steel braided which accomplish the washing machine hose pair is burst, leak, and kink-free with efficient water supply.so, you never have to worry about leaks and cracks ever again with this hose.
It is another premium-quality of this washing hose that brass nuts that are nickel-plated with stainless steel ferrules with 90 elbows help to securely connection as they have 3/4 inch Female Hose Thread (FHT) x 3/4 inch Female Hose Thread (FHT) connections. For your hassle-free installation process, you will get all the tools in the package.
If are one of them who have the least time for washing you need a pipeline for faster washer filler, truthfully speaking this model is offering these features with their wide opening which is incredible.!
Why We Picked It:
Great value of braided stainless steel
Loads of essential features.
Lasted performance.
Reasonable price.
Universal fit.
CSA certified and UPC approved.
–Final Thoughts–
To buy proper hoses for washer machine that will serve you a tension-free laundry room without frequent change and huge water wastage with flooded. Here I am tried to stand a comparable guideline which can help to the of buying the best washing machine hoses.
Remember one thing when you went near a store or online to but please check all the special features which ensure about hose price, warranty, materials, durability, flexibility, water flow, and perfect fitting. I have made an oral combination of customer requirements, reviews, and comments to find the best one for you.
Here all the described products are unique in their individual position with their own eminent features. So think before buying twice about the product and your requirements.