Last updated on June 21st, 2023 at 05:00 am
Washing clothes is a necessary chore that we all have to deal with, but finding a washing machine that fits both your budget and your needs can be a challenge.
In this blog, we've compiled a list of the 5 cheap washing machines under $300, based on our thorough testing and review process. These machines are affordable, yet packed with features that make doing laundry easier and more efficient.
Whether you're looking for a compact machine for a small apartment or a larger model for a family home, you're sure to find one that meets your needs on this list. So sit back, relax, and read on to find your perfect machine!
Our Top Picks
1. hOmeLabs 0.9 Cu Washing Machine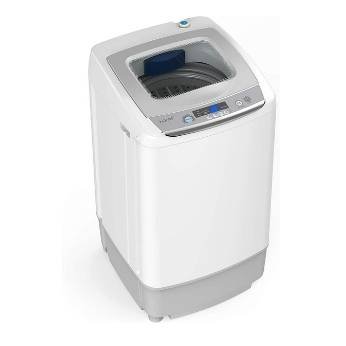 Key Features:
Portable full automatic washer
Flexible 5 cycles and 3 water level settings
6 lbs of clothing capacity
Electric fuel type and noise-free
Equipped with LED display
Transparent lid
Top load compact clothes cleaner
Premium build quality stainless steel drum
Comes with roller wheels for easy movement.
The hOmeLabs 0.9 Cu washing machine measures 0.9 cubic feet and is easy to handle for washing your clothes. Having a small space or dorm will give you the need to move this washer usually for space-saving, that is why it is designed to be lightweight and is also equipped with two roller wheels on the bottom for easy movement.
It has five washing cycles and three water capacity options you can use based on the material of clothing you are washing. You can choose from five washing programs which are Gentle, Rapid, Normal, Soak, and Heavy to make sure that your clothes get the best wash and do not get damaged.
It has proven to wash even the most delicate materials there are such as wool and have them look brand new. The washers have interesting features that make your cloth washing very easy.
It has a viewing lid made of transparent material to make sure your clothes are getting the proper cleaning, the inside is made of durable steel that has slim to no chances of getting rusty, and the washer is also equipped with a drain pump to get rid of all the used water.
Advantage
Have various processes from which to choose from to was different material clothes
Moves gently in small spaces such as RVs, dorms, and studios.
Do not make loud noises.
Disadvantage
2. Giantex Full-Automatic Washing Machine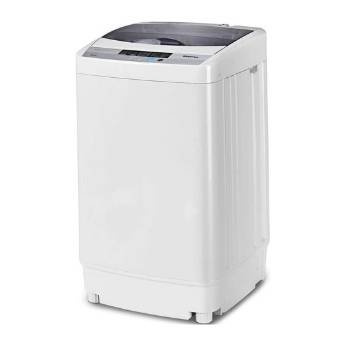 Key Features:
Full automatic washer
Compact design & large load capacity
Time and water level control
Easy and safe to operate & monitor
Multifunctional control panel
Automatic imbalance adjustment
Stainless steel inner tub
Electricity and water-saving
Designed with 10 processes and 8 water volumes
Handles 12 lbs of clothing weight
Having so many clothes in your wardrobe can mean that there are a lot of materials to handle and we all know that every material has its own cleaning process. Perfect for people with a lot of clothes to handle, It has 10 washing processes from which to choose for each material clothes to be washed properly and not get damaged.
But it does not stop there because this washer also has 8 water level options you can choose from. The long honeycomb structure of the washer lets you have a 12 lbs clothing capacity.
This washer is surprisingly affordable for its high-quality usage and modern technology. The lid of the washer is transparent so you can keep an eye on how well your clothes are washing and if the water is enough for the process. This great simple cheap washing machine is also child-friendly. It has a lock activation and whenever the lid gets opened an alarm is set off.
Advantage
This washer has a lot of options to choose from when washing clothes
It is lightweight and easy to move around
It has a big capacity for one round of washing.
Disadvantage
The draining hose might be short for different kinds of households
Shipped without quality control.
3. COMFEE' 1.6 Cu.ft Portable Washing Machine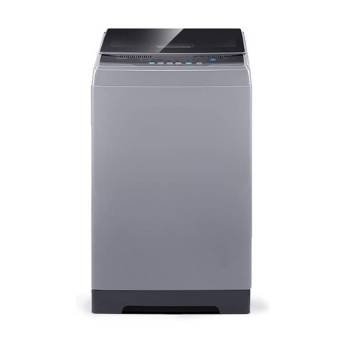 Key Features:
Automatic compact washer with wheels
Top load machine
6 wash programs with 1.6 Cubic Feet capacity
Drain pump
Ideal for Apartments
Colors magnetic gray
Looking for a space-saving and convenient washing machine that can fit in your room, This little machine is powerful yet easy to use, with multiple washing programs to choose from and a reloading function that lets you pause and add in forgotten clothes.
It comes with wheels so you can easily move it around, and a see-through lid and LED display for easy operation. Don't let laundry day be a hassle – let the machine take care of it for you!
4. WANAI Portable Washing Machine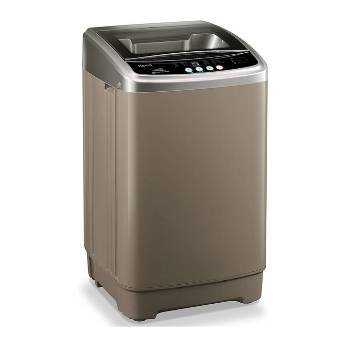 Key Features:
Full-automatic Machine
Washer spinner 1.6 cu.ft
Top load machine
LED display and glass lid
Drain pump system
10 Programs with 8 water level
Looking for a washing machine that is easy to use and can get your clothes clean? This machine has a capacity of 1.34 cu.ft/ 12lbs, making it perfect for small apartments or dorms. The compact design is perfect for those who have limited space.
The built-in drain pump and drainage hose make it easy to drain your clothes. There is also a filter net on the side of the washing barrel, which can easily store the dirt when washing.
The machine also has 10 washing programs and 8 water levels on the panel, so you can choose the perfect setting for your clothes. Additionally, the machine comes with a 12-month replacement warranty for all parts of the machine and lifetime support.
5. KUPPET Compact Twin Tub Machine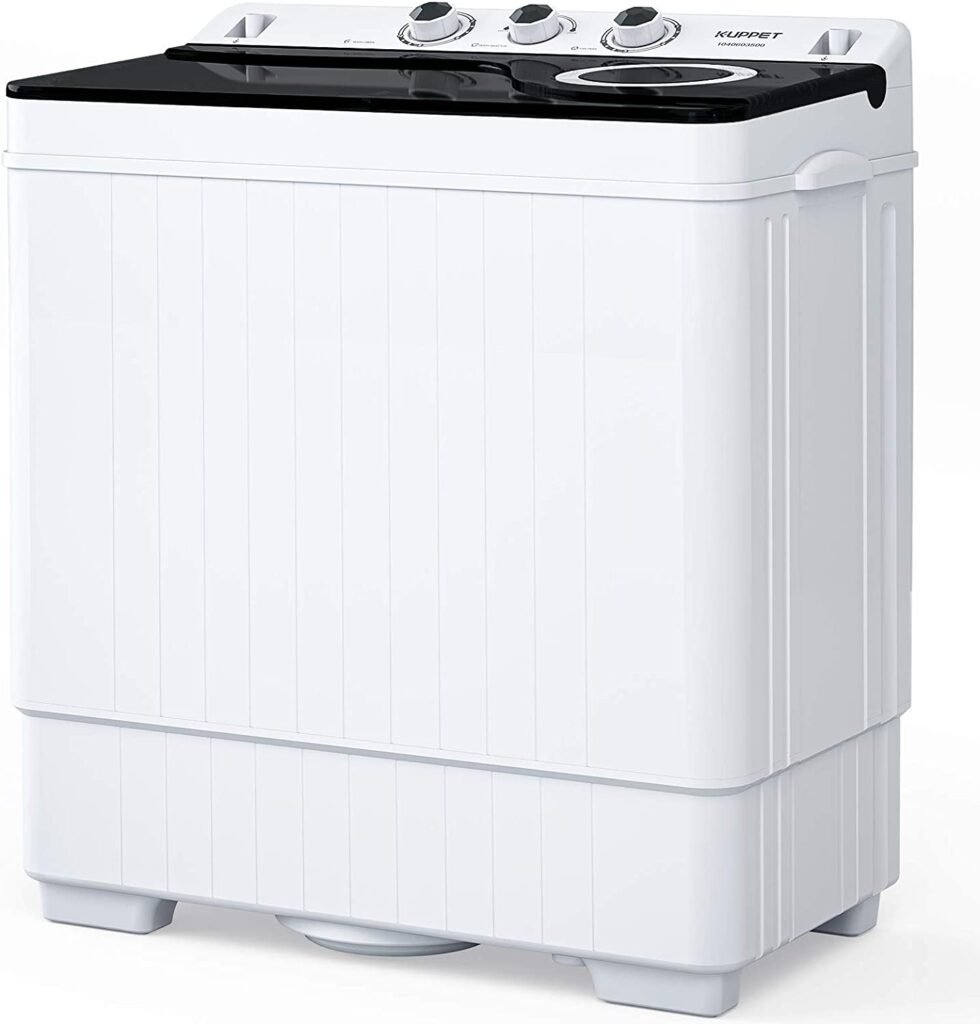 Looking for an easy-to-use and compact mini washing machine that can handle large loads? It is perfect for you! With a total capacity of 26 lbs (18 lbs for washing, 8 lbs for spinning), this semi-automatic machine is powerful enough to handle all your laundry needs.
It comes with a built-in drainage pump and timer control for easy operation. And best of all, it's easily movable so you can take it wherever you need to go. So why wait? Get the machine today and make laundry time a breeze!
Our Research
Why You Should Trust Us?
We attempt to give the most thorough and reliable washing machine evaluations possible. Our team of professionals is committed to researching and evaluating a variety of models to ensure that you have all the information you need to make an informed purchase decision. We evaluate each product based on its design, features, functionalities, performance, price, and customer service.
Our team is comprised of highly experienced specialists that recognize the significance of a customer's decision when acquiring a new appliance. In addition to being experts in their respective professions, all of our reviewers have vast expertise with various washing machine models. This assures that all reviews are published objectively, without any financial interest in or advantage from any certain brand or model.
Who is This For?
This washing machine is ideal for anyone searching for dependable and energy- and time-saving equipment for doing laundry. Unique and useful features include its intuitive digital display with pre-set programs and user-friendly controls.
In addition, this machine's huge capacity allows you to wash more garments in fewer loads. This makes it a fantastic option for busy households or those who often launder huge loads of clothes.
Additionally, it is created with energy efficiency in mind, and its Energy Star rating will help reduce your monthly electricity bill. Furthermore, it has been constructed using long-lasting materials and components, so you do not need to worry about maintenance or malfunctions over time.
How We Picked?
We scoured the Internet for reviews written by individuals who had purchased each machine. To guarantee you receive the best value for your money, we compared the characteristics provided on manufacturers' websites. We also considered energy efficiency ratings in order to assist you save money on initial and recurring energy costs.
Our experienced staff listened to customer feedback and utilized their washing machine expertise to compile a selection of the top machines that are assured to satisfy your demands.
How We Tested?
Our team evaluated each machine's power and efficiency, water temperature accuracy, cycle duration, fabric protection features, and spin-dry speeds. Each of these tests was completed with both large and small loads of towels, sheets, jeans, and blankets, among other clothing and bedding items.
In addition, we examined the amount of noise produced by each model during its cycles, as well as its general design elements, such as the size of the inside drum, its load capacity, and its depth.
What to Look for When Buying a Washing Machine?
Type of machine: There are three types of washing machines – top-loading, front-loading, and portable. Determine which type is most suitable for your needs and space.
Capacity: Measure the space you have in your home and then determine the size of the machine that will fit. The larger the capacity, the more clothes you can wash in one cycle.
Loader options: Consider the different types of loaders, such as top load, front load, and portable. Determine which option is best for your needs and space.
Energy Efficiency: Look for a washing machine with a high energy efficiency rating to save on your energy bills.
Speed: Choose a machine with a high spin speed to get clothes dry faster, reduce energy usage, and save on drying costs.
Features: Some machines come with additional features such as a delayed start, steam cleaning, and automatic dispensers. Determine which features you need or want.
Noise: Some washing machines can be quite loud during operation. Look for a machine with a low noise rating if you want a quiet operation.
Brand and Price: Consider the brand and the price when making a purchase. It is important to find a machine that offers good value for the money.
Warranty: Read the warranty carefully and look for a machine with a warranty that covers both parts and labor.
Repair and Maintenance: Consider the cost of repair and maintenance when making a purchase. Choose a machine with a good track record for reliability.
Frequently Asked Questions
How often should I clean my washing machine?
It is recommended to clean your washing machine at least once every three months. Regular cleaning helps remove detergent residue, dirt, and odors, ensuring optimal performance and hygiene.
How much laundry can I load into my washing machine?
The laundry capacity of a washing machine depends on its size and model. Generally, a standard top-loading machine can accommodate 12-16 pounds of laundry, while front-loading machines have larger capacities ranging from 16-20 pounds. It is advisable not to overload the machine for optimal cleaning and to prevent damage.
Can I wash delicate fabrics in a washing machine?
Yes, many washing machines offer delicate or gentle cycles specifically designed for delicate fabrics. However, it is essential to read the garment labels and follow the manufacturer's instructions for washing delicate items. Using a mesh laundry bag can also provide extra protection.
How long should a washing machine last?
The lifespan of a washing machine varies depending on the brand, model, usage, and maintenance. On average, a well-maintained washing machine can last anywhere from 8 to 12 years. Regular cleaning, proper loading, and timely repairs can help extend its lifespan.
Can I repair my washing machine myself?
Some minor issues like clogged filters or loose connections can be fixed by the user. However, for complex repairs or electrical problems, it is advisable to seek professional help. Attempting to repair the machine without proper knowledge can lead to further damage or safety hazards.
Bottom Line
In conclusion, finding a budget-friendly washing machine doesn't mean compromising on quality. The five washing machines under $300 mentioned in this article are some of the best options available in the market today. These machines are tested and reviewed, so you can trust the information shared.
Whether you're looking for a compact machine for a small space or a large-capacity machine for a family, there's a model for everyone. Take your time to compare features, capacity, and brand reputation, and choose the one that best suits your needs. Don't forget to read the user manual before setting up the machine to ensure it operates correctly.
Happy washing!