Last updated on June 21st, 2023 at 08:55 am
Looking for the best washing machine for cheap prices? We are here to help you find cheap washing machines under $200. In modern days, new technology has made washing machines update from very complicated structures to some of the easiest machines that turn on and do their job perfectly with just a push of a button.
Cleaning your clothes by hand can be an irritating task to do. It saves you a lot of time and effort in washing your clothes. But today, the prices of these machines are rising up to an unwatchable rate.
Our Top Picks
Our comprehensive guide will provide all the information that you need to make an informed decision before investing in a new washing machine. So don't wait any longer – check out our washing machine comparison today!
Overall Best
Compact Mini Twin Tub
 Twin Tub Design – With the Twin Tub dual-function design
1300RPM powerful motor with a max frequency of 60Hz
Time/Space-Saving
Easy to move and transport anywhere
Simplest yet most effective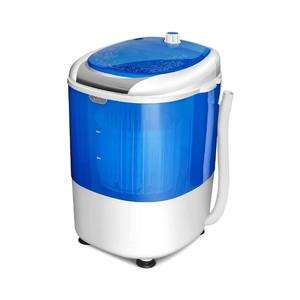 Budget Friendly
Portable Mini Washing Machine with Spin Dryer
Washing Capacity 5.5lbs
Compact and Portable
Easy Operation
Timer Control
Clear lid makes it easy to see and monitor the water condition
Value For Money
Giantex Washing Machine
13lbs Wash and Spin Cycle
Semi-Automatic Laundry Machine
Compact Washer and Dryer Combo
Easy To Use
Portable Clothes Washing Machines
Bucket Washer Foldable Machine
The mini washer is designed for delicate and small things
Compact size foldable laundry tub
Portable and stylish design for convenient placements in any rooms
110 V – 240V Power Adapter
US standard power plug included 40W
INTEGRATE Portable Washing Machine Mini
Twin Tub Design
Washing capacity of 11 lbs and a spinner capacity of 6.6 lbs
Rich Clean Function
Save Time & Energy
Compact & PORTABLE
100% Satisfaction Guarantee
Cheap Washing Machines Reviews
It is just too hard to afford them. Well, don't worry because we have picked the 10 best affordable machines for you on Amazon and made sure they do the job right and leave you with clean clothes that look like you just bought them from the store.
1. Best for Apartments: Giantex Compact Machine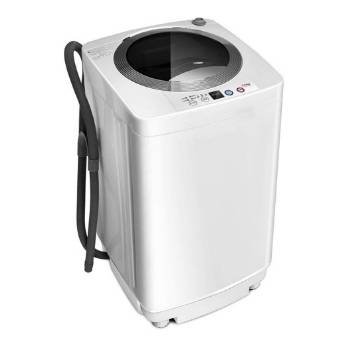 Key Features:
A lightweight material equipped
Full automatic washer
Automatic drainage with a built-in drain pump
Electric fuel type and electricity saving
Max weight capacity reaches 8 lbs
5 programs for choosing: wash-rinse-spin, wash, rinse-spin, wash-rinse, spin, soak-wash-rinse -spin.
Living in a dorm or a small studio apartment can be pretty rough when it comes to space. The portable automatic laundry machine is the best washing machine under $200 when it comes to small or shared spaces. The item is light and easy to move around the room.
It does not waste your time working only with one push of a button. It has different processes and water volumes based on what you are washing. You can choose from rinse-spin, wash-rinse-spin, wash-rinse, soak-wash-rinse –spin.
When washing your clothes and for the amount of water needed you can choose from 16-30 liters of water used based on the material you are washing because every material has a different amount of water needed to go through a proper cleaning process.
The machine comes with a tube that easily drains out the dirty water. There is also no need to worry about trying to get it to work because it comes with clear instructions on how you can activate the different instructions.
Advantage
This product is great for small living spaces
It can handle a good amount of clothing in one wash
Can save time and effort by going through all the cleaning processes automatically.
Disadvantage
The length of the tube might be short for some spaces
If not handled as instructions say it can gather water and get damaged.
2. Best User-Friendly: TG23 Twin tub Machine
Key Features:
Handheld portable two-sectioned washers
20-minute power wash
Wash section: 3.5 kg capacity Spin section: 2 kg capacity
Wash & spin timer
Runs on electrical power
Compact and lightweight
Included with lint filter, drainage tube, and water fill hose.
Going out camping or just traveling a lot in an RV can get kind of smelly or dirty if you do not have a washing machine. Now you can enjoy your traveling with the best portable washing machine. The only thing you need for the washer to work is access to electric power, access to water, and some soap or detergent.
The washer is designed in two sections, one section is to wash your clothes and the other one is for your clothes to go through a spinning process. The cloth washing process of the two combined is only 20 minutes whereas it takes 15 minutes for the clothes to get washed and 5 minutes for the spinning process to complete.
Although the capacity for both sections is different, the washing section has a 3.5 kg capacity for washing clothes and the spinner has a 2 kg capacity. The machine also comes with a drainage tube and clear instructions on how to use it.
Advantage
Easy to carry around while camping or traveling by car
Clean clothes in a very short period of time
Saves space for small living areas.
Disadvantage
Is not constructed to work on a daily basis
It does not fit big clothing like jackets, blankets, etc.
3. KUPPET Portable Mini Washing Machine
Key Features:
Semi-automatic
Top load machine
Compact Portable Twin Tub washer
Washer 18lbs and Spiner 8lbs Capacity
Built-in Drain Pump
Blue and white colors are available
Large capacity and high efficiency.
The KUPPET Portable Mini Washing Machine is a great option for those who are looking for a compact and portable washing machine. This semi-automatic top-loading machine has a twin tub design with a washer capacity of 18 lbs and a spinner capacity of 8 lbs.
One of the standout features of this machine is the built-in drain pump, which makes it easy to drain the water after use. The machine is available in blue and white colors, which makes it a great addition to any home or apartment.
In terms of performance, It is high efficiency and has a large capacity for its compact size. The machine is also very easy to operate, with a simple control panel that allows you to choose between washing and spinning modes.
Overall, if you are looking for a compact and portable washing machine that is both affordable and high-quality, It is definitely worth considering. With its large capacity and high efficiency, it is sure to meet your laundry needs and make your life easier.
4. ROVSUN Full-Automatic Washing Machine
Key Features:
Top load with LED display
Full-automatic
10lbs portable washer
10 programs with 8 water level
Energy saving and high efficiency.
The ROVSUN Full-Automatic Washing Machine is a fantastic choice for anyone looking for a high-quality, portable washing machine. With its top-loading design, LED display, and 10lbs capacity, this machine is perfect for small apartments, dorm rooms, or even RVs.
One of the standout features of this washing machine is its full-automatic operation, which makes it incredibly easy to use. Simply load up your clothes, select a program, and let the machine do the rest. The 10 programs and 8 water level options provide plenty of versatility for all your laundry needs.
In addition to being user-friendly, It is also incredibly energy efficient. It's designed to save you money on your energy bills and is high efficiency, so you can enjoy clean clothes without breaking the bank. The LED display makes it easy to monitor the progress of your wash and the spin cycle helps to reduce drying time.
Overall, It is a great choice for anyone looking for a portable, high-quality, and energy-efficient washing machine. Whether you're a student, a small family, or someone who loves to travel, this machine is perfect for you.
5. Best Eco-Friendly: Lavario Clothes Washer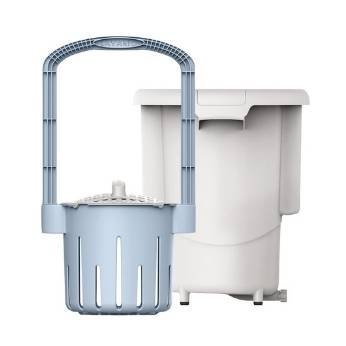 Key Features:
Easy up & down motion
Runs on hand power, It is non-electric
Saves energy and water making it eco-friendy
Works on the push and pull movements
Takes up to 20 minutes to wash clothes properly
5-gallon basket holds the equivalent of one small electric load
Easy to fill in tub, shower, or with a sink or hose
Ultra-light and compact.
Traveling often can lead you to places where there is no electricity to be found. That is the reason why we chose to include this non-electric machine on our list. The only things you need to have access to are our water and soap.
This washer works on half of the water needed for an electrical machine. It is easily used by hand power. You just push and pull the handle until the clothes are washed with soap. The washer is designed to have strong power for washing clothes, even though you only have to push it gently.
Designed to be eco-friendly and to be used anywhere It will save you a lot of money and keep your clothes smelling fresh. The great part of this washer is that not only can it clean small to medium clothes but jeans and thick shirts also. It has clear instructions on how to use it. So we highly recommended this eco-friendly washing machine for under $200. I hope anyone can afford this cloth washer.
Advantage
Does not tire you while washing because it needs light hand power
Clean clothes perfectly like any washer machine
Can be easily used anywhere
Disadvantage
Takes time for you to wash clothes
Soiled clothes do not wash properly
6. Best for Space Saving: Mini Twin Tub Washing Machine
Key Features:
Twin tub washing design
Easy to operate
Large capacity
Top load twin tub compact design
The washing process takes up to 30 minutes
Washing capacity: 11 lbs Spinning capacity: 6.6 lbs.
The mini twin tub machine is a great option for washing your clothes in minutes. It is made to fit small areas such as dorms and small apartments. This is the best space-saving machine for your small apartments. The washer has two sections, the section for washing the clothes and the section where the spinning process occurs.
The automatic timer for the washing section is 15 minutes but you can even choose the time you want your clothes to be washed as preferred and for the spinning cycle the time it takes for the process is only 5 minutes. The washer itself is equipped with a net where the dirt is stored after the clothes are clean, it is easily taken out and cleaned for the washer to keep working properly.
Even though the structure of this washer is very simple. It can hold up to 11 pounds of clothes per wash and more than 6 lbs of clothes per spinning process. It is recommended to use the spinner twice for every load of clothes you put in the dryer.
Advantage
Wash clothes fast and without any problem
Saves a lot of space in your house
Disadvantage
The inlet tube might not fit well with some water sources
The draining process needs gravity, the draining tube needs to be at a lower point
7. Best Durable: ZENY Twin Tub Washing Machine
Key Features:
Dual performance
Lightweight & portable
Gravity drain
Does not make any noise or vibration while washing
Has a 20 washing process
Washing capacity: 8 lbs
Spinning capacity: 5 lbs
Lightweight and durable plastic body with a space saver.
When it comes to noise and vibrations, the small place in which you reside can shake and drive you insane for the duration of the washing process. It has the exact opposite effect.
It is designed to operate fully silently and without vibration. Due to its lightweight construction, this device is also ideal for travel or limited places.
The washing and spinning cycles of the washing machine each last around 20 minutes. The washing process is powerful, reaching up to 300 volts, despite the washer's diminutive size. If you are planning on traveling or relocating to a dorm or small area, owning this washer will make your trip easier and more serene.
Advantage
It does not take a lot of time and effort to wash your clothes
It is easy to use for traveling purposes
Disadvantage
Is not created for washing large clothing
The drainage needs a gravitational pull
8. Compact Portable Shoe Washer
Key Features:
Compact portable shoe washer
10 lbs washing capacity with spin dry
Perfect for small space
Comes in 2 colors blue and white
No Installation required
Suitable for dooms or small apartments.
Are you sick of your dirty shoes and clothes but don't want to wash them? Now with the HAIFT Portable Washing Machine, you can easily wash your clothes and shoes anywhere, even when you're camping in the wild! It is perfect for those with a need to multi-task and save the need of saving space.
It can easily be accommodated in small spaces and makes a great buy for people who live in small apartments, RVs, colleges, or dorms. And because it's portable, you can take it with you wherever you go! With this amazing machine, you'll never have to worry about your dirty clothes and shoes again!
9. Best Light Weight: SUPER DEAL Twin Tub Washer
Key Features:
Washing capacity: 8 lbs
Spinning capacity: 5 lbs
1300RPM motor
20-30 minutes wash time
Low power consumption
Time and Space Saving
Considerable design & Energy saving
Design with washer tub and spinner tub
Built-in Gravity Drain and Inlet Water Hose.
Choosing the best and cheap washing machines under 200 for your clothes can be tough. Sometimes they twist and twirl your clothes so much that they damage them. It is designed to be careful at washing clothing. The washing process is at the perfect amount for washing your clothes, not too strong, not too low so your clothes can come out clean and also look like you just bought them from the store.
The washer is built with the washer section and the spinner section. Both can work at the same time if desired. The washing section capacity per load is 8 lbs while the spinning capacity is 5 lbs. The material of washer is made from durable plastic which makes it immune to rust and also lights to move around.
Due to its lightweight and small structure, this washer is easy to fit in small spaces such as a closet or a small bathroom. It can even be used for activities such as camping. No need to be confused about how this washer works at all because it comes with clear instructions on how to use it.
Advantage
It does not damage the clothes while washing them
It does not make disturbing noises
Works with low power saving energy and water
Disadvantage
Is not built to fill a full load
After a couple of years, it may start making motor-like noises
10. Gravity Drain Compact Twin Tub Washer
Key Features:
Equipped with a gravity-draining tube
Has 7 lbs of washing capacity
Made from transparent plastic to avoid rust and make it easier to view the washing process
Energy efficiency with large washing & drying capacity
Separate time control for washing & drying
Suitable for washing all kinds of clothes.
Perfect for your dorm or any small living space these cheap machines will do the job for you. The weight of this washer is very light and easy to move around. What makes this washer so special is the fact that it has a transparent construction that lets you have a clear view of how well your clothes are getting washed.
The washer is made out of plastic that does not let it get rusty. Cleaning the washer from time to time will do the trick and keep this washer working for ages. It has two tube washers, one for washing and the other for drying. Whether you want to wash a load or just a shirt it will wash it carefully and leave your clothes smelling fresh and clean of stains.
Advantage
It fits perfectly in any space
Wash clothes with just an easy button press
Disadvantage
Is not designed to fit all kinds of clothing
The draining needs to be gravity supported to work
Our Research
Why You Should Trust Us?
We attempt to give the most thorough and reliable washing machine evaluations possible. Our team of professionals is committed to researching and evaluating a variety of models to ensure that you have all the information you need to make an informed purchase decision. We evaluate each product based on its design, features, functionalities, performance, price, and customer service.
Our team is comprised of highly experienced specialists that recognize the significance of a customer's decision when acquiring a new appliance. In addition to being experts in their respective professions, all of our reviewers have vast expertise with various washing machine models. This assures that all reviews are published objectively, without any financial interest in or advantage from any certain brand or model.
Who Is This For?
This washing machine is ideal for anyone searching for dependable and energy- and time-saving equipment for doing laundry. Unique and useful features include its intuitive digital display with pre-set programs and user-friendly controls.
In addition, this machine's huge capacity allows you to wash more garments in fewer loads. This makes it a fantastic option for busy households or those who often launder huge loads of clothes.
Additionally, it is created with energy efficiency in mind, and its Energy Star rating will help reduce your monthly electricity bill. Furthermore, it has been constructed using long-lasting materials and components, so you do not need to worry about maintenance or malfunctions over time.
How We Picked?
We scoured the Internet for reviews written by individuals who had purchased each machine. To guarantee you receive the best value for your money, we compared the characteristics provided on manufacturers' websites. We also considered energy efficiency ratings in order to assist you save money on initial and recurring energy costs.
Our experienced staff listened to customer feedback and utilized their washing machine expertise to compile a selection of the top machines that are assured to satisfy your demands.
How We Tested?
Our team evaluated each machine's power and efficiency, water temperature accuracy, cycle duration, fabric protection features, and spin-dry speeds. Each of these tests was completed with both large and small loads of towels, sheets, jeans, and blankets, among other clothing and bedding items.
In addition, we examined the amount of noise produced by each model during its cycles, as well as its general design elements, such as the size of the inside drum, its load capacity, and its depth.
What to Look for When Buying a Washing Machine?
When you are making a major purchase, especially one that is difficult to return, the opportunity for overspending and regret is high. One such example of this is in purchasing a washing machine. Cheap options might seem like the best choice, but it's worth considering the alternatives before making an impulsive purchase.
There are plenty of things to consider when buying a new machine: wash cycle length, capacity, compatibility with HE detergent compatibility, and so on.
We have numbered some of the best cheap washing machines under 200 Bucks. Going to the laundry costs a lot of money if you sum it up in one year and also washing your clothes by hand can waste a lot of time.
But not all the machines are of good quality and do the job. Some even burn up or make loud noises out of nowhere. Here we will show you what cloth washer best fits you and your environment.
Material:
There are three types of material from which a washing machine could be made which are stainless steel, plastic, or enamel. The washers made of stainless steel are more expensive and more durable than other materials that can be used.
For washers made out of plastic, they tend to be more lightweight and simple to use. Usually, these kinds of washers are for travel and for an easy fit in your living space
The enamel material, On the other hand, can be less durable and needs more time to look after it. Even coming at a cheap price it is still less worth it than the stainless steel and plastic material.
Features:
When you buy a washing machine, you have to follow some tips for machine features that will have you getting to grips with your new machine in no time. These are
Reload Function
Air Dry Function
Smart Rinse
Memory Wash
Washing Load capacity:
The standard machine capacity is 7 kg, but today models with a load capacity of up to 15 kg are also available. However, they are not necessarily cheaper to use.
Large capacity can only be an advantage if you have a large family or if you practice a sport that involves a lot of laundry. With a large wash instead of two smaller ones, you save time, water, and electricity.
Functions:
As you all know, they come with modifications. Some have bottom wheels or handles for easy movement. Others are equipped with transparent lids to make the washing process viewable. Alarms, timers, and more modifications can be added to your machine. You can choose what best fits you for your household
If you have children it is best to get a washer equipped with an alarm for when your children try to open the lid. It is best to get a washer with wheels or a handle if you have a very small space to live in. The recommended modification is a transparent lid where you can view the process and the washing clothes at any time.
When choosing a washer also keep in mind that most washers make noise, if you live in a small space this noise will irritate you very much so best choose a silent machine.
Frequently Asked Questions
Which is better: front loading or top loading washer?
Some people prefer the ease that comes with a front-loading washer and dryer combo. Front-loading washers and dryers are stacked, which makes it easier to use the machine.
With a top-loading washer and dryer combo, you would need to dedicate half of your laundry space to each machine, making it difficult to do other laundry tasks such as folding clothes. Top-loading machines also tend to be more expensive than their front-loading counterparts.
A front-loading washer and dryer combo is a good choice if you have a small space or a limited budget. They are also more energy-efficient than top-loading washers.
Which brand of washing machine is best?
There are many different types of washing machines on the market, each with its own pros and cons, so it's important to do your research before making a purchase. Whirlpool is the best brand for washing machines. They have a long-lasting warranty and offer many different features.
What is a good price for a washing machine?
A good price for a washing machine is going to depend on the size, type, and features. The average price for a top-loading washer is around $500.
Can we use the dryer in a fully automatic washing machine?
If it has a drying option for clothes then you can use it, although most machines are only for washing and spin-dry purposes.
Bottom Line
Whether you are living at home or hitting the road to seek a new destination you have not seen before you will need a cloth washer. We listed out some of the best cheap washing machines under $200 that we tested out that were both cheap and worked perfectly fine.
No doubt they with make your life much easier and leave you smelling fresh and looking clean when it comes to terms of clothing. What do you think works best, machines, or would you stick to the traditional cleaning of your clothes? Both work fine but if you want more time on your hands and less soap you will definitely stick to machines.