Last updated on January 30th, 2023 at 02:27 pm
To keep yourself warm and comfortable during winter, you can buy the best warm mist humidifier from the market and stay healthy. We generally neglect the most essential thing in our life, the air we breathe.
For a healthy lifestyle, the surrounding air must be somewhat humid. Though, it isn't possible to have adequately humid air throughout the year, especially, during dry weather.
Our Top Picks
Overall Best
Elechomes SH8820
Top filling & no leakage
Equipped with a 5.5L large water tank, no need to fill the water tank frequently
Whisper sleep mode
Cool & warm mist mode
Affordable replacement filters
Budget Friendly
LEVOIT Humidifiers
Warm & cool mist: with an advanced hybrid design
Perfect for large rooms
Convenient remote control
Automatic humidity: with the smart humidity sensor
The LV600HH offers both humidity and aromatherapy
Value For Money
PureGuardian Ultrasonic
Easy fill 2-gallon tank is ideal 600 square feet rooms and runs up to 120 hours
Silver clean protected tank
Aromatherapy tray
 It also features a soft glow night light and a timer
No evaporating pads or wicks to clean or replace
Miko Ultrasonic
Perfect for the bedroom lasts up to 40 hours
Easy to Clean and Patented No Leak Design
Auto-Mode Operation
Sleep Mode With Guided Meditation
Clean, Safe, and Certified
Top Fill Humidifiers for Bedroom
It provides both cool mist and warm mist
Automatic humidity monitoring
Easy to clean & essential oil diffuser
Best for large room
led display turns off in sleep mode
Warm Mist Humidifier Reviews
To help you choose the perfect humidifier for your needs, we've reviewed the 10 best warm mist humidifiers on the market today. Each one offers its own unique features that can make your life easier, so be sure to read our reviews before making your purchase!
1. LEVOIT Humidifier
Key Features:
36-hour run time
Whisper-quiet operation
Customized humidity level adjustment
2 mist settings (warm and cool)
Remote control and timer.
It is great for large rooms including bedrooms. It is precisely a hybrid humidifier offering both warm or cool mist. This makes it extremely useful for everyone throughout the year.
It boasts a huge water capacity of 6L making it perfect to humidify large spaces, up to 753 square feet. This not only ensures adequate moisture maintenance in the room for extended hours but also eliminates the hassle of frequent refilling of the gadget.
In addition to its impressive features, It also offers premium convenience to the users with its remote-control feature, durable leak-proof material, support for essential oils, and a cleaning brush.
Plus, you can enjoy a peaceful sleep at night as the humidifier produces a near-silent noise. Moreover, you can also turn its LED screen off at night to have a perfectly serene ambiance.
Advantage
Suitable for large spaces
Auto shut-off
Extended run time
Easy to clean
Disadvantage
Not suitable for small rooms
2. BONECO Warm Mist Ultrasonic Humidifier
Key Features:
Elegant digital display
Dual mist settings (warm or cool)
Whisper-quiet operation
Auto-mode
It is a wonderful air humidifier with dual functionality. It means you can either use it as a warm-mist humidifier or a cool-mist humidifier and leverage its usefulness to combat dryness in all seasons.
The one is certainly perfect for the bedroom as it features quiet whisper technology. Moreover, it also comes with an auto-mode to allow automatic operation.
Hence, you can enjoy a peaceful sleep at night, or perform your routine chores without worrying to adjust the humidifier repeatedly.
It boasts a huge water tank that supports long run-time even for large spaces. Flaunting a state-of-the-art design with digital systems, It is certainly a must-have for everyone.
Advantage
Suitable for large spaces
Perfect for bedroom
Long runtime
Disadvantage
Not suitable for small rooms
3. SPT SU-4010 Ultrasonic
Key Features:
ION exchange filter
Dual mist settings (warm and cool)
Adjustable nozzle
Super quiet operation
Another good humidifier featuring dual mist settings for all seasons comes from SPT. Like most reputable brands, this humidifier also bears warm and cool mist functionalities to serve you throughout the year.
Powered by an ultrasonic generator, the gadget produces enough humidity to relieve you from climatic allergies, such as dry nose, lips, and throat, and itchy skin.
It boasts an incredible ION exchange filter that allows you to rest in a cleaner atmosphere. You can also adjust the direction of the nozzle of this gadget as it permits a 360-degree rotation.
It bears a large water tank with 4 liters capacity that makes it perfect to cover large-sized rooms. It comes in an attractive design bearing a decent blue and white color combination. Hence, it adds perfectly to your room decor.
Advantage
Suitable for large rooms
Overheat protection
Relieves allergies
Disadvantage
4. Proscenic 807C Humidifiers
Key Features:
HEPA filters
Aromatherapy function
Alexa voice control
Dual mist settings (warm or cool)
7-speed gear output
Remote control
If you are looking for a nice-looking humidifier, perhaps, you need this one. The Proscenic 807C also exhibits dual mist settings. Hence, you can also use it as a cool-mist humidifier too whenever you like.
This product bears an eye-catching design as it comes in an all-black color with a digital display. Certainly, the contemporary design of this model also goes well with its impressive features.
It not only jazzes up the interior of your room but also purifies the air of the entire area with its HEPA filters. It also produces negative ions to remove any allergens from the air. Perhaps, it's the best for patients suffering from weather allergies or sinusitis.
Moreover, you can also adjust the desired level of humidity using its 7 different output levels. It bears a large water tank that makes it serve you for long hours. In addition, it also offers an Alexa voice control feature for the convenience of the user.
Advantage
Purifies the air
Extended run time
Large water tank
Disadvantage
It is not suitable for small rooms
5. PureGuardian H4810AR
Key Features:
120 hours of run time
Aromatherapy tray
Ultrasonic technology
Dual mist settings (warm or cool)
3-level output.
The PureGuardian H4810AR, like other high-end humidifiers, also offers warm and cool mist humidification. However, what makes it the best warm mist humidifier is its incredibly long run time. With a large water tank of 2-gallon capacity, It can continuously run for about 120 hours. That too, whilst perfectly humidifying a large room (up to 650 square feet).
Apart from the enormous humidification features, the product boasts a minimalistic yet attractive design. The combination of blue and white color makes it pleasing to the eye.
In addition, the gadget is powered by ultrasonic technology. It means you can enjoy a peaceful time when the humidifier is on as it produces a barely noticeable noise.
This feature makes it perfect for use even at nighttime. For added convenience to the user, It also offers a 12-hour auto-timer feature. Hence, you don't have to wake up in the middle of the night just to turn it off.
Advantage
Suitable for medium to large rooms
Incredible run time
Does not require repeated filling
Disadvantage
Causes white dust if filled with tap water
6. Honeywell HWM705B
Key Features:
Transparent water tank
Reset light indicator
Automatic shut off
If you are looking for a humidifier that supports inhalants, then The Honeywell HWM705B is the best one for you. It is an amazing option for everyone suffering from allergies.
It bears a dedicated medicine cup to add inhalants. Thus, it spreads the medicine with the mist in the entire area, relieving your allergies and problems due to dry weather.
It comes with a huge water tank with a capacity of 1 gallon and can run for 24 hours without the need for refilling. Its transparent water tank also makes it easier to track water levels.
Hence, it gives you the liberty to refill the tank whenever convenient. Plus, it also bears a rest light indicator for promoting refill. It gives you the authority to adjust humidification settings with dedicated high and low options and an automatic turn-off feature.
The latter also saves the device from any damage when the water runs out. All in all, it is a perfect device to ensure adequate humidification in medium-sized rooms.
Advantage
Long run time
Easy to refill
Aromatherapy option
Affordable price
Disadvantage
Only medium room coverage
Sometimes produces an audible bubbling sound
7. Vicks VWM845
Key Features:
Whisper-quiet operation
Filter-free
12-hour run time
Medicine cup for inhalants
Auto-turn off when water runs out.
The Vicks humidifier is a handy product bearing capacity of 1 gallon. With this much water capacity, it continues to run for up to 12 hours.
Whereas, it is also the best for relieving dry nose and throat, congestion, and sinusitis, as it supports using liquid inhalants. It means you can now place your medicine (or Vicks) in the humidifier and relieve yourself of all allergic symptoms.
It comes in a decent design with handy operations. It also works best to have a peaceful sleep owing to whisper-quiet functioning. It bears a translucent blue-colored water tank that makes it easy to track the water levels for refilling.
From office desks to bedrooms, It makes sure to let you breathe in a sanitized atmosphere to reduce climatic illnesses.
Advantage
Transparent water tank
Suitable for babies and adults alike
Supports liquid inhalants
Perfect for personal use
Disadvantage
Needs frequent cleaning
Manual operation
Not suitable for large spaces
8. Elechomes UC5501 Ultrasonic
Key Features:
Contemporary digital display
A 360-degree rotational spray nozzle
Whisper-quiet operation
Dual mist feature (warm and cool)
Aromatherapy option
For those looking for a sleek humidifier that adds a modern touch to their room décor, here is the best warm mist humidifier. The Elechomes UC5501 is an ultramodern gadget that boasts a state-of-the-art design with a digital display. Moreover, the elegant black color of the product makes it even more desirable.
In addition to its sleep appearance, It also flaunts an incredible performance. The device offers dual mist settings. Thus, it stays useful throughout the year while keeping you comfortable with warm and cool mists.
For those looking for a refreshing experience, It provides a secure option of adding essential oils for the best aromatherapy. Moreover, the gadget comes with embedded sensors that precisely detect the humidity levels in the room.
Upon reaching the desired level, the device automatically powers off. Whereas, through its incredible sensing technology, it will automatically turn on as well as the humidity level lowers from the desired percentage.
Thus, it saves you from the hassle of repeated manual adjustments. Though, the product may be a bit pricey for some. However, considering its exotic features, you won't mind investing your money in a lasting device.
Advantage
Suitable for babies
Smart humidity control with sensors
Long run time
Night mode
Disadvantage
Not for small spaces
Hygrometer somewhat flawed
9. Pure Enrichment HumeXL Pro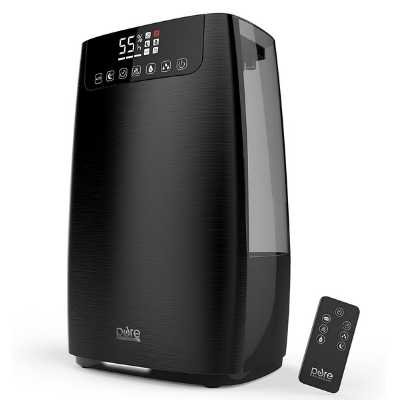 Key Features:
2 independent rotating nozzles
Dual mist settings (warm and cool)
Touch button control
Built-in humidity
The Pure Enrichment HumeXL Pro is a wonderful humidifier that jazzes up your room decor with its sleek design. The device boasts a digital display with touch-button control. Whereas, the high-end product looks even more sophisticated owing to its black color.
Similar to most rival brands, It also features dual mist settings offering both warm and cool mist humidification as and when required.
The product comes with a huge water tank capable of holding 5 liters of water. Hence, it can continue running for as long as 50 hours while seamlessly humidifying a room up to 430 square feet.
For added convenience, It flaunts a soft glow night light powered by night-mode auto power off. It also includes built-in humidity for auto-regulating humidity levels in the room. Whereas, it also makes it easy for you to control the settings with dedicated remote control.
Advantage
Very easy to clean
Extended run time
Sleek design
Night-mode with soft glow light.
Disadvantage
Relatively pricey
Less durable
Can cause white-dust
10. TotalComfort Warm & Cool Mist Humidifier
Key Features:
Two transparent water tanks
Dual mist settings (warm and cool)
Ultrasonic technology
Whisper-quiet operation
Automatic turn-off protection.
It is an amazing product that literally ensures total comfort for the user. It has two large water tanks. The combined capacity of the two tanks makes up to 1.7 gallons.
It suffices an incredibly extended run time (up to 80 hours). Also, having a two-tank design makes the humidifier way easier to refill as compared to most other brands.
Besides, the transparent material of the water tanks also makes it convenient to track water levels. Some prominent features of this gadget include the whisper-quiet operation that promotes sound sleep at night.
Moreover, It is powered by ultrasonic technology that ensures clean water in the tanks whilst fending off any molds or mildew. Apart from its usefulness, It also comes in a catchy design boasting a combination of blue and black colors.
Advantage
Very long run time
Saves time for frequent refilling
Easy to refill
Prevents white-dust build-up in the room.
Disadvantage
Cleaning may be difficult
Sometimes a little noisy
How to Choose the Perfect Warm Mist Humidifier?
While you may find numerous brands presenting some great humidifiers, choosing the best warm mist humidifier is not so easy. You may have to consider a number of features before spending your hard-earned money, particularly for the pricey ones. Here we quickly list out the most important factors to keep in mind before making a purchase.
Coverage Area:
They offer different functionality as regards the coverage area. Based on their specifications, humidifiers have different efficiency levels over a certain area.
This is evident from the area covered in square feet. You can then assess the usefulness by matching the given specification with the size of the area you wish to install the humidifier.
Besides, many reputable brands also mention room size compatibility in simple words, such as small, medium, large, or the whole house. This will help if you aren't sure about the exact measurement of your room.
Water Tank Capacity:
Water tank capacity usually depends on the coverage area of the humidifier. Large humidifiers bearing huge water tanks usually work well for larger areas. Whereas those with relatively less capacity are suitable for small rooms.
Some humidifiers suitable for small to medium-sized rooms also feature large water tank capacity. These humidifiers, despite narrower coverage, offer more run time.
Moreover, you should also look for the ease of use of the water tanks. See if you can fill it easily according to the given specifications.
For instance, filling up a large water tank may require you to move it from a certain place to the kitchen or bathroom for filling. Then, it might become difficult for you to move the tank back to the designated place.
Run Time:
Another key factor to consider before purchasing a humidifier is the duration for which it continues to function before requiring a refill.
For instance, It used at night offers 8-12 hours of run time. These humidifiers save you from the hassle of refilling the tank in the middle of the night.
Humidity:
Humidifiers with built-in humidity work best to regulate the humidity levels in the room. Upon reaching the desired moisture level, the humidifier senses the humidity percentage and automatically turns it off.
It then turns on again when the desired humidity level is reduced. If you are willing to invest in a pricey humidifier, ensure that your chosen product encloses humidity.
Silent Operation:
A humidifier producing various noises would genuinely irritate the user regardless of how well it functions. Therefore, choose the one that offers a whisper-quiet operation. Especially, if you need a humidifier to use at night, make sure that it does not produce more sounds.
Presence of Filters:
It offers filter-less operation. Hence, it saves you from the hassle of changing filters repeatedly. However, for those working with filters, choose the one that supports washable filters. Otherwise, the humidifiers requiring filter replacements may add to the overall cost.
Cost:
You may find various humidifiers in the market bearing different price tags. Depending upon the coverage area, run time, water capacity, and the presence of additional features.
Its cost may be as low as $20 to as high as $100 or more. Therefore, you should choose the one that meets your budget and provides you with all the required features.
If you are going for the more costly variants, you should opt for the humidifier offering maximum features. Whereas, if you want to use the humidifier for a limited duration or in a small area, you can even go for a low-end product.
Other Notable Features:
Digital or manual operation
Support for inhalants/aromatherapy
Cleaning frequency
Demineralization and prevention of white-dust build-up
Presence of hygrometer
Dual mist temperature settings (both warm and cool mist)
Frequently Asked Questions
How does a warm mist humidifier work?
It is a device that releases a warm mist into the air, which then evaporates and cools to create a moist environment. The water tank in a humidifier is filled with either distilled or demineralized water, and the mist comes out of the machine's nozzle.
Which is better warm or cool mist humidifier?
A cool mist humidifier is better in the summer months because it doesn't heat the room. A warm mist humidifier is better in winter because it will help to heat the room.
When to use a warm mist humidifier?
It is best to use during winter since the humidifier produces mist from hot water. Therefore, they are also suitable for people suffering from allergies due to dry weather.
How often should I change the filter?
Filters should be replaced every 3 months.
Why do I need to clean my warm mist humidifier?
A humidifier is a device that adds moisture to the air, which can help relieve cold symptoms. Humidifiers are generally not designed to be cleaned with soap and water. Instead, they should be cleaned with vinegar or distilled white vinegar. This will help keep the unit clean and free of bacteria.
How much does a good humidifier cost?
A good humidifier can cost anywhere between $10 and $100, depending on the size of the unit, the features it includes (such as a dehumidifying function), and its overall quality.
Where to buy warm mist humidifiers?
Since they are not as common as cool mist humidifiers, it can be difficult to find them in stores. They are often sold online or through specialty retailers like Bed Bath and Beyond.
Bottom Line
A humidifier protects them from allergies and illnesses caused by dry weather, such as sinusitis, dry lips or skin, and throat allergies. While the market is full of humidifier brands, the best warm mist humidifier for you is the one that meets your requirements.
So, before spending your money, make sure that the humidifier is suitable for your desired location. In addition, assess the usefulness of the humidifier keeping in view the information we shared above. You will never regret your decision.